Music Writing 2004-2005
by W.S. McCallum
John Fogerty at the Bowl of Brooklands, New Plymouth
2 December 2005
<![if !vml]>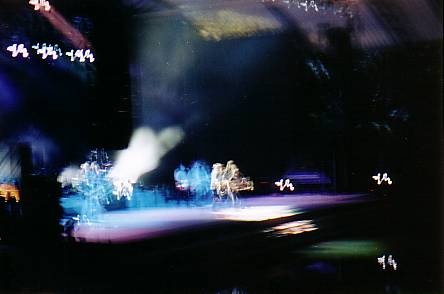 <![endif]>
John Fogerty in motion (W.S. McCallum)
The bogans were beginning to get restless by the time John Fogerty arrived on stage at 9.35pm. He greeted them and the rest of the audience with a rhetorical loud "HAHW AHRE YEEW?", spoken in an accent so Southern it made Boss Hogg sound like a Yankee carpetbagger. Having built his name on making "swamp rock" reminiscent of the Louisiana bayou, it seemed John Fogerty had also adopted a persona to go with it. Given that he actually comes from San Francisco, it is something of a sham, but as impostures go, it is no worse than Lou Reed pretending to be a street punk rather than the nice middle-class Jewish boy his parents brought him up to be, to name just one example.
John Fogerty launched into his performance with a level of brio and energy that was a match for Bruce Springsteen, although he had a far more laid-back attitude on stage. Not bad for someone who has been performing professionally for about 40 years now. I kept looking at various members in the audience who looked OLD (physically and spiritually) and paused to think that John Fogerty is actually ten, twenty or thirty years older than them.
His show included a string of self-penned hits and covers that he had made his own. He opened with Little Richard's "Good Golly Miss Molly", which was a hit for Creedence Clearwater Revival, and then moved on to classic CCR tracks like "Green River", 'Who Stopped The Rain", "Looking Out My Back Door", "Born On The Bayou", Keep On Chooglin'" and the like, interspersed with various covers that they had done, such as "Midnight Special" and an awesome performance of "Heard It Through The Grapevine".
The performance of such material was a sign of his settlement with the new owners of Fantasy Records, the Bay Area jazz label he had signed to with CCR in the 1960s, and that he had fought a running legal battle with from the mid-70s until quite recently, when the old owner sold the label. The very fact of hearing all these old Creedence songs live was quite something - for many years Fogerty wouldn't play them, in order to avoid generating performance royalties for a record label he had come to despise. In return, in the 1980s Fantasy Records even opened court proceedings against him for "plagiarizing" his old hits (let the listening public decide - I personally can't hear any great similarity). Try building a solo career when you can't play your own back catalogue for legal reasons - it can't have been easy, particularly given that John Fogerty has a back catalogue most performing songwriters would kill for.
That times had changed for the better and he was now on top of things couldn't have been more apparent from John Fogerty's demeanour. He was just so damned HAPPY, and the mood was infectious. For sheer joy, the only person I can think of in concert who compares is Bruce Springsteen, and the band, which was much smaller than the E-Street Band, packed just as big a wallop.
The only negative factor in the concert was Taranaki's weather. Although the grey skies refrained from pouring for most of the night, once the encore started it came bucketing down. In spite of powerhouse performances of "Bad Moon Rising" and "Proud Mary", it was probably a wise call to bid the audience good night after just these two songs, as by that time everyone in the audience was too busy running for cover.
© Wayne Stuart McCallum 13 December 2005
Bauhaus at Métropolis, Montreal (Quebec)
15 November 2005
<![if !vml]>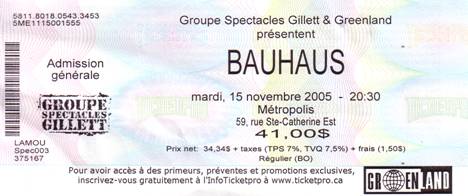 <![endif]>
Walking through the snow in sub-zero temperatures provided a suitably chilling, gloomy prelude to an evening with the kings of 80s Goth rock. It was Montreal's first snowfall, marking the onset of winter, so there were not many people out and about as I walked down to the Rue Ste-Catherine. The main exception consisted of two lost French women, who stopped me to ask where the Eaton Centre was. They were seriously off-course - rather than heading for Montreal's underground shopping mega-complex, they were walking straight towards the city's Gay district (that's Gay with a capital 'G' - we're talking Village People clones with handlebar moustaches, singles bars and sleazy saunas here folks).
After completing my good deed of pointing the pair of tourists in the right direction, I actually arrived at Métropolis on time. Even so, most of the crowd was already inside, so there was not much of a wait in a queue. Métropolis turned out to be an old theatre, and it was packed to the brim. The spectators included new-generation young wannabe Goths rubbing shoulders with their first-generation precursors, who are now closer to retirement age than to their adolescent years. As was to be expected, pastel tones were notable for their absence that evening. Dress was strictly black, with leather accoutrements being de rigueur, although they were somewhat impractical in the warm atmosphere inside the auditorium.
The show started on a low-key note when a techie clicked on the amps and let them rumble atmospherically for five minutes while the audience went crazy in anticipation.
As interesting as the audience's appearance was how Bauhaus looked when they finally appeared on stage, given that 20 years have now elapsed since their heyday. They all seemed surprisingly well-preserved, except for the lead singer, whose weathered appearance nonetheless succeeded in giving him a more spectral presence than he would have been able to manage on-stage back in his early twenties.
Bauhaus turned out to be masters of the slow build. In fact, during the first couple of songs, it was so slow I was wondering if they could sustain a whole concert. But with every song, they ratcheted up the speed and tension another notch, leaving the audience wanting more when they exited after an hour on stage, particularly given that the only hit they had played by then was "She's In Parties".
Upon their return, the other hits were trundled out, as well as "Everybody Wants To Go To Heaven" by Bauhaus's successor, Love & Rockets. The stand-out track in the closing sequence was "Bela Lugosi's Dead", with its grim lyrics and haunting mood, including the delay effects on the drums that you can hear in the studio version; a tricky proposition to pull off successfully on stage. By this time, the stage was thick with dry ice vapour, with the lights cutting eerily through it. The still gloom didn't last: by the time Bauhaus were playing the final two energetic songs, their versions of "Telegram Sam" and "Ziggy Stardust", everyone was going bonkers, and even the band were smiling at the audience response. Bauhaus smiling? Who would have guessed it was possible?
© Wayne Stuart McCallum 16 November 2005
Daniel Lanois & Tortoise at The Commodore Ballroom, Vancouver
17 October 2005
<![if !vml]>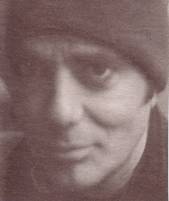 <![endif]><![if !vml]>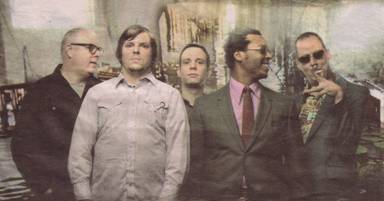 <![endif]>
Oliver Wasow
This was the concert I wasn't going to attend. Not because I didn't want to, but because I was misinformed that the show had sold out. Perhaps what the people at the record store in question meant was that they had sold all the tickets they held. Whatever the case, it left me feeling at a loose end when I walked past the Commodore Ballroom that Monday evening and contemplated the queue of people lined up down the road and around the corner.
There were feelings of jealousy that they were getting in and I wasn't. Daniel Lanois - the French Canadian who has worked as a producer with Peter Gabriel, Brian Eno, Robbie Robertson, the Neville Brothers, Bob Dylan and U2 among others, and who is a songwriter and pedal steel guitar player of some renown. Oh well, it obviously wasn't meant to be.
I ended up wandering down to Chinatown and, strangely enough, had some Indian food in a food court there. My return stroll back to my lodgings took me through Gastown, an odd Vancouver neighbourhood, parts of which feature designer clothing stores and chi-chi restaurants, while other parts would best be described as Skid Row. It's the only place I have been where I was offered crack, B.C Bud (marijuana) and pussy all within a few minutes' walk. Not a good neighbourhood to be strolling through at night, so I skirted around the seediest streets.
My route took me back past the Commodore Ballroom, where I did a double take when I actually saw a couple of people buying tickets from the box office. The bouncers confirmed that there were still a few door sale tickets left. I was in!
The Commodore Ballroom is an amazing place. It is just the sort of venue that New Zealand is seriously lacking: a mid-sized room that can comfortably hold 1,000 to 1,500 people. It is ridiculous that cities the size of Christchurch, Wellington and Auckland (in particular) have nothing comparable, apart from Wellington's Starlight Ballroom [which has now closed], which had the poor acoustics you would expect of a concrete box, and a foyer with even less aesthetic appeal than a 1970s urban beer barn. The Commodore Ballroom is the exact opposite: as a real ballroom, it has class, with an Art Deco look, three bars, tiered areas with tables where you can sit and have light meals while you watch the show, and a sound system with an operator who concentrates on an even balance rather than bludgeoning the audience with excessive volume.
By the time I got there, Tortoise were over half way through their set, but as I caught the last 25 minutes of it, I didn't necessarily feel short-changed. Tortoise are from Chicago, and surfaced in the mid-1990s with a distinctive mix of avant-garde experimental music, jazz and progressive rock that left critics who like labelling bands scratching their heads and grasping for words. They are multi-instrumentalists who enjoy swapping seats and feature two drum sets in their performance. It was an engaging set, complemented well by the computer graphics that were projected onto the stage's backdrop.
Daniel Lanois's performance was like catching up with an old friend you haven't seen for a long time. He kept the audience abreast of his latest aural developments, including some breathtaking pedal steel guitar playing, and some instrumentals on a Gibson electric guitar which reminded me of Neil Young's playing - not in terms of pyrotechnics, but more in terms of their shared ability to convey depth and a feeling of otherworldly space through their guitar technique.
It wasn't all instrumental stuff though. Daniel Lanois can sing too, and he made a point of going back to some of his early songs from his youth in Canada, including one in French, accompanied by his brother Bob on harmonica.
Having quietened proceedings down and drawn the audience in with his earlier songs (including one which he wrote for Emmylou Harris), Daniel Lanois then gradually brought on members of Tortoise and finished off with a rousing instrumental that they had cowritten together.
Although it was resoundingly demanded, the encore came across as being done more out of a need to fulfil a social convention rather than anything else. The dynamics of the earlier build-up were thrown out of gear by stripping the sound back down to Daniel Lanois on pedal steel guitar once again, and while he was great, it was an odd way to close after having hit the audience with the sledgehammer of a full rock band.
Still, it was a great evening, and I felt damned lucky to have had the chance to experience it.
© Wayne Stuart McCallum 19 October 2005
The Constantines at Richard's on Richards, Vancouver
15 October 2005
<![if !vml]>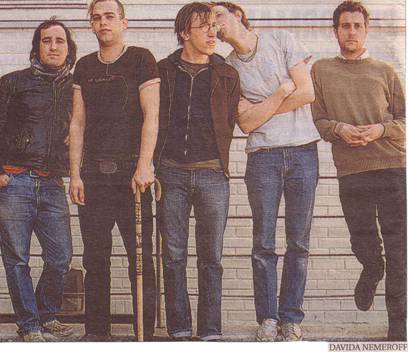 <![endif]>
"I'll keep on going till I run out!"
Having just flown in from Auckland and clocked up over 40 hours without any real sleep, this particular line in one of the Constantines' songs spoke volumes to me. Basically, after 24 hours spent travelling to Vancouver from New Zealand, and suffering from that weird temporal disorientation you get when it's 10pm on a Friday yet your body is telling you it's 6pm on Saturday, the idea was to go out on the town and push myself until my body's systems all shut down and forced me to stumble back to my hotel room to enjoy the sleep of the dead. Even then, I only managed six hours' worth of sleep, which is why I am writing this at the inhuman hour of 6am on Saturday morning.
It was with a strange frame of mind that I went to see the Constantines too; with the previous 24 hours compressed into a dreamlike blur; a tedious sequence of waiting in line, being stamped, questioned, photographed, fingerprinted and otherwise processed, and all because of Bush's Crusade Against Terror (or, at any rate, against those terrorists who do not receive US Government support). So I couldn't help but laugh when the bouncer at the entrance asked me for ID. He was lucky I had just had a good dinner and was still feeling the warm afterglow of real food in my stomach after being force-fed that processed muck that airlines have the nerve to call "food".
Yes, I smiled as I replied to him: "Do you know how old I am?"
"Well, some people look older than they actually are."
That's true enough, except that you would have to be a pretty fucking ripped teenager to have a face like mine. And I have always looked older than I actually am. Even when I was a teenager (I'm talking 15 here), I was never asked for ID. It was difficult to accept that, two decades later, I had suddenly undergone some youthful rejuvenation that miraculously made me look like an underage teenager again, especially given that I was jetlagged.
Screw it - I showed him my passport - the latest in a long line of pointless formalities. Prove who you are and we'll let you pass! One day, you'll need to show ID before you can take a piss. We'll probably be able to blame the Americans for that too.
I was a bit wobbly on my feet as I walked in, and had to stop to pick up something I had dropped. It wasn't just jet-lag. I was still recovering from the taxi ride from the airport. The driver was a pro, up there in my personal all-time top ranking with the bus driver who had gotten me from St Petersburg to Novgorod across a few hundred km of potholes and shithead Russian drivers who not only think they own the road but that they fucking built it. Anyway, this Canadian guy didn't bat an eyelid at the swirling mix of multi-lane madness that he had to negotiate a path through to get me into town. Rule number one in Vancouver is that there is no such thing as an illegal lane change, and any lane change is permitted, provided that there's a gap and you can put your foot down quick enough. That this rule applies to all vehicles was borne out when the taxi driver had to make a quick course adjustment to avoid an ARTICULATED BUS (one of those long bastards) that decided to commandeer our lane, so getthefuckouttatheway!
This guy had my safety and well-being in mind. Not only that, he wanted to get me downtown FAST, so I wouldn't feel insulted over having gotten stuck in downtown traffic and having to shell out a huge fare. So he ducked and weaved through the traffic. At one point, he even did an abrupt turn, put his foot to the floor, and we zoomed along an alleyway to avoid a block's worth of congested traffic.
The average fare from the airport to downtown Vancouver is $26. This guy got me there through Friday night rush-hour traffic for $27.10. Outstanding. I gave him $30 and told him to keep the change.
Notwithstanding my speedy arrival downtown, other demands like a bath and the aforementioned food meant that I missed the first act on the bill at Richard's that evening: The Hold Steady. So all I can tell you is that they're based in New York and that they have been "highly successful on tour and in the college radio charts" according to the press coverage.
When I got there, the Constantines had just completed some last-minute set-up adjustments. They dutifully waited and then took the stage again, opening with raised fists and what might have been a heavily distorted version of the Canadian national anthem.
At this point, I was beginning to get worried. What is this - a Nuremburg rally? The bass player looked dodgy too - he was kitted out in acid-wash faded denim, including one of those denim jackets with the ripped-off sleeves. He even had a moustache! If it wasn't for the DIY never-seen-a-comb shortish hair, he wouldn't have looked out of place playing alongside Rossi and Parfitt in Status Quo.
The Toronto band had the goods though. As befits young men in many an indy band these days, the influence of early 80s music was perceptible, but they had drawn on the good stuff and left the crap alone. The drumming was taut and angular, right from "Draw The Lines", the opener to the concert (and to the Constantines' second album, Tournament of Hearts). It was well matched by the inventiveness of the guitar playing and, dare I mention it, the ridiculous poses struck by the bass player on various occasions throughout the show.
These guys obviously have a fan base, as the various 20-somethings (who REALLY looked like they would have had to show ID) in the front rows were singing bits of the lyrics here and there. A highlight was "Working Full-Time", which was full-tilt RAWK that got the young things moving. The power of the music kept building throughout the show, with a climactic finale in which the keyboard player picked up an electric guitar ("he's our only lead guitarist" commented the front man) and delivered an impeccable show of Stevie Ray Vaughn style electric boogie-blues accompaniment that was so at odds with the indy-rock playing exhibited in the rest of the show that you couldn't help but grin.
I was still grinning as I nodded to the bouncer on the way out, looking forward to collapsing into a bed, and doubting very much that I looked like a 19 year-old.
© Wayne Stuart McCallum 16 October 2005
The Neville Brothers at Queens Wharf Events Centre, Wellington
12 April 2005
<![if !vml]>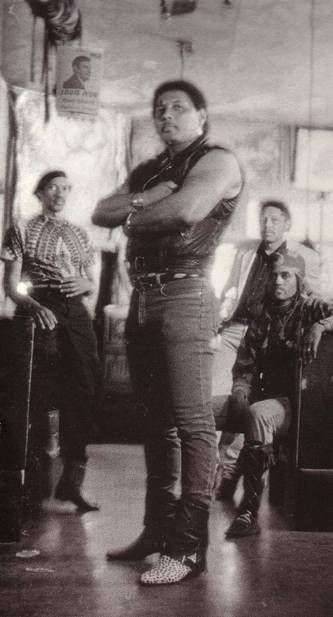 <![endif]>
(Larry Williams)
It was another wet, dreary Wellington night as the audience began arriving at the tin shed by the waterfront. While it cannot be called a thing of beauty, the Queens Wharf Events Centre does seem to have good acoustics, and a respectable sound system, so I was looking forward to some good sounds, in spite of the less than attractive setting.
The first obstacle for the evening was finding my seat which, it turned out, did not exist due to a last-minute reconfiguration that had eliminated the first ten seats in each row. Judging from the size of the audience, it was because ticket sales had not been as high as expected. All the upstairs seats in the wings had been cordoned off, with seating restricted to an area right in front of the stage, and the bank of seats at the back of the house. Stupidly, given the main act's reputation for getting its audiences moving, no space had been left at the front for would-be dancers to strut their stuff. This, combined with the low stage, made for a stultifying setting both for the band, who wanted to get everyone up on their feet, and also for a good many people in the audience who wanted to dance, and who ended up frugging about in the space down the side where the seats had been removed, so that they could avoid blocking the seated audience's view of the stage.
The opening act was Billy Tekahika Junior and his band. I recognised him from a photo seen in a magazine a while back, but it was clear that most of the audience were wondering who he was until he finally got around to introducing himself. Junior is more than a match for his father when it comes to flashy technique on electric guitar, but doesn't muster the sweat and sheer power that Billy Tekahika Senior can generate. Whilst admiring his effortless playing, a master course in feedback and dirty low-down noise would stand him in good stead. That consideration, along with the spacey synth doodlings of his keyboard player, ultimately left a vague feeling of dissatisfaction.
Apparent throughout Billy T.K Junior's act was the persistent thumping created by a big galoot whacking his foot against the back of my seat. While knee-jerk rhythmic responses are to be expected under the circumstances, having some audience member's instinctive lack of any sort of beat inflicted on you ultimately becomes an intensely annoying experience. Fortunately, there were plenty of empty seats, so I moved along the row. Then, for some reason, the foot-stomping galoot and his dolly bird also moved along the row, ending up (can you guess?) right behind me. Stupid, inconsiderate, or just bloody-minded? You decide, dear reader. A quick flanking move to the empty seat immediately behind him soon turned the tables. I did however refrain from spending the rest of the show gleefully kicking the back of his seat. It would have been satisfying for a while, except he was built like a brick shithouse and probably had that short fuse all too characteristic of people with a low IQ.
The audience that night was predominantly over thirty, with a far higher turnout of Maoris and Pacific Islanders than I have seen at various reggae concerts in Wellington in recent times. They were there to hear the old favourites, and got them, from a band whose oldest members now have fifty years experience in the music business, having started out in various R'n'B groups in the mid-1950s (note for young readers: by "R'n'B" I mean the REAL stuff - rhythm and blues - not the manufactured 21st-century pap that currently goes by that name). The Neville Brothers played various of their own hits, such as Aaron Neville's "Tell It Like It Is", which hit the charts in 1966, through to more recent stuff like "Voodoo" and "Yellow Moon, both of which were off the 1989 album Yellow Moon.
The biggest response came to their version of Sam Cooke's "A Change Is Gonna Come", in which Aaron Neville showed just how good a singer he is. The band as a whole were outstanding, with the sort of rapport you would expect from people who have been playing together for such a long time, yet without any of the tiredness that so frequently creeps in with bands that have been together for so many years. It was a powerful mix of funk, old-time New Orleans influences like Professor Longhair and Fats Domino, African rhythms and even reggae, as shown by their performance of the Jamaican standard "By The Rivers Of Babylon". And in-between playing all the crowd-pleasers, they threw in enough stunning musicianship to force even studied cynics to drop their jaws. Overall, a great night out.
© Wayne Stuart McCallum April 2005
The Black Keys at The Kings Arms, Auckland
21 March 2005
<![if !vml]>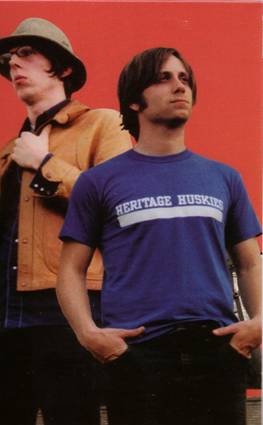 <![endif]>
(Michael Carney)
The first public announcement that the Black Keys were playing in Auckland was made about five weeks before the actual date of their first ever performance in New Zealand, tagged onto the end of their March 2005 Australian tour. Oddly, there was quite a wait before tickets became available - was someone having second thoughts about the date, leaving the promotor to hedge his bets? Probably we'll never know.
When asked by the uninitiated what the Black Keys are like, I usually describe them as a blues version of the White Stripes. Like them, the Black Keys are a no-frills drum and electric guitar two-piece group, consisting of Patrick Carney on drums and Dan Auerbach on electric guitar. The pair are childhood friends who went professional in July 2002 after getting fired from their jobs mowing lawns for a slum lord in their home town of Akron, Ohio. Coincidentally, at that time they were just about to set off on their first US tour to promote their first album The Big Come Up (the first of three to date). For their second album, thickfreakness, they were signed to Fat Possum Records, a pretty logical choice for a band firmly rooted in old-style electric bar-room blues of the sort played by the likes of Hound Dog Taylor and the HouseRockers, back in the days before blues became the new Dixieland, hidebound by convention and weighed down by tradition.
The audience started shuffling into the Kings Arms from the time the doors opened at 8.30pm. Apart from a small group of old-school fag-and-a-bottle-of-DB pub rock types, most of the audience was under 25, and a good many of the males in the audience were so young they didn't even look like they were shaving yet. Inside, it was pretty much packed by the time the Fiery Furnaces kicked off their support slot.
The Fiery Furnaces, from New York, played a frenetic set, seemingly non-stop, with all sorts of clever musical and instrumental changes to show how adept they were as performers. I'm still not sure quite what to make of them - some of it was crap, some of it was inspired, and some of it made you go "hey that's really clever", but without really evoking an emotional response. They specialise in stop/start time changes and unconventional, slightly dissonant combinations of vocals and instruments that reminded me of the sorts of structures Split Enz used in their early days when Phil Judd was in the group. Lord knows what the old-school pub rockers made of them.
It was fun watching the Black Keys' gear being set up on stage. None of the "guitarist in front, drummer at the back" stuff you usually get: the layout was strictly democratic, with Patrick Carney's drums taking up the left-hand side of the stage, while Dan Auerbach was given free reign over the right-hand side of the stage. Drummers will be interested to read that, while he sat facing Dan Auerbach across the stage, Patrick Carney's bass drum was positioned pointing directly at the crowd to avoid deafening the guitarist. It was also interesting that he only had a 20-inch ride cymbal and a small high-hat that he also used as a crash cymbal so his top end wouldn't drown out the guitar.
You could tell the pair have known each other for a long time and that they do a lot of practicing - they were as tight as a Southern Baptist's colon. At one point, one of the old-school pub rockers - a women who looked more than a bit sloshed - decided to climb on the stage and gain fifteen seconds of immortality by trying to shake her inebriated stuff. A roadie temporarily managed to push her off the side of the stage, following which she climbed back up again, at which point both musicians, visibly pissed off, shut the music off like a remote-controlled valve. Once the bouncers had shuffled her away, the Black Keys powered back on again with such suddenness and precision that various members of the audience simply gasped.
Patrick Carney is one of the best drummers I have seen play live. He gives everything he's got, and on more than one occasion it looked like he was on the verge of collapsing from the 110% effort involved. He has a fairly basic kit, and is not at all interested in the pomp and flash that various rock drummers have hidden behind since the late 60s, but he hits it hard, with laser precision, and sticks to the guitarist like glue. Unlike most groups, where the drummer is the bedrock, in the Black Keys the timekeeping involves a constant interchange on an equal footing between him and Dan Auerbach. It was an amazing thing to watch.
Highlights of a blistering set included "No Trust" with its lumbering beat that builds up momentum until it slams into you like a steam locomotive, "Grown So Ugly", a primal blues screamer of the sort the old generation of electric Chicago blues guys did, and "Stack Shot Billy" featuring dynamite drumming combined with a descending guitar riff that was a total killer. And two covers stood out; "Have Love Will Travel", the Richard Berry classic immortalised by the Sonics, and the Stooges' number "No Fun", which the Black Keys used to close their encore to an audience that looked like it was well pleased with itself for having made the effort to come out on boring Auckland Monday night.
As I shuffled out the door afterwards with the rest of the happy punters, the stage dancer was still trying to get back inside to reclaim her glory.
© Wayne Stuart McCallum March 2005

06999 Was My Number
WOMAD, Taranaki 11-13 March 2005
<![if !vml]>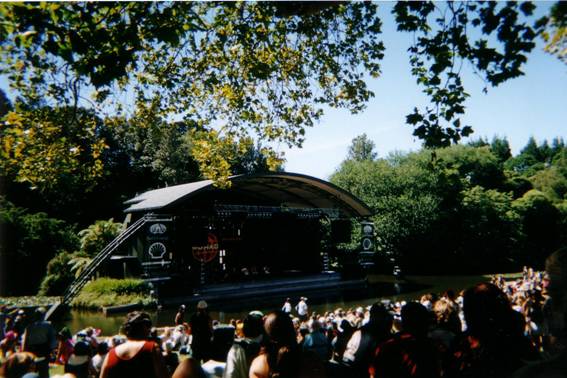 <![endif]>
The main stage and its green setting (W.S. McCallum)
"New Plymouth - Where Life Begins"
It was a sign only glimpsed for a second or so as the bus whizzed past on its way into the capital of Taranaki: my first direct indicator of a level of boosterism that has become a definite strand in the social make-up of present-day Taranaki. Can you imagine any other town in New Zealand having the presumption to make such a claim? If the Auckland city authorities erected a big sign with the words "Auckland - Where Life Begins", it would be greeted south of the Bombay Hills with condescending smirks and disparaging comments about Auckland wankers.
So just why would "New Plymouth - Where Life Begins" still cause a grin but not be particularly surprising? The need for Taranaki's inhabitants to learn to like themselves again after having for so long been considered to inhabit a dead-end squeezed in-between a volcano and the Tasman Sea may have something to do with it.
The last time I was in New Plymouth was in 1990. It was winter and the atmosphere was wet, cold and miserable. I remember chatting to a couple of underage drinkers in the White Hart, and being told that, like so many of the city's youth, they couldn't wait to get out of the place once high school ended. Well, it's been fifteen years, and now the young locals walk around wearing tee-shirts with things like "Taradise" and "Taranaki Hardcore" emblazoned on them. Since The Last Samurai hit town and Hollywood stars began making nice comments about the place, the locals have been feeling much more confident about themselves. Real estate prices shot up as a result of Hollywood money coming to town, concurrent with a general upswing in the provincial economy over recent years, making for prosperous times, as witnessed by the radical reshaping of New Plymouth's downtown area as a result of various construction and "beautification" projects.
Another contributor to this mood upswing has been the arrival of one of the behemoths of the music festival scene: WOMAD (World of Music Arts and Dance), founded by former prog rocker Peter Gabriel in 1981 to promote what people began referring to around that time as "World Music". The first NZ edition of the festival was held in New Plymouth in 2003, with the 2005 festival promising to be even better.
Friday
Whatever else may be said about the festival, the setting was certainly spectacular. Walking along the lakeside in the lush green setting of Pukekura Park on the way to Brooklands Park just before nightfall on the opening night of WOMAD was one of the most blissful, relaxing experiences I have had for a long time. The trees blocked out any music from the festival area until you got right up to the entrance, and even then it was only a muffled presence.
The first surprise of the weekend was having an orange wristband fastened to me and being told I could not take it off until the festival was over three days later. 06999 was my number. It was a bit like being one of those home detention prisoners clamped with the tracker anklets. I would have felt less denigrated if they had taken my fingerprints. Or how about a photo ID instead guys? I would happily give you a scowling mug shot.
Having arrived in time only to catch the end of Zap Mama's performance, the Lucid 3 was the first real act I saw and provided a relaxing opener for the evening on the small Pinetum stage, in a cosy grove of pine trees. "Pinetum", now there's a good word - one source of idle amusement that weekend was hearing how many variations on the pronunciation of that word the stage announcers could come up with. In-between enjoying the Lucid 3 and their very tight set, there was plenty of opportunity for people spotting, including my first Indian Princess that evening. She was to be the first of many ethno-hippy chicks (ranging in age from 16 to 60) to be seen around the festival grounds that weekend, dressed up like they were raised on the banks of the Ganges rather than coming from the white suburbs of Aotearoa. This particular one was about 20 and was clutching a scantily-clad baby that had already turned a shade of purply blue from the rapidly falling evening temperatures.
A need for some sort of sustenance took over after the Lucid 3, so a quick tour of the food stalls was called for. Generally, the various forms of ethnic takeaways and "gourmet' fare offered were overpriced. The stall owners had a captive market and they knew it. The consequence was prices such as $14.50 for some "haute cuisine" lettuce salad in a plastic container, or $7 for two kebabs on a small paper plate of lumpy rice. Having been caught out on Friday night (what are you gonna do - walk all the way back into town for a burger?), the following two days I had lunch in town before setting off for WOMAD, and later knocked off for a dinner break about 5pm and headed downtown for a proper restaurant meal. Why squander $30 on overpriced takeaways when you can have a real meal in one of New Plymouth's fine eateries for the same price?
It took a while for my system to recover from that evening's intake of grease, MSG and salt. Fortunately, the best act of the evening was there to take my mind off it: Fat Freddy's Drop. It was the finest performance by a kiwi reggae band I have ever seen, going back all the way to the likes of Herbs and Aotearoa. They had a huge sound that didn't burst your eardrums (well, I can't vouch for the people standing directly in front of the stage speakers), a bass player as rock-steady and regular as an all-bran diet, and a horn section that could best be described as precision audio engineering. Yes, they were THAT good.
Saturday
For me, Saturday started at the main stage with Yair Dalal & The Asmar Ensemble, purveyors of Iraqi and Jewish Arabic music. Their gentle, haunting melodies perfectly matched the mood of what was a calm tranquil day, but were perfectly at odds with the chattering of the audience. Oblivious to the need for silence, the mass of people in front of the main stage mainly seemed preoccupied with eating, gossiping, answering their cell phones, drinking or whatever - in other words, anything but the music. It is just as well that, on the other side of the moat, the performers had their monitor speakers turned up and did not seem to notice (or perhaps they were too graceful and polite to tell the audience to shut up), but from where I was sitting it was hard to concentrate on the music due to all the crowd noise.
For Les Yeux Noirs, this was definitely not a problem. Although their mix of Eastern European and Jewish klezmer music was performed mainly on acoustic instruments, there was little that was sedate about it, and they had a level of energy and amplification that could demand the attention of even the most listless sunbaked audience. This was the beginning of a pattern that was to be repeated during the rest of the festival. At WOMAD, the acts that relied on volume and sheer musical grunt fared far better than the more subtle, quieter acoustic acts. A combination of unsympathetic conditions for acoustic instruments (particularly high-volume spillage from other stages because various of the stages were so close together) and a crowd that seemed to be more interested in things other than the music combined to make things difficult for them.
<![if !vml]>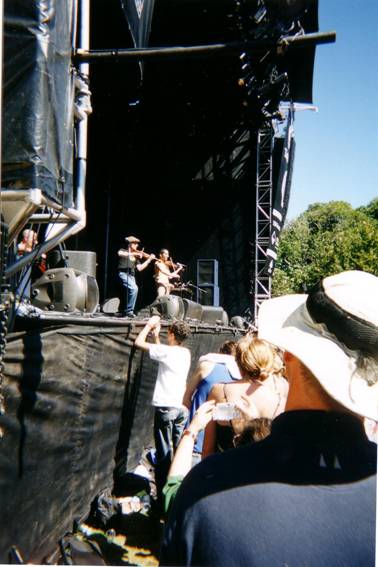 <![endif]>
Les Yeux Noirs, from France (and some bloke in the foreground with a very sexy hat) (W.S. McCallum)
The same story was repeated that evening with Rashid Khan and his supporting musicians, playing a set on the Pinetum Stage featuring just two songs. After a hit-and-miss sound check in front of the early arrivals in the audience (it's an unnerving experience when you have people laughing at microphone mishaps before you even start performing), the act finally got under way. It turned out to be difficult to enjoy something as well-crafted and subtle as traditional North Indian music, played by masters in the field, given all the noise continually spilling over from nearby stages. Again, the audience's attitude left a lot to be desired. There was a row of greying mulletheads perched on little stools behind me who were behaving like they were at a cricket match:
"Geez, isn't this song over yet?"
"Here mate - have a cold one. It'll make you feel better."
I left before the end as it was too painful to watch these eminent musicians being treated like a minor attraction at a sideshow. I later heard that their performance fell apart due to sound suddenly erupting from a nearby stage and throwing them off their concentration.
Alcohol was an interesting feature of WOMAD. It was one of the festival's various paradoxes that no bottles or glass were allowed on-site, and that the stony-faced gatekeepers were searching everyone's bags, yet alcohol was actually on sale once you got inside. Consequently, you saw various people wandering around toting opened wine bottles to swig out of. Fortunately there did not seem to be any of the shit-faced drunks you get at certain sports events, but as the level of alcohol consumption continued rising over the weekend, getting trodden on and stumbled over by people not quite in control of their faculties became one of the more tedious aspects of being in the audience. Of course, it may have been due to the fact they were taking substances other than alcohol. Certainly a fair amount of grass was being smoked, judging from what I could smell as I wandered around the place.
Saturday evening had started off on a very low note down near the front of the main stage. Two solo parents on a date who had dragged along their respective three year-olds decided to squeeze into an impossibly small space just to my left and immediately behind me. Rather than enjoying an amazing performance by the legendary 60s folk singer Richie Havens, who kicked things off with a rousing version of Dylan's song "Maggie's Farm", instead all I got was intense annoyance from these two selfish modern parents and their equally selfish kids. What followed was half an hour of listening to two screaming, cranky little monsters who were up way past their bedtime, didn't want to be there, and decided to let everyone in the vicinity know it. A realisation of the disruption they were causing with their kids should perhaps have dawned on these parents, what with all the very pointed stares they were getting from various people in the immediate vicinity, but such a mild-mannered approach was to no avail. I however was not so restrained: after a couple of muttered comments and a judiciously applied elbow aimed at one of the little monsters who had decided to use me as a climbing frame, the penny suddenly dropped for the inconsiderate dating mother: "I think we should go." With them out of the way, the remainder of the performance was great. My blood pressure had just managed to drop down to a normal level when Richie finished his set with Taj Mahal singing "Freedom", followed by a quick encore and it was all over.
However the worst incident came later that night while Alpha Blondy & the Solar System were playing their stadium reggae set on the main stage. Whilst revelling in a set that included classics like Jerusalem, Cocody Rock and Politiqui, from a guy I had never dreamed I would have the opportunity to see perform live, I was lying on a bright blue groundsheet (visible to anyone with a clear head and 20/20 vision), staring up at the centre of the galaxy in a clear night sky. At which point a bunch of Poms plonked themselves down beside me, and one proceeded to try and sit on my chest. Pardon me - do I look like a mattress? "Aw, sorry mate!" Such space invasion was another of WOMAD's paradoxes. Of all the live events I have been to, including various punk rock concerts in my misspent youth that were held in shoeboxes where the pogo-dancing bodies were squeezed wall to wall, WOMAD is the event where I experienced the most jostling, trampling, squashing and downright rude behaviour. Having got the fat-arsed Pom off me however, I did manage to enjoy the rest of Alpha Blondy's stellar performance.
Sunday
Sunday began restfully with a group which sounded so unlikely that they did not seem an attractive prospect: the Jim Moray 4, whose speciality is performing old English folk songs in a contemporary English rock style (think Travis, or some similar band, and you will know what I mean). It could have been horrible. No, it could have been absolute shite. Under any other circumstances than a beautiful sunny Taranaki Sunday afternoon, relaxing stretched out in the cool shade, I may very well have hated them, but I simply couldn't bring myself to do it. Jim Moray's performance of a Richard Thompson song helped too. Listening to the Jim Moray 4, even a couple of selfish baby-boomers trying to sit on my feet couldn't sour me. What a guy! What a group! What a show!
It was a bit of an afternoon for white boys from Great Britain, as later on I found myself facing the opposite stage to watch Patrick Duff and Alex Lee, supported by a helpful drummer they had picked up in Australia and whose name I didn't catch. The duo were originally members of the Bristol group Strangelove, who were active in the 90s Britpop days until they eventually disbanded in 1998. Probably more than one member of the audience was wondering what the hell they were doing at a World Music festival, but the incongruousness of it all was curiously appealing. They sounded a bit like the mannered offspring of Mark E. Smith, with a glum indy rock sound that was so completely at odds with such a bright festive occasion that it was a joy watching them. In spite of the throwaway nature of some of the songs, they provided some of the most amusing moments of the festival. One highlight was watching them sing a very sarcastic song called "Married With Children" to an audience dominated by middle-aged couples with their kids in tow. Another choice moment involved watching the reactions of the unsuspecting parents in the audience while Patrick Duff and Alex Lee regaled them and their offspring with dark tales about junkies, needles and other unsavoury topics. Someone on WOMAD's organising committee either has a very twisted sense of humour or they had no idea of what they were getting. Either way, it was a great tonic for the cheesy mix of peace, love, lentils and hippy capitalism that was being served up that weekend.
<![if !vml]>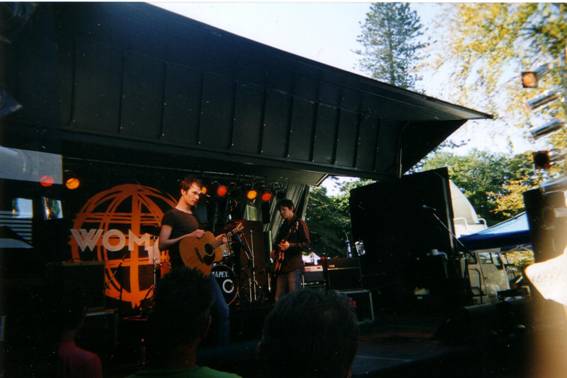 <![endif]>
Patrick Duff & Alex Lee (W.S. McCallum)
The performance highlight for me on the festival's last day was Vusi Mahlasela, a South African folk singer who is a true gentleman with the patience of a saint. Also, like so many South African guitarists, he has a playing style on acoustic guitar which seems simple and yet defies close analysis. His response to the pounding monotony spilling over from the main stage was to entreat the audience to "consider these as sounds of joy" to be worked with, rather than as an antagonistic source of interference. Even so, it was clear that beneath his graciousness, he was not greatly impressed with the situation. When asked just before starting by the BBC's Charlie Gillett to provide a brief sound check to confirm the microphone and monitor levels were alright, he responded by crying out "Pizza! Pizza!", a not-so-oblique reference to all the food stalls crowded behind the stage. Vusi Mahlasela then proceeded to give a performance that neither the banging from the main stage, the food stalls, nor a restless audience was ever going to perturb. He interspersed his songs with tales of his days as a political prisoner under Apartheid, and portrayals of the fortitude and courage of everyday people when faced with impossible circumstances. One example was the fearlessness of his grandmother in challenging the South African police during an after-midnight raid and forcing them to back down.
Overall, WOMAD had its moments, and certainly for the locals it was "RAH RAH RAH TARANAKI FOR EVER!" all the way (see, for example, the glowing account of WOMAD provided by the Monday morning edition of the local newspaper), but for me the festival was disappointing in many ways. Being tagged like a crim, and the level of commercialism on-site, seemed very much at odds with the "we are all a big happy world" theme running through the event, as was the selfish behaviour of the audiences, who did not seem to be either particularly sympathetic towards the music, or even interested in it. While the sound quality and mixing of the performers was excellent, too many performers were hampered by spillage from other stages. That such problems had not been sorted out even though this was the second WOMAD held at the venue does make you wonder. The organisers had no shortage of space, what with both Pukekura Park and even a racetrack adjacent to the concert venue that could have been used but, for whatever reasons, they weren't. Will I be going back in 2007? Possibly for one night if there is a performer I really want to see, but the thought of going through three whole days of it again really doesn't grab me.
© Wayne Stuart McCallum March 2005
The Shins at the Kings Arms
16 February 2005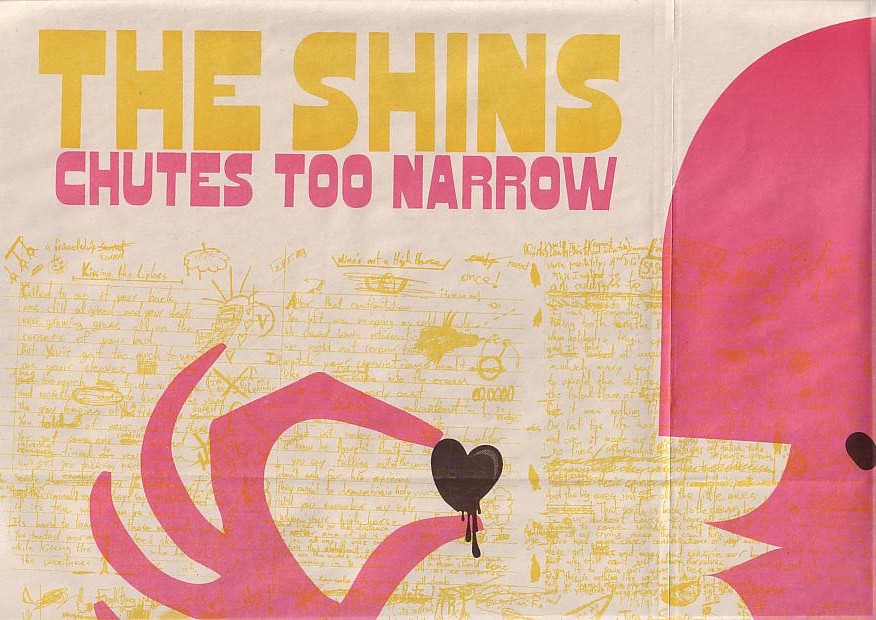 Upon my arrival at the Kings Arms around 9.30pm, the place was already packed to the brim with young twentysomethings. Not a bad turnout for a Wednesday night. Not only had all the tickets sold out several days before the first night, but the Shins' second performance on Thursday the 17th was also sold out.
Obviously the Shins' reputation had preceded them, but even so, they're not a group with a very high profile, in spite of having been around as the Shins for several years, after having first got together in Albuquerque, New Mexico in the early 1990s. I have been knowingly dropping their name to indy music freaks for a couple of years now and have mainly been met with blank stares. It's odd when a band signed to Sub Pop (Nirvana's old label) and with two albums to their credit can pass entirely unnoticed even among indy rock fans… Still, the clues were there for those paying attention - glowing yet not particularly prominent coverage in the UK and US music press, two tracks in the soundtrack to Zach Braff's recent film Garden State and, dare I mention it, a live performance appearance in the Gilmore Girls.
It was obvious from the moment the Shins took the stage that they were both amazed and delighted at the turnout. As it was their first time in New Zealand, and the two Kings Arms concerts were pub gigs on a short national tour in which student Orientation gigs feature prominently, they had doubtless had visions of playing in front of an audience of three people.
They kicked off with a spirited performance of "Kissing The Lipless" from their second album Chutes Too Narrow, and from there on it seemed they could do no wrong. All the tell-tale signs of a seasoned touring band were there - the music was tight, with a perfect unison, and none of the jadedness that can so easily creep in when an act has been touring with the same material for a while. And it has been a while: Chutes Too Narrow, the most recent album, dates from 2003, and their first album Oh, Inverted World, goes back to 2001. If their two albums had been mainly filler, like so many albums released these days (50 to 70-minute CDs featuring no more than two or three decent songs), that might have been a very big performance barrier indeed, but the Shins managed to pull off the rare feat of releasing two albums packed with great songs. A mixture of oblique lyrics, bright melodies and strong rhythms with a sound that is all their own, in spite of signs of the influence of British pop and rock music of the 80s and 60s. As they themselves pointed out, it was just enough to get them through a concert-length performance, with a couple of songs left over for the encore.
The Shins gave an outstanding performance, and left the audience to make their way home afterwards in a warm fuzzy glow.
© Wayne Stuart McCallum February 2005
The Black People's Poet Meets Ngati Pakeha o Te Aro
Linton Kwesi Johnson, dub poet
Bar Bodega, Wellington 6 March 2004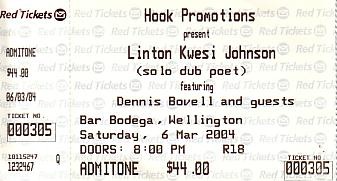 The Black People's Poet had, indirectly, come all the way from Jamaica via a lifetime spent mainly in London. He had lived a rebellious youth, kicking against the White Establishment pricks who wanted immigrants' offspring to know their place and when to shut up.
He had fought back, at the barricades and in community groups, through action and words. Oh, the words. Words that demolished hypocrisy, exposed prejudice, and shafted injustice with their cutting edge and sharp barbs. Words that came from the depths of the dispossessed. The fearless words of those who have nothing to lose.
His youth was now history - a quarter of a century had passed. Yet it would not be fair to say that he had mellowed with age, even if he had gained stature over the intervening years, and with it an acceptance and recognition from the White Establishment that probably struck him as incongruous, leaving him somewhat ill at ease. His name was to be found in scholarly reference books published by the august publishing houses of Oxford and Cambridge. He even had his own Penguin Classics volume devoted to him. Traditional hallmarks of accomplishment for a poet whose trajectory was anything but traditional.
His was the sort of English that monocultural Americans require subtitles for but which, for anyone who had read someone like Burns and had instinctively understood, did not pose a barrier to understanding. A poet who preferred language as it was actually spoken to the artificial paper language of academia, with all its petty rules and accepted saws. And tonight he was to speak. What a night.
The start time on the ticket was 8pm, but habitués of this particular venue know that the show never starts until well after nine - time enough to allow the bored punters to spend up large and boost the bar's revenues before the performance begins and people stop or slow their drinking in order to better appreciate the main attraction. So a good many people drifted in later rather than sooner, the trick being not to arrive too late or you would be jostling for a position at the back of the crowded audience, trying to see the low stage over a congregation of bobbing heads.
The first performer to take the stage was a Maori rapper/poet with an echo foot pedal and drums for his backing beat. He fulminated against US imperialism, using an imitation of Afro-American rhyme dating from approximately three decades before, an echo of The Last Poets, harking back to the days when people used the Black Power salute and really meant it. By way of indigenous content, he added lines in Maori here and there; an exotic dash of colour for the largely monolingual white audience. Then he moved on to local issues, lambasting the Labour Government for its land policy, and roasting the redneck National Party for its cynical exploitation of the politics of race in a last-gasp ploy to forestall its ever-continuing decline.
The response from the audience was not overwhelming. Many of the plump white faces staring back were doubtless Labour voters. They too had their whanau to think of, and interests to protect.
The mandatory break between acts then arrived: a pause allowing a temporary surge in alcohol intake and a corresponding surge in the bar take, but it did not last long.
When the Black People's Poet appeared, taking position on the stage behind that most un-rockist of furnishings - a lectern - people clapped and cheered. Those closest to the bar kept their backs turned (as real drinkers tend to do), oblivious to everything but the alcohol in their glasses and their semi-coherent company's conversation.
The Poet began reading in his deep, expressive voice, with his creased Penguin Classics volume as his source, dipping into it in chronological order, starting with pieces from the 1970s and working through to the beginning of the new millennium. That he was only reading was a source of confusion for some of the audience, to whom he was better known as a reggae performer than as a man of words standing behind a lectern. It did not help that various of the works recited had even been recorded as songs: various spectators assumed that his band would be arriving on stage any moment now, and he would start singing. In particular, the weed smokers in the audience were making more fuss and botheration than the Poet would have liked. One of their number repeatedly called out for a song about a dead New Zealand schoolteacher which was the main reason why this particular performer was so well known so far away from Brixton. Eventually the Poet's patience snapped: "I'm not doing that one tonight!" He was clearly irritated at being considered some sort of jukebox, to be played at a whim.
Instead he talked to the audience about things they did not really know about, however much they liked to think of themselves as being worldly and politically aware. He talked of racist police, arbitrary and mindless brutality, antiquated legislation interpreted according to the whim of privileged whites running the British justice system, and he talked of deaths. Cruel deaths, suicides, and the misery of lives shortened by the poverty, despair and madness brought on by oppression.
His words were largely lost on an audience that saw England as the land of the big OE - an exotic locale for accomplishing formative life experiences. The most discrimination they had experienced in Mother England was the occasional Pommie condescension shown towards Antipodean colonials: hardly enough to even warrant writing home about really.
Did the Poet wonder about the strangeness of his coming half way around the world to talk about such things to a crowd consisting overwhelmingly of privileged middle-class whities? There were no more than a dozen or so Maoris in the room that night. As he was neither American, nor a rapper, Wellington's young Maori population was not interested in paying money to see this particular performer.
It was not so odd then that the loudest claps and cheering were reserved for a poem devoted to the reduction of the 40-hour working week, calling for a day when everyone would have more leisure time. Now there's something the members of Ngati Pakeha o Te Aro can really relate to.
The Black People's Poet sighed as he exited the stage
His had been an exhibition of the oppressed man's rage
But having come half way round the world all he had seen
Was a bunch of bourgeois Pakeha checking out the scene
© Wayne Stuart McCallum March 2004
<![if !vml]>

<![endif]>  <![if !vml]>

<![endif]>
<![if !vml]>

<![endif]>  <![if !vml]>

<![endif]>
Web site © Wayne Stuart McCallum 2003-2017
The picture copyrights of the various photographs on this page are held by the respective photographers. Names are provided in those instances where I could find them, but some are unsourced photos from promotional material. If you are the photographer of any of these pictures and would like it removed please e-mail to notify.