The Flying Tiki Tour:
Tiki Nose Art In World War II
by W.S. McCallum
Some cultural background...
<![if !vml]>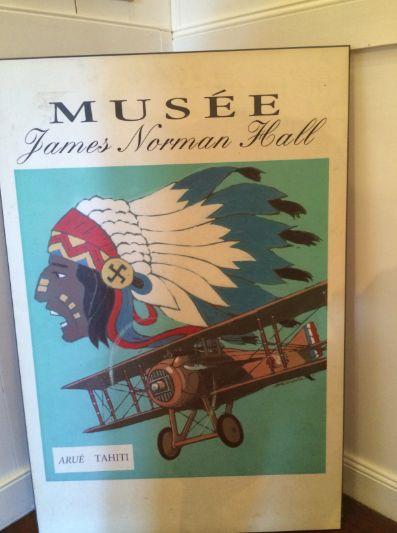 <![endif]>
A plane from the Lafayette Squadron, WWI
Painting up military aircraft in bright colours, with emblems and artwork displayed on the fuselage, is a custom that dates back to World War I, when many of the first warplanes to take to the air were emblazoned in a way reminiscent of Medieval heraldry. The Red Baron's Fokker triplane is a cultural icon that people still know about a century later. This practice continued into World War II, during which regulation camouflage colours took priority, leaving pilots with less room for self expression for individualising their warbirds. Consequently, individualised aircraft decorations tended to be painted either below or in front of the cockpit; hence the term "nose art".
In the European and Pacific Theatres in World War II, Allied pilots who took to the air featured some of the most colourful nose art of the war on their aircraft. American aircraft, for example, had meticulously rendered paintings of scantily-clad gorgeous gals (mainly depicting American women, but sometimes exotic Pacific wahines):
<![if !vml]>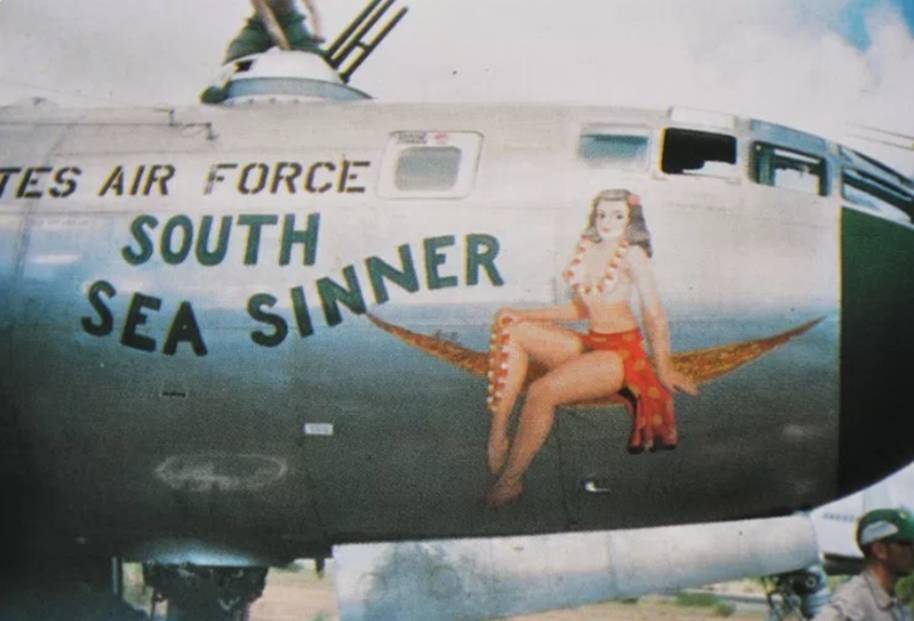 <![endif]>
"South Sea Sinner", a US Air Force B29 bomber.
It was long thought that the flyers of World War II did not feature any depictions of tikis on their aircraft. Sven Kirsten, who wrote the first books on tikis as pop culture icons, was quite categorical on this matter. In his three publications to date, Tiki Modern, The Book of Tiki, and Tiki Pop (all published by Taschen), he has outlined his theory that tikis first emerged as pop culture icons in the United States in the mid-1950s (Tiki Modern, page 85), and consequently tikis could not have been featured in popular art such as aircraft nose art any earlier than this date.
In 2005, on Tiki Central, the leading tiki Website, he responded to an Australian wondering why he could not find photos of World War II aircraft as follows:
<![if !vml]>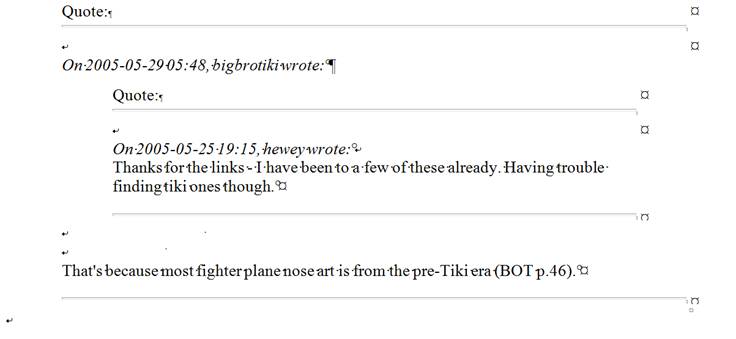 <![endif]>
Sven Kirsten was however, overlooking a missing cultural link in the field of tiki studies. Tikis were in fact popular art icons in New Zealand for several decades before the Americans "discovered" them in the mid-1950s, and WWII aircraft nose art provides an interesting case in point.
<![if !vml]>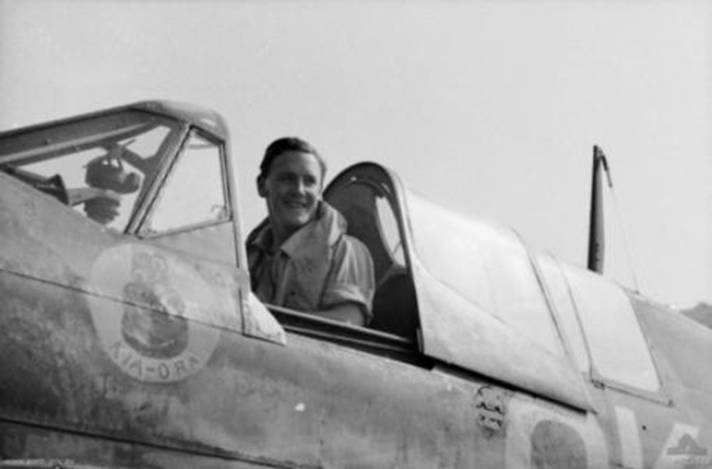 <![endif]>
A New Zealand Hurricane fighter pilot in World War II.
The earliest photo I have been able to find of a Kiwi pilot with a tiki is of Cobber Kain, a New Zealander who was the RAF's first air ace of WWII, flew with No. 73 Squadron, and shot down 17 Luftwaffe aircraft during the Battle of France. He died on 7 June 1940 due to a flying accident.
Here he is in 1940 wearing a small tiki, just visible over his dog tags:
<![if !vml]>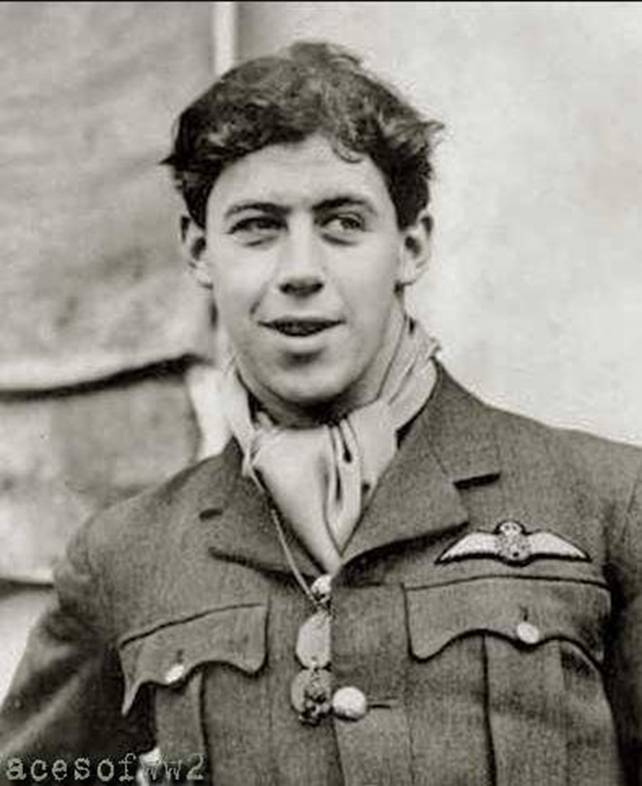 <![endif]>
http://acesofww2.com/newzealand/aces/kain/
"LONDON. April 5, 1940 - With eighteen pieces of shrapnel in his left foot, and one in his right hand, Flying-Officer E. J. ("Cobber") Kain, the first ace airman of the war to have five German machines to his credit, wears around his neck, attached to his metal Identification disc, a Maori greenstone tiki, or Maori luck charm. He is not superstitious, but wears the tiki for sentimental reasons. He was born in New Zealand twenty-one years ago."
But tikis went beyond being just good luck charms for New Zealanders in World War II; they were part and parcel of their identity, with this being shown prominently in their unit insignia.
Tiki Squadrons
The original tiki squadron was No. 75 Squadron of the RAF, which was equipped by the New Zealand Government and crewed by New Zealanders. In World War II, flying missions over Nazi-occupied Europe from 1940 to 1945, it flew more sorties and suffered more casualties than any other Allied squadron.
Its crest, which dates from February 1943:
<![if !vml]>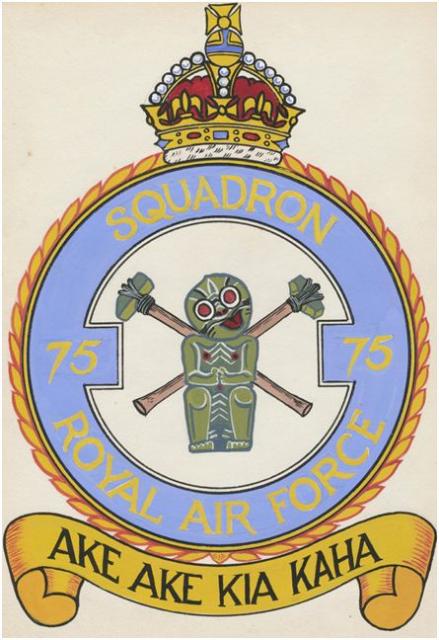 <![endif]>
"For ever and ever be strong."
From April 1940 to May 1945, RAF (NZ) No. 75 Squadron flew 8,150 sorties over Nazi-occupied Europe and lost 1,139 aircrew (452 of whom were New Zealanders). Although it was established with NZ aircrew, 75 Squadron was a multi-national unit. And, according to one RNZAF aviation enthusiasts' forum, No. 75 Squadron's original tiki emblem was actually drawn by an Australian who was a member of the squadron.
The squadron's number, insignia and battle honours were transferred to the Royal New Zealand Air Force by the RAF in 1946.
Here is the post-war RNZAF version of the crest:
<![if !vml]>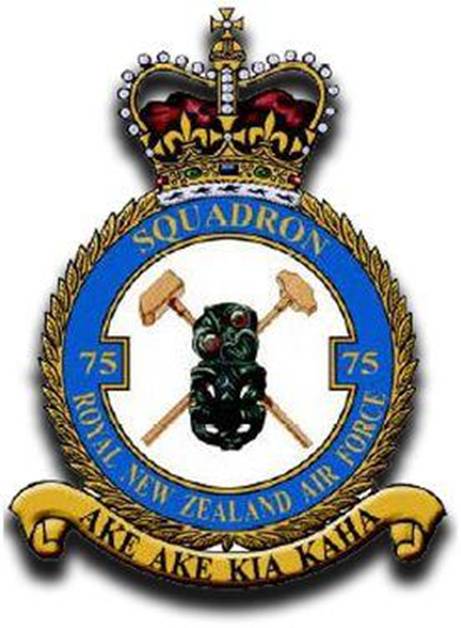 <![endif]>
Mention should also be made of No. 487 Squadron RNZAF, which was formed in England in August 1942 and flew De Havilland Mosquito fighter-bombers ("the wooden wonder") on various high-profile raids on Nazi-occupied Europe, including low-level attacks on Amiens prison in France (18 February 1944), the Gestapo HQ in Aarhus (Denmark) (31 October 1944), and the Gestapo HQ in Copenhagen (Denmark) (21 March 1945).
This is its crest, which dates from January 1944:
<![if !vml]>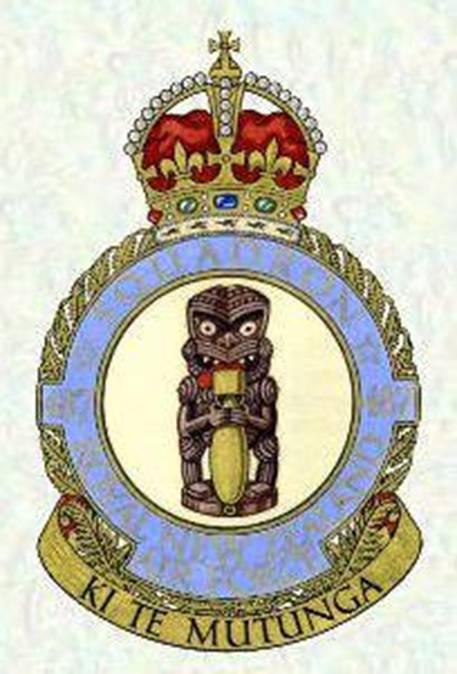 <![endif]>
The motto means "Through to the end".
Then there was No. 6 Squadron RNZAF, formed in New Zealand in February 1942 and based in Fiji and later Espiritu Santo (New Hebrides), which flew long-distance patrols and did sea rescue work using Catalina flying boats.
Its crest (adopted in 1954), depicting the Maori God Tane showing an attitude of watchfulness in the form he adopted for sea travel:
<![if !vml]>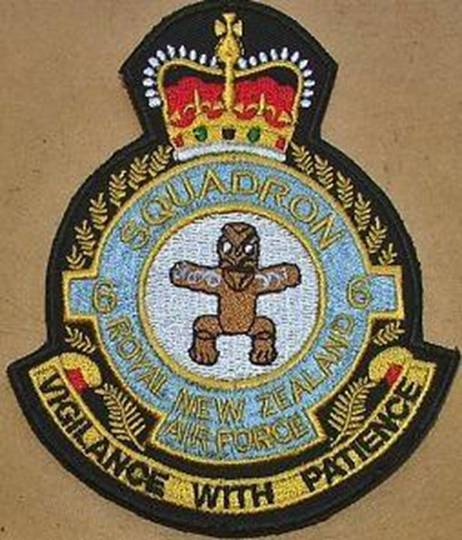 <![endif]>
Also worth mentioning is No. 31 Squadron RNZAF, formed in New Zealand in December 1943, and which flew Grumman Avenger dive bombers from the island of Bougainville.
This is its crest, which dates from WWII (the squadron was disbanded in 1945):
<![if !vml]>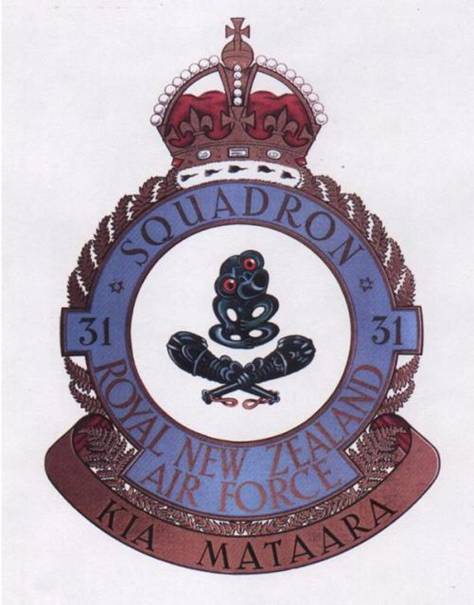 <![endif]>
"Be alert."
Tiki Bombers
So let's have a look at some individual aircraft with tiki nose art. This is probably the most famous tiki-emblazoned aircraft of World War II:
<![if !vml]>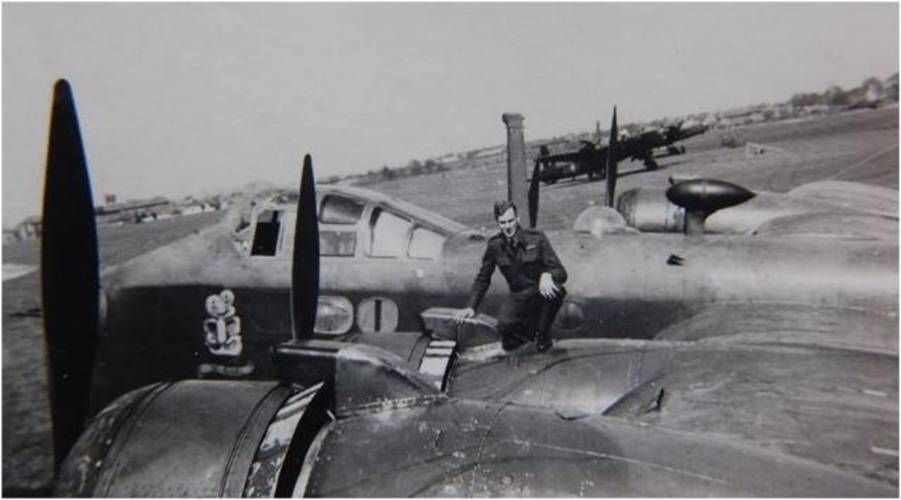 <![endif]>
It is a Stirling bomber that flew with No. 15 Squadron RAF, named "Te Kooti" after a famous 19th-century warrior chief. It was shot down during a raid on Dusseldorf on 16 May 1943. All the crew were killed. (source: Night After Night: New Zealanders in Bomber Command, by Max Lambert p.15)
According to Max Lambert:
"Te Kooti flew for the last time on 26 May 1943. The 15 Squadron Stirling crash-landed in a Dutch field at 2.15 a.m., the quiet of the night shattered by the roar of engines then the awful rending of metal as the bomber hit the ground, bounced and broke into a thousand pieces. The aircraft, flown by Australian John Wilson, came down about five miles from the Dutch town and German airfield of Venlo, in southeast Holland, after being savaged by flak three-quarters of an hour earlier near Dusseldorf. [....] No New Zealanders were on the Stirling that night but she had been a 'Kiwi' plane until three weeks earlier. She was almost new when skipper Irvine Renner's crew, four of them New Zealanders and all fresh to the squadron at Mildenhall, Suffolk, dubbed the plane Te Kooti in January 1943 and painted a large tiki on the fuselage under the cockpit. [...] Officially she was BK611-U (Uncle), but whenever the bomber hauled its way back into the airfield circuit after long flights to Germany, the crew always called up control announcing the arrival of Te Kooti, not U (Uncle), and the WAAFs on the RT knew instantly who was up above."
Irvine Renner chose the name because he was from the Poverty Bay district, which is where Te Kooti was born. His crew and bomber became well-known for flying a special mission to Berlin on 27 March 1943, when they were one of 3 crews that each dropped a 500-pound bomb covered with savings stamps bought by Londoners in Trafalgar Square as part of "Wings for Victory Week". Feelings were still running high after what the Luftwaffe had done to London during the Blitz in the Battle of Britain.
New Zealanders in other RAF bomber units also painted tikis on their aircraft:
<![if !vml]>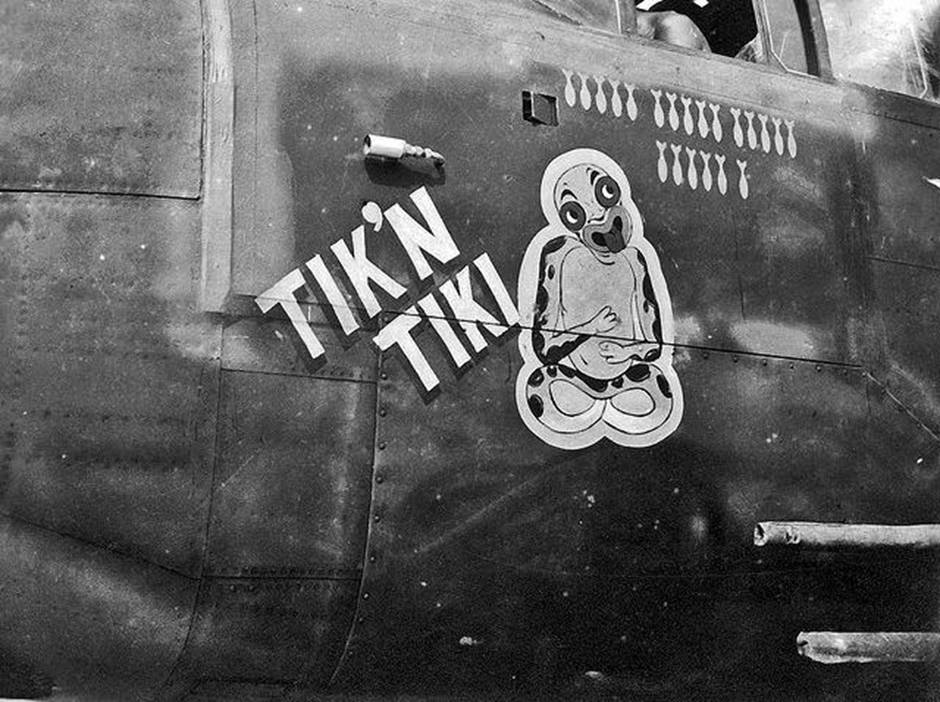 <![endif]>
This photo is intriguing. The link on-line to its original page is now broken, so there is no source. Careful examination of the photo shows it is a WWII B-25 North American Mitchell bomber that looks like it has been repanelled, with one of the nose windows having been blocked out. The two rods in the lower right-hand corner are inner wing-mounted machine guns seen on the Mitchell.
Note that the design is a very untraditional riff on the New Zealand hei tiki: New Zealand aircrew in the RAF flew in two squadrons that had Mitchells: No. 180 Squadron and No. 226 Squadron.
Tiki fighters
Tiki nose art was not limited to bombers flown by New Zealanders in World War II. RNZAF and RAF fighter squadrons with NZ pilots also had aircraft with tiki nose art on them. From the Pacific Theatre, here's a Vought F4U Corsair from No. 23 Squadron RNZAF:
<![if !vml]>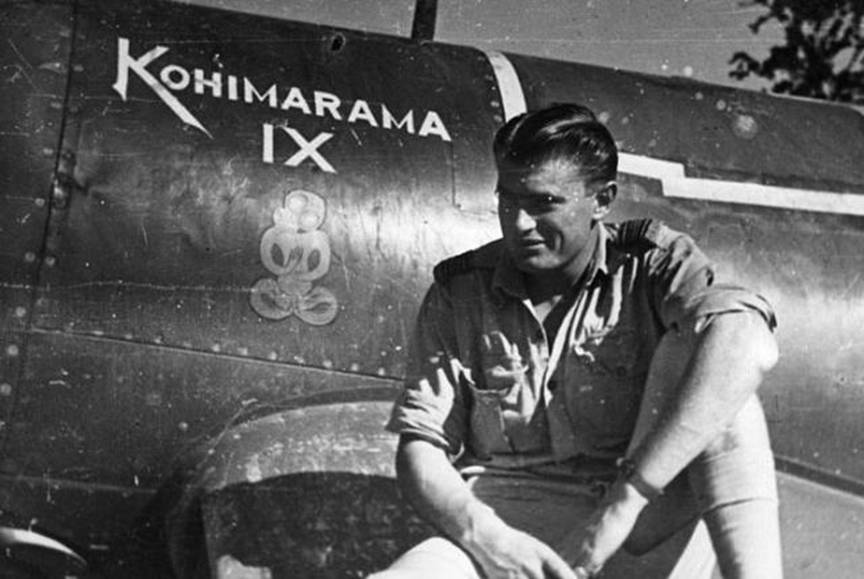 <![endif]>
<![if !supportLineBreakNewLine]>
<![endif]>
Kohimarama is a suburb of Auckland although I'm not sure what the significance of No. IX was. You can even buy this plane as a model diecast:
<![if !vml]>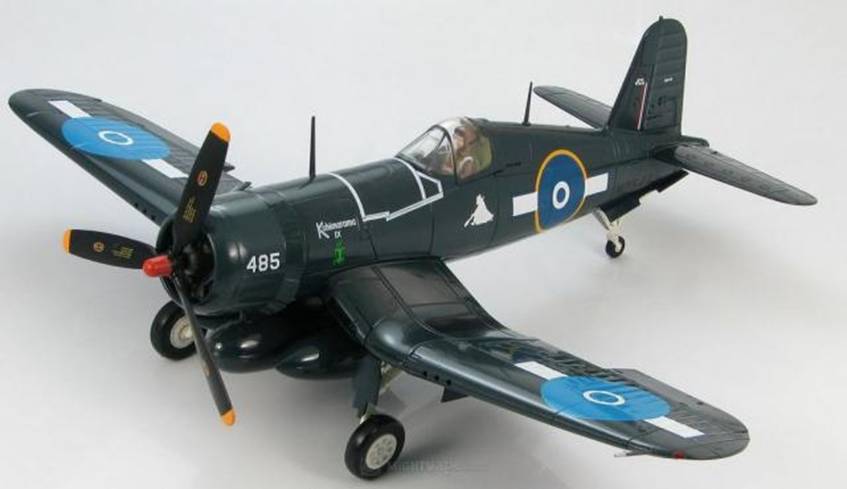 <![endif]>
<![if !supportLineBreakNewLine]>
<![endif]>
Known as the "Ghost Squadron", No. 23 Squadron RNZAF operated from Guadalcanal in late 1944, flying missions against Japanese bases on Bougainville, where it was later based when the island was captured in 1945.
23 Squadron's badge:
<![if !vml]>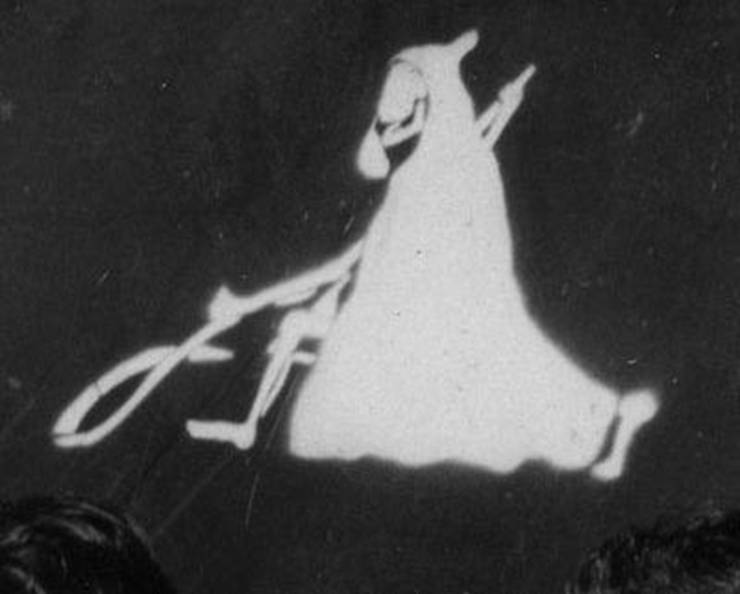 <![endif]>
Many New Zealand fighter pilots fought in the RAF in World War II. One of them was Pilot Officer WH "Hugh" Dean of the RNZAF, who was posted to No. 135 Squadron RAF, which was stationed in India. He was shot down in a dogfight with Japanese fighters on 31 March 1943 during the first Arakan campaign, the first attempt by the Indian Army and British Army at invading Japanese-occupied Burma.
Here he is with his Hawker Hurricane fighter, the nose art of which he painted himself:
<![if !vml]>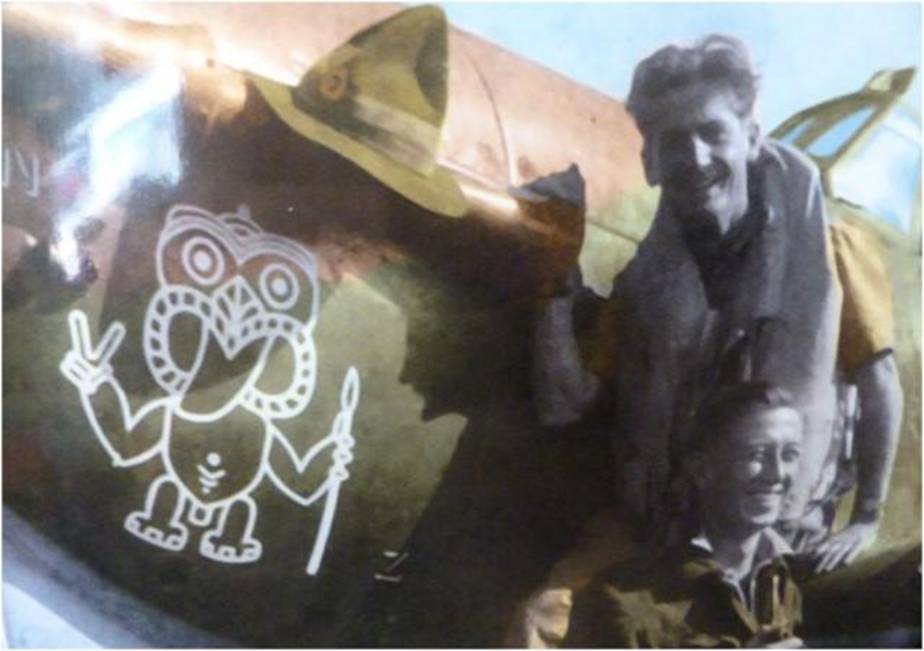 <![endif]>
<![if !supportLineBreakNewLine]>
<![endif]>
The "lemon squeezer" hat is an iconic symbol of the New Zealand armed forces and has been placed atop the tiki for added effect.
Another photo of him with a fellow member of his unit named Charlie Beale:
<![if !vml]>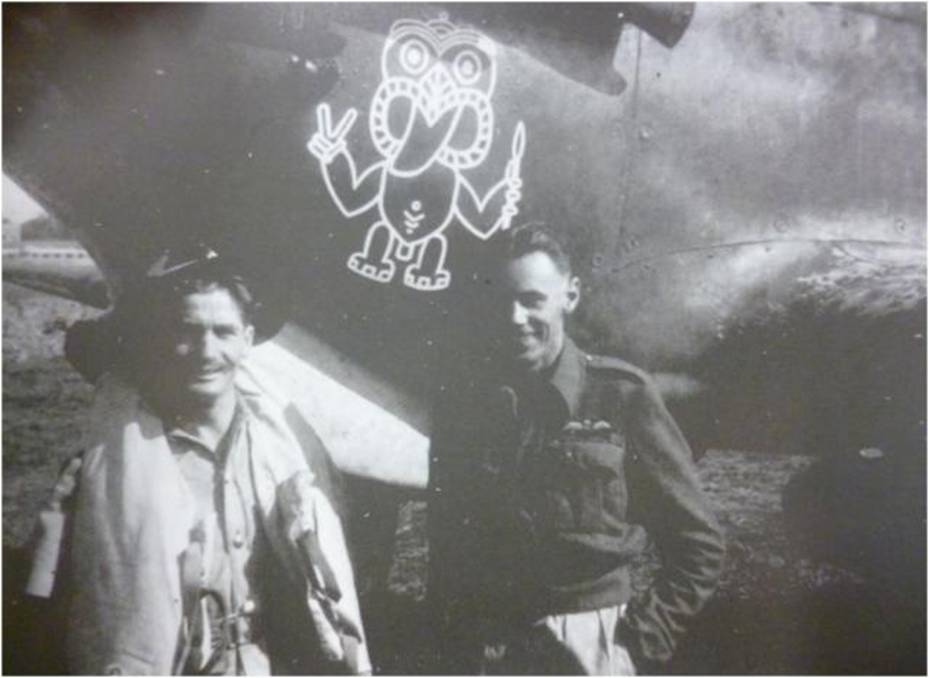 <![endif]>
(Source: Classic Warbirds: "The ANZACs" by Malcolm Laird & Steve Mackenzie)
And a gem of a photo, from Chittagong, in what is now Bangladesh, taken in February 1943:
<![if !vml]>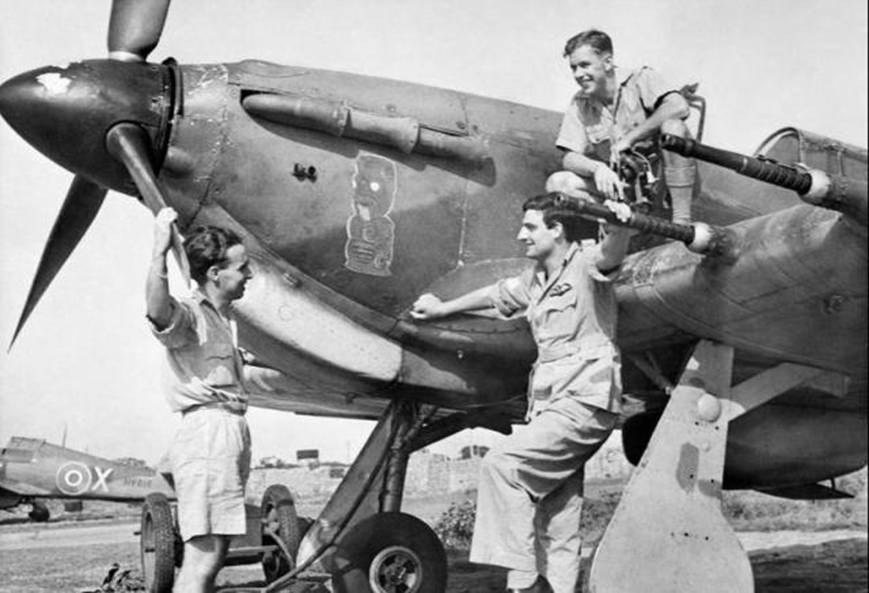 <![endif]>
"RAF and RNZAF pilots discuss a sortie by the nose of a Hawker Hurricane Mark IIC of a Hurricane fighter Sqn operating with No. 224 Group, RAF."
https://www.facebook.com/WWIIBECFFESEA19371946/photos/a.1496655923945034.1073741835.1496587907285169/1712435772367047/?type=3&theater
The guy crouching on the wing looks like Charlie Beale, although I have not been able to confirm this.
All these photos date from the early 1940s, over 10 years before the tiki became an American pop culture icon. It is interesting to note that the New Zealand pilots and squadrons stationed in the Pacific and European theatres fought alongside US units. Americans seeing such pop culture emblems on New Zealand aircraft may have been one of factors that spurred the tiki's adoption in the USA as a cultural phenomenon in the 1950s…
© W.S. McCallum 21 November 2011 - 20 May 2017
<![if !vml]>

<![endif]>  <![if !vml]>

<![endif]>
<![if !vml]>

<![endif]>  <![if !vml]>

<![endif]>
Web site © Wayne Stuart McCallum 2003-2017