The TEAL/Air New Zealand Tiki Tour
The World's First Tiki Airline
by W.S. McCallum
<![if !vml]>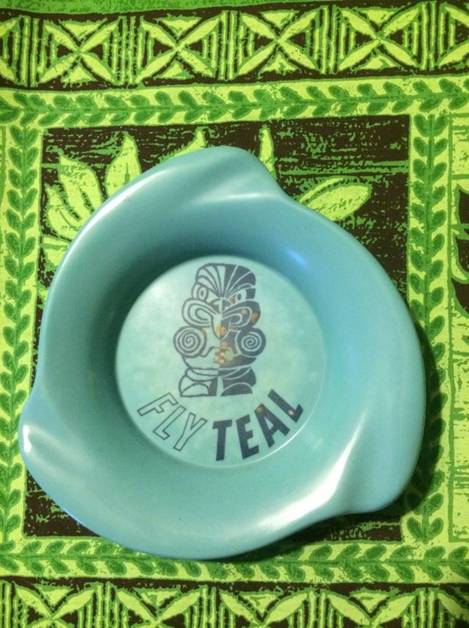 <![endif]>
(TEAL ashtray, circa 1960)
TEAL is the abbreviation for Tasman Empire Airways Limited, which was the original name of the company when it was founded in 1940 through to it being changed to Air New Zealand in 1965. TEAL was an airline that developed initially in the 1940s as a carrier to the Pacific Isles and, as such, it was only natural that Pacific iconography should be integrated into its company image.
TEAL was very much a pioneer in the field of commercial aviation in the South Pacific. For example, it holds the distinction of being the first airline (years before any US or French carrier) to provide a regular passenger service to Tahiti.
At the 2015 Te Papa exhibition in Wellington celebrating Air New Zealand's 50th anniversary, they showed what it was like to fly on the Coral Route which, in its day, was the only regular passenger air service to Tahiti, and was operated in its original form by TEAL from 1951 to 1960. As, in those days, Papeete did not have an airstrip, TEAL flew Short Solent flying boats and landed in the harbour there. On one wall at the exhibition, there was a projection with an old film from the 1950s showing film footage of the various stops along the Coral Route, which went from Auckland to Papeete via Laucala Bay at Suva, Fiji, Satapuala at Apia, Western Samoa, and Akaiamai at Aitutaki in the Cook Islands.
Near the projection screen, there was a recreation of a Short Solent passenger cabin which you could walk into and sit in:
<![if !vml]>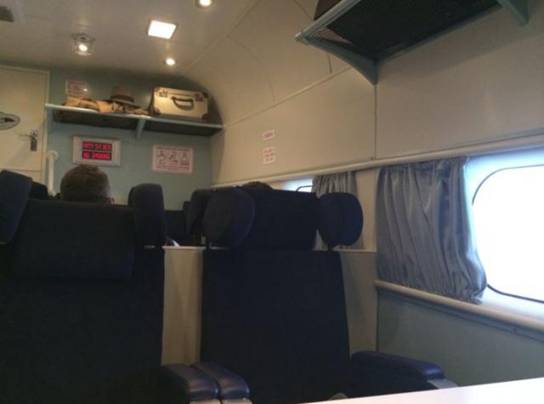 <![endif]>
It was a revelation to discover how spacious the seats were in those days, and there was leg room to spare. None of the cramped "cattle class" conditions you experience these days. There was also an on-board chef who cooked all the meals for the passengers, using fresh fruit, vegetables, meat and fish picked up at the various landing points along the Coral Route. A far cry from the processed pre-packaged food that is the norm on all commercial flights these days.
The cabin recreation was very realistic: you could even watch the propeller spin outside the cabin window and hear the engine noise:
<![if !vml]>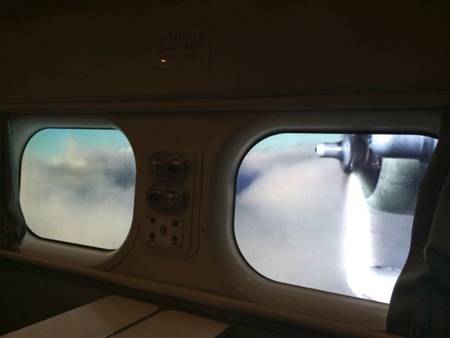 <![endif]>
It was only natural, given that TEAL flew to various Pacific Island destinations, that it would incorporate Pacific imagery into its marketing campaigns. The following is a selection of posters from the 1950s:
<![if !vml]>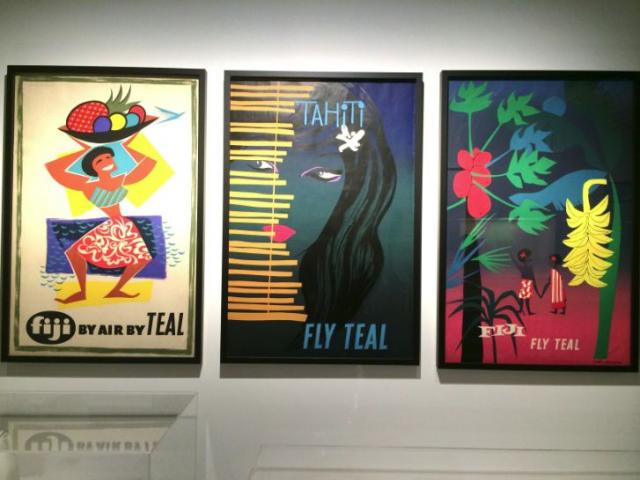 <![endif]>
More posters from the Air New Zealand exhibition:
<![if !vml]>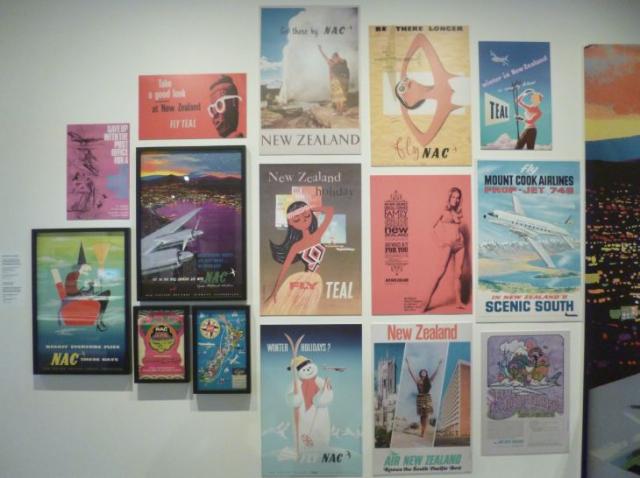 <![endif]>
TEAL's travel posters also included tikis, and it holds the distinction of being the first airline anywhere in the world to integrate tikis into its advertising. Here is a classic TEAL poster from my collection:
<![if !vml]>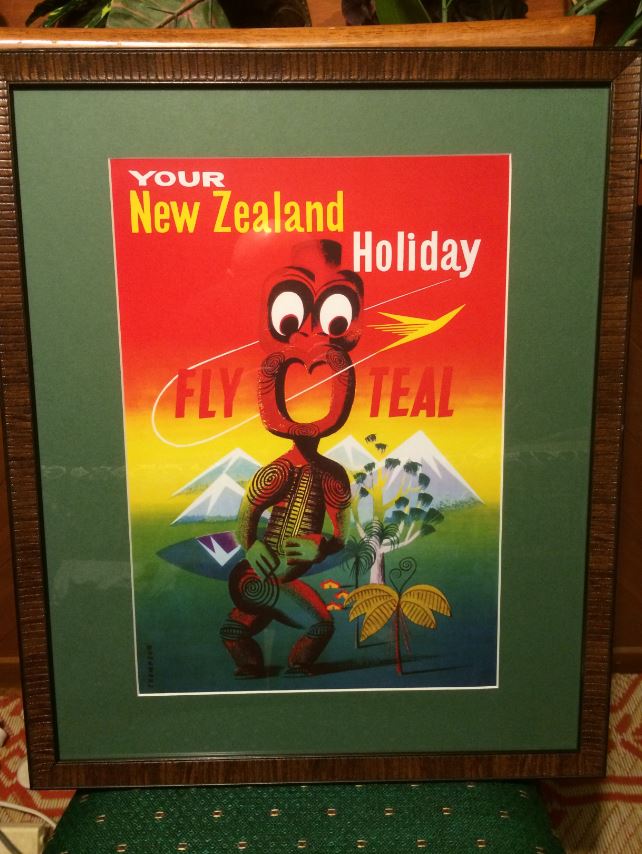 <![endif]>
TEAL posters featuring tikis tended to be humorous and light-hearted in their approach, involving clever "cut-ups" designed to surprise and amuse:
<![if !vml]>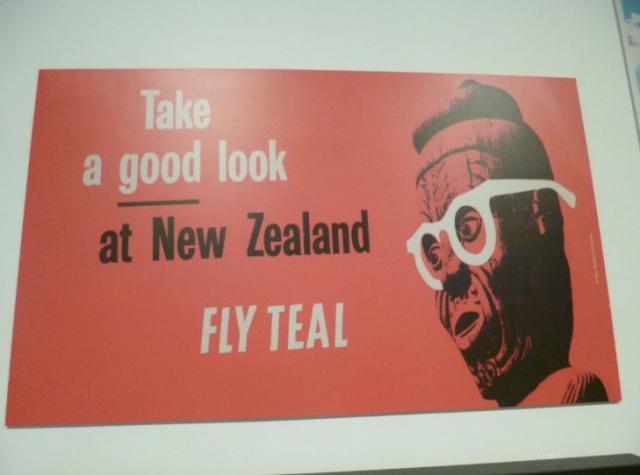 <![endif]>
<![if !vml]>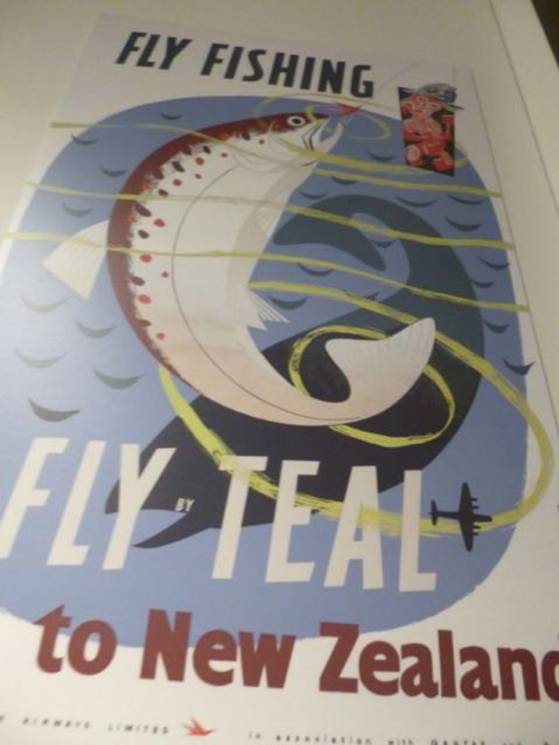 <![endif]>
Fly-fishing tiki detail:
<![if !vml]>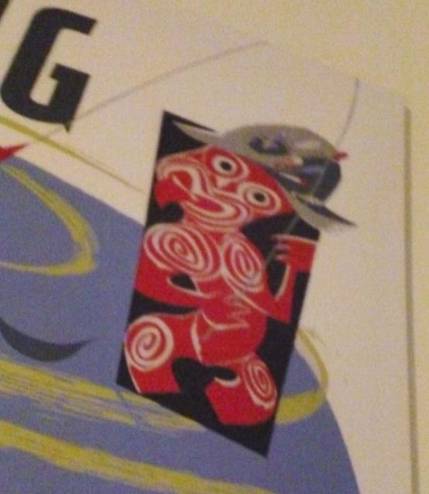 <![endif]>
Possibly the only time you will ever see a depiction of a tiki wearing a fly fisherman's hat...
This use of tikis occurred well before they were adopted by American airlines. For example, United Airlines did not start including tikis in its advertising for flights to Hawaii until the late 1960s. Tikis featured prominently as part of TEAL's corporate image from the 1940s onwards, and later were also a major feature in Air New Zealand's identity too.
<![if !vml]>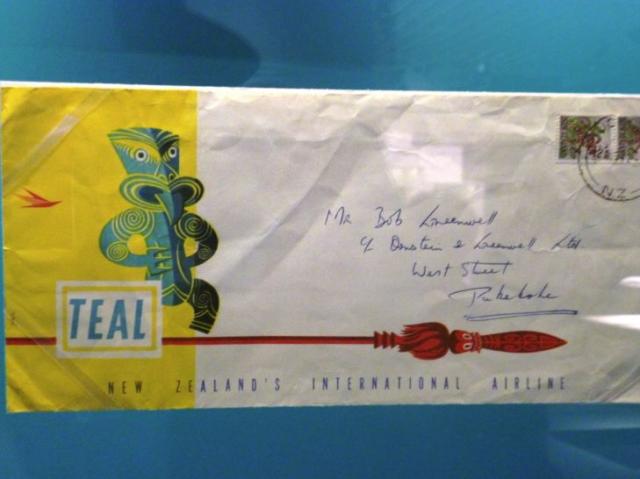 <![endif]>
Envelope used from the 1940s to 1965.
<![if !vml]>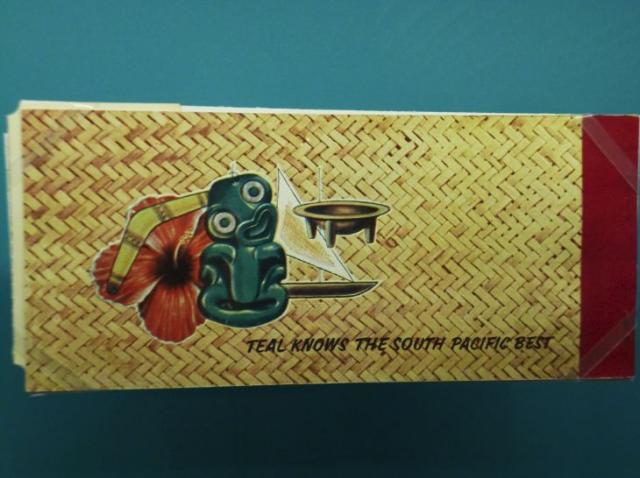 <![endif]>
Ticket (circa 1964).
<![if !vml]>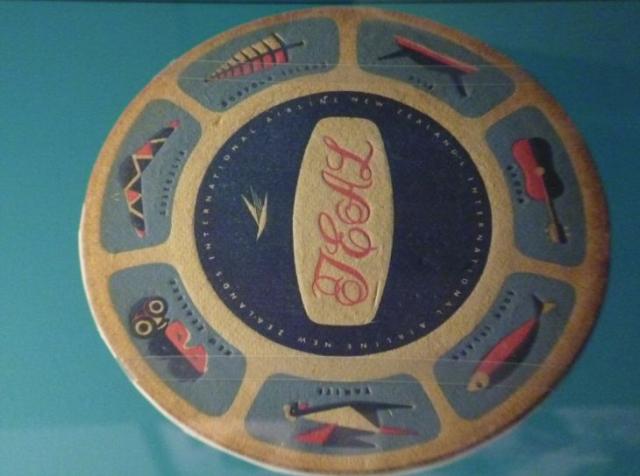 <![endif]>
Coaster (early 1960s).
<![if !vml]>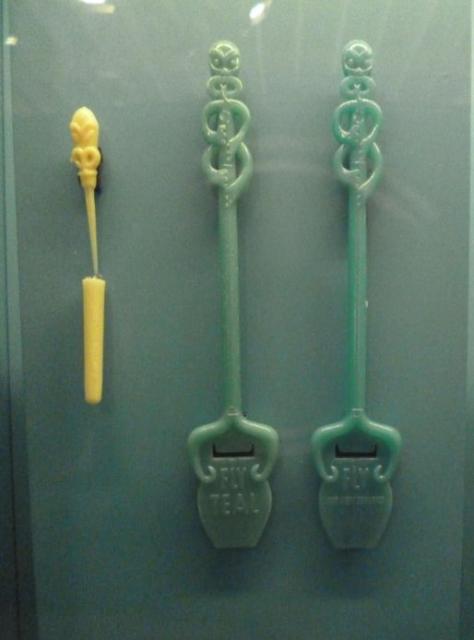 <![endif]>
Souvenir toothpick (1960), souvenir swizzle sticks (1965 and 1960).
<![if !vml]>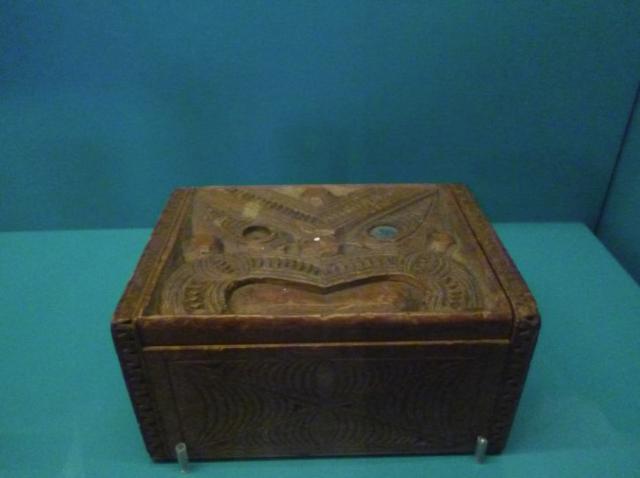 <![endif]>
TEAL carved cigarette box (circa 1960).
<![if !vml]>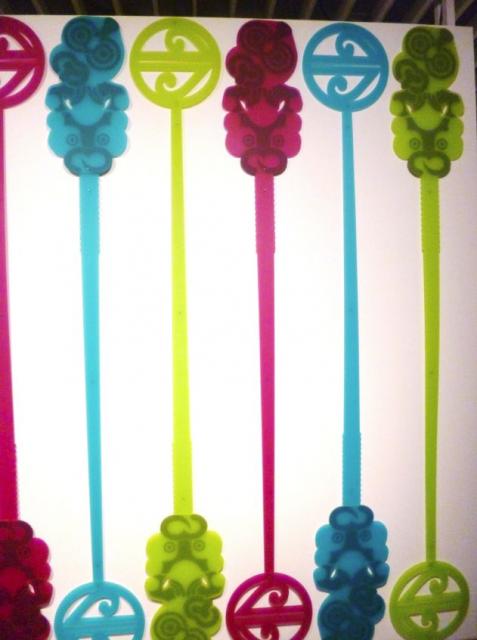 <![endif]>
Air New Zealand tiki swizzle sticks (1970s).
<![if !vml]>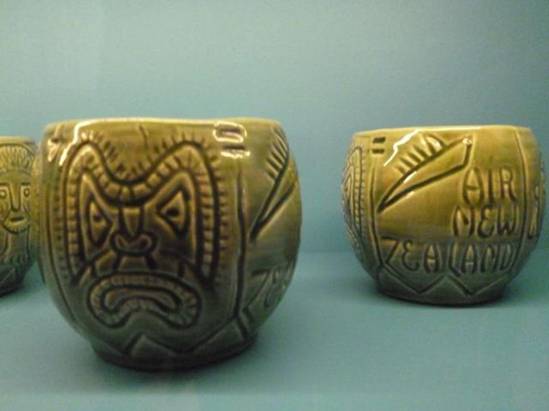 <![endif]>     <![if !vml]>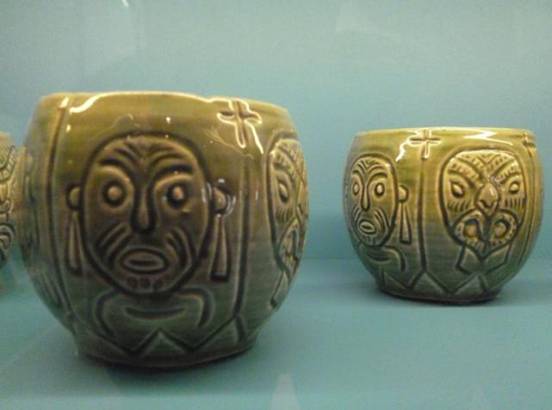 <![endif]>
Air New Zealand tiki mugs by Crown Lynn (circa 1970).
This inclusion of tikis in the airline's corporate image went well beyond the use of tikis in posters and on items provided in-flight, as the following item at the Te Papa Air New Zealand exhibition shows:
<![if !vml]>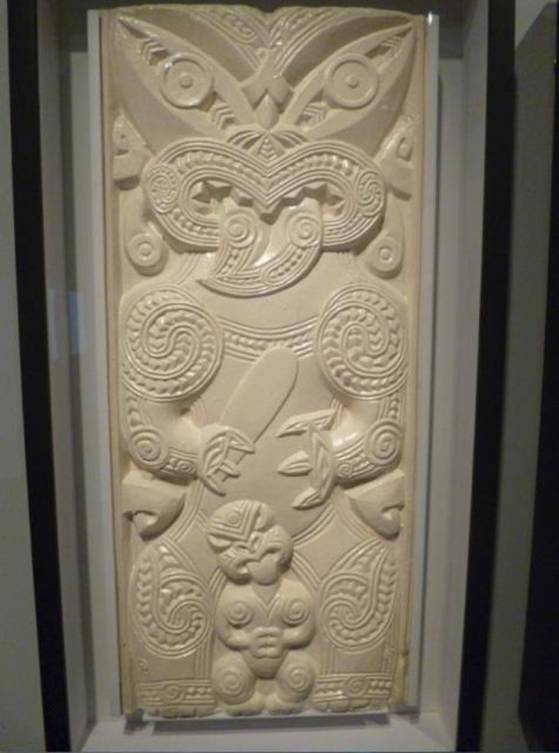 <![endif]>   <![if !vml]>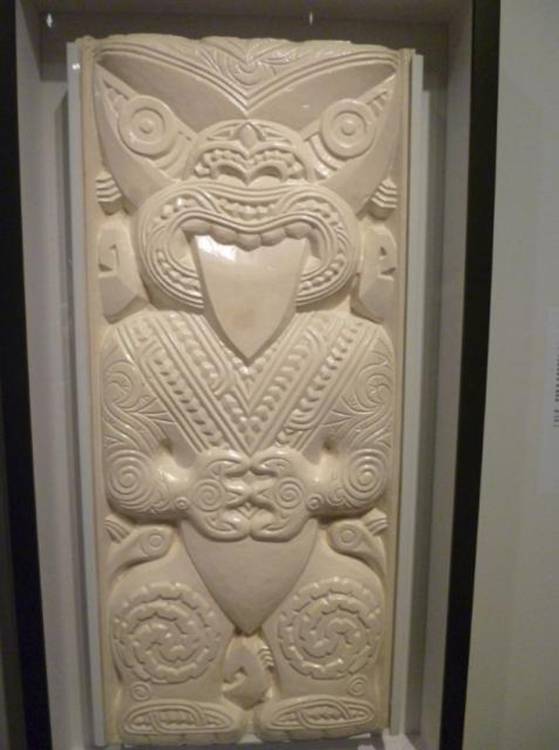 <![endif]>
<![if !vml]>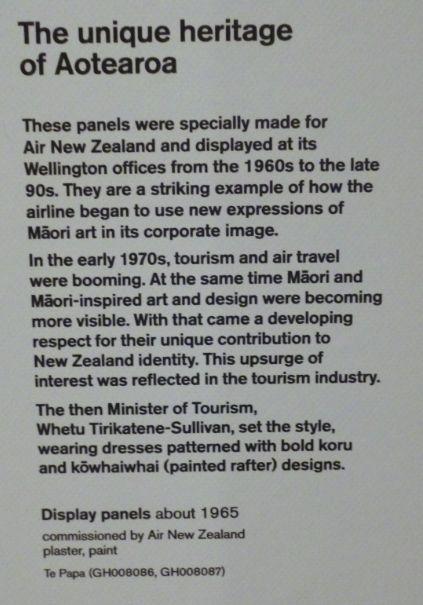 <![endif]>
Use of such iconography was, however, not without its critics. From the 1960s onwards, various Maori people pointed out that, in traditional Maori culture, the tiki was a sacred symbol, and that the use of tiki faces on mugs, cups, plates and ashtrays in particular was inappropriate, as the head is tapu. English people may have no problems eating food off a Queen Elizabeth commemorative plate or stubbing out their ciggies in a Queen Elizabeth ashtray, but traditionally it was a sign of great disrespect and insensitivity to do such things to a tiki, which was usually the depiction of the head of an ancestor or a god. The pejorative expression "plastic tiki syndrome", coined during the 1970s, was used by these Maori to indicate their discontent over what was viewed as a cheapening and denigration of their culture. It was an expression that specifically targetted Air NZ's free plastic tiki that it gave away to all passengers on its flights:
<![if !vml]>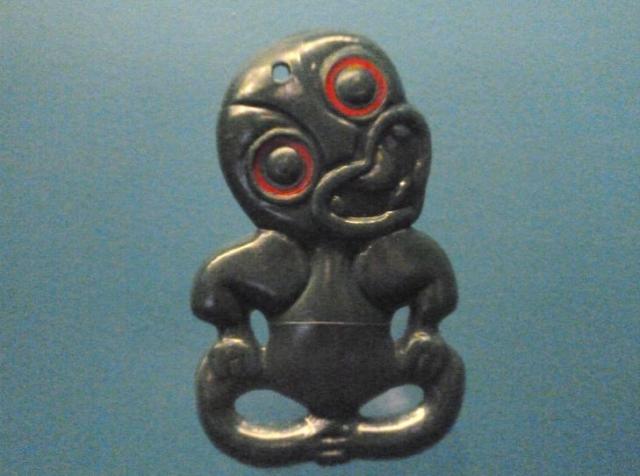 <![endif]>
(The Air NZ plastic tiki, distributed free to passengers from the 1960s to the mid-80s)
Finding itself accused by Maori of denigrating Maori culture, in the 1980s, Air New Zealand backed away from using the tiki. Consequently, Air New Zealand stopped providing them to passengers in 1985, and in subsequent decades, has preferred to associate itself with more culturally neutral themes such as rugby and Peter Jackson's Lord of the Rings and Hobbit films.
As a result of this sea change, Air New Zealand now steers clear of any imagery involving tikis. Generally speaking, apart from its hallmark koru emblem, which it has retained, since the 1980s, the airline has also tended to steer clear of things Maori. The reproach offered back in the day was that these tikis were "inauthentic" because they were made from plastic but, under the circumstances, it is difficult to see how Air New Zealand could have provided hand-carved greenstone tikis. It could be argued that this small token, however "inauthentic", was better than nothing at all. The outcome of this retreat is a present-day situation that is antithetical to the promotion of Maori culture: the plastic Hobbit cups Air New Zealand gives out to its passengers as freebies in the early 21st century fail to reflect either Maori or New Zealand culture and are little more than an exercise in Hollywood branding and promotion. This is a cultural loss: from the 1960s to the 1980s, via its plastic tiki, Air New Zealand gave huge numbers of both New Zealanders and foreigners their first contact with NZ tiki culture.
© W.S. McCallum 4 November 2017
<![if !vml]>

<![endif]>  <![if !vml]>

<![endif]>
<![if !vml]>

<![endif]>  <![if !vml]>

<![endif]>
Web site © Wayne Stuart McCallum 2003-2017