Music Writing 2007
by W.S. McCallum
The Mile End and the Fault
at the Rosemount Hotel, Perth
15 August 2007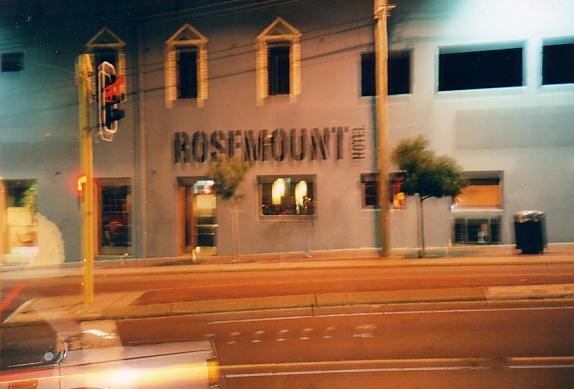 (W.S. McCallum)
Perth's distinctive feature when it comes to nightlife is that not much of interest seems to happen downtown, large stretches of which were turned into ugly shopping plazas about 20 or 30 years ago, judging by the architecture. Instead, the interesting bits of Perth are out in the suburbs, little oases of activity in the prevailing desert of blandness.
The Rosemount Hotel in North Perth is one of those oases. It was recently refurbished and in addition to its huge circular bar, it has a kitchen serving food until 9pm, and comfortable sofas and armchairs to recline on while you are watching the performers on stage. Which brings us to the stage, set into the corner of the building: it is large enough to do cartwheels across, and the acoustics are good too.
Having stopped off at nearby Highgate to look for vinyl and have a nice meal in the local Indian restaurant, I arrived at the Rosemount Hotel just in time to catch the last four songs from the Mile End's performance.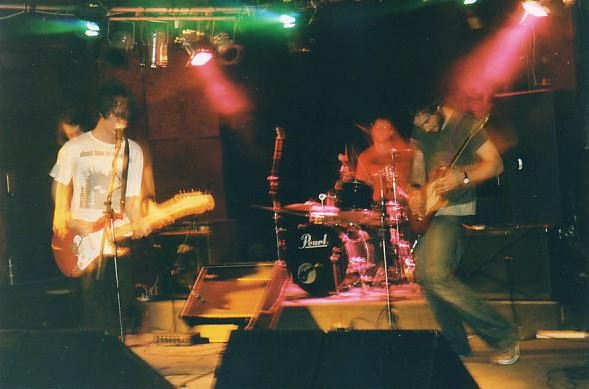 The Mile End (W.S. McCallum)
The first of these songs was measured and languid in its approach, but the Mile End let go at the end of their set, with one of the guitarists placing his guitar aside to help the drummer out by whacking the floor tom with an extra pair of sticks. As it turned out, the drums were a bit high in the mix when I arrived, but by the last few songs, they had it sorted out.
There was a short intermission as the Mile End vacated the stage to make way for the next band. The Fault presented a quirky, energetic set, and really threw themselves into the performance. The drummer offered impeccable timekeeping, and also provided a framework for the keyboard player to emit all manner of surprising combinations. The guitar playing could generally be described as New Wave, although the Fault were in no way a retro band; they may have their influences, but they are doing something quite original based on them.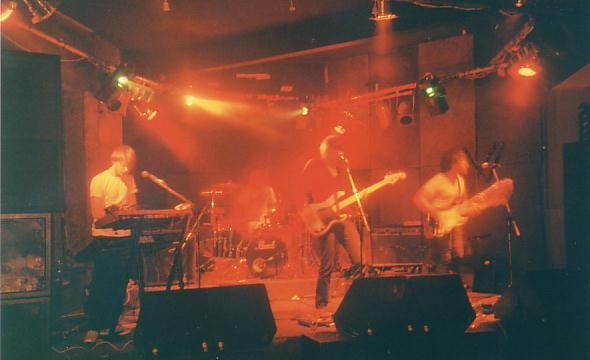 The Fault (W.S. McCallum)
Judging from all the bands scheduled to play there on a weekly basis, the Rosemount Hotel is a hive of musical activity that includes not only local bands but also international acts, so if you are in Perth and looking for something to do, check out what they have on offer.
© Wayne Stuart McCallum 15 September 2007
The Ripping Dylans, the Shake Up and the Exploders
at the Hopetoun Hotel, Sydney
10 August 2007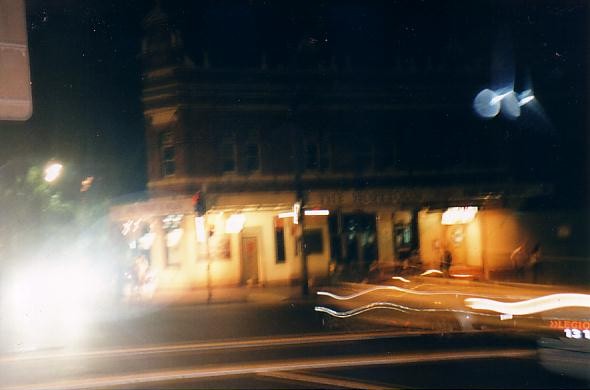 (W.S. McCallum)
At 8.30pm, Kings Cross is still just warming up. The packs of males out wandering the streets have not yet consumed enough beer to be a hazard, and the night's entertainment has not necessarily even arrived yet, judging from the sight of one exotic dancer with a hula hoop and capacious handbag over her shoulder resignedly walking off to work. Further up Darlinghurst Road, once you have passed from Kings Cross to the suburb of Darlinghurst, things become even quieter, and Surry Hills, which in turn is beyond Darlinghurst, is quieter still, being largely a residential area, although with a few rough edges judging from the solid metal bars across all the windows.
The "Hoey", as the locals call the Hopetoun Hotel, is one of those solid suburban pubs that went up some time in the 19th century, and would have been a haunt for working class men stopping off for a pint or three after work before going home to their wives. These days it is a rock venue with a busy schedule, hosting bands most nights of the week.
I arrived just in time to catch the last song that the Ripping Dylans performed that night - a roaring garage version of that old spiritual number "Sinner Man", made famous by recordings by the likes of the Weavers, Nina Simone, Bob Marley & The Wailers and Peter Tosh. It's a bit hard to judge a band by one song, but it looks as if I should have arrived sooner.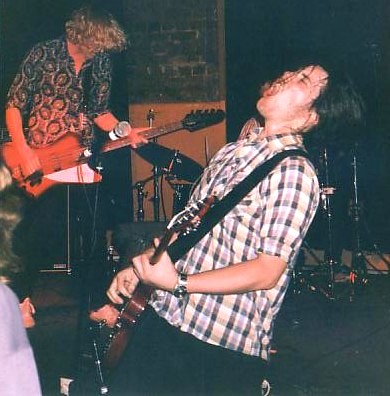 The Ripping Dylans (W.S. McCallum)
The Hopetoun Hotel is a smallish venue, but it has a reasonably large stage. Although we are in the midst of a mildly chilly evening in what Sydneysiders laughingly refer to as "winter" (in London if it was that hot in winter, the Poms would all be walking around topless, dousing themselves in suntan lotion), inside the Hopetoun Hotel, it is already getting uncomfortably hot. It's difficult to imagine what it must be like in here in mid-summer. I would probably be crawling to the bar, gasping for a glass of water.
The Shake Up set up relatively quickly and soon get started. They are a no-nonsense garage rock band. They put a lot of effort into their performance, and are clearly having a great time. The songs are just the sort of thing you want to hear at the end of a long week - the sort of stuff that gets you smiling and jumping around, much like they do on stage in fact. They adopt various rock guitar-playing poses, but manage to pull it off without looking silly, which is more than some bands can manage.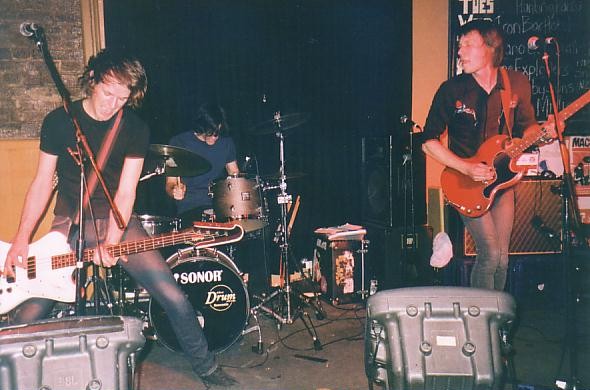 The Shake Up (W.S. McCallum)
By the time the Shake Up exit the stage to resounding applause, the Hopetoun Hotel is pretty packed and it is getting hotter. Maybe I wouldn't have noticed if I wasn't already slightly dizzy from flu, but from here on in my vibrancy is somewhat flagging, so I register the headline act of the evening in a fuzzy state. Unlike the Ripping Dylans and the Shake Up, who are from Sydney, the Exploders are from the town of Lake Bolac, in Western Australia. Through the distorting prism of the flu, I note that they are hot guitar players, that they bow to the altar of the 70s school of rock, and that they push all the right buttons with the audience, but for me something doesn't gel. In retrospect, I think it was the fact that the two support bands from Sydney were coming from somewhere else altogether musically and it upset my expectations.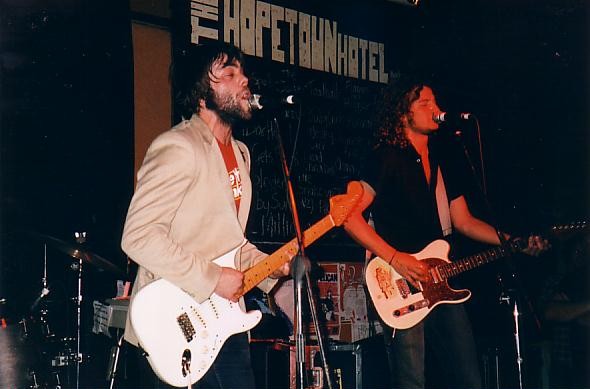 The Exploders (W.S. McCallum)
Whatever the case, I decide to bow out early about half way through the set and seek refuge outside from the heat and noise. Across the road is a corner store. I surprise the owners with my arrival; they are in the middle of stocktaking. They hurriedly lock themselves behind the security grille protecting the counter and wait for me to buy my orange juice (or were they expecting a hold-up?). A seat outside provides a relaxing place to rehydrate and recuperate prior to walking back to the hotel and catching up on some sleep.
© Wayne Stuart McCallum 11 September 2007
Runzelstirn & Gurgelstøck, Dave Phillips,
and Justice Yeldham
at The Eye of Night, Wanganui
25 July 2007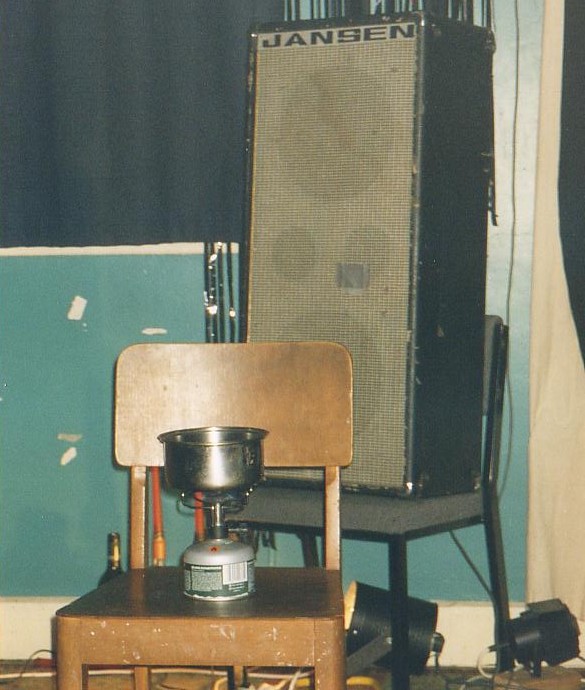 (W.S. McCallum)
This was one of those events that you go along to without knowing anything much about the performers, and solely as a result of being intrigued by the tour poster. It too was quite minimal about information, but did point out that the first two performers on the bill were from Switzerland, while the third was Australian, and that they were travelling through Australasia doing a tour that encompassed various art-oriented venues such as galleries, with funding from Prohelvetica (the Swiss Arts Council).
The evening did not start auspiciously when I discovered that the chair on which I had perched myself was in fact going to be used as a key part of Runzelstirn & Gurgelstøck's performance, namely as a podium for a gas cooker. After I vacated it, the aforementioned chair was shifted to the centre of the room, not far away from the couch where the performance was to take place, and in front of which there was a coffee table covered in pieces of electronic equipment. Vinegar was placed in the cooker and left to bubble and boil. The lights were subsequently dimmed and Runzelstirn & Gurgelstøck (actually just one guy) folded his legs, and assumed a position you would normally associate with a meditating bonze.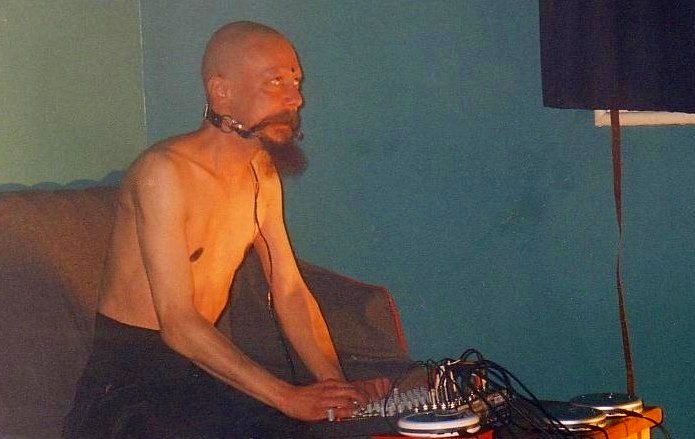 (W.S. McCallum)
Around the back of his head was a leather harness connected to a bit in his mouth, which was wired with a microphone. He then proceeded to subvocalise, manipulating the controls to create a very intense build-up of sound and emotion. He went from having the austere composure of a religious acolyte to gurgling and screaming like a patient receiving electroshock therapy. He shook and convulsed, and rocked back and forth, alternating with periods where all fell silent momentarily, leaving the audience to listen to the bubbling of the vinegar on the gas cooker, filling the room with a particularly foul smell designed to heighten the audience's sense of unease. It conjured up mental associations with septicaemia, raw sweat, cooked flesh and decomposition, among other things. Although quite short, Runzelstirn & Gurgelstøck packed a lot into his performance and it had real impact.
So too did the next performer, Dave Phillips, who could best be described as the heavy artillery among the trio in terms of shock value. While video footage of animals being stunned, electrocuted, vivisected, beaten, butchered, mutilated, crushed, and industrially processed was projected onto a screen, Dave Phillips built up a crescendo of screams and raging noise with the help of a series of balloons and signal processing.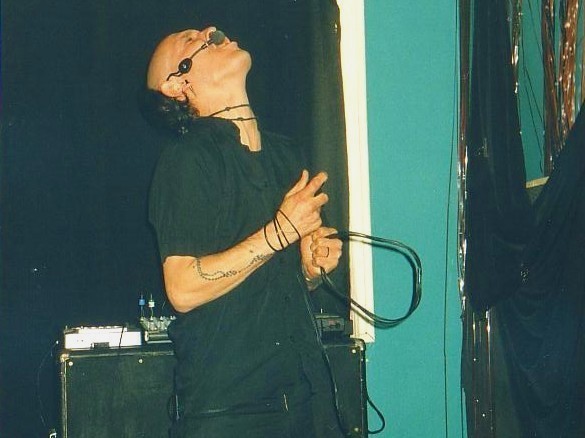 (W.S. McCallum)
All the while, didactic messages kept appearing on the projection screen, highlighting the link between industrial society's cruelty and callousness to animals and the way it treats human beings, prodding and cajoling the audience to think whilst at the same time searing their senses with scenes of unspeakable brutality. It was an emotionally draining as well as a thought-provoking performance, rounding off with the statement that merely thinking without action adds up to nothing.
It was noticeable that various people did not return after the intermission that followed after Dave Phillips had finished his performance. Those who did stay the distance were reassured to see a comparatively normal-looking Justice Yeldham (a.k.a. DJ Smallcock - no, seriously, that's what he calls himself) kneeling in front of ten effects pedals, holding a triangle of transparent material that was wired to a small microphone. Various people were wondering how he was going to make noise out of this thing until he started rubbing it up against his face and sucking and blowing on it, mashing it against his skin, and producing sounds ranging from farty noises to something reminiscent of a jet engine, with a whole lot of stuff in-between that probably wouldn't sound out of place in various heavy metal and punk bands. The very rock-looking dude sitting in the audience in front of me, who was waving his hand in the air, gleefully making the Devil's horns sign, certainly seemed to think so.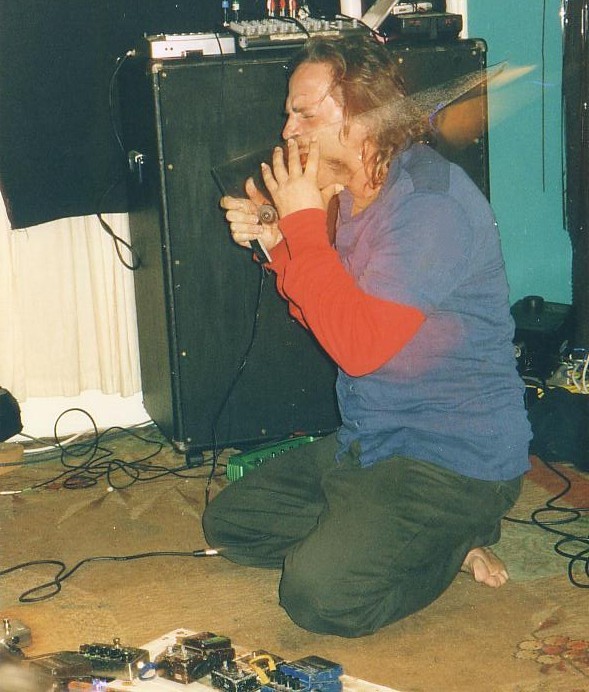 (W.S. McCallum)
It wasn't long before I realised that what I originally thought was a triangular piece of perspex was in fact a very sharp-edged piece of glass, and that as Justice Yeldham was rubbing his face and lips all over it, inevitable cuts and scrapes were causing more and more bleeding, while his face was getting redder and redder, with the sweat and blood not only pouring off his face and congealing on his shirt collar, but also getting liberally sprayed around the room as he threw himself more and more into an aggressive sonic friction battle with his piece of glass. At the same time as this self-mutilation was occurring, ever-more fantastic sounds were being produced until, when you thought he could go no further, he topped things off by smashing the sheet of glass over his head, breaking it in two and sending splinters in all directions. Little wonder he asked for a beer afterwards. He certainly looked like he needed one.
© Wayne Stuart McCallum 30 July 2007
Spit, at the Sarjeant Gallery, Wanganui
12 July 2007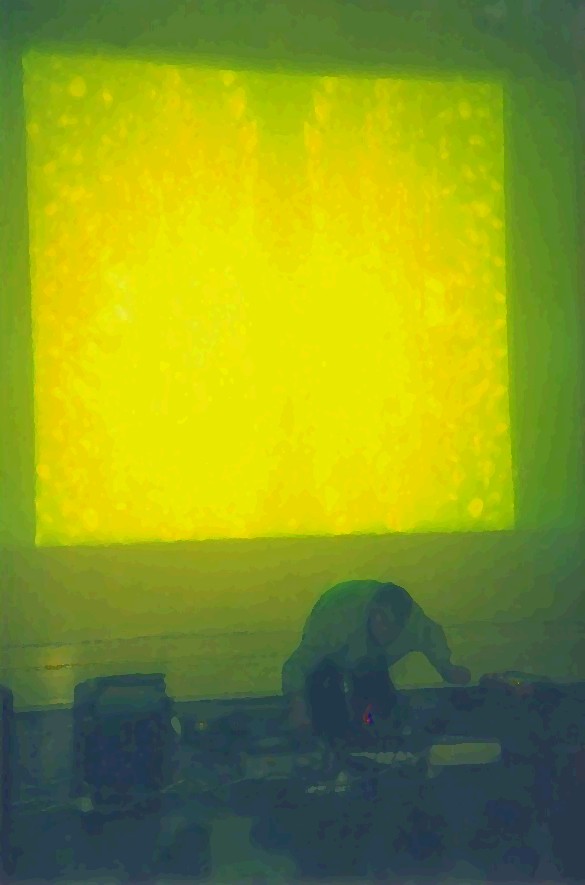 (W.S. McCallum)
Spit, a.k.a. Ryan Cockburn, adopted his stage name as a result of living in Aramoana, which locals refer to as "the Spit" due to its position at the mouth of Dunedin harbour. Helped out by Clare on miked amplifier, and Theresa on Buddhist religious noises, he presented what is referred to as "sound art" in part of a large room at the back of the Sarjeant Gallery.
Material concerns melted away in the face of a projected ethereal abstraction that challenged the spectator to pay attention. The ambient sounds that accompanied the projected images ranging from sky to earth included processed scratchy records, clicking noises and various sound effects, from birds to clapping to the movement of footsteps on baked earth. At one point, mirrored shifting patterns that looked like a never-ending pole revealed faces and gradients. Buddhist temple sounds, intermixed with amplifier and microphone feedback, bounced off noises created using a treated electric guitar sitting on a cardboard suitcase. Later, the projection showed mirrored ground surfaces that shifted to reveal shells, with the passage of man marked by his footsteps and the silhouettes of hands over the landscape, as well as accompanying sounds of crowds and other man-made noises. Ten rocks and a shoe were laid out in three rows before us, followed by more and more rocks, ever-diminishing in size, until their smallness was such that no more rocks merited being laid out. A homage to entropy or the end of a journey? Whatever the spectators' personal interpretations may have been, it was a thought-provoking performance.
© Wayne Stuart McCallum 20 July 2007
Sets of 57, Cut Off Your Hands and So So Modern
at The Eye of Night, Wanganui
8 July 2007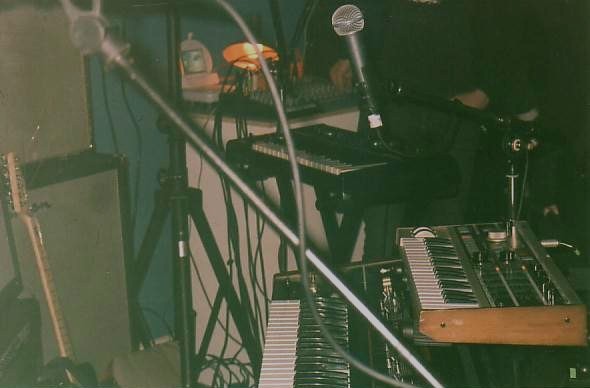 (W.S. McCallum)
It all started on 26 June when I received an e-mail from Blink of A Low Hum fame telling me (and everyone else on his mailing list I imagine) of his latest impending national tour featuring Cut Off Your Hands and So So Modern. It followed with words to the effect that all the trendy people were raving about them from here to Outer Mongolia and that "if you miss this tour you are going to be ridiculed, pointed at and laughed at for the rest of the year, and possibly well into 2008". Well, ridicule and being pointed at has never stopped me from doing anything in relation to the New Zealand music scene, but I figured that if he was getting that excited about Cut Off Your Hands and So So Modern, I might as well go and check them out.
I managed to catch Mr Blink off-guard at the door and slip past him, following which he hurriedly overtook me on the stairs and dashed up to the cash desk just in time, possibly worried that I might sneak in without paying, but such was not my intention. Such was my largesse that I even purchased a CD by Cut Off Your Hands and So So Modern later in the evening.
The show began shortly after 9pm with the arrival of the two members of Sets of 57, from Wanganui. These guys showed the sort of close responsiveness and tight interaction that only comes from performers who play together a lot, and they delivered a blistering set, that was even better than last time I saw them. Among the Zen titles this particular evening, "Kirsten Dunst Makes Raybans Suck" was a particular favourite. (For further coverage of Sets of 57, see my earlier review below on this page.)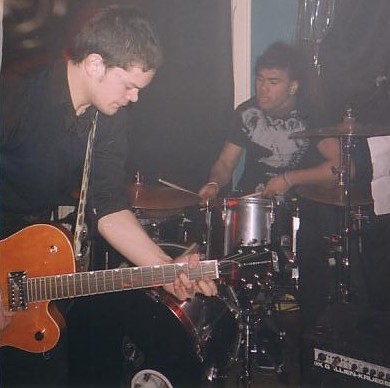 Sets of 57 (W.S. McCallum)
Cut Off Your Hands, from Auckland, then arrived all dressed in black, very much looking the part. It was quite strange watching them. It was like being transported back to 1982, but without all the gloom that pervaded in indy music back then. I looked up their MySpace site to see who they were being compared to by the music media (a lazy reviewing technique that is much beloved by music hacks). The NME claimed they were "like the Stooges playing Strokes songs". This is the sort of stodgy crap that NME writers serve up regularly and was probably written to impress, but it is so inaccurate that it does all three bands involved a disservice. Cut Off Your Hands would probably be the first to admit that they don't offer up the in-your-face provocation of the sort that Iggy Pop and the Asheton brothers excel at, and apart from wearing black, they don't have much in common with the Strokes musically either. Triple J radio in Australia managed to go to the other extreme by saying that Cut Off Your Hands were "the Smiths on ice". I can't imagine anything much more cold and tedious than a band that sounds like "the Smiths on ice".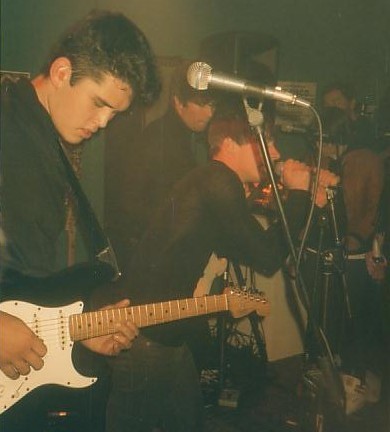 Cut Off Your Hands (W.S. McCallum)
More Cut Off Your Hands photos
If I were to play the "sounds like" game (which is normally best avoided), I would say that Cut Off Your Hands sounds like a cheerful version of the Cure in their early days (circa 1979-82). But even that would be short-changing them, because although their sound undoubtedly draws from the aforementioned bands, they have come up with something that is their own and they deserve better than half-baked comparisons to bands of yesteryear by hacks who don't have the skills to describe their music.
So here are a few words that reflect their music without the need for pointless referencing of the rock pantheon: angular with touches of jaggedness, stridently rhythmic, vibrant, full of brio, soaring, and breathlessly optimistic.
So So Modern's arrival was chaotic, but they soon took up positions behind their four synthesizers. FOUR synthesizers. I viewed the gear being set up beforehand with some trepidation. Synthesizer bands can be less than exciting to watch sometimes, but had anyone in the audience actually been expecting robotic rigidness and tepid one-finger keyboard solos, they would have been disappointed. The first clue that this was not your average keyboard band was their costumes: the band were all dressed up like 21st century electronic monks, each with his own hood, resplendent in green fabric with electronic circuit boards printed on it.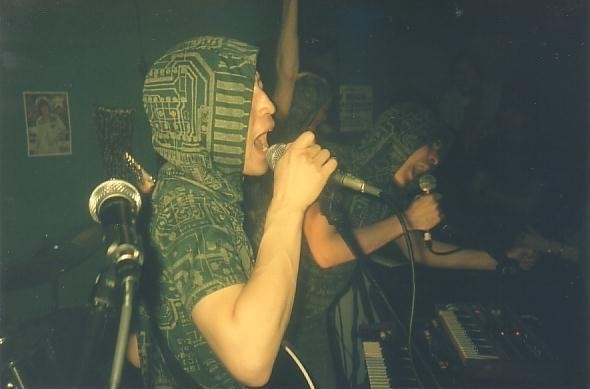 So So Modern (W.S. McCallum)
So So Modern were far from being glued to their keyboards - they were constantly on the move and were amazing to watch up close. They were a big bundle of fun, happiness and energy. They had a guitar or two as well, which didn't hurt, and all the music just slotted into place so effortlessly. If they could capture their live act on a full-length album as their next release, it would be well worth the effort.
© Wayne Stuart McCallum 18 July 2007
Billy's Gospel at Latitude Live, Napier
30 June 2007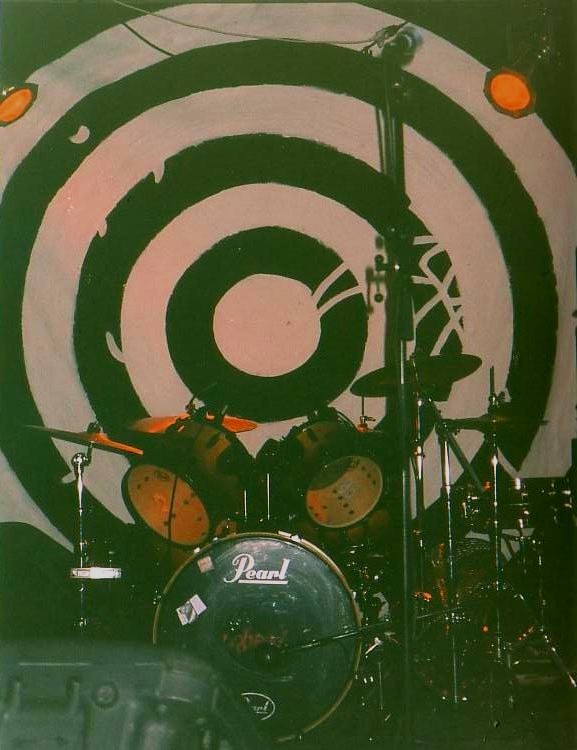 (W.S. McCallum)
It was a relatively chilly night in Napier, as you would expect at this time of year, but Latitude Live provided a warm spot to spend the evening in. Billy's Gospel started their set at 10pm, and the next 40 minutes were a lot livelier than might have been expected for a band that has only been playing together for about a month.
They opened with a pumping instrumental that got things going nicely, and then slowed down the pace a bit with "From The Trees", which showed a Seattle influence. Nevertheless, Billy's Gospel had their own sound and had a very strong set consisting entirely of original numbers at a time in their career when most other bands still only have a few original numbers and are filling out their set lists with covers.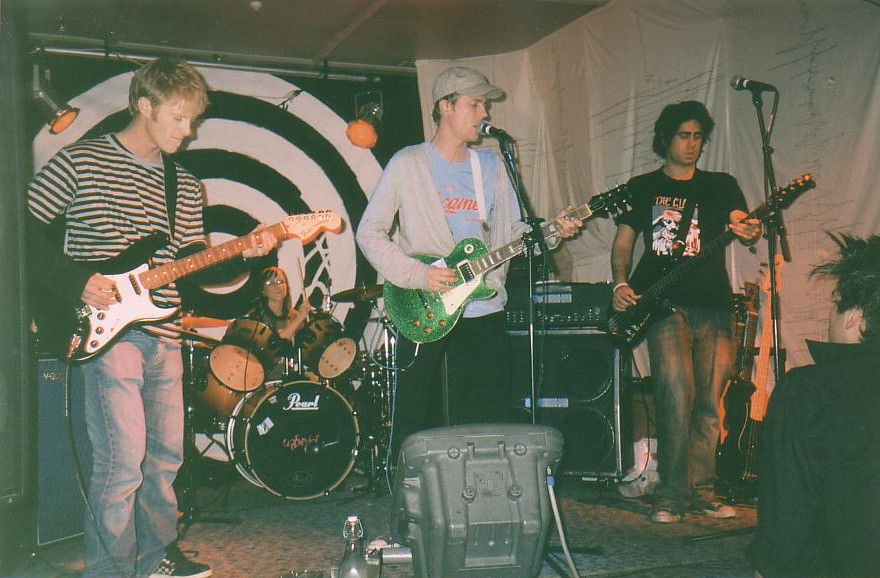 Billy's Gospel (W.S. McCallum)
There was a good progression in the pace, with the band going from the bouncy "Stupid Me Baby" (assuming I heard the name right), to "Peter the Wolf", which was more driving, and then on to "Blue Light Disco" which was even more driving in its sound.
However, they left their best two songs for the end of their performance: "Daddy Was A Rock'N'Roller", followed by "The Ceiling" which in my opinion was the best of the bunch. Billy's Gospel are a group with real talent. Like all provincial groups, their big challenge is where to go next.
© Wayne Stuart McCallum 9 July 2007
Eyeless In Gaza (NZ), Fighting The Shakes and
This City Sunrise at the Bar Bodega, Wellington
2 June 2007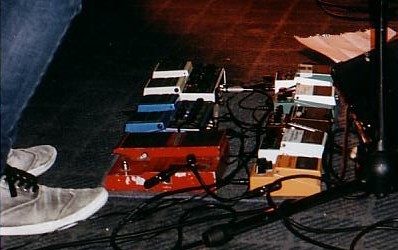 (W.S. McCallum)
I arrived fashionably late at the Bodega only to find out that the show had not even started yet, so was quite pleased to get the chance to see the first three bands in a five-act bill presented by Mole Music. Even though it was past 10 pm, the Bodega was still nearly empty as Eyeless in Gaza set up and checked their levels. A charming feature of the Bodega has long been its drinking regulars, who hang around from the afternoon onwards, long into the early evening, and beyond. The band's soundcheck prompted grumbling from the old reprobates propping up the bar who were trying to watch the rugby on TV. One of them yelled out "Monkeys with guitars!"
The first thing I wondered about Eyeless in Gaza is whether they were aware that they are using the name of a British indie act that has been around since 1980, has a list of recordings as long as your arm, and is not only still going, but is also relatively well known. Hence the "NZ" tacked onto the name in the headers on this site, should any casual reader be wondering whether the original band of that name were on tour or something. A Low Hum published a very insightful article a couple of years ago about the perils of young Kiwi bands failing to do their research before picking their names, and Eyeless In Gaza (NZ) is a classic case.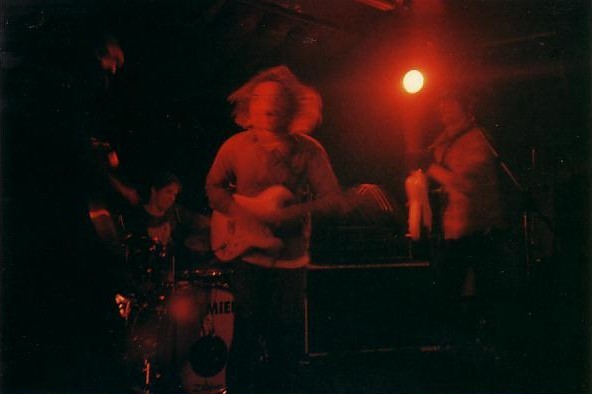 Eyeless In Gaza (NZ) (W.S. McCallum)
More Eyeless In Gaza (NZ) photos
Setting aside the name issue, the band gave a great performance, with some outstanding guitar playing. They reminded me strangely of The Blossom Toes at various points, combining elements of what sounded to me like prog rock with primal scream vocals and punk rhythms. Although they were very definitely on form, during their 25-minute performance, the group fell victim slightly to "1st band mix" problems, in spite of having taken the trouble to put one of their amps up on a chair.
While the hard core regulars muttered in their beers down the back of the bar, the place was filling up as Fighting The Shakes set up. I couldn't help but notice the fact that the audience was predominantly young and female at this particular point in the evening. Does this mean that Fighting The Shakes are chick magnets? Or were all the girls there for another band later that night?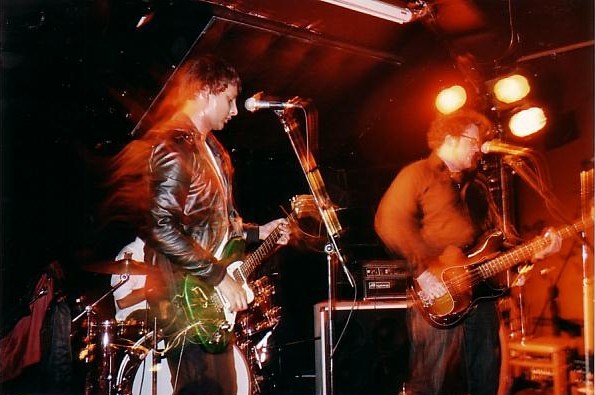 Fighting The Shakes (W.S. McCallum)
More Fighting The Shakes photos
Fighting The Shakes had an enormous amount of energy, with a very precise, percussive speedy punk sound that held quite a few surprises, the most notable of which were the great harmonies included at various points. During the 30 minutes they were on stage, they packed a lot in, and showed that a 3-piece band can have as much impact as a larger line-up.
The next band introduced themselves in the following terms: "Ladies and Gentlemen, it's your favourite gay dancers - This City Sunrise!"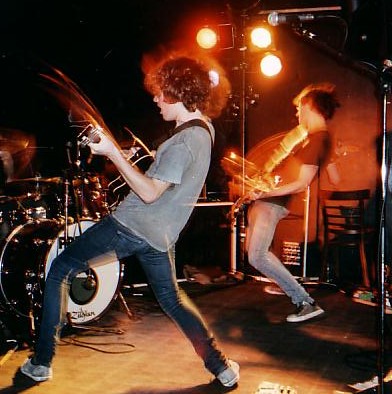 This City Sunrise (W.S. McCallum)
Yes, they definitely had the moves, and there is a high possibility that they were in fact the chick magnets on the bill that evening, judging from some of the fan photos on their MySpace site. This City Sunrise are from Upper Hutt and were the second three-piece band that night with a high-impact delivery and rapid pace in their favour. This City Sunrise completed their set about half an hour after midnight and by this time the Bodega was quite full, with what seemed to be an levelling out of the gender imbalance prevalent earlier that evening. Unfortunately I was unable to stay and see Thought Creature (reviewed earlier - see below) and Cut Off Your Hands, but in any case, Mole Music should be congratulated for organising a great night out, and one that offered excellent value for money: five bands for $15.
© Wayne Stuart McCallum 8 June 2007
Sets of 57, Glasnost and Ladybird
at The Eye of Night, Wanganui
6 May 2007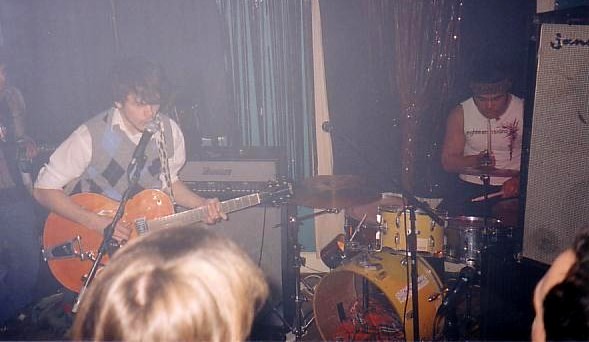 Sets of 57 (W.S. McCallum)
The day that Wanganui was in the national news due to a gang-related shooting, main street did not quite live up to the image that was being presented in the media. That morning I heard National Radio saying "armed police are out on the streets of Wanganui today", but if they were, no gun-toting cops were visible downtown around 7pm. Perhaps they had gone home for dinner. Rather than looking like Fort Apache The Bronx, which is what much of the country must have been thinking thanks to an imagined state of siege whipped up by the media and a mayor doing his usual law-and-order tub thumping, downtown was its usual quiet little self, with nothing much going on.
The major exception was this concert, with a line-up consisting of Sets of 57 (from Wanganui) and Glasnost and Ladybird (from France). Sets of 57 started with a vigorous performance, with the duo packing a lot more energy into their music than a lot of much larger bands can manage. Particular favourites were the songs about fish, Feng Shui, and a depressed racoon, which was prefaced with a disclaimer that it was "not an Emo song".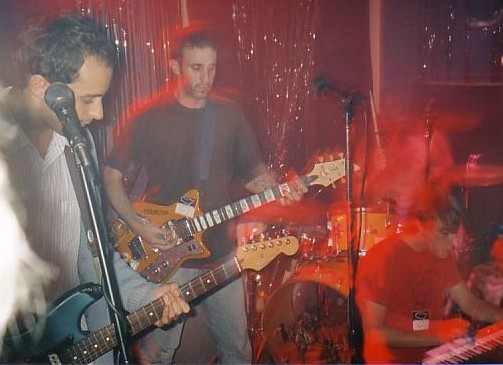 Glasnost (W.S. McCallum)
There was only a short break while Glasnost set up. It was almost too short. Having gone outside to look (unsuccessfully) for gun-toting cops guarding the fair citizens of Wanganui from hordes of wild gang members (I didn't see any of them either), I missed the first song, but certainly heard it, even from a block up the street. Glasnost have a sound heavily influenced by the better parts of '90s rock music and gave a great performance that was marred only by the smallness of the room they were playing in.
My inability to keep away from the wild city streets resulted in me wandering off to do some rubbernecking (again, nothing untoward noted) and meant that I missed the beginning of Ladybird's performance too. In line with their catch-line that they are prepared to play anywhere (even in your car!), the band had decided to set up in the venue's kitchen, where everyone squeezed in to watch them.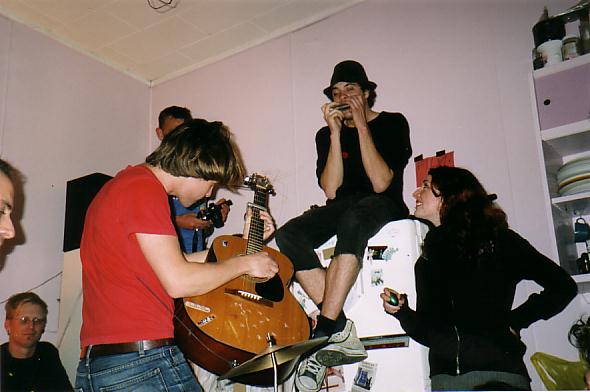 Ladybird (W.S. McCallum)
In comparing the two French bands - Glasnost and Ladybird - the image of two brothers comes to mind. Glasnost is the boisterous, in-your-face, older brother who makes a lot of noise and gets into trouble all the time, while Ladybird is the younger, sensitive quiet one who sits in the sun and reads Mallarmé. The audience had a lot of fun squeezed in with Ladybird in that kitchen, listening to songs about things like seagulls in their drink and clapping along to the largely acoustic music (there was just one electric guitar, with a transistor-sized amplifier). To round off an evening which had consisted of original songs entirely in English, they closed with a French version of a song by the Christchurch band Minisnap.
© Wayne Stuart McCallum 9 May 2007
Thought Creature
at the City Gallery, Wellington
31 March 2007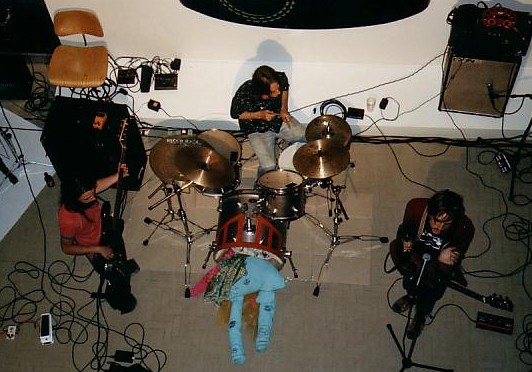 (W.S. McCallum)
It was an original concept (for Wellington anyway): open up the City Gallery at 7pm on a Saturday night, give people time to wander around and look at the exhibition on new art from New Zealand, and then let them all enjoy a concert in the foyer from 8pm onwards. For those readers not familiar with the New Zealand art scene who may be wondering why such an exhibition was not being shown in New Zealand's national gallery, it is because New Zealand does not actually have one. In Wellington, the City Gallery acts as a sort of surrogate venue for such events. This circumstance is perhaps not all that surprising when you have a government and society more obsessed with shovelling money into the rugby world cup than with substantial arts projects.
But I digress. As there was plenty of time to peruse the exhibits, I had a look around. For me, the best installation was a darkened room on the ground floor where you lie on beanbags and stare up at strange video images displayed inside pod-like things hanging from the ceiling, while the best artwork generally speaking was the knitted barbecue, complete with a beer crate full of knitted corgis.
Thought Creature are a three-piece Wellington band with psychedelic and experimental inclinations who have been around for a couple of years now. They played to a packed house, with people crowding not only the foyer of the gallery where they had set up to play, but also the staircase and mezzanine above it.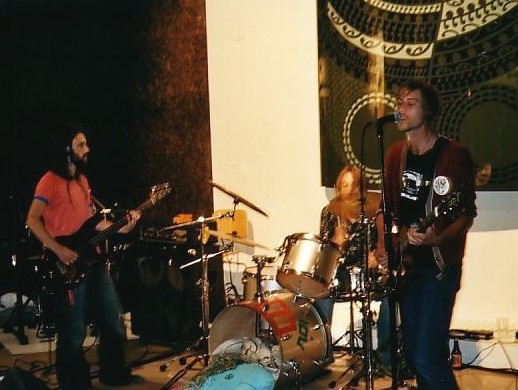 (W.S. McCallum)
Early on, their sound ranged from languorous through to preposterous at one or two points (I think they were teasing), giving way to an ever-increasing energy level, and even included an energetic but short rendition of Pink Floyd's "Interstellar Overdrive" which got them a handshake after the concert from a Pink Floyd fanatic (complete with Pink Floyd patch) in the audience. The acoustics were great - you can seldom go wrong with a high ceiling, although I did wonder if all that glass at the entrance might have a deadening effect. As it turned out, it was no problem. Because it was a gallery and it was not that sort of audience (far too cerebral), there was not a lot of audience movement, although a few brave people did dance, including one curious-looking gentleman wearing 3D glasses, possibly unaware that the band were already standing there in full three-dimensional glory.
The set ended at 9pm with resounding applause, and the members of Thought Creature hurriedly packed up to make way for the main act, the Dead C. I did not stick around for the Dead C as I had an appointment with a bar up the road, which turned out to be a great venue, but a disappointing place for music on that particular night. Enough said.
© Wayne Stuart McCallum 4 April 2007
The Gracious Deviants
at the Bodega, Wellington
18 February 2007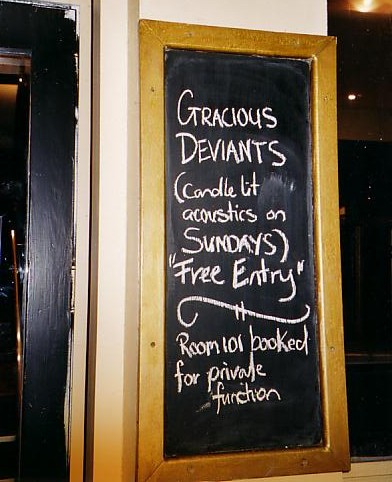 (W.S. McCallum)
On one of those warm, still summer evenings for which Wellington is famous, I arrived at the Bodega around 9.30 and grabbed a ringside seat just as the Gracious Deviants started their show. The audience was smallish, polite and attentive as the duo performed their repertoire of original songs on acoustic guitars.
The sound was unadorned, with the absence of effects pedals boxes being notable (even the Turin Brakes use them…). Instead, the Gracious Deviants relied on the strength of their vocals and cohesive playing. A Luddite approach perhaps, but it did work, and they showed some stamina in playing for about 90 minutes, taking only a short break about two thirds of the way through.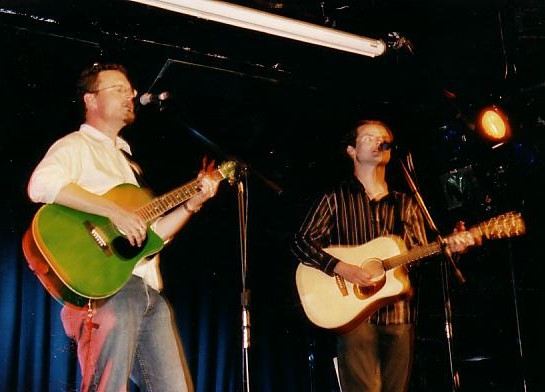 The Gracious Deviants (W.S. McCallum)
It took them about three songs to get warmed up, but once they got into it, there were various songs that pulled you out of that Sunday-night torpor that sets in at the end of a long week. Their best songs really stood out - "Things Don't Come Any Better' with its slightly blues influence, "Falling" with its effective call and response approach, and "98.3" with its novel rhythm, while their finale "Release Me" highlighted what great singers the Gracious Deviants are. Not only was it an entertaining performance, there wasn't even a door charge to get in.
© Wayne Stuart McCallum 20 February 2007
Glass Museum and the Dont's
at El Rio, San Francisco
6 January 2007

(W.S. McCallum)
El Rio is in the Castro neighbourhood, south of central San Francisco. It has a novel and quite clever layout: you walk in through a long, narrow barroom, with pool tables at the back, into a yard with tables where you can sit and even watch films in summer, and then walk along the deck to the right and up a dingy corridor to get to another long, narrow room where the bands play. This allows you to avoid what I call "Bodega syndrome" (named after the Bar Bodega in Wellington), which is what happens when you have a neighbourhood bar doubling as a venue, and all the regular afternoon drinkers keep hanging around and ruin the show by carrying on like a bunch of vagrant methos at the back of the room. El Rio had it all sorted out: the drinkers have their section, the music fans have theirs, and you can hang out with each other in the yard if you want to. Perfect!
The first band on that Friday night was Glass Museum, from San José, a three-piece combo with a dark intensity. Having just looked at their MySpace site, it now looks like they have changed their name to "Settler", which may have something to do with the fact that if you are searching for them on the Web, you get hundreds of hits relating to glass museums rather than the band. The perils of choosing a band name…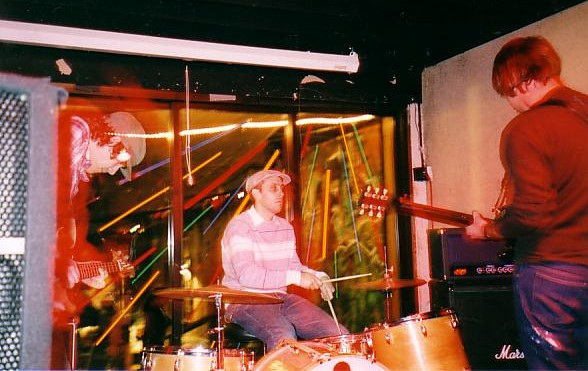 Glass Museum (W.S. McCallum)
Glass Museum have mastered the art of how to ratchet a song down and make it really subdued, and then crank it up again and blast out the audience just in case any of them might not be paying attention. Wonderful musicians, but they are crying out for a vocalist. They could be another Can, with some strange guy from Japan or wherever, muttering incomprehensible words to complement the abstraction of their instrumentation.
They were followed by the Dont's (note the weird position of the apostrophe if you are looking them up - my spellchecker keeps trying to correct it). The Dont's stood in sharp contrast to the low-key stage presence of Glass Museum. I got the impression these guys were not going to be your typical shoegazer group when JJ Don't (n.b. - apostrophe shift), the bass player, got up on the stage and started putting on a mask and cape (a cape? it was a TOWEL!!!) that made him look like some low-rent Zorro who had lost his hat. And then there was Jonny Don't, the singer, who was striding around with this funny little mini-megaphone, sounding like an American Mark E. Smith, wondering where his beer was and disclaiming responsibility for what was about to happen if he didn't get one (it did eventually arrive).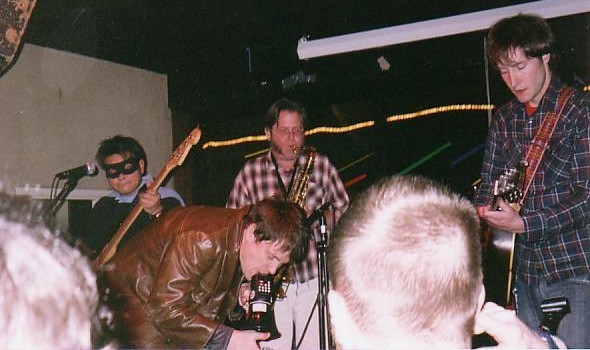 The Dont's (W.S. McCallum)
The Dont's also had a sterling guitar player in the form of Joey Don't, who managed to fry his amp in the middle of the performance, a problem which was soon solved by plugging into the bass player's amp. With Ken Don't's (two apostrophes!) solid drumming and Ralph Carney (a sideman of Tom Waits') accompanying them as the one-man horn section, they had an unorthodox but remarkably cohesive sound. Some of their songs were outstanding, particularly "Dial Tone" and "Worldview", off their latest album Inner el camino. These are the sort of songs some bands would kill for, and they were delivered with remarkable chutzpah.
To close, my apologies for missing the following two bands on the bill (Worker Bee and Sky Pilots) - a bout of the flu meant that an early night was in order, and I had to leave early, but with a smile on my face after seeing the Dont's.
© Wayne Stuart McCallum 27 January 2007
Heliophysical New Year's Party:
High Places, Kid606 & Friends, Warbler, Hawnay Troof, and DAT Politics
at 21 Grand, Oakland
31 December 2006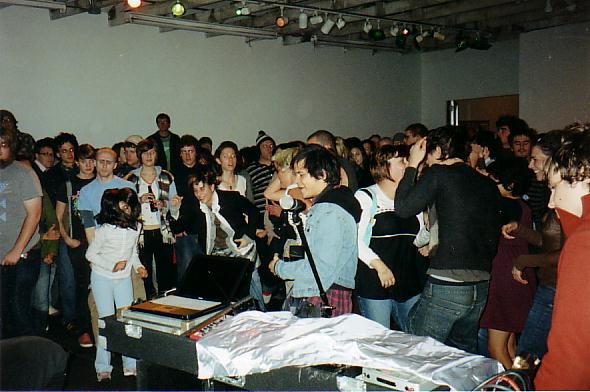 (W.S. McCallum)
Confusingly, 21 Grand had relocated to a warehouse at 416, 25th Street in Oakland, but that wasn't why I missed the first two acts on the bill that night (Bronze and Bevin Blectum). No, I was late due to waiting to get my laundry out of the dryer, so apologies to the first two acts for no coverage here, but some things just have to take priority, even if it is just the assurance of knowing you'll be able to wake up in the morning after a big night out on the town, secure in the knowledge that there, beside the bed, is a clean pair of socks and underpants just waiting to be put on.
So the first act I saw that night was High Places, consisting of Mary and Rob from Brooklyn. Rob performs Asian highland tribal music while Mary sings enchanting, floating words over the top. Rob admitted he likes Gamelan music, which indicates one of the elements contributing to their sound, but it shouldn't be assumed they are one of those tedious "World Music" clone acts unsuccessfully trying to imitate someone else's culture. What they have done (and they have only been together since June 2006) is to come up with a quite distinctive sound mixing tribal rhythms and electronica that really sets them apart.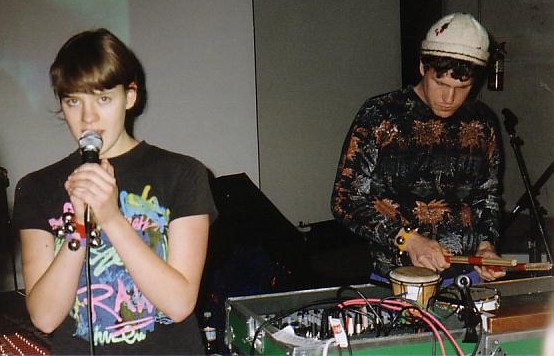 High Places (W.S. McCallum)
High Places completed their half-hour set between 10.30 and 11pm and quickly vacated the stage for Yacht, a one-man party machine down from Portland, Oregon. With a cry of "going back to 1991!" he launched into a solo performance with backing tracks that actually delved a bit further into the past than 1991. I would have said about 1988, with more than a dash of the likes of Mantronix definitely contributing to Yacht's musical concept, as well as lots of weird dancing and a whole bunch of energy thrown into his delivery. The highlight came at the end however, with what he described as "a grunge number"?!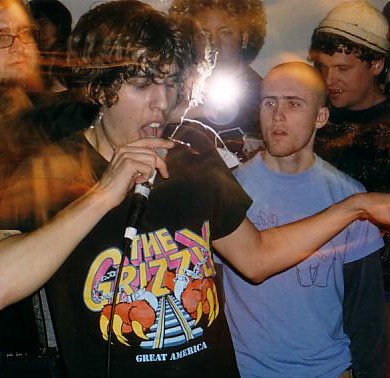 Yacht (W.S. McCallum)
Then along came the heavy artillery, in the form of Kid606 & Friends, whose sound is best described succinctly as consisting of completely bonkers heavy metal drumming with overdriven, distorted synthesiser and a lot of distorted screaming (and I mean that in the nicest possible way). The drumming in particular was absolutely titanic. Although I hate lazy music journalists who pull out totally lame descriptions like "it was a cross between x and y", Kid606 & Friends really had me thinking at various points that they were an industrial drum and bass version of the Prodigy.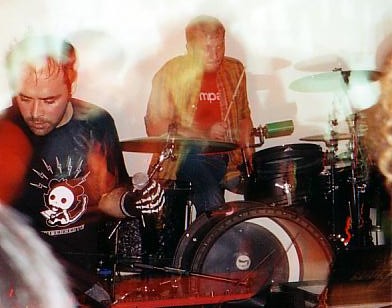 Kid606 & Friends (W.S. McCallum)
Much to my amazement, Kid606's drummer returned to back Warbler when they started their slot just before midnight. My lasting memory of Warbler's percussive performance is just how frenetic they were, with a really high level of energy. Warbler also took the award for being the hardest act to photograph, with the front line (Kristy and Steve) jumping around like crazy pixies.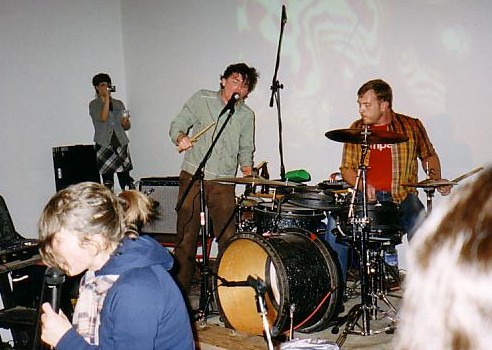 Warbler (W.S. McCallum)
12.30am was the start time for Hawnay Troof, whose merchandise and CDs dominated the stand at the back of the room. He was another one-man party machine, this time based in Oakland. Dressed in his sassy white pinstriped Southern wide boy suit, he certainly offered the most elegant sartorial statement that evening and his athletic showmanship was the icing on the cake. The high point for me was his Alabama hip-hop number, with sampled and synthesized banjo sped up to a crazy speed.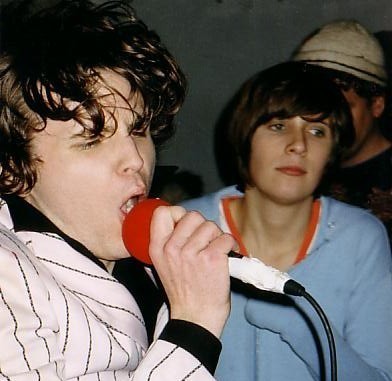 Hawnay Troof (W.S. McCallum)
The closing act was DAT Politics, all the way from France, who were in the United States on an extensive tour which had already taken them through Oakland some weeks before. Their music is very clever electronica, played with finesse. They performed material off Wow Twist, their sixth album recorded since they formed six years ago, as well as older tracks. DAT Politics also sang more or less entirely in English (c'est emmerdant que les ricains ne parlent pas français…), but put their own pointed twist on its pronunciation and played it up for all it was worth, particularly in their signature tune "What the F*ck is DAT?". Curiously, DAT Politics were the only act that had a light show worthy of the name that evening, to the extent of leaving me wondering if the lights were their property.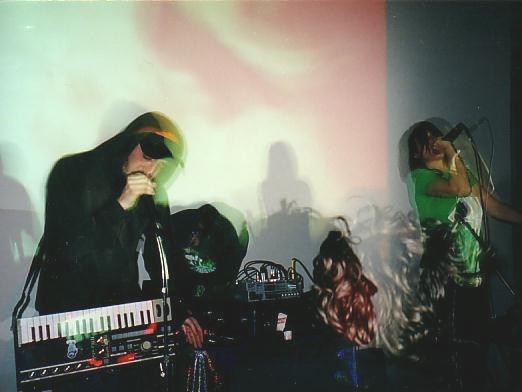 DAT Politics (W.S. McCallum)
The music was all over by about 2am, but the post-concert socialising continued on into the early hours of the morning. Overall, a great way to start the year.
© Wayne Stuart McCallum 26 January 2007
The Saint John Will-I-Am Coltrane African Orthodox Church, San Francisco
31 December 2006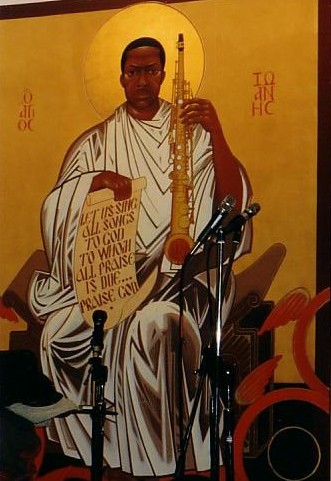 (W.S. McCallum)
Not being of a religious frame of mind, church is not where you would expect to find me on a Sunday, and I did wonder what on earth I thought I was doing as I wandered along Fillmore Street, looking at the names of jazz musicians embedded in the pavement as part of the street's walk of fame, but I nonetheless thought I would make an exception for this particular church. Currently housed in part of the local community centre, the church was founded in San Francisco in 1971 by Franzo and Marina King, who saw John Coltrane and his music as an expression of God's power and as offering a path towards Jesus Christ. Having been touched by his music during a performance in San Francisco in 1965, they decided that John Coltrane was not merely a jazz musician, but a holy figure who could guide people back to God. Pointing to the religious message in John Coltrane's albums like A Love Supreme as being a vehicle for the word of God, and to his music as a valid means for the expression of religious faith, they established a church that ended up bearing his name and proclaiming his sainthood, and which uses his music as the focus of its religious services.
Upon arriving at the church, which occupies a streetfront room of the Fillmore community centre, and has a series of large icons leaning against its back walls, I spent some time contemplated the icon that formed the church's centrepiece: it is a large painting, showing a haloed John Coltrane swathed in white robes, bearing a scroll and a horn spouting fire. Some microphone stands had been left in front of the icon prior to the service. They looked like they had been set up for Coltrane, as if he were about to come to life and start playing. What John Coltrane's reaction to this response to his life and work would have been can only be speculated on. While there is undeniably a strong uplifting religious, and even messianic, element in John Coltrane's music (is it mere coincidence that Jesus Christ and John Coltrane share the same initials? - spooky!), anointing him as a saint might be seen as a somewhat radical undertaking, whether or not you subscribe to any of the myriad tangled branches of the Christian faith.
My attendance at this particular Sunday service was motivated primarily by a desire to hear the congregation's music, having read that they offered the liveliest service you are ever likely to encounter in a church, and I was in luck. It turned out that its performing members were about to embark on a European tour, and the midday service I had arrived for turned out to be largely a two and a half hour jam aimed at ramping up the ensemble for its forthcoming dates in Europe, with a practice session tacked onto the end so its members could work on some new material for the French leg of their European tour. Consequently the holy roller element was kept to a minimum and I was able to sit back and enjoy the jazz.
The playing was absolutely stellar. "Exhilarating" does not seem sufficient enough a word to describe it. The focus was on John Coltrane's later music and no, not his version of "Greensleeves" on Africa/Brass. The emphasis was firmly on the Black identity affirmation and signifying element of the material that he recorded in the 60s, and the musicians in attendance were more than qualified to mix both sophisticated finesse and raw horn blasting just like the master himself. While John Coltrane's icon gazed down upon us, they portrayed his music with flair and verve. We were all asked to stand for the first piece, which lasted about twenty minutes, and following that we could do what we liked. I noted with interest that many of the audience seemed to be like me - people who were not local and did not necessarily seem to be there to get religion. They sat there quietly and respectfully. Nevertheless, they could not fail to be moved by the music, and its influence spilled out into the street, through the large floor-to-ceiling glass windows that offered a perfect view of the neighbourhood's inhabitants outside as they went about their business. A black homeless guy passing by with a huge white plastic bag over his shoulder started grooving to the music. A distinguished looking fiftysomething black man in a very natty maroon suit and a swish hat with his equally stylish wife perked up as they walked past. Various white people going past just looked confused, while certain black people, obviously locals who had seen it all before, did their best to pay the music no mind. Others stopped to wave and briefly say hello to the musicians through the glass as they blasted away on their horns and other instruments. The culminating moment however, was when bubbles blown from a nearby upstairs window began descending and floating along the street, flying over a passing bus and various cars, right at one of the more transcendent points in the performance. It was one of those startling, surreal moments in life that you know you will never forget, and which prompts you to think that music simply doesn't get any better than this.
© Wayne Stuart McCallum 18 January 2007
The Specs, the Rock and Roll Adventure Kids, and the Hi-Fives
at Thee Parkside, San Francisco
29 December 2006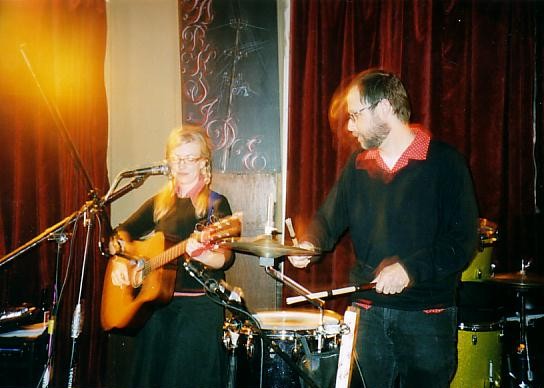 The Specs (W.S. McCallum)
Thee Parkside is a corner bar in a fairly warehouse-oriented part of San Francisco that has the benefit of wide streets and free parking (along with free video surveillance, according to the sign). It also has a reputation as a venue for garage rock, so it was a compulsory stop whilst in San Francisco. The place was already pretty full by about 9.30pm, and was completely full by the time the first act for the evening - the Specs - started at 10pm.
The Specs (Katy on acoustic guitar and Jim on drum and cymbals) had a troubled start due to microphone problems, but soon had things under control and warmed up the crowd with their uncluttered songs with titles like "Losing Song" and "Sticky Situation" which were strangely at odds with their cheerfulness. The best song of their set was about a nightmarish road trip.
My only nightmarish moment that night came early on in the evening during a trip to the toilet, where I discovered that the door opened up directly onto just one great white telephone, and that the aforementioned door had no lock. It's not like I even went to a boy's school or anything, but the statistical likelihood that some tanked-up total stranger in that packed bar was going to barge in at any moment while I was in the middle of a bowel or bladder movement was not the most appealing of prospects. Still, fate played the straight man and I managed to both do my business and make a quick exit without any untoward incidents.
The Rock and Roll Adventure Kids soon set up their gear on the stage, which was just large enough to fit the drum kit and speakers. It was actually quite a good arrangement, as it placed the guitarist and bass player in front of the stage, eyeball-to-eyeball with the audience in the packed room, making for an atmosphere almost as intimate as it was for all the complete strangers making each others' embarrassed acquaintance in the men's toilet that evening.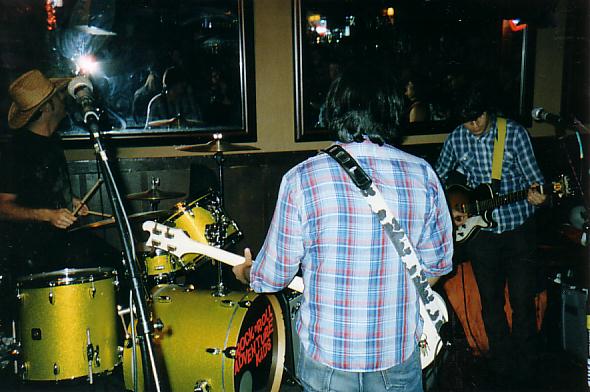 The Rock and Roll Adventure Kids (W.S. McCallum)
More Rock and Roll Adventure Kids photos
The Rock and Roll Adventure Kids took my breath away just with their warm-up song - a convincingly ragged version of Link Wray's classic "Rumble" - and then clinched things by doing a cover of the Tamrons' classic anthem from North Carolina: "Wild-Man". From there on in, "wild" seemed to be the key word for describing the proceedings, with things getting wilder and wilder as they went along. Some idiot even turned off the lights at some point, and while I may have been leaning next to the light switch to the left of the stage, like Dubya and his missing weapons of mass destruction in Iraq, I disavow all knowledge of any wrongdoing. The band sort of looked like a junior version of Creedence Clearwater Revival, but I never heard John Fogerty singing songs with titles like "Panties", "Fried Chicken", or (combining both sex and food…) "Boobies and Hotdog". Doubtless, in their spare time they all sit around discussing the weightier issues involved in Wittgenstein's approach to logical empiricism, but when it came to garage rock, they certainly knew how to keep it simple and exciting. The drummer in particular looked like he was having the time of his life. A direct approach and boundless enthusiasm - what more do you need?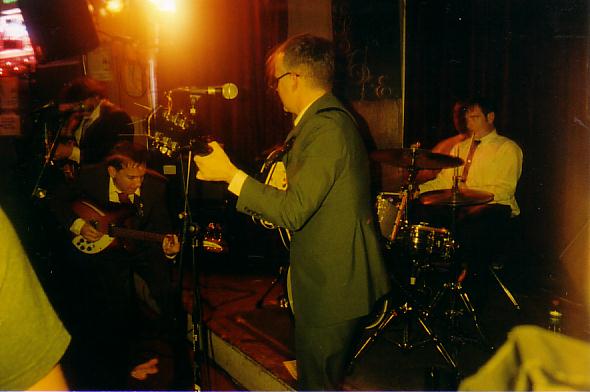 The Hi-Fives (W.S. McCallum)
The headline act for the evening was a group from the mid-nineties: the Hi-Fives. They had turned up specially that evening for an end-of-year get-together that had all the atmosphere of a reunion concert, with their bass player having travelled 900 miles from Oregon to get there. The Hi-Fives offered an intriguing mix of sixties-influenced rock, starting explosively with "Welcome To My Mind" and then working through various songs that would have done the likes of the Knickerbockers or the Gants proud. They had a level of showmanship and interaction with the crowd that you seldom see in bands from New Zealand and, like the Rock and Roll Adventure Kids, were enjoying themselves immensely, with demented dance moves and complicated guitar-playing tricks (arm looped under one leg and plucking away whilst balancing on the other leg). Most of the songs were their own originals, with titles like "Seven Years" (or "Seven Beers" as it was supposedly called at one point), "If You Want Our Love To Last, "She Makes Me Good", and even "Humping Away". For good measure, they included Ed Cobb's immortal "Tainted Love" and kept things festive with "Christmas Song". It was such a great show it seemed a shame it had to come to an end.
© Wayne Stuart McCallum 23 January 2007
Must Have No Magic, Vis Viva, and f●hole
at the Stork Club, Oakland
20 December 2006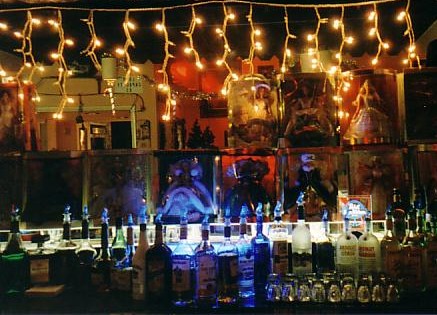 (W.S. McCallum)
The first thing that strikes you as you walk up to the bar at the Stork Club are all the little fairy lights behind it, and then you notice the Barbie dolls. Rows of Barbie dolls, in their original boxes, all stacked up on one another. Now it's not that I was one of those little boys that played with Barbie dolls, or even that I thought the big and hairy, incredibly hetero-looking guy behind the bar was, but the sight of all those skinny pieces of blonde-wigged plastic, all lined up in their plastic-wrapped boxes, staring down at you after you have lost a day crossing the Pacific and you are not only sleep-deprived but food deprived, can have a powerful effect on a man. So I stopped to stare at the Barbies. They had the beach Barbie, they had the cosmopolitan Barbie, they even had the 50th anniversary Barbie. My first night in Oakland, and it was in fact Barbieland.
All this after being entertained at the door by the ticket seller with tales about how much he hated Germans because they were fixated with shit to the point that they used to pile it up in front of their homes as a status symbol and then listening to some other guy add his 2 cents' worth that they weren't as bad as the French, who actually used to eat baby shit as a delicacy (hey, I'll believe anything when I'm jetlagged) and you can pretty much tell my mind was grasping for some sort of reassuringly familiar anchor point to fasten on to, even if only in passing, before the show began. So there I am at the bar looking at the Barbies. And they had a graffiti-covered snowman along with a pink flamingo too.
Must Have No Magic consisted of Robert McManus (from the Australian industrial noise band Grey Daturas) and the ubiquitous George Chen (from 7 Year Rabbit Cycle, Vholts, K.I.T., and a whole bunch of other bands and projects) playing guitars, along with Hawnay Troof on drums. From what I could tell from Rob before the show, Must Have No Magic was born out of a recently-completed US tour. He had decided to stick around for a while in Oakland after completing the tour, and one thing led to another.
Being jetlagged is akin to being drunk - your senses feel dulled and unfocused, your mind meanders, and it can be hard to concentrate, but that wasn't the case when Must Have No Magic got started. I did spend a lot of time watching George, and trying to work out what on earth he was doing, but somehow it all sort of locked into place and once they got going they were unstoppable. Hawnay Troof was banging the hell out of the drums, guitars were making loud distorted noises and it was all very impressive. My only gripe was that the three of them were standing so far apart that most of the time you needed a wide-angle lens to get all three of them in the frame, but I eventually worked it out: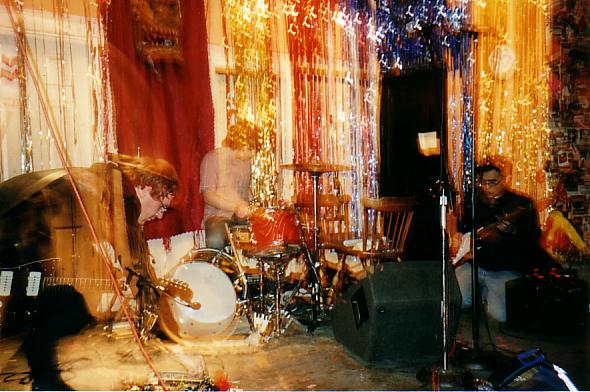 Must Have No Magic (W.S. McCallum)
More Must Have No Magic photos
Following their set came a relatively long break involving a sortie into the streets of Oakland to look for substantial food only to find that everything was closed because it was late and it was a Wednesday night and whaddarya a foreigner or something? Oh well, never mind, I did however get to meet George Chen upon returning to the Stork Club, and subsequently managed to solicit a very tasty bag of potato chips from the bar, inadvertently starting a mini-potato chip rush in the process as none of the other patrons seemed to know that they were available should you venture to ask.
The second act was Vis Viva, consisting of Joshua Churchill and Amy Friebertshauser: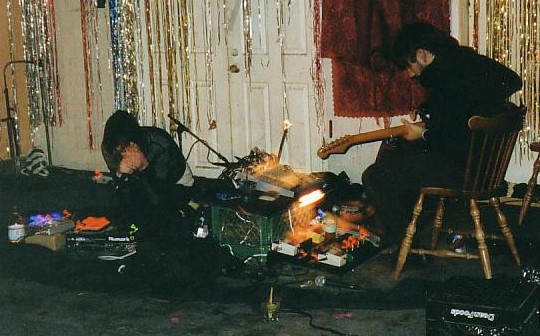 Vis Viva (W.S. McCallum)
The duo played about half an hour's worth of spooky ambient noise that gradually built up in intensity and volume. Some of the audience got it and some didn't. I felt like I got it, but, having by then clocked up about 36 hours without any sleep, their spooky sounds were doing some strange things to my head.
f●hole (W.S. McCallum)
By the time the third act, f●hole, came on, my mind was starting to unravel due to jet lag. I was sufficiently compos mentis to take a series of photos that look relatively composed and well-framed, but only have a blurred recollection of this avant-garde chamber group propelled by the rhythmic pounding of two drummers. By the time they had finished their two pieces, I was ready to be taken away on a stretcher, but did hold it together enough to walk out of the Stork Club under my own steam.
© Wayne Stuart McCallum 20 January 2007
<![if !vml]>

<![endif]>  <![if !vml]>

<![endif]>
<![if !vml]>

<![endif]>  <![if !vml]>

<![endif]>
Web site © Wayne Stuart McCallum 2003-2017