Music Writing 2009
by W.S. McCallum
Cougar Cougar Cougar
and Faster Pussycat Kill Kill
at Mighty Mighty, Wellington
7 November 2009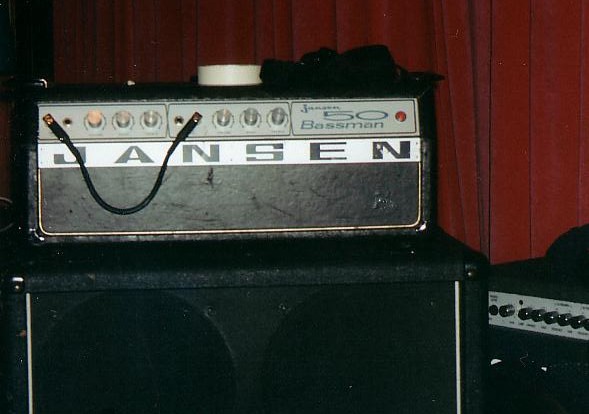 (W.S. McCallum)
It was a packed house in Mighty Mighty by the time I got there shortly before 11pm for the release party devoted to Faster Pussycat Kill Kill's new EP. Fortunately there was a spare seat right up the front, as it had been a long day and standing until 2 in the morning wasn't really an option.
Cougar Cougar Cougar were the support band that night and they played a roaring set. They had enthusiasm, they had great songs, and a lively audience with a large proportion of single females congregating at the front (always a good sign…). Nothing could stop them - not even a faulty lead that left the guitarist reaching around reconnecting his pedals in mid-song at one point. It was no-nonsense rock and roll at its best.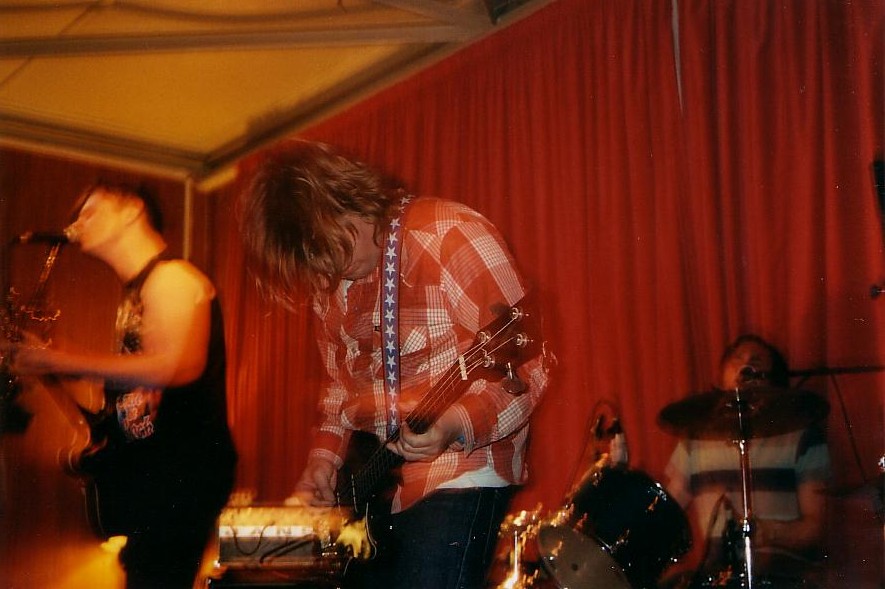 Cougar Cougar Cougar (W.S. McCallum)
More photos of Cougar Cougar Cougar
Mercifully, the set-up time between acts was short, as some of the disco hits being played by the DJ were comically mismatched and did leave you wondering what exactly that individual was thinking. Was it post-modernist irony? Sheer bloody-mindedness? I'll never know, and that may not be a bad thing.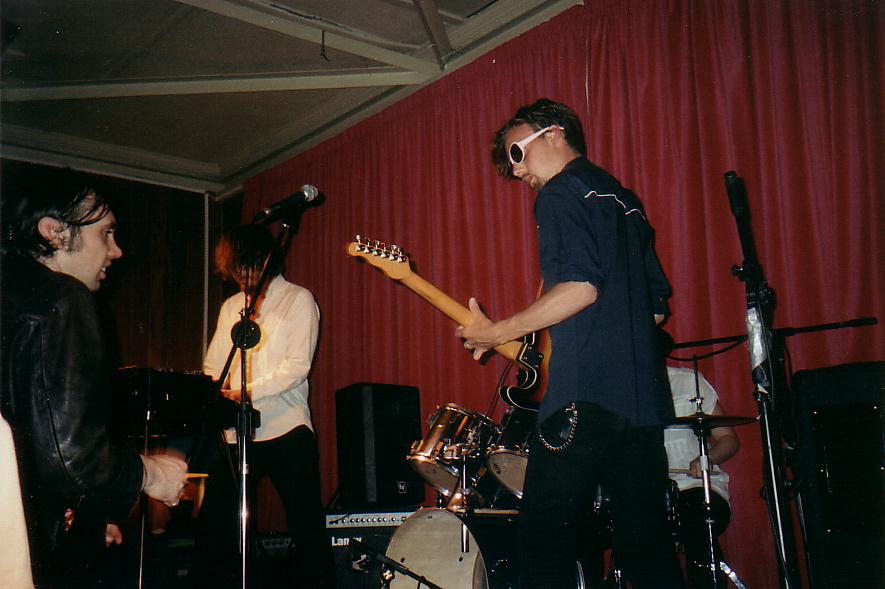 Faster Pussycat Kill Kill (W.S. McCallum)
More photos of Faster Pussycat Kill Kill
Faster Pussycat Kill Kill had a hard act to follow, but they managed to pull it off with the same sort of dexterity that I used to stop the official photographer in attendance from standing on my hat. His camera looked so big he probably couldn't see what he was doing. There's very much this "look at how big MY ONE is" thing with photographers at rock concerts. One day they will wake up to the fact that in a crowded, enclosed space where you are shooting at close range, the smallest possible camera is the best one to use. Here endeth the photography sermon. Still, it was a great show, cut short for me only by my inability to stick it out through until 2 in the morning.
© W.S. McCallum 17 November 2009
Boltmaster, Terror of the Deep,
and Orchestra of Spheres
at the Eye of Night, Wanganui
5 November 2009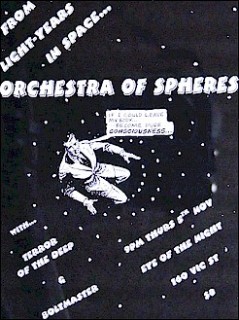 My walk to the Eye of Night that Thursday evening was interrupted by the sound of skyrockets and other aerial pyrotechnics exploding overhead in celebration of the foiling of the Papist mercenary who came closer than anyone else to blowing up the English Parliament. Guy Fawkes Night is a bizarre tradition that continues to be celebrated in New Zealand, half a world away and 404 years and one day after Mr Fawkes was arrested for his participation in the Gunpowder Plot. He was actually arrested on 4 November 1605, not 5 November which, for some reason, is the day celebrated in New Zealand. Perhaps the 5th is celebrated because that was the day the representatives of the Crown started torturing Mr Fawkes on the rack in order to extract a confession from him. We should at least be grateful that they don't burn him in effigy in New Zealand, like the English still do when they celebrate Guy Fawkes Night. The event also left me musing about the nature of the punishments that democracies mete out to their foes and how little the world has really changed in some ways since 1605.
The opening act that night was Boltmaster, a new group that includes Al, the host of the Eye of Night, playing on drums. The duo gave a rousing metalloid debut performance, punctuated unexpectedly with singing. Even Al told me later that he thought they were an instrumental band, and he had no idea his musical other half had written lyrics to their tunes. Hopefully this won't lead to artistic differences…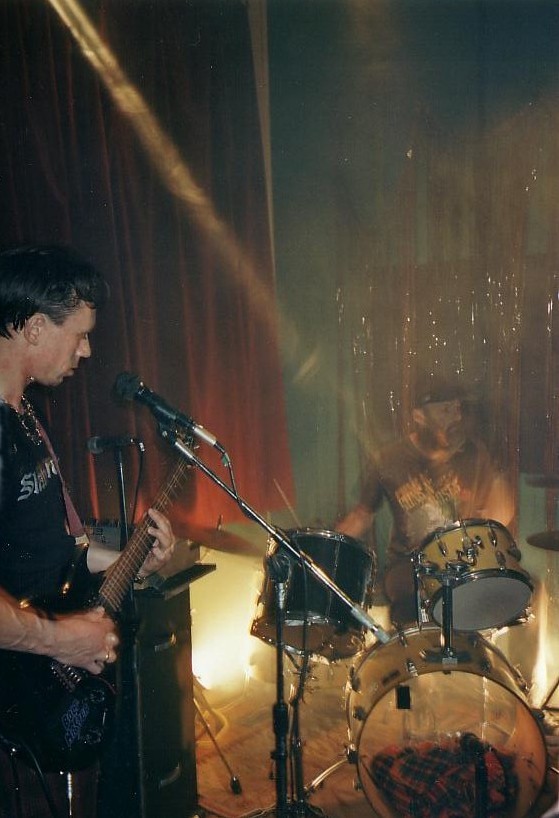 Boltmaster (W.S. McCallum)
While the drinking got louder in the bars in the vicinity (across the road and around the corner), Terror of the Deep, from Wellington, quietly set up. They had a strong start, with an 80s Flying Nun sort of sound, but got a bit distracted by two members of the audience towards the end of their set. The two young ladies in question, who probably would have been more at home at the sports bar around the corner, and who persistently and loudly screamed for Bob Marley songs, would have been enough to put most musicians off, but Terror of the Deep rallied in the end and managed a resounding finish to their set.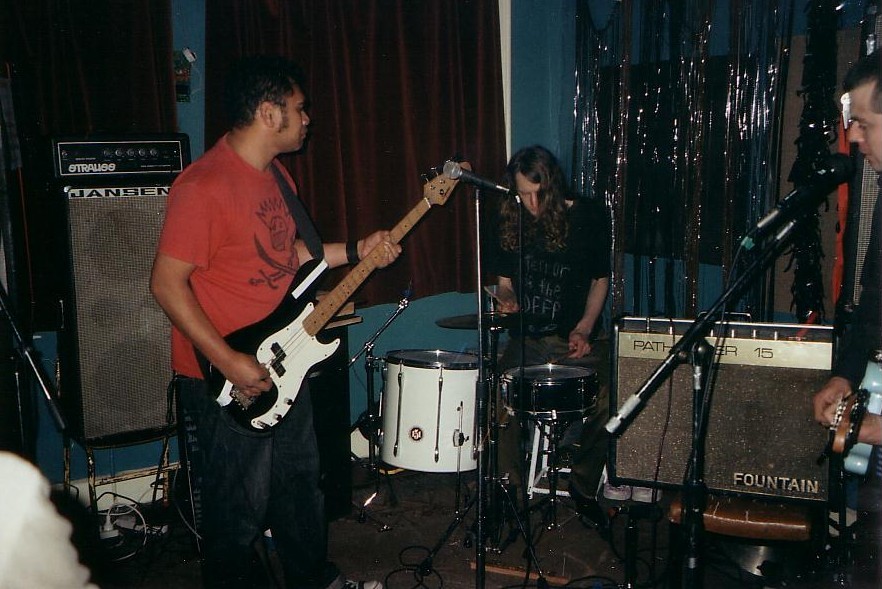 Terror of the Deep (W.S. McCallum)
Orchestra of Spheres are also from Wellington and form part of a collective that can be explored further at www.soundexplorers.co.nz. They are a four-piece group and refer to their sound as "space art music", which is actually a very good way of describing it. Using a biscuit tin guitar, a theremin, an electric carillon and drums (among other instruments), they built up hypnotic rhythms interspersed with exotic sounds that were literally "out there". They even managed to silence the two sports bar refugees, one of whom was looking decidedly dazed by the end of their set, while the other made an early attempt at dancing to their polyrhythms and ended up looking vaguely silly for even having tried.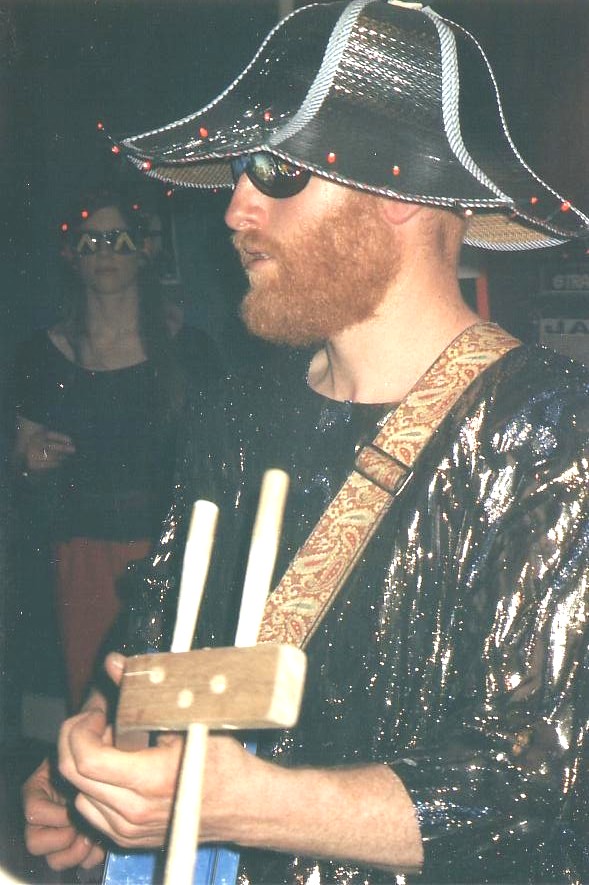 Orchestra of Spheres (W.S. McCallum)
More photos of Orchestra of Spheres
The rest of the audience looked well pleased that they had made the effort to turn up, with the end of the evening only being marred by two cops hanging around outside the front door, looking for anti-social elements to collar: a little dose of law and order quite in keeping with the spirit of Wanganui's old English traditions.
© W.S. McCallum 14 November 2009
Finn Riggins
at El Rio, San Francisco
4 July 2009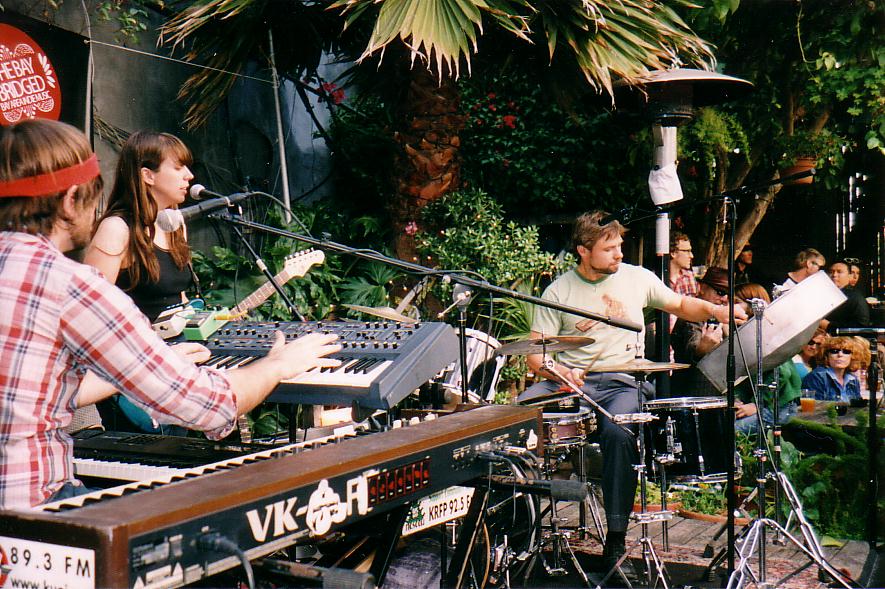 (W.S. McCallum)
Billed as the 4th of July event for those wanting to get away from families ("Billy, stop poking that hipster with that stick!!!"), in celebration of the US of A's national day this year, El Rio served up an afternoon's worth of entertainment from several bands that stretched on into the evening.
One factor not to be taken for granted (even in July in San Francisco) was that the weather was perfect, making the courtyard at El Rio a great place to relax in the sun. The bill that day consisted of various bands under the wing of The Bay Bridged, a Bay Area promotions company. From somewhat further afield were Finn Riggins, from Idaho, who started their set at 5pm. The band consists of Cameron Bouiss on drums, Lisa Simpson (no, not THAT Lisa Simpson) on guitars, and Eric Gilbert on keyboards.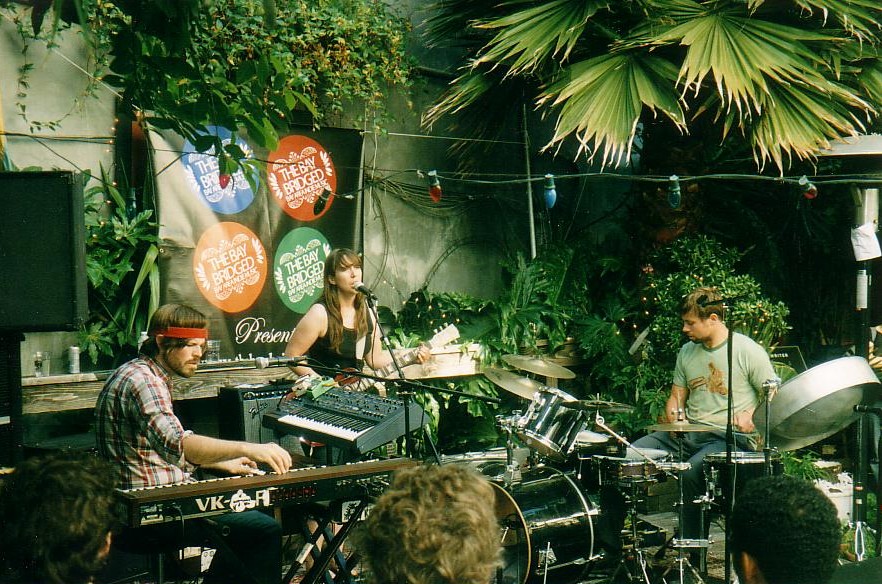 (W.S. McCallum)
Finn Riggins combined soaring vocals, understated yet frenetic drumming (including a steel drum) and guitar that melded well with the keyboard playing. The music veered off in unexpected directions and was never predictable. The lyrics, which had various people in the audience scratching their heads, ranged from a song entirely in binary code, through to one devoted to glove compartments ("I have a glove compartment – I love it, love it, love it" – or did I completely mishear the words?). Another song reflected the rigours of Idaho's winters, with the line "thank god it's spring".
The band played for over an hour and were at times entrancing. They are definitely going places musically, as well as having a hectic touring schedule, judging from their MySpace site, and are definitely worth catching if they hit your town.
© W.S. McCallum 9 August 2009
The Nitty Gritty Dirt Band
at the Marin County Fair, San Rafael (California)
3 July 2009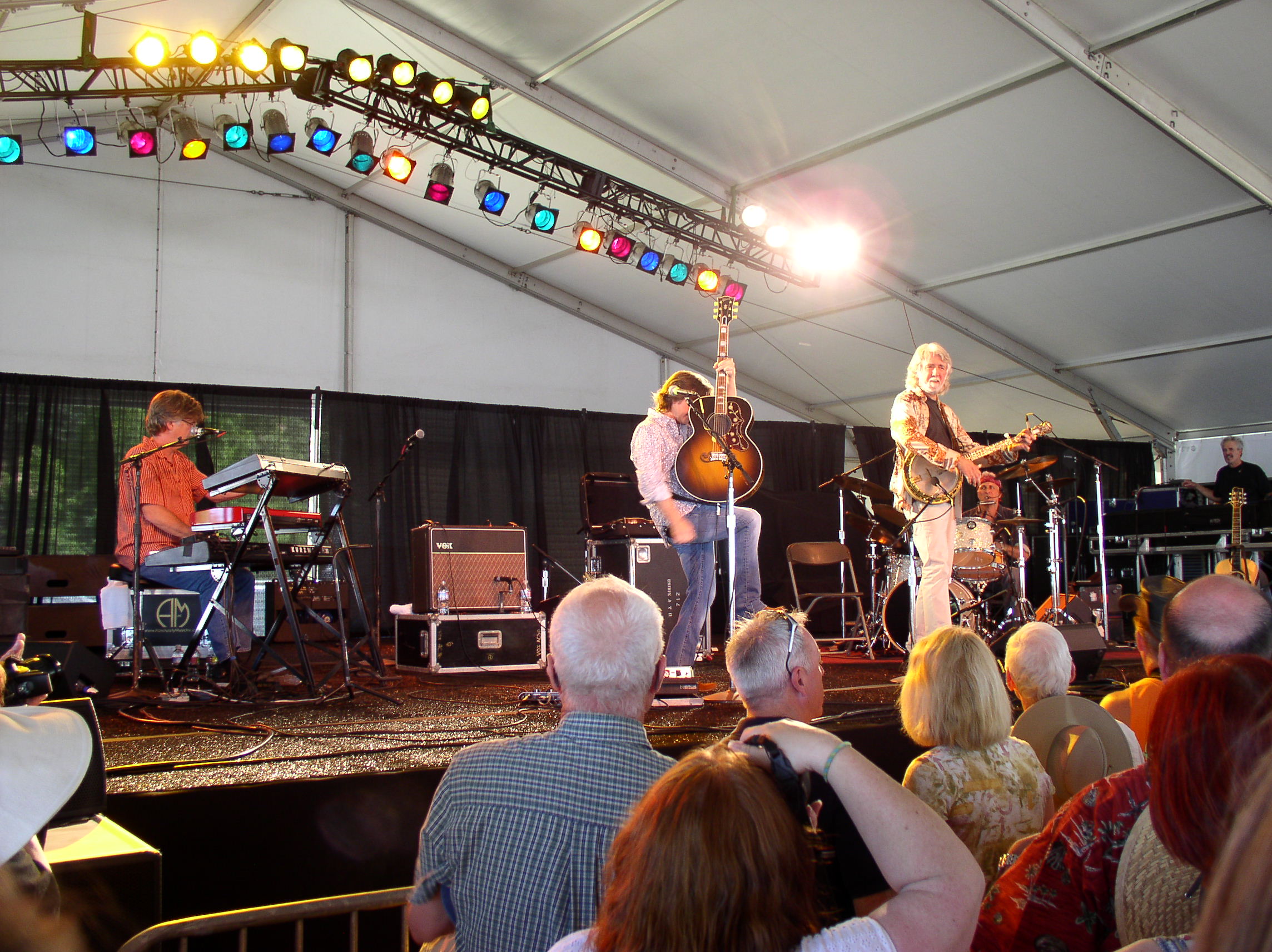 (W.S. McCallum)
The big problem with the Marin County Fair is trying to find a place to park the car, which is why I reached the big tent where the Nitty Gritty Dirt Band was performing at 3.15pm, a quarter of an hour after their start time. By that time, all the seats under the shelter of the big tent were taken, but the helpful gatekeeper lady suggested that there was plenty of room in the mosh pit, so I detoured around the side of the tent and headed up the front.
Whilst approaching the front, I did do a mental double-take at the concept of there being a mosh pit at a Nitty Gritty Dirt Band concert. America's premier country rock band is surely not the sort of outfit that attracts rabid headbangers, pogo dancers and stage divers… As it turned out, there wasn't a single stage diver during the whole show. Having subsequently had another look at the county fair's performance programme for the rest of that holiday weekend, which included groups like the Motels, Los Lobos, and Sha Na Na, it is difficult to see why on earth they had a mosh pit at all, but at least it made it possible to get right up the front and watch the fingerpicking up close.
The Nitty Gritty Dirt Band has been around for 43 years now, having started in Long Beach, California in 1966. I have their self-titled LP from 1967 in front of me, and in the early days they were a 6-piece jug band. Since then, people have come and gone, with the band expanding to 7 members in the late 70s, when they changed their name to the Dirt Band for a few years. Since 2005, the Nitty Gritty Dirt Band has had 4 members, but overall its line-up has been remarkably stable given that the two founding members (the lead vocalist and guitarist, Jeff Hanna, and the drummer/harmonica player, Jimmie Fadden) are still with the band, while John McEuen (fiddle and mandolin) originally joined the band in 1966 just a few months after it was formed, following the departure of Jackson Browne. The only "newcomer" is the keyboard player, Bob Carpenter, who joined the band in… 1977.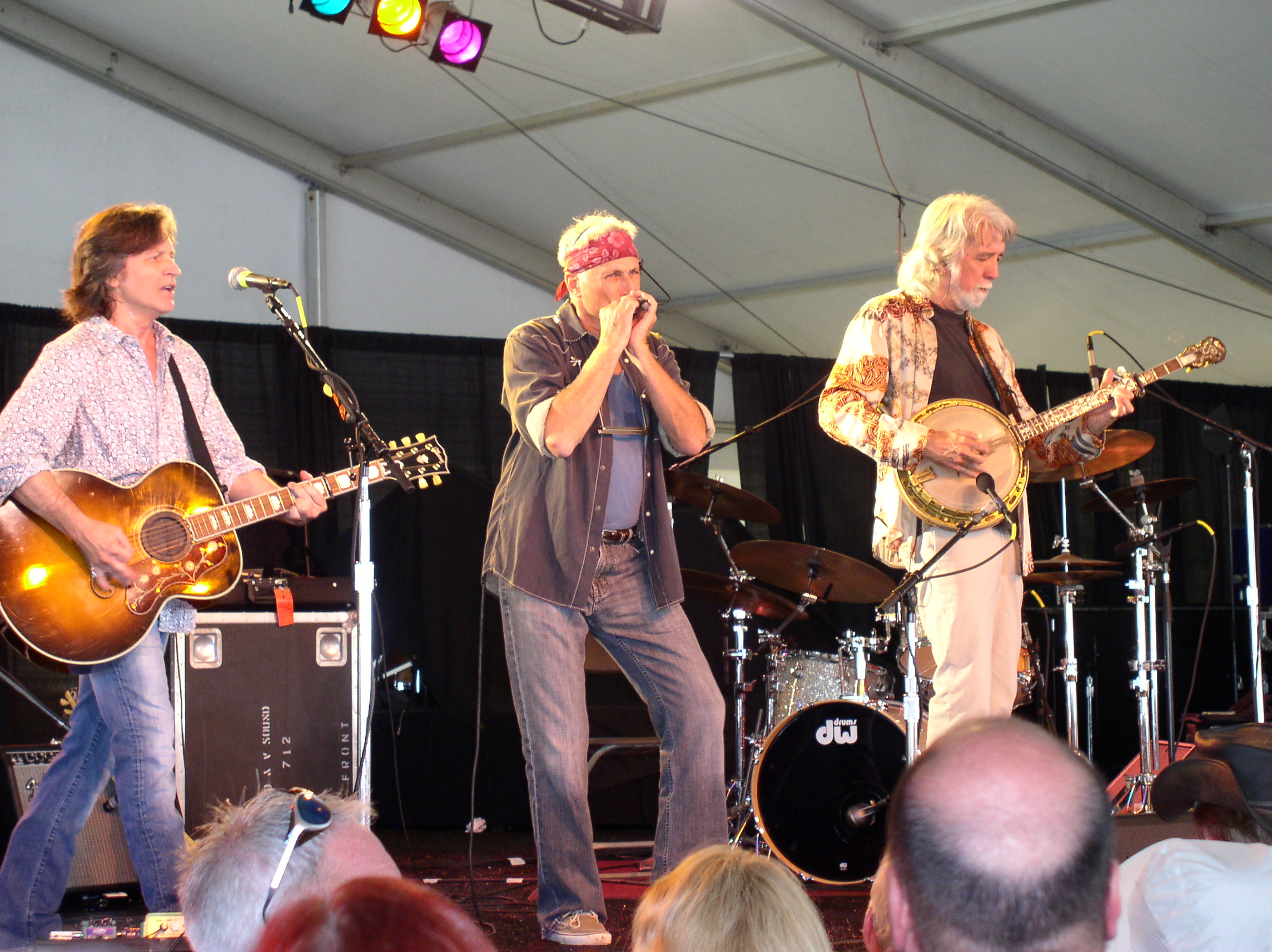 (W.S. McCallum)
It is worth mentioning this longevity, because it really shows when they play. The Nitty Gritty Dirt Band not only has virtuoso musicians, but they have performed together so long that they blend together effortlessly. Like the Band, they have an adaptable line-up in that they switch around their instruments and take turns doing lead vocals. And there can't be too many groups where the drummer also plays harmonica. In-between a lot of humorous banter, they performed a broad-ranging showcase of their material, from their earlier hits (like "Mr Bojangles" by Jerry Jeff Walker) through to more recent songs (such as "The Working Man – Nowhere To Go", which they wrote for Farm Aid in the 1980s). The high point however was their encore, when they performed "Will The Circle Be Unbroken" and a rousing version of "The Weight" (originally by the Band). It was perfect fare for a bright, sunny Friday afternoon in Northern California.
© W.S. McCallum 7 August 2009
The Builders & The Butchers
at Music Millennium, Portland (Oregon)
30 June 2009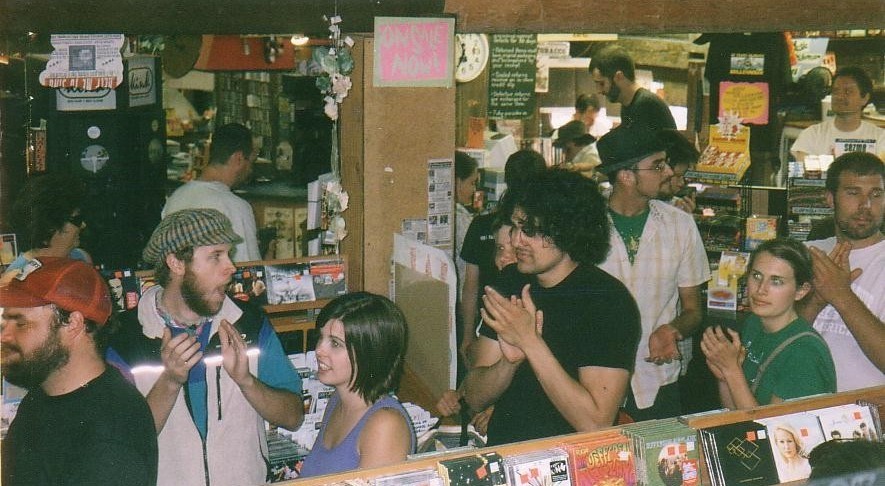 (W.S. McCallum)
Music Millennium is a record (and CD and DVD etc.) store that is an institution in Portland. It takes a bit of finding if you are an out-of-towner, being situated in a leafy suburb at the gates to a neighbourhood that was originally populated by tea-totallers when it was first established at the turn of the 20th century (no, seriously). Music Millennium, housed in a picturesque building dating from those days, originally opened several decades later, in 1969, and has hosted many live shows over the years, including Soundgarden's first show in Portland, and even Joe Strummer and the Mescaleros some years ago.
When I arrived shortly before the start time of 6pm, there was already a small crowd congregated on the mezzanine facing the balcony on the top floor. An area had been cleared among the record bins on the balcony for the band to play in, and there was even a hand-drawn framed sign announcing their presence, but no band was visible as yet. They arrived shortly after 6pm and quickly set up. While they did so, I filled myself in courtesy of the flyer posted on the wall right behind me and which happened to fall right into my hands as I was leaving after the show.
The Builders & The Butchers are five guys from Alaska who relocated to Portland one by one between 2003 and 2005. As befits the inhabitants of a State that is beset with permanent night during its cold winters, their music is dark and bleak, and has a sharp edge, having been honed busking on the cold, wet streets of Portland. They also play acoustic instruments, and are clearly influenced by old-timey rural music, although they place their own particular spin on it.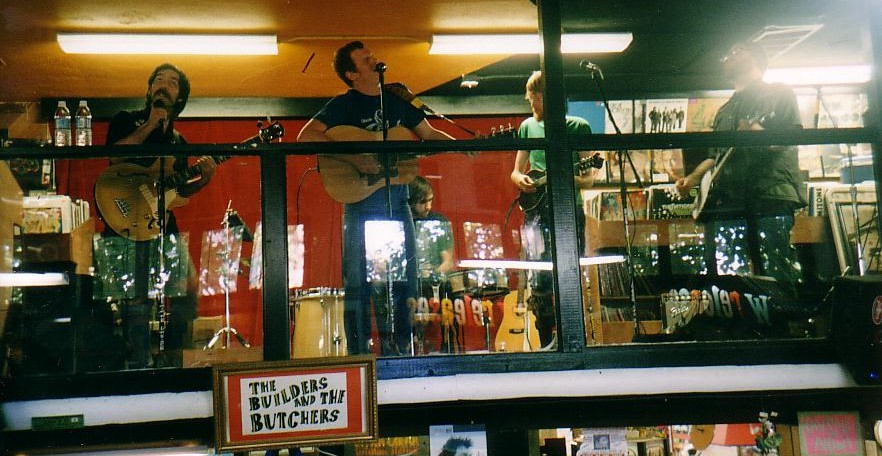 (W.S. McCallum)
More photos of The Builders & The Butchers
By the time the band started playing, the ground floor area beneath the balcony they were performing on was packed with people, and it was getting rather cramped up on the mezzanine too. Their first song was "Down In This Hole", from their CD Salvation Is A Deep Dark Well, which was pretty forceful but proved to be just a warm-up to a supercharged set. "Vampire Lake" was a stand-out among the various tracks that they played from their album. The Builders & The Butchers may be an acoustic band, but they are definitely not boring old folkies. The guy on the mandolin was turbocharged, and on certain songs they had two drummers playing, so you could hardly claim it was a sedate show. They sang rowdy yet solemn songs about going down to Hell, the devil, death, and damnation, and did it with a level of cheeriness and good humour that almost seemed at odds with their subject matter but which nonetheless provided a lively performance.
In spite of the comment they made that standing up on the balcony behind the plate glass balustrade felt like being in the Popemobile, but with only the bottom half of their bodies protected, there was definitely no need for the band to duck for cover that evening. The audience was firmly on their side and there seemed to be a good many fans in the audience, judging from the people who knew the lyrics to the songs, which I was only hearing for the first time. To close, the band brought things home by marching down the stairs and providing a foot-stomping performance of "Bringing The Rain" (?) in among the enthusiastic crowd on the ground floor. It was a great set, and seeing the Builders & The Butchers proved to be a good way to spend an early Tuesday evening in Portland.
© W.S. McCallum 23 July 2009
Sam Flax & Higher Color, Fool's Gold,
and Rodriguez
at Slim's, San Francisco
26 June 2009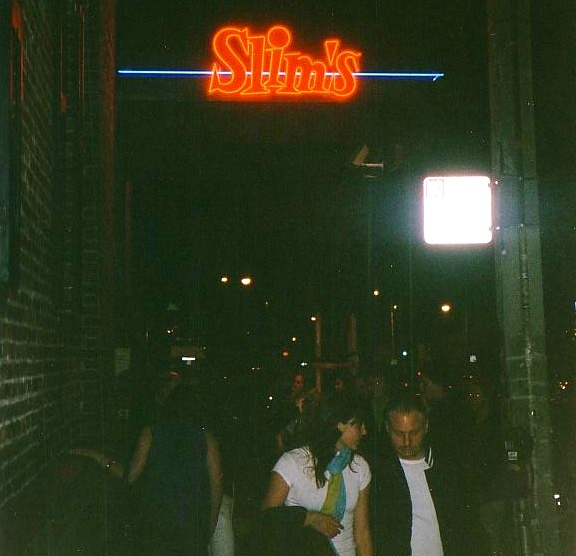 (W.S. McCallum)
There was a choice of entertainment that Friday evening: either the David Byrne concert in Berkeley, or the Rodriguez concert in San Francisco…
Are you kidding? There was no choice. My eyes popped out when I saw the ad for the Rodriguez concert: I assumed he had died years ago. In fact, I never hesitated for a moment - Rodriguez is a bloody legend: the Latino Dylan from Detroit who jammed with the MC5, purportedly shot himself on stage, and eschewed fame and fortune for a career playing in seedy dives, gay bars, strip joints and at biker funerals in his homeland. A performer who became better known in Australia, New Zealand and South Africa than in the United States during the 1970s, due to his burgeoning reputation in those far-flung lands based on his first album, Cold Fact, released in March 1970.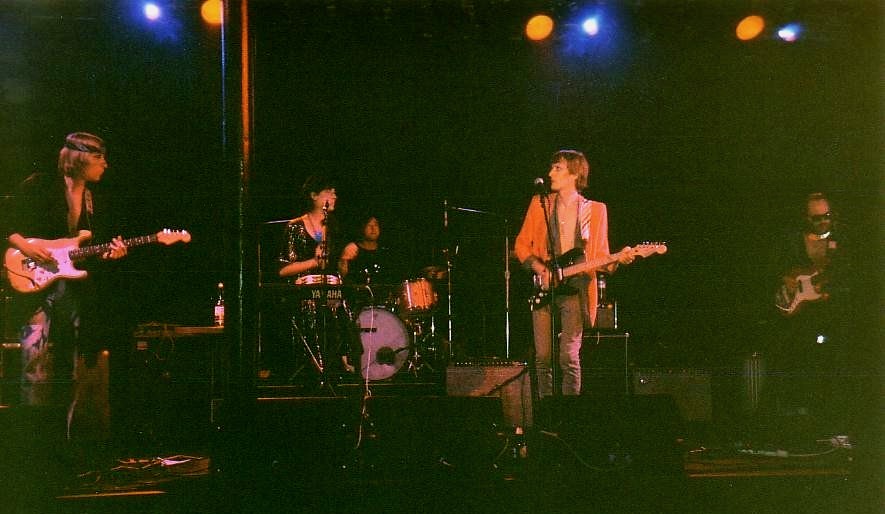 Sam Flax &Higher Color (W.S. McCallum)
Slim's is a well-known venue South of Market that was opened in 1988 by Boz Scaggs. It has featured a varied range of acts over the years, and that night was no exception. The opening act, Sam Flax & Higher Color, were one of the odder looking bands I have seen recently. They appeared on stage dressed like the musicians in one of those period coming-of-age Hollywood films set in 1973, where the art director, being born in 1978, doesn't know quite enough about the clothes of the day to get their stage costumes right. And the music was the same. It was like someone's misled retrospective idea of what rock music was like in 1973. Seriously, the closest I can come to summarising what I heard is to describe it as being like Steeler's Wheel crossed with Steely Dan and the Doobie Brothers: a strange mix of period white funk and rock that somehow didn't mesh. Someone said they were being ironic and it was an elaborate joke, but if it was, it was too much of an insiders' joke for the punch line to be evident. For most of their set, I was watching them perplexed, wondering what the hell was going on. They were definitely entertaining though.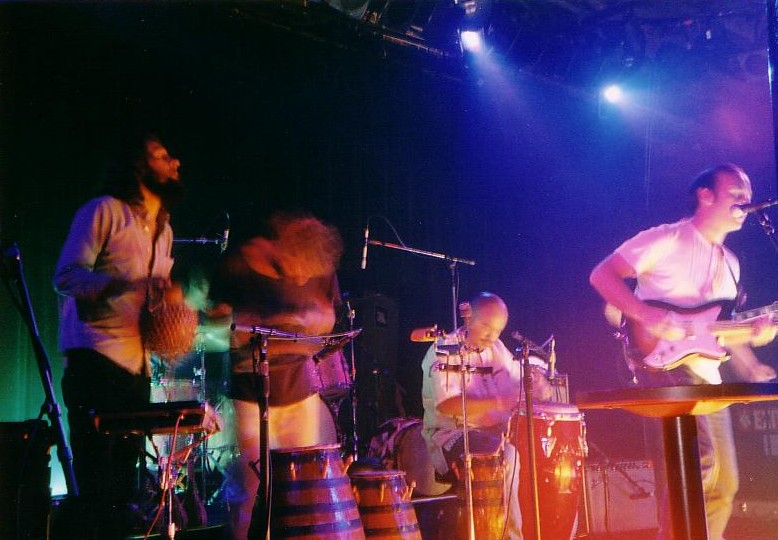 Fool's Gold (W.S. McCallum)
The venue was filling up by the time Fool's Gold came on. From L.A., this eight-piece line-up produced a sound that took me back to living in France in the 1990s, apart from the fact that none of the North African music I used to hear in the suburbs of Lyons was in Hebrew. Luke Top, the bilingual bass player, was firmly the centrepiece of the band, but he had magnificent support from his various percussionists, who looked like they had just come back from a holiday in Goa. There were various influences at play, including soukous music from the Congo and juju music from Nigeria, as well as a broad North African influence, but they had melded it all into something that was their own. The guitar and keyboard players were also very impressive, and the audience was soon jumping to the music. It would be intriguing to see them play in Paris, the capital of World Music - it would blow away a lot of French preconceptions about what bands from L.A. sound like, for one thing.
Fastidious preparations were made for Rodriguez's impending arrival. A side table with liquid refreshment was carefully positioned on stage, along with a bank of electronic boxes of one sort or another to the left of his microphone. I took the opportunity to size up the audience. Most of them were twentysomethings, with a smattering of older people. Various record collectors stuck out like sore thumbs, from a hip young cat in his mod gear clutching a copy of Cold Fact for autographing after the show, through to guys who looked old enough to have seen Rodriguez the first time around, and who were busy exchanging their learned opinions about the minutiae of popular music.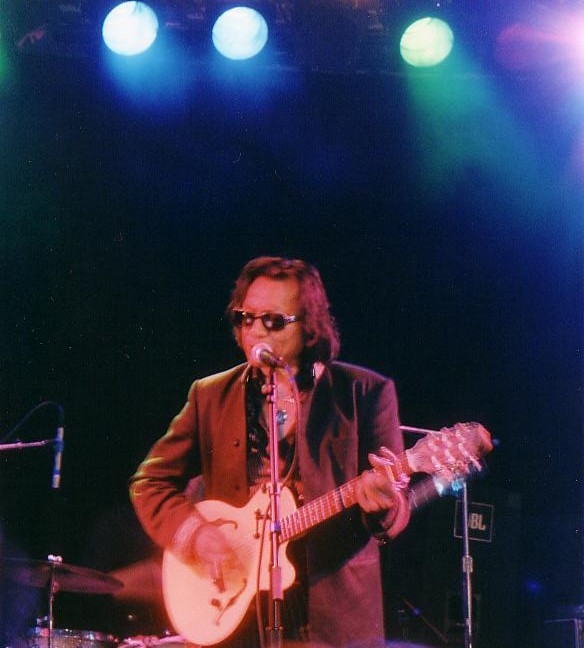 Rodriguez (W.S. McCallum)
When Rodriguez was finally led on-stage (is he short-sighted?) he certainly looked the part: the trademark dark shades, the same haircut he had in the 1970s (albeit slightly greyer), pinstripe hippy trousers and an ornate jacket that looked like it had been purchased at I Was Lord Kitchener's Valet or one of those other groovy boutiques that used to sell 19th-century military clothing. Much to my delight, in addition to the drummer, guitarist, bass player and keyboard player, accompanying him was a horn section, not to forget the guy at the bank of electronic boxes.
They then proceeded to launch into nearly all of Cold Fact, apart from "Gommorah (A Nursery Rhyme)", which would have needed a children's chorus to work and is probably why it was left out. For those who have not heard Cold Fact, various of the tracks on it have a very specific sound which relies heavily on atmospheric studio effects and clever brass arrangements. It is reminiscent of Love's Forever Changes in that there really isn't another album that sounds quite like it, and reproducing it live is not an easy feat.
Collectively, they pulled it off though. Rodriguez was in fine form and looked happy to be in San Francisco, although he also delighted in providing misanthropic pearls of wisdom throughout the show. "Sugar Man", his best-known song, which he insisted was an anti-drugs song (lots of heads in the 70s thought otherwise) was served up early on in the show and was a delight. "Crucify Your Mind" reproduced the original sound of the track on Cold Fact perfectly, and the horn section was outstanding. After various songs, Rodriguez was beaming in amazement and appreciation at the guy at the controls of the various electronic boxes, clearly wondering how he had managed to perfectly reproduce the studio sound effects. And on the more conventional rock arrangements like "Only Good For Conversation", the guy on electric guitar just shone.
Material from his lesser-known album, Coming From Reality, was also performed, the pick of which was their rendition of "Climb Up On My Music". Overall, the band was in fine form, as was Rodriguez, who performed two of his songs solo, including the closing song of the encore, which was all about living life to the full: a fitting finale for a guy who has persisted all these years in spite of being largely ignored in his own country.
© W.S. McCallum 17 July 2009
Neil Young
at the Big Day Out
Mt Smart Stadium, Auckland
16 January 2009
Old Black (W.S. McCallum)
It has taken me six months to get around to this one. Yes, I have been mulling over this concert that long, mainly because I didn't know where to start. The problem is that it was more than just a concert, it was NEIL YOUNG! For me, the potential for falling into dribbling fanzinisms and trainspotting comparisons to his concerts all the way back to 1968 is all too easy with this guy.
He is one of those musicians who is more than just music to me - he's an ongoing part of my life, all the way from childhood, when I had to sing "Four Strong Winds" in primary school, through to adolescence, when I was blown away in the Cinerama watching the film Rust Never Sleeps with my best friend. That led to me starting to buy his albums shortly afterwards. I remember one of my happiest summer holidays involved riding on my bike out to the Hornby shopping mall in the heat of a Canterbury summer to purchase After The Goldrush and stretching out in the backyard to read a post-apocalypse science fiction novel by Clifford D. Simak whilst listening to it. Then there was that other summer, 25 years ago now, when I went with my first girlfriend and a bunch of mates to the A&P showgrounds at Addington to see Neil Young perform live…
[Quick fast forward to twenty years later]
… And that brings me to the time I was flying into Winnipeg on a gloriously clear winter's evening and finally got to see that big yellow moon on the rise, and later experienced the cold wind ripping down the alleyways on the streets of his home town. Which reminds me of the woman on the train to Montréal who wondered why I had gone to Winnipeg when Neil Young was born in a town in North Ontario. "Yes," I said, "that may be the case, but he moved to Winnipeg at the age of 8 when his mother divorced and that's where he had his first bands"…
[Deleted to avoid tedium]
So you get the idea - there was a lot tied up in this one for me, and watching Neil Young perform was more than just a matter of taking in the music for 90 minutes. I wasn't sure what to expect - I hoped he wasn't going to perform his boring songs - "Harvest Moon" and such like. In his senior years, Neil Young has been getting a bit sedate musically, and I was really hoping his show wasn't going to be a repeat of the material featured on the DVD Heart Of Gold, which, to put it mildly, was a snooze fest.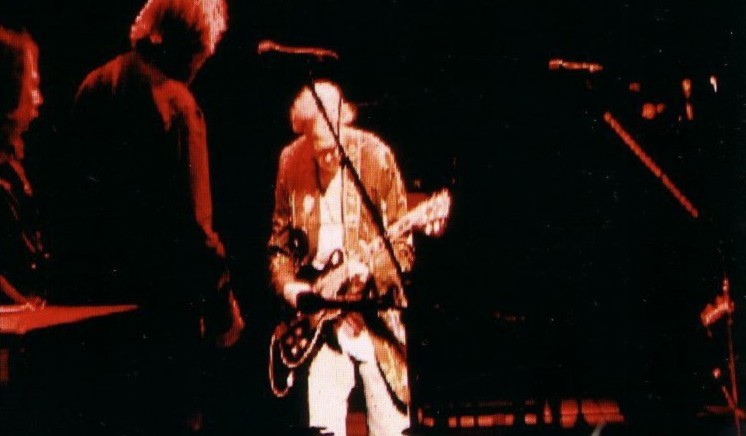 Neil Young (W.S. McCallum)
I needn't have worried. He obviously realised this was a rock festival and not a county fair. Proof came when he launched into "Hey Hey, My My" early on in his set, and I was immediately transported back to that cinema all those years ago. "Everybody Knows This Is Nowhere" took me back to those summer holidays (After The Goldrush wasn't the only album I bought that summer), as did "Cowgirl In the Sand". My jaw dropped when he started playing that. True, he did include the old chestnut "Heart Of Gold", but a good part of the set consisted of stomping loud classics like "Powderfinger", "Cortez The Killer", and "Cinnamon Girl". Which is not to say I disliked the more sedate acoustic stuff: "Oh, Lonesome Me" and "The Needle And The Damage Done" were outstanding.
So he mixed his repertoire up well and provided a bit of everything, but rock was the winner that night. Even his clichéd 1990 hit "Rockin' In The Free World" wasn't all that bad in a live context. I would have been happy if he had closed with "Rockin' In The Free World" as we had already had 16 songs, but then for the encore he pulled out the double whammy: "A Day In The Life".
What the hell…?!?! Since when did Neil Young do Beatles songs? And of all the Beatles songs to perform live, what a truly whacko choice. The original was only ever recorded in the studio by the Beatles, and featured everything but the kitchen sink in terms of orchestration. As a closer it was a choice that was brilliant in its counter-intuitiveness, with a high potential for disaster, but he pulled it off, ending with an impertinent plunk on the vibes instead of playing that final ringing piano note that the Beatles used. Genius!
What an absolutely amazing concert.
© W.S. McCallum 15 July 2009
Jemaine Clement
crossing Cuba Street, Wellington
14 March 2009, c. 2.45pm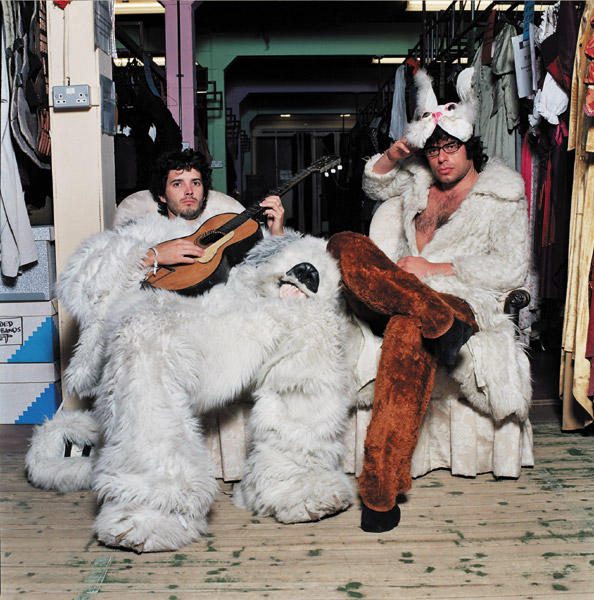 Another unconvincing disguise (FOTC MySpace site)
The top end of Cuba Street on a sunny (but cold) Saturday in Wellington. And there he is, coming out of a side street, about to walk cross the Cuba Street, trying to look inconspicuous in a beard and hat, yet completely nullifying the disguise by toting a big acoustic guitar case that is a dead giveaway. He's a muso. Hmm, looks familiar - but the beard? No, look beyond the beard… Hah - spotted! I know who you are: the guy from Flight of the Conchords!
And he knows it. He has spotted me, spotting him and smiling in satisfaction. He looks like a fawn caught in the headlights. Through the look of uncertainty on his face, I can see the thoughts going through his head: "Do I actually know this guy? He sort of looks like I might know him. Is he someone I should say hello to? No, I don't think so. Oh no, he's turning to walk towards me! Walk faster! Look straight ahead!"
Actually, it was purely coincidental that I was turning that particular corner in your direction. And yes, you may even have some vague recollection of me, just as I have a vague recollection of seeing you before once or twice, because we both used to live in Aro Valley several years ago, but no, we've never been introduced, and I don't know that other guy either. In fact, I have never seen Bret in real life. I have this vague theory that he is possibly computer-generated - they can do wonders with technology these days.
I did, in the name of blogdom, toy with the idea of pulling out the camera I happened to have with me and taking a snap of you walking by, but I would have had to put the battery in it, by which time you would have been crossing Cuba Street, and all I would have got was a photo of the back of someone carrying a guitar case across a pedestrian crossing. Unless I had chased you across the road and cornered you into having your photo taken, but that would have been very uncool, and Wellington people don't do uncool. Actually, you're from Masterton and I'm from Christchurch, but we have both spent enough years in the Big Smoke to know about the need to retain your coolness quotient in public in Wellington.
It's no problem at all that you hurried on your way, as I wasn't really intending to stop you and bother you. I smiled mainly because that beard was such a failure as a disguise when used in conjunction with that big fat acoustic guitar case, not because I intended to wheedle my way into your existence.
Subsequently, I was also thinking what a drag it must be to come back to Wellington now that you're so famous. Not because I'm implying that you're a snob or anything, but because you probably can't even walk down the street in a beard nowadays without complete strangers recognising you and accosting you, and doubtless various other people already had that very day, which is why you were looking so anxious there for a moment until I just kept walking past you.
It could have been worse though - I might have been a female fan wanting to accost you, and boy, you have some absolutely crazy female fans. I saw that documentary on TV a few weeks ago where they interviewed a few of your fans. Like that pregnant woman in LA who said she had come to your concert to give her unborn baby rhythm. Or that big blonde chick after that same concert who asked to have her neck autographed by you and then told the documentary-maker that she was going to have the signature tattooed into her neck and that she was sure you would call her later on because she had thrown a condom at you onto the stage with her phone number written on it. And it's not like you're the only one who goes through that stuff either: I also saw your computer-generated partner in another documentary a couple of weeks ago, meeting his Lord of The Rings fans (because he spent about 40 seconds on-screen in LOTR but somehow ended up with his own fan Websites). They were all wearing elf ears! That's pretty freaky stuff, Jemaine. If I had bunch of gushing women lining up to meet me wearing elf ears, there isn't a linear obstacle in existence that would stop me running like Hell in the opposite direction.
I think it's really cool you guys have made it big though, and I hope you move on to further success now that the TV series has ended. I remember how, just a few years ago, New Zealand TV executives turned down your proposed TV series because they thought you were musicians trying to be comedians, and you couldn't get a decent recording deal here because the local music industry executives thought you were comedians trying to be musicians. And now you're on a major US TV network and you have a deal with Sub Pop - you certainly showed those dumb parochial bastard executives back in New Zealand.
Anyway, just one final suggestion: if you want to go unnoticed in public, try cross-dressing. It could really work for you.
No? Well, it was just an idea…
© W.S. McCallum 22 April 2009
Dirty HZ and Delaney Davidson
at Stink Magnetic Corporate HQ, Wanganui
19 March 2009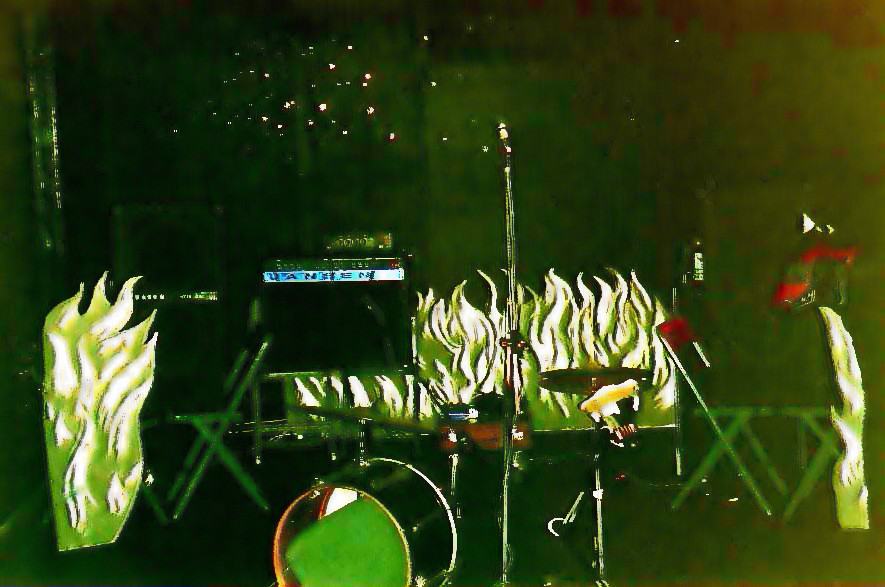 (W.S. McCallum)
The set at Stink Magnetic that night seemed to consist of the flames of Hell, which was an appropriate setting for an evening of predominantly dark, brooding music.
The opening act was Dirty HZ, a mystery man of many guises, who appeared this time with a pencil moustache and a vintage electric guitar to set the scene. After some initial bother with the vocal microphone picking up feedback from one of the amps, he hit his stride with the song "Trail of Broken Hearts", and was soaring even higher on Roy Orbison's "In Dreams" when his mic cut out. A promising set, but curtailed by technical troubles.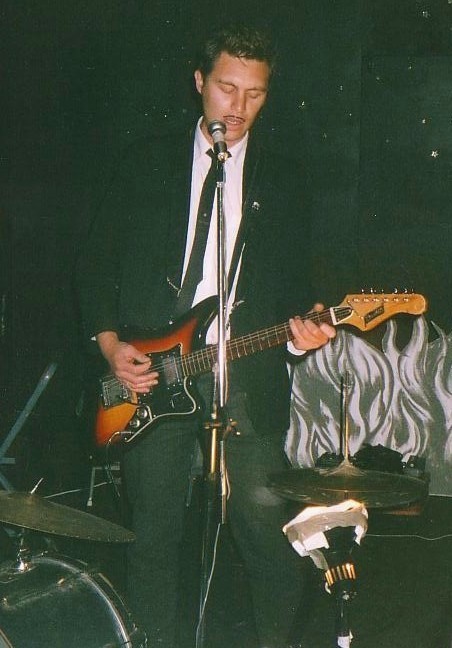 Dirty HZ (W.S. McCallum)
Delaney Davidson was in Wanganui for just one night after having been on tour in the US with Holly Go Lightly and just prior to heading off on another tour in Switzerland, so it was quite a privilege to get to see him. I was wondering about the aforementioned dark, brooding sound as I listened to him which, if I worked for one of those facile Auckland music mags, I would probably describe as "country acoustic Nick Cave". Why did this music strike such a chord and feel so familiar to me? It wasn't as if I had ever heard him perform before, and I wasn't familiar with his songs, apart from covers like Hank Williams' "Rambling Man" and Leadbelly's "In The Pines". It all fell into place when I went and had a look at his MySpace site and found out that he had grown up in Christchurch. In addition to being a glorified agricultural service town, Christchurch is the most Gothic city in New Zealand (and no, I'm not referring to talcum-pallid teens dressed in black).
Listening to his version of "In the Pines" (which was one of the high points of a very strong set) reminded me of crossing Hagley Park in a mid-winter fog, when you can't see more than a metre or two ahead and the air is brutally cold and damp, apart from the odd incongruous little pocket of trapped warm air you walk into and then out of, lost in the middle somewhere between all the leafless trees planted in the middle of what used to be a swamp. All the time you're thinking about the various people who have been murdered in that park over the years, like the gay guy who got the shit kicked out of him when caught cottaging by some yobs at those public toilets by the pond way back when, and the rapes and assaults and other shitty things that have gone down there. And just as you are striding along, listening to the muffled echo of your steps on the footpath and wondering why the Hell you didn't just decide to stick to the road instead of taking a shortcut, you catch sight of the cold old-world stone architecture of Christ's College looming out of the gloom. That's what Delaney Davidson's music reminded me of: fuck me - Christchurch music!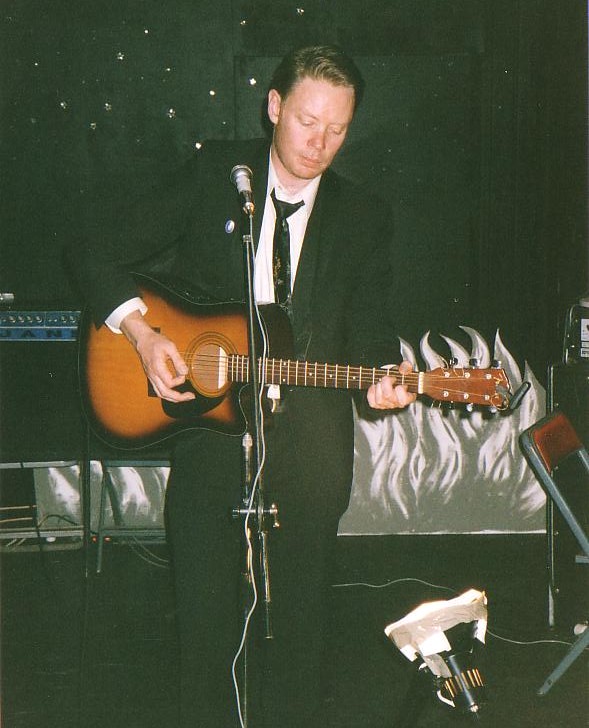 Delaney Davidson (W.S. McCallum)
More photos of Delaney Davidson
Which is not to say it was all doom and gloom - to accompany one instrumental piece he performed in waltz time, there was even a waltz competition with a CD as a prize for the best dancing couple. But the dominant theme was one involving dark overtones, death, murder and other grimness, including songs like Porter Wagoner's "Rubber Room", or "Dirty Dozen", where, to lighten things up somewhat, the audience was encouraged to sing along yelling profanities.
That night, Delaney Davidson showed that he is a master of the acoustic guitar, in addition to which he used a loop unit to build up a multi-layered sound involving backing vocals, shakers, clapping and a harmonica, all of which required a great deal of co-ordination and mental agility.
He also turned out to be very good at card tricks…
© W.S. McCallum 24 April 2009
Boss Christ, Knife Fight, and Los Hories
at the Eye of Night, Wanganui
30 January 2009

Thinking I would be arriving fashionably late after taking time out on the way to eat at a nearby Chinese restaurant, I turned up at the Eye of Night about 9.30 pm, only to find I was unfashionably early - them's the breaks. The opening performer was Boss Christ, who let rip on acoustic guitar with a collection of old and new homespun songs from his repertoire, including titles like "Human Tractor", "Small Town Moron" (an ode set in the Manawatu?), "Lost Highway", and "Party at Boss Christ's House", which he hastened to add had nothing to do with reality as he never has parties at his house - "it's a metaphor", before suggesting another address people could try if they want to go gatecrashing. Afterwards I inquired about his CD, only to be told its release was forthcoming. And fact, it was just officially released a few days ago.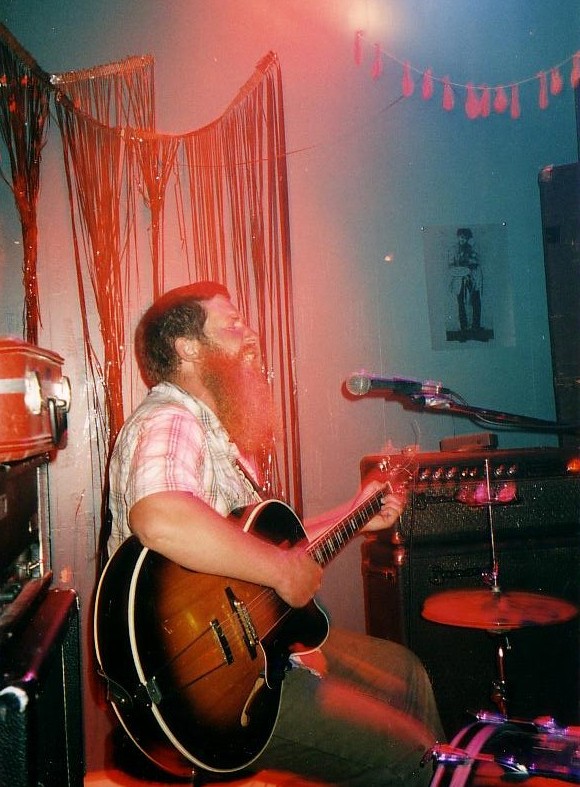 Boss Christ (W.S. McCallum)
Knife Fight was an added extra not on the official pink tour poster. They roared into action and provided another stunning show that verged on stealing the thunder of the headline act. All the time I was watching Knife Fight, I kept thinking "where were New Zealand bands like this in the 80s?" For some reason, acts directly inspired by 60s-style garage rock were few and far between. The only act I can think of that matched them was the Axel Grinders, and they were definitely the black sheep of the indy rock scene in this country back then. The NZ indy scene in the 80s was dominated by Flying Nun bands which, in spite of being retrospectively canonised and sanctified, were at times absolutely dreadful. (You won't be hearing a five-part Radio NZ documentary on Adrenal Glandy anytime in the near future…) And then there were the wannabe synth-playing hairdressers' bands like Peking Man. How times have changed. No, come to think of it, actually they haven't, as NZ music is still dominated by stereotypical sounds; they have just morphed into different forms over the years. All the more reason to cherish bands like Knife Fight.
Knife Fight (W.S. McCallum)
Then along came Los Hories, from Ponsonby, Auckland, whose set was devoted to promoting their new CD, entitled What's The Time!? Some ignorant scribblers have ventured to suggest that Los Hories is a Spanish name. "Hories" is not a word you will find in any Spanish dictionary. It looks to me like a smart-arsed pun on "The Gories", an 80s Detroit garage band who had a sound that was very much lacking in New Zealand at the time, and whose song "Queenie" forms part of the band's set. On a cheekier note, it is also just one letter removed from an offensive word that people used to use when referring to Maoris way back when, which is doubtless why the band threw in "Los" to confuse people instead of just calling themselves "The Hories".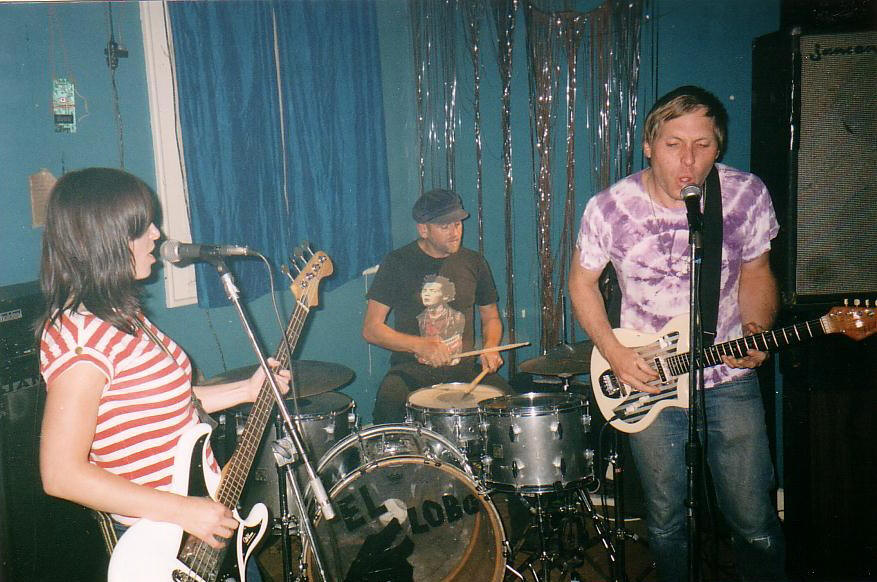 Los Hories (W.S. McCallum)
In spite of Knife Fight's rousing performance just before, Los Hories managed to hold their own, largely thanks to their strong set of songs and a level of volume that upped the ante on Knife Fight. In fact, the volume was overwhelming, particularly for a venue the size of the Eye of Night, which is, after all, just a living room. The result was that most of the audience actually fled the room and took shelter in the kitchen. All that remained were those of us with earplugs (I stood to one side of the largest speaker in order to avoid the blast), and those who didn't care. I heard one woman shouting to her friend: "You know that ringing noise - don't worry, you didn't need those frequencies anyway!" Even Al, the venue owner, commented to me about the volume level that night: "it was a bit loud!" Now that's saying something.
© W.S. McCallum 21 April 2009
Johnny Devlin
at the town square, Wanganui
4 February 2009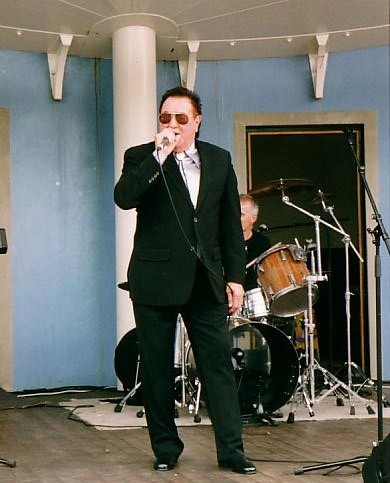 (W.S. McCallum)
Wanganui's main claim to fame in terms of rock'n'roll is that it was the starting point for the career of the man who was the Kiwi Elvis. Although he was not the first Kiwi rock'n'roller (that distinction probably goes to Johnny Cooper), he was New Zealand's first rock superstar.
In his heyday in the late 1950s, Johnny Devlin was repeatedly mobbed by hysterical female fans, had his shirt ripped off him, and generally drove audiences wild. He had musical as well as show biz talent too. His fifties recordings bear comparison to the best material coming out of the United States at that time and he was streets ahead of anything the United Kingdom could muster.
Sadly, his move to Australia in the early 1960s did not prove to be the first step to international stardom for Johnny Devlin and, like most of his generation, by the mid-60s his brand of rock'n'roll had been overtaken by the British Invasion bands. Although they were late starters, once they ramped up, British rock bands redefined the genre in those years.
Back in Wanganui, the conservative establishment viewed him as a weird aberration that was best forgotten. He received none of the recognition reserved for his counterparts from the early days of rock'n'roll in the US or UK. In spite of his trailblazing role on the New Zealand music scene, in Wanganui there is no mention of him in the town museum, there is no plaque outside the house where he once lived, and there is certainly no statue erected in his honour. In short, Johnny Devlin was quietly forgotten.
Not that Wanganui is an exception by any means. In a country where prowess in handling an oblong ball on a muddy pitch has traditionally been considered more important than musical endeavours, his place in NZ history has generally been neglected. For example, I don't recall ever seeing an exhibit on him at the ever-changing theme park known as "Te Papa" (the national museum in Wellington).
So I was more than curious when I found out that an official event was being held to welcome the return of the prodigal son to Wanganui. Not that it was the first time he had been back since he left for Australia; it was just the first time he had been given any official recognition by the city authorities. I arrived shortly after midday to witness dancers from Wanganui's rock'n'roll club and a pub rock band purveying a somewhat cheesy "Happy Days" version of the 1950s for the onlookers in attendance. There was a respectable turn-out, with people over the age of 50 predominating, although there were some curious younger folk who had come along as well.
Then along came the mayor, Michael Laws, to deliver a speech that was a mixture of civic boosterism and strange congratulation. How incongruous to see such a reactionary stand up and praise a musician who was once the bane of earlier generations of local reactionaries. What was being enacted was a classic case of social rehabilitation, just like they used to implement in Communist societies, where some comrade might be co-opted decades after having been sent to Siberia for his revisionist attitudes and be magically reinvented as a model of Marxist-Leninist thinking; a stirring example for future generations of Communists to aspire to. In this particular case, it had taken over 50 years, but finally Johnny Devlin had gone from being a rebellious figure who was, at best, disliked or dismissed by Wanganui's city fathers, to being a harmless object of nostalgia, now worthy of a civic award, a painting, and even his own stained glass window (coming soon...).
The irony of all this can't have been lost on Johnny Devlin. I would love to know what thoughts were going through his head as he listened to the mayor's adulating superlatives. Of course, if he had captained a rugby team that had beaten Wales in a test match, he wouldn't have had to wait so long.
Johnny Devlin then went on to sing a couple of rock'n'roll standards ("Blue Suede Shoes" and "Lawdy Miss Clawdy"), backed by the pub band that had warmed up the crowd prior to the mayor's speech. He still has a good voice, but it was more like watching a wedding singer than the king of Kiwi rock'n'roll. The sad thing about that early generation of rock'n'rollers is that once fashion passed them by, they and their audience turned their music into a cabaret act in which the fire of youth has long since been extinguished. Give Mr Devlin the right backing band though and things could be different.
I queued up afterwards to get my Johnny Devlin LP signed, only to be told by him that it was a bootleg. He was gracious and signed it anyway.
In spite of his official rehabilitation by the mayor, it was interesting to see that some locals' attitudes towards Johnny Devlin have definitely not changed. In a store on main street afterwards, I heard the following conversation between an old Maori guy and the woman behind the counter, both of whom were in their sixties.
The Maori guy asked "Did you go and see Johnny Devlin?"
For his trouble, he got the following grouchy reply: "I saw enough of that idiot when I was a girl - he used to run around with my brother. And what are they giving him a civic award for anyway? He wasn't even born here!"*
Small-town conservatism dies hard in Wanganui.
* True enough - he was actually born up the road at a place called Raetihi.
© W.S. McCallum 7 April 2009
Sam Hunt and Leonard Cohen, TSB Arena, Wellington
20 January 2009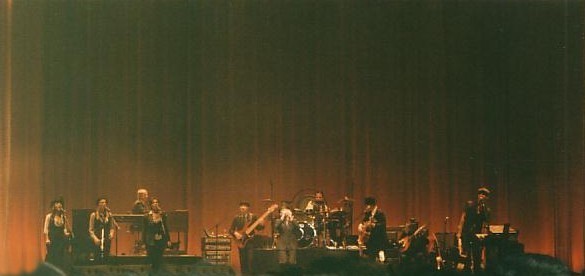 (W.S. McCallum)
Let's start this off by saying that I have never really been a Leonard Cohen fan. For years and years I couldn't stand the guy and subscribed to the popular theory that he was an old miseryguts; a beatnik poet masquerading as a musician. Sure, I knew the songs, and even liked various of them. I've even been known to sing "Bird On A Wire" on occasion, but I was a firm believer in the theory that Leonard Cohen's songs were best sung by other people.
That changed last year when, having listened to covers like Fairport Convention's version of "Suzanne" for the umpteenth time, I decided to take the plunge and actually buy an early Leonard Cohen album, called Songs From A Room. Oddly enough, listening to it, I found the misery quotient in the songs on that album a lot lower than various of Bob Dylan's (for instance), and decided I would have no problem buying another one. Songs of Leonard Cohen was the next one I bought. I had heard "Suzanne" and "So Long, Marianne" before, but was surprised to discover that the rest of the album was just as strong, and was impressed with his singing and the arrangements as well.
Some weeks later I heard he was coming to New Zealand, having decided to go on a world tour because he needs the money after being swindled by his former manager, who now owes him US$9M as the result of a civil suit he took out against her and which was found in his favour by a Los Angeles court ruling that she has not honoured. I ended up leaving the decision to go until the last possible minute, ringing up the ticket office late in the afternoon the day before, and was told there were only several seats left. Given that Leonard Cohen is now 75 years old and this would probably be my last chance to see him perform, I bought the ticket.
The opening act was the New Zealand poet Sam Hunt, who was justifiably annoyed at the number of people streaming into the auditorium while he was trying to recite his poems. In this case, I think the management is to blame. My ticket said "Doors 6.30pm". When I turned up at 6.30pm only to find nothing was open, one of the door staff said to come back at 8pm. Fortunately I didn't listen and returned around 7.15pm, only to find people filing in already. My impression is that most of the audience was just as confused and misled as I was about the start time. Sam Hunt was the main victim of this.
Another brickbat for the people at the TSB Arena was their inability to lay out the stalls seating properly. Any idiot knows that when you have removable seating on a flat floor, you stagger the rows so that the people in each row can see between the heads of the row in front. I am tall so it doesn't matter in my case, but it was very strange watching rows and rows of heads bobbing from left to right as they tried to see around the other bobbing heads in front of them. And then there was the spacing. I was secretly hoping that the late arrival to the seat on my right would be an anorexic midget, but had my hopes dashed when he turned out to be normally-sized. Suffice to say, the seating was too cramped and there wasn't enough leg-room: a classic case of the venue owner trying to squeeze as many people as possible in so they could make the maximum profit.
Leonard Cohen also offered his apologies to the people in the front row balcony seats. There had been an angry short person in the Wellington paper that morning, complaining that the balcony railing would block her view, effectively cutting Leonard in two so she would only be able to see his head and feet. His response was: "Sorry about the railing dispute. I was happy to have them take it out, but given the nature of my work, management were worried about people throwing themselves off the balcony."
He then delivered two sets and an extended encore which were far beyond anything I had expected. My first surprise was his singing, which was outstanding, and also his musicianship. He even played a synthesiser at one point, introducing it with the comment "Don't worry, it plays itself". After a basic but perfectly-rendered little keyboard solo in the middle which received rousing cheers, he said "No really, you shouldn't have". Leonard Cohen had a real stage presence and seems to enjoy himself immensely on stage, even when standing listening reverently with his hat off while one of his musicians takes a solo. Cohen's show was a real contrast with the Bob Dylan concert I saw in the same venue six years ago. Dylan looked and acted disconnected from his surroundings, and was rough around the edges. Cohen, by contrast, offered a flawless performance, and his nine-piece band were not there to cover up inadequacies, the way Dylan's support bands are.
Another notable part of the show was the stage production and lighting. It was the best light show I have ever seen in concert, with the shifting hues managing to perfectly match the flow of the music. I have no idea who the lighting operator was, but by the end of the show I wanted to track him or her down for rousing praise and a handshake.
The music itself was seamlessly performed, mixing in his best-known songs of the 1960s like "Suzanne", and "Bird On A Wire" with more recent songs. The high point was his rendition of "Hallelujah". Leonard Cohen must have sung this song countless times over the years, but he put his soul into it. Truly outstanding.
Every now and then I go to a concert without any idea whether I am going to enjoy it, but the late decision to go certainly paid off in this case. This was one of the best concerts I have ever seen. If anyone else out there in Internetland is wondering whether they should go and see a 75 year-old former beatnik poet sing songs about existential misery and loss (among other things) on his world tour, I can only say "Hell yeah!"
© W.S. McCallum 6 February 2009
The Lewd and the Melvins
at the Great American Music Hall, San Francisco
27 December 2008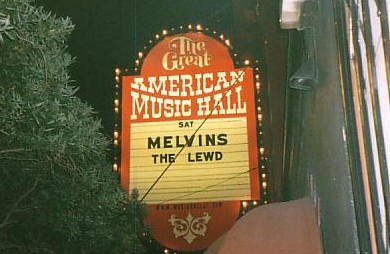 (W.S. McCallum)
The Great American Music Hall is an old burlesque theatre in the Tenderloin neighbourhood that left me feeling distinctly ambivalent. It's a beautiful old venue that could do with a bit of sprucing up, but still looks magnificent with its ornate plasterwork and classical paintings on the ceilings. For all that, being a guest there was not a particularly warming experience. I have spent the last 24 hours trying to put my finger on what it reminded me of, and it has just come to me in a flash. Maybe you have had a similar experience, so let me spell it out and see if you can relate.
Do you remember how, when you were a kid, there was always some aunt that you used to visit once in a blue moon because she was a relative and that's what married couples with little children are expected to do? So on some bleak Sunday afternoon, when there was nothing more pressing for the family unit to do, you would be herded into the family car and set off to visit Great Aunt Maisy (or whatever her name was). Great Aunt Maisy lives in a nice old house, serves tea and biscuits on proper China, likes chintzy things, and has faded old paintings on the walls with tacky gilt frames. Oh, and she's a strict disciplinarian who believes that children should be seen and not heard, so as you timidly reach for that dry shortbread that has been left in the tin for way too many months because she only serves them to guests and she doesn't get that many, she is quick to remind you not to drop crumbs on her carpet because she just swept it last week, and you know you're not going to get a second one because she only put out enough for there to be one for each person, although she will refrain from eating hers so she can save it for the next guests several months down the line and is sure to make a fuss should you even cast a sideways glance at that last sad, lonely shortbread, sitting there, doomed to be returned to a rusting biscuit tin she purchased in 1954 and has kept ever since because you don't throw things away needlessly do you?
Well, dear readers, this is what a night out at the Great American Music Hall made me feel like – a visit to fussy old Great Aunt Maisy's!
First there were the door staff who insisted on seeing ID, although I was clearly a long way past my 18th birthday. "Well, I'm probably old enough to be your father, but in any case…", I said, showing my passport. Making jokes about how young I look is not really a replacement for common sense. This fixation with demanding ID seems to be something that mid-sized North American rock venues have. I was in an Oakland bar that very afternoon and there was no one at the door demanding ID. They had the common sense just to use their eyes at the bar, and the bartender could clearly see just by looking at me that I was not some teenager trying to swill a Budweiser on the sly (I have more taste, for one thing).
Once inside at the Great American Ballroom, I couldn't help but noticing all the little hectoring signs they had up all over the place – reserved this, no entry that, keep clear, no stopping at all times… they even had little signs taped to tables telling people that they were for drinks and not for sitting or leaning on. Well excuse me! I didn't dare go into the toilets, fearing there would be little signs warning not to shoot up or have sex in the cubicles, and to refrain from crapping in the urinals, because, hey, that's all I ever go to concerts for…
But the culminating thing, the little event that truly soured my evening, was the short, chubby staffmember with the moustache who came over to me not so politely to tell me twice (I heard you the first time buster): "NO FLASH". No, he wasn't referring to me showing my whizzer, but rather to my camera. Well what I want to know is, if this was house policy, where the hell was the sign at the entrance? The Great American Sign Nazis had one for every other thing we were not allowed to do on their hallowed premises. Or was this just a case of this particular guy being a jerk? I got the impression that this was indeed the case. Certainly, El Adiposo didn't seem to be in any great hurry to stop the dozens of other people taking photos, and camera flashes going off were a constant throughout the evening. He even watched as one of his fellow staffmembers shot away. I can only conclude I was being victimised because he doesn't like tall people.
So all up, I can't get over the impression that a Saturday night out at the Great American Music Hall is like spending a Sunday afternoon around at Great Aunt Maisy's, being continually ticked off and tut-tutted for being a naughty little boy. So much for that rebellious rock and roll experience…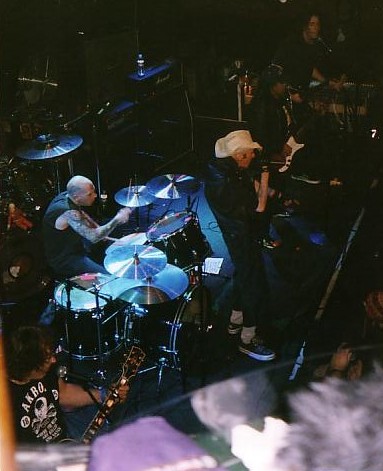 The Lewd (W.S. McCallum)
And what about the music? Well, the Lewd (the late 1970s punk band from Seattle, not to be confused with the Lewds from Detroit or the Lewds from Memphis) delivered a good opening set of solid, conventional first-wave punk songs. The Lewd are a band with an interesting history, as they were among the first punk bands active on the San Francisco scene in the late 1970s. Taking punk to what was then still the capital of hippydom at that time must have been a bit of a crusade, and they are still going after all these years.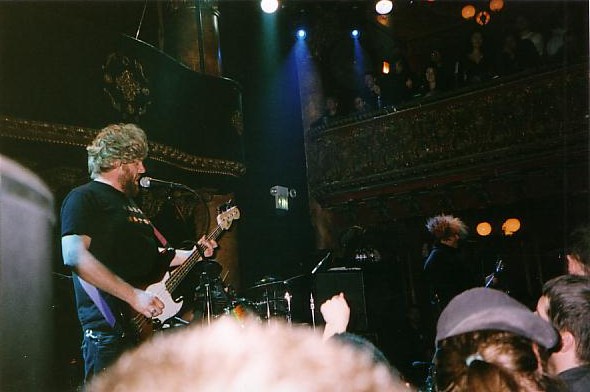 The Melvins (W.S. McCallum)
The Melvins delivered a performance of straightforward heavy metal that got the crowd going, but didn't really do it for me. My impression is that the Melvins would be better as a support band than as a headlining act. In spite of a great rhythm section, and their minor legend status, there was something missing. I kept thinking of the words "rockist" and "formulaic" , although I don't deny they are great musicians. Still, it's a bit hard to get into that rock' n' roll frame of mind when you are looking over your shoulder and wondering what they're going to tell you off for next.
© W.S. McCallum 24 January 2009
<![if !vml]>

<![endif]>  <![if !vml]>

<![endif]>
<![if !vml]>

<![endif]>  <![if !vml]>

<![endif]>
Web site © Wayne Stuart McCallum 2003-2017