Music Writing 20
10
by W.S. McCallum
The Sonic Werewolf Conference 2010 AD
Stink Magnetic Corporate HQ
Wanganui
27 November 2010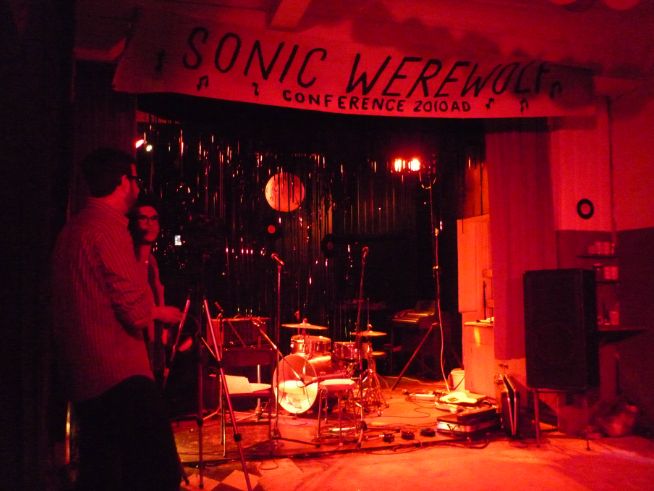 (W.S. McCallum)
The call went out some weeks in advance, and there was a great deal of build-up and anticipation – finally the evening had arrived! The Sonic Werewolf Conference was upon us! "The Sonic what?!?" I hear you say… Although there were indeed some suspiciously lupine and hairy individuals there that night, the event was in fact a release party for Wolf Party the very first vinyl LP released by Stink Magnetic, a guaranteed collector's edition, with a pressing limited to 200 copies:
The event was the first part of a seven-centre nationwide tour continuing into mid December, and featured a movable feast of artists from the Stink Magnetic roster, with no two shows guaranteed to be the same. At the Wanganui concert alone, there were seven acts on the bill, so it promised to be a marathon event, running into the wee hours of the morning.
The first act were Double the Beef (formerly the "Band With No Name"), from Wanganui, who provided a country-inflected rock act of great strength and variety, with Ellen Young in a big floppy hat shining on vocals.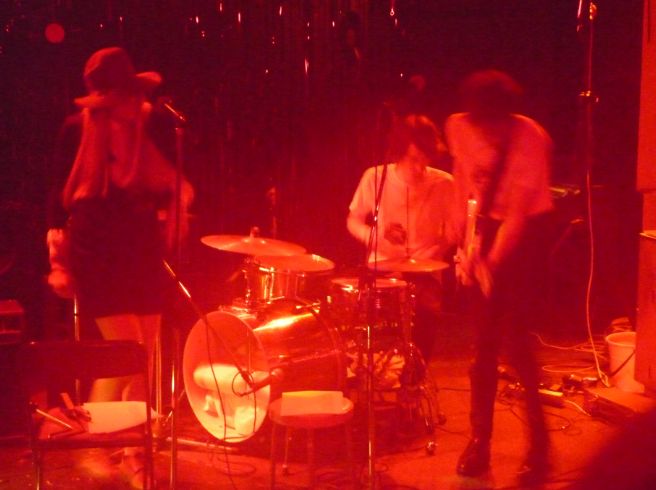 Double The Beef (W.S. McCallum)
The second segment was filled by T.A. Maracas, who, much to my amazement, did indeed deploy the aforementioned instruments, along with disrhythmic keyboard playing and very individualistic vocalising that reminded me vaguely of the 60s New York electronic music pioneers Silver Apples.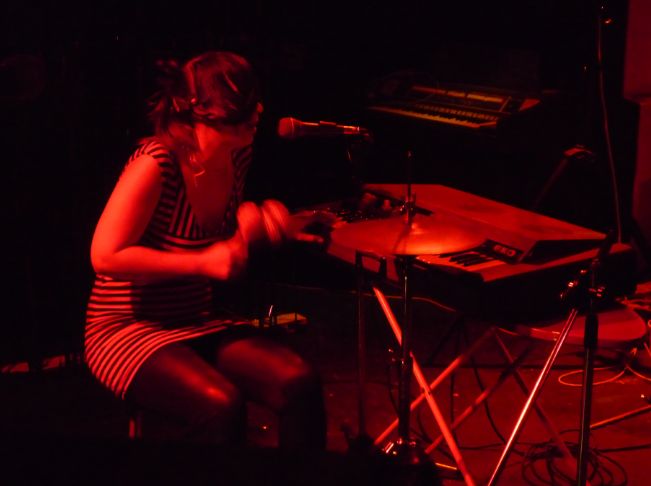 T.A. Maracas (W.S. McCallum)
The next segment, provided by Voodoo Savage & His Savages, from Palmerston North involved an abrupt visual, musical and sartorial gear change: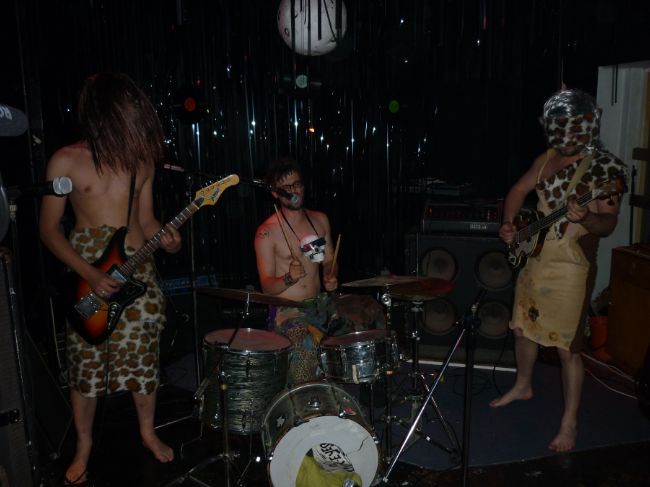 Voodoo Savage & His Savages (W.S. McCallum)
They were sassy, wild, and strangely disciplined for heathens so savage, pounding out noise while Mr V. Savage's sunshaded friend swung from his neck from side to side to the beat.
Also from the vicinity of Palmerston North was Boss Christ and his slide guitar, who turned up with a bass player and drummer, who had jointly refined their playing to a fever pitch, and provided an outstanding performance in an evening packed with strong acts.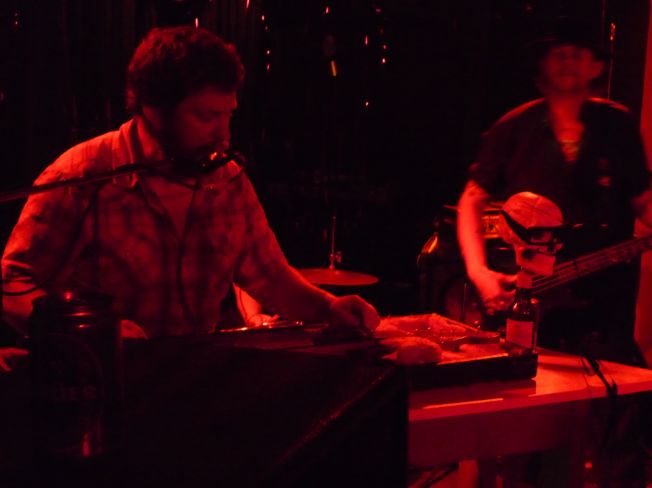 Boss Christ (W.S. McCallum)
The cornerstone of the whole Wolf Party record release tour was the latest permutation of the Tape Man saga: House On Haunted Hill, who, over the space of several months had set themselves up as a five-piece band, including two guitarists and an organist, but who seemed to have lost two members when they took to the stage that evening. Would they be equal to the challenge of recreating their sound with a reduced line-up?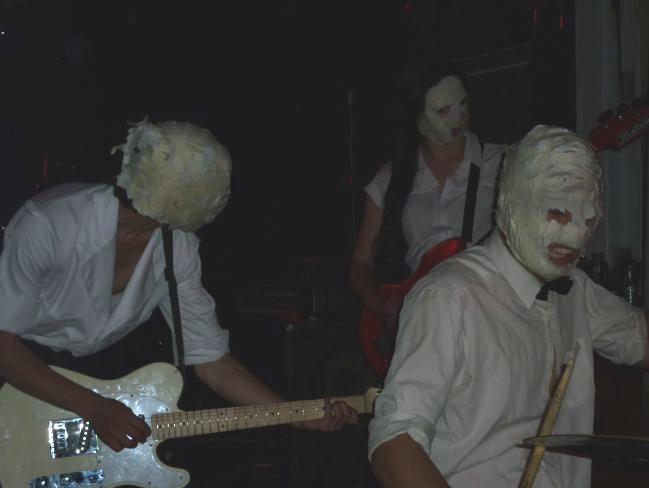 House On Haunted Hill (W.S. McCallum)
With Mr Tape Man filling in on drums, they more than met the challenge, and proved once more the worth of a good power trio, pounding out thrilling 60s-style surf/horror inspired instrumentals with all their hearts.
By the time Double Ya D kicked off his set, it was already past two in the morning, and the crowd had noticeably thinned by this stage, but he seemed unperturbed as he launched into a performance of his 80s-disco-synth-meets-noisy-guitar songs. Sadly, by this time I was running out of steam, and had to call it a night, but I could hear his playing several blocks away as it floated out of Stink Magnetic's open windows and out over the rooftops and across the Whanganui River to disturb the sleep of unsuspecting locals.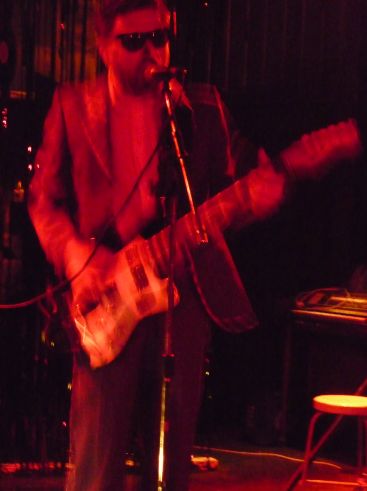 Double Ya D (W.S. McCallum)
© W.S. McCallum 23 January 2011
The Last Waltz at the Eye of Night
Wanganui
9 August 2010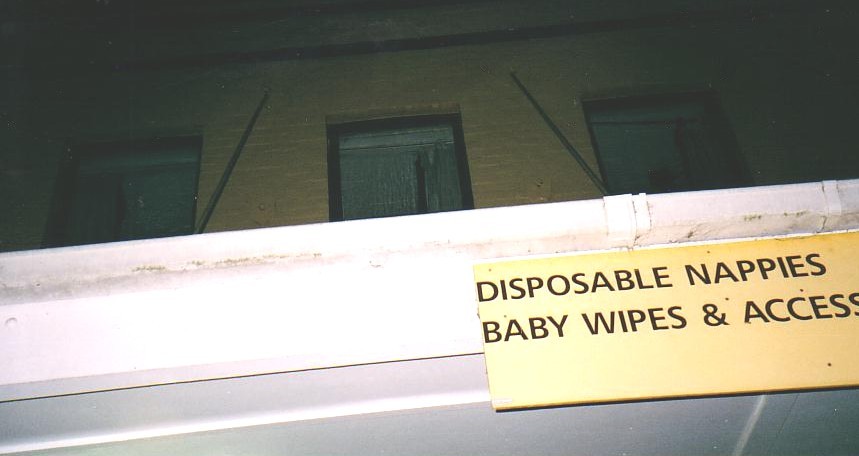 (W.S. McCallum)
It has now been several weeks since the unexpected death of AlC5, also known as Alan Cameron, the co-founder and latterly the sole operator of the Wanganui venue called the Eye of Night.
The Eye of Night has featured fairly prominently in my music writing since 2006. Geographical proximity had something to do with it, but then so did the idiosyncratic and varied nature of the bands that played there. Although not every performance there was faithfully chronicled on this site (which was never my aim), and I probably missed more gigs than I attended, the ones I did get to certainly made an impression.
The Eye of Night was a breath of fresh air during a period in Wanganui's history that has been uninspiring for various reasons, most of them to do with a failed national politician who washed up here and proceeded to make the town a much nastier, abrasive place than it had been. Over the last several years, the civic tone has been set by a grand-standing, sniping little man with a Napoleon complex who is in love with his own prejudices, and who has insulted everyone from the deceased King of Tonga through to a class of 12 year-old school kids on the Kapiti Coast, and, more recently, a couple grieving for their son who died in a road accident.
So when the Eye of Night, or in other words, Clare and her flatmate Al, began putting on shows in the living room in their upstairs flat on the main street in 2006, it really was a breath of fresh air; a sign that in a town governed by loud-mouthed intolerance, there was still room to be different. You could walk up those stairs and, for a few hours, forget all the law and order bullshit, the gang patch witch-hunt, the pointless debate on municipal orthography, and the Council's ballooning deficit, and just relax and listen to some music.
Al's presence was low-key, to the extent that I didn't really notice him the first time I went to the Eye of Night. Clare's presence at the front of house was more visible and forceful. Al just moved around unobtrusively in the background, getting the technical stuff done. Equally unobtrusively, I occasionally used to spot him at odd hours putting up posters around town for upcoming events.
Although our paths had crossed at university, I was still just getting to know Al when he died. We met up when he passed through San Francisco last December, and I have fond memories of showing him around Berkeley and Oakland. I walked around the campus at Berkeley with him and told him the story of the Free Speech movement and about People's Park. I tried to steer him into various choice record stores on the main drag in Berkeley, but he was on a limited budget, so I felt like I was trying to steer a reformed alcoholic into a bar. We stopped for lunch in a café in Oakland, and he took the time to stop and talk to a homeless man I had been studiously trying to avoid. We went down to Jack London Square, where Yoshi's, the famous jazz club, is, and stepped into the Last Chance Saloon on the waterfront, which used to be the last watering hole before getting the ferry to Alameda, which was a dry county a century ago. It was also where Jack London used to hang out as a schoolboy (those were the days), and there was a photo of him on the wall, sitting at a table that is still there. I had warned Al that Oakland was a violent place (population 400,000, with 90-something to 140-something murders annually), and we duly spotted two crime scenes during the afternoon he spent here. At the second one, near Jack London Square, a passer-by came up to us and said "they've got all the police tape up, but it's just a bunch of broken glass from gunshots – no bodies!" Al got a kick out of me expressing mock outrage to the disappointed Oaklander: "What - no bodies?!?" Later on, as he was being dropped off at the BART station to ride back to San Francisco he said: "You told me Oakland was a violent place but I didn't… well, actually, we did see two crime scenes!"
Al and I were about the same age, and there was a strange synchronicity in our lives that resulted in us both moving to Wanganui to do music-related stuff after having lived in big cities and gotten fed up with them. The funeral service on Monday 9 August filled in a lot of gaps about his background, with speeches from family members and old friends telling of all the things he had done and all that he had done for them. I found out that he loved cats and could quickly learn foreign languages, two things I did not know we had in common. And it was a substantial crowd that turned out too – friends and family had flown in from all over the world. It was a humbling experience – there won't be that many people who turn up for me.
At 7.30 pm, some hours after Al's ashes were buried out at Aramoho Cemetery, the closing event of the day was one last gathering outside the Eye of Night, to celebrate and remember. People gathered in their winter woollens along the footpath below the Eye of Night, sitting on cushions, and even on a couch, and those who had thought to bring them wrapped themselves up in blankets. Dylan (aka Tape Man) started off by reading a speech expressing his sadness at Al's sudden death, before launching into a totally unplugged performance of selected instrumentals with the members of House on Haunted Hill, the latest twist in the Tape Man saga.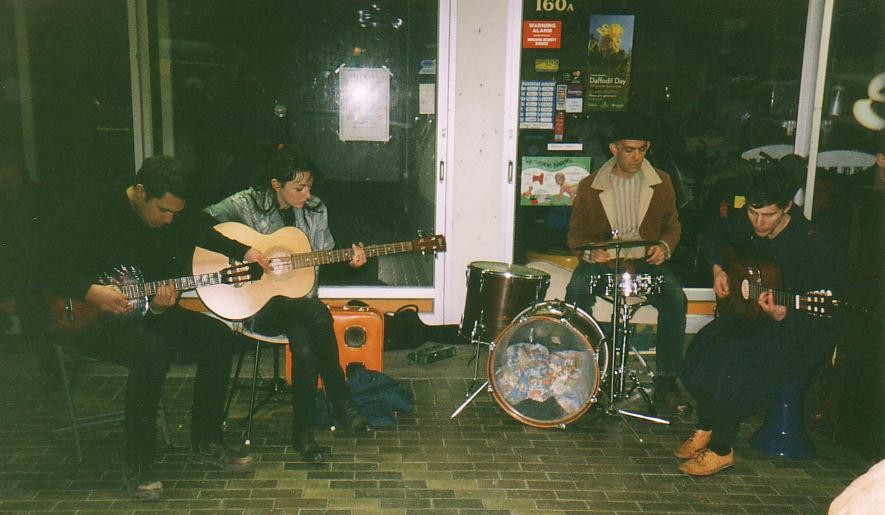 House on Haunted Hill
Sets then provided two songs to remember Al by; the first was on electric guitar hooked up to a strange orange suitcase speaker, with some weird acoustic reverb coming off the plate glass window he faced while he was playing, and the second piece was on keyboard.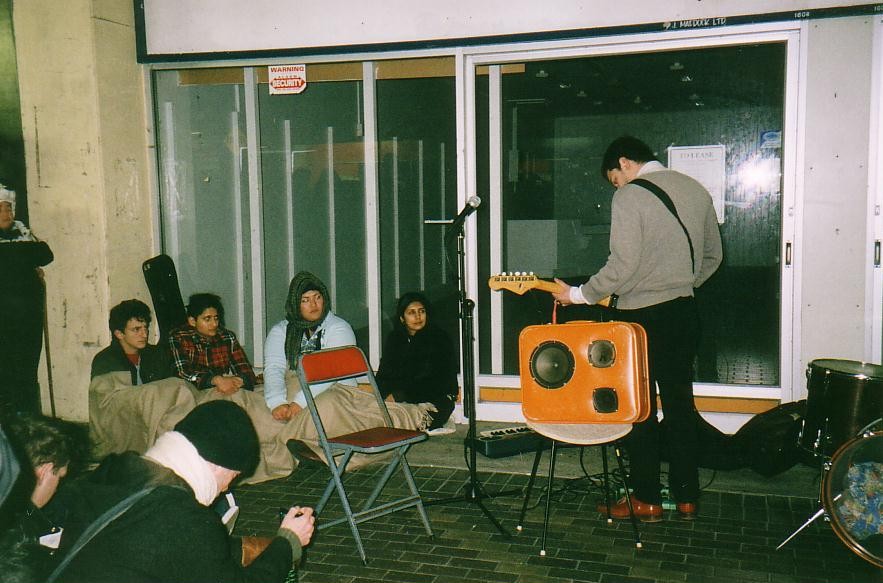 Sets
Nazi Disco gave a raucous performance on sax, drums and guitar. Adam's light-hearted banter helped puncture some of the solemnity, with tales of his group's battle of the bands with Boltmaster, Al's group.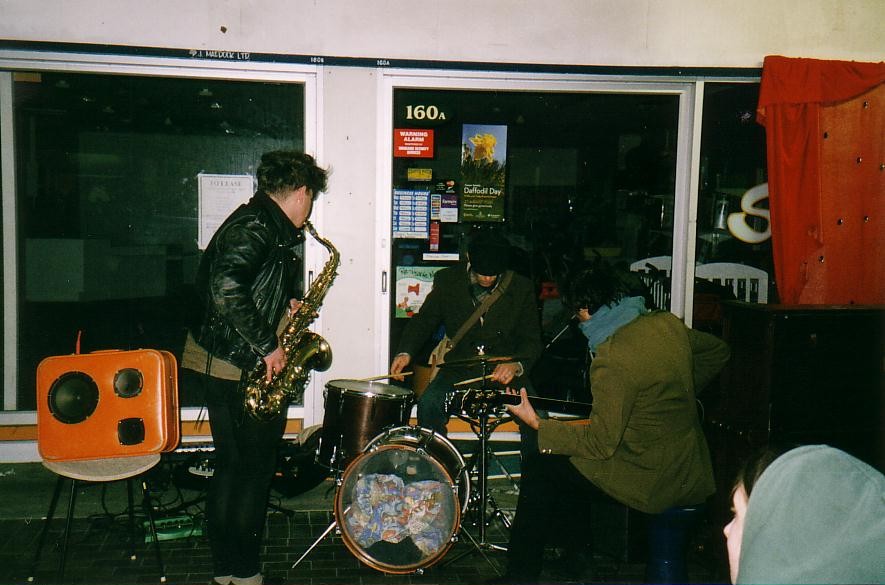 Nazi Disco
Martin, who had come from Wellington, told of how Al used to stay at his place and then proceeded to sing Pink Floyd's "Wish You Were Here", which choked up various people and had others singing along with him.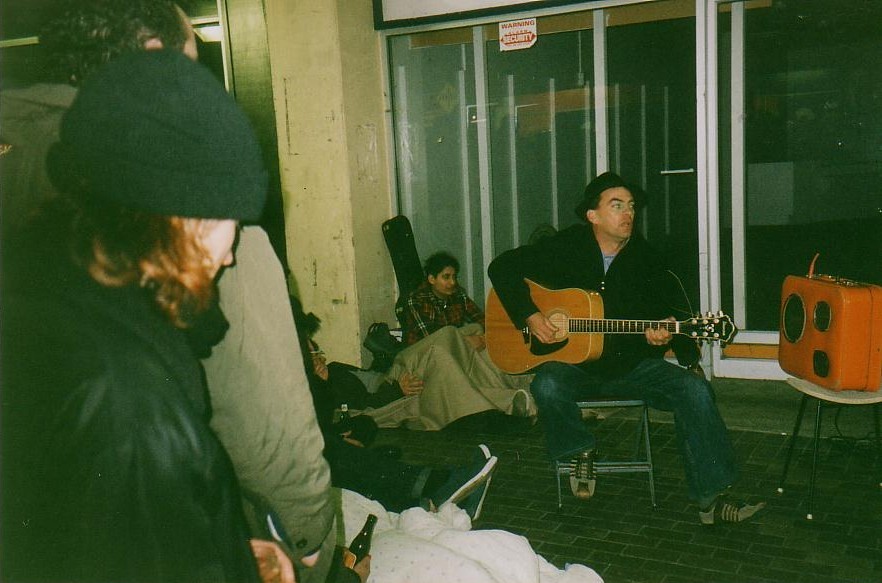 Martin
He was followed by Daniel, who played some original material on guitar, lifting the audience's spirits, which was much needed, given the icy wind that was blowing along Victoria Avenue by that time. It forced me to shelter behind a four-wheel drive, even though I had a thick coat and a Deep Freeze scarf on.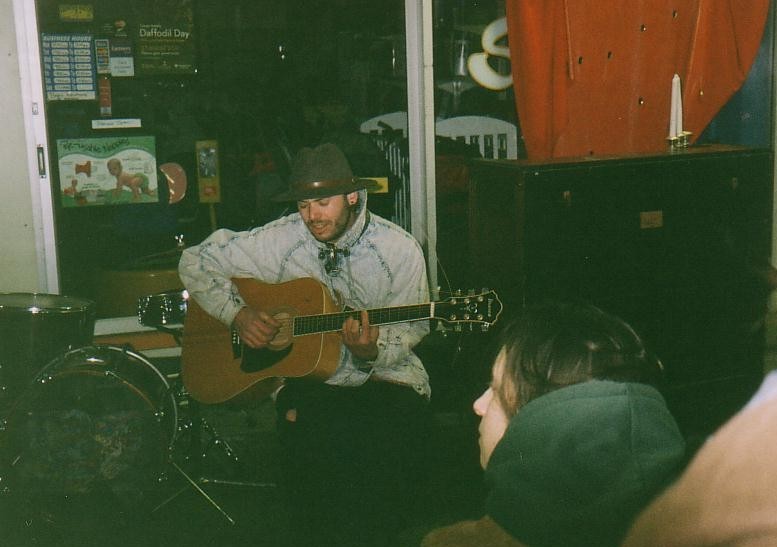 Daniel
Bec Coogan had spoken that morning about all the technical and managerial support Al had offered her band back in his Auckland days, even to the extent of organizing a European tour. She played joyful music on ukulele that lifted people's spirits further.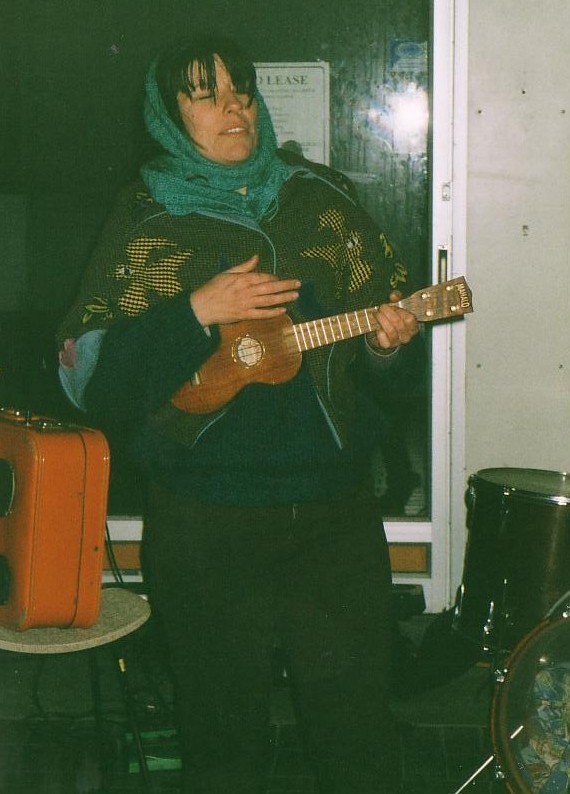 Bec Coogan
Jonah took silliness to new heights, somehow managing to make a song about the end of the world funny, and topped it with an a capella performance with warm-up exercises and a song in Croatian.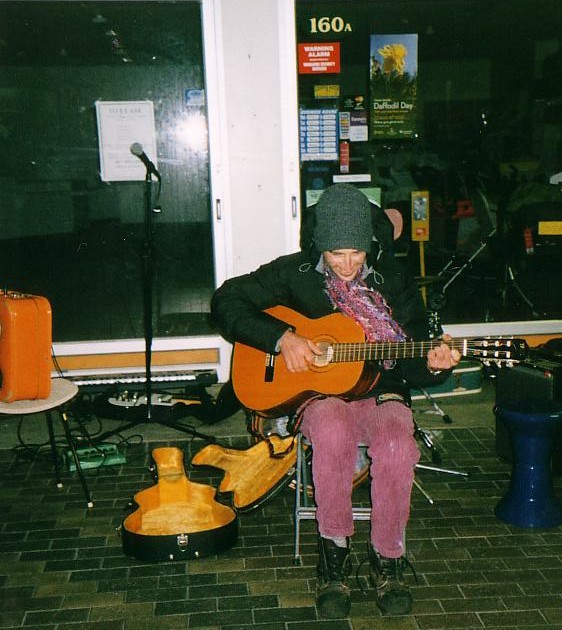 Jonah
In-between the various performances, individuals got up to offer fond memories of Al and read out messages from others who could not be there. In spite of the cold weather, there was a warm atmosphere.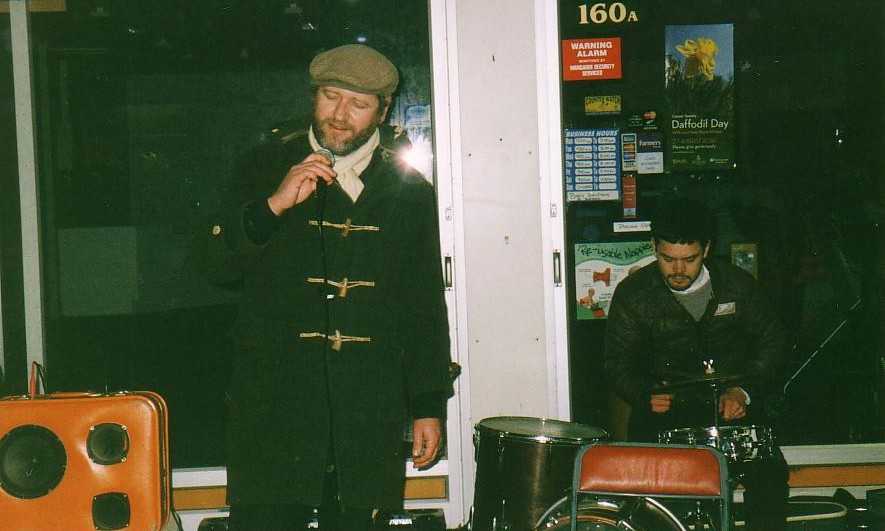 Following an avant-garde recitation from Ben, aka Eric Ultimate, with Brandon accompanying him on drums, Martin closed the proceedings by singing Cat Stevens' "Father and Son", after which the crowd slowly started drifting away, around 10.30 pm on that chilly Monday night.
Al, I came to Wanganui to get away from people. You screwed it all up for me with that crazy venue squeezed into that preposterously small lounge, complete with large amps, a lighting rig, mirror ball, video projection screen, and even a smoke machine. You showed that there is no need to be a slave to some corporate machine or government funding agency to make a mark on the music scene. During your period as sole operator of the Eye of Night, you basically hosted bands who intrigued you, and felt free to turn down various indie legends in their own lunch breaks who assumed that by right they would get to play in your flat. You were that very rare thing in the music "industry" – someone with integrity. I am going to miss you.
© W.S. McCallum 18 August 2010
NZ On Air Under Fire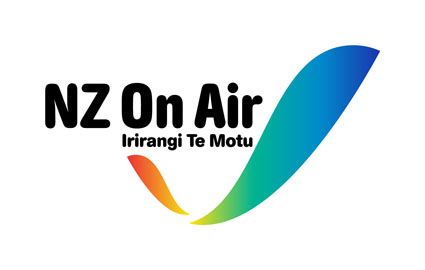 Last Saturday, the Wellington newspaper outlet of the Fairfax Media group published an interesting article tucked away in its "Your Weekend" magazine supplement. In-between articles for fashionistas, foodies and lifestyle faddists, there was a profile on the head of New Zealand On Air. It opened thus:
"New Zealand On Air's Brendan Smyth is a frequent target for Kiwi music enthusiasts. Is this fair? Vicki Anderson investigates."
Being one of those "balanced" pieces of journalism so beloved of that chain of Australian-owned newspapers which try not to take much of a stand in relation to anything other than safe topics like rugby, law and order, and dropkick nationalism, the opening question was purely rhetorical. Readers did however find out that 60 year-old B.S. (as I shall refer to him here for brevity's sake) has raised the ire of many a Kiwi musician over his State funding body's narrow criteria for assisting New Zealand music.
The complaints are legion and have been almost since NZ On Air was set up in 1989. Back then, I remember much hoop-la generated from the Palmer Labour Government about how NZ On Air was going to help assist NZ music in getting onto the nation's radio and TV airwaves. Since then however, it has been widely criticised for the narrowness of its criteria for financially assisting bands with their music videos and promoting them for the purpose of getting radio airplay. One of the earliest critics was Andrew Penman from the Christchurch band Salmonella Dub, who in the early '90s used to pointedly refer to the body as "Auckland On Air" due to its penchant for ignoring bands from south of the Bombay Hills that had the temerity to apply for funding from it. And nothing has changed since then, as Vicki Anderson points out: this year, out of 83 grants awarded by NZ On Air, only 4 went to artists based in the South Island. Even allowing for the North Island's larger population base, that's one hell of an imbalance.
The article cites Rob Mayes of Failsafe Records, long a champion of Christchurch independent music, who is still loudly voicing the same criticism that Andrew Penman was making nearly 20 years ago:
"They've single-handedly ruined the New Zealand music scene. It has created a divide between those that get grants and those that don't. […] The original intent of the NZ On Air body was to 'reflect and foster the development of New Zealand culture and identity through broadcasting and to fund programmes and broadcasts not otherwise provided in a commercial market to reflect New Zealand's diversity.' Instead they are just funding songs that fit the commercial format, so we are creating a generation of American imitators, a generation of Kiwi Nicklebacks."
And boy do some musicians hate old B.S. The rapper Tourettes published a cartoon portraying him as Jabba The Hutt, while at one music awards ceremony, poor old B.S. was physically tackled by a female musician, wrestled to the ground and then publicly berated for not funding her band.
I myself have been the victim of NZ On Air's indifference to anything beyond their narrow commercial criterion, which is far removed from their original stated goal of opening things up for local artists. Several years ago I naively submitted what was probably the most radio-friendly song I ever wrote to NZ On Air for consideration for their Indie Hit List sampler CD that they send around the radio station programmers for promotional purposes. For my efforts, I received a form letter back from some chick called Kylie (or Sharon, or Trinnie, or something like that – you get the idea) helpfully informing me that I really should make an effort to come up with more commercial material. What Kylie did not seem to comprehend was that I hadn't submitted the song for their Top 40 Sampler; it was for the Indie Sampler. As a former student radio programmer, I could have sent the gum-chewing bubblehead a long letter explaining what indie music is, but let's face it, life's too short, and they're too set in their narrow ways, so I decided not to waste any more time on NZ On Air.
As a consequence of this, obviously I am not all that fond of NZ On Air either. As I am not a journalist working for an Australian media group who has to watch his back if he wants to remain in gainful employment as a scribbler in an ever-shrinking career sector, I can state unambiguously that I think that B.S. and his subordinates are mainstream media lackeys, pandering to the narrow commercialism of music TV and radio programmers, and do not have the slightest intention of fulfilling their original remit when it comes to promoting New Zealand music in the broadest sense of the term.
But instead of developing this piece into a tirade against NZ On Air, I would like to turn this issue around and ask Kiwi musicians the following questions: Why do you feel the need to pander to these bureaucratic ratbags? Why, in a 21st century environment now dominated by MP3s, YouTube and the Internet, would you even bother asking these corporate hacks for their stinking money and all the convoluted strings that come attached to it?
Instead of letting old B.S. and his commercial sector mates dictate the terms of your musical parameters to you, wouldn't it be better just to turn your back on them? Do you really need $50,000 or even $5,000 to make a video, and who the hell listens to radio these days anyway? Do you actually think that NZ On Air will offer you a golden path to fame and fortune?
I am aware that the music industry hotshots up in Auckland laugh at the likes of me and my opinions, but I have nonetheless recorded 6 albums and they were all self-funded. I didn't get a red cent from NZ On Air, and back in the days when I still thought videos mattered, I even funded my own video. If I can do it (and no, I didn't have a million dollars from a trust fund…) then there is no reason why you can't either.
Because here's the thing: you don't actually need paper-pushers and gatekeepers like old B.S. and his ageing music programmer mates. In spite of their self-image as wheelers and dealers and shakers and breakers, the reality is somewhat different. In the global scheme of things, the mainstream NZ music scene, for all its superficial glitter and promise, is nothing more than a miniscule goldfish bowl, and its denizens are weak, pallid little guppies, swimming desperately around in circles and failing as they try to imitate overseas fads. The best thing that could happen to the NZ music scene is if all types of musicians with any originality would just ignore the establishment's stingy little hoop-jumping funding games and get on with making their own music to a wider multimedia world that has superseded the limited national-level radio and TV media that NZ On Air claims to offer the key to.
© W.S. McCallum 28 July 2010
John Mayall
at the Regent on Broadway, Palmerston North
17 April 2010

(W.S. McCallum)
This was a long-awaited concert, and it was not clear what to expect. I began listening to John Mayall's music when I was 14 and stumbled upon A Hard Road in the Christchurch Polytech Library, which I borrowed and took home to listen to. The sound intrigued me and I ended up buying that album and many others by him over the years. The intriguing thing about his music is that he was clearly shaped by black American blues performers but, unlike so many other performers to come out of the British R&B boom in the mid-1960s, John Mayall had his own sound and his own voice. That, combined with the top-notch musicians he had in his band the Bluesbreakers (Mick Taylor, later of the Rolling Stones, Peter Green, later to form Fleetwood Mac, and of course Eric Clapton, among others), resulted in a string of outstanding albums from the mid-60s through until the early 1970s. Having said that though, I knew little of what he has been doing since and none of the names of the members of his current band were familiar, so it was going to be interesting to see what he sounded like forty years after his heyday.
An interesting feature of John Mayall's New Zealand tour is that he made a point of playing provincial towns like Napier and Nelson, which do not often see international acts on national tours these days. Being a bit of a fan boy when it comes to John Mayall, I took all his early albums along with me to Palmerston North for signing and, when, just coincidentally strolling past the Regent that afternoon, I heard the telltale sounds of a band soundcheck, it seemed quite natural to wander in through the wide open back entrance and ask if the great man was in the building so he could sign my albums. His manager was summoned, who informed me that John Mayall would be in the foyer selling and signing CDs from 7.30 onwards, so I happily thanked him and went on my way. I waited until there was no one else waiting at the desk before getting John Mayall to sign my copies of all thirteen of his early LPs, which he very graciously and patiently did (in addition to signing a CD), although doubtless he was glad to see the back end of me…
The Regent turned out to be a very impressive old venue, with its high ceiling and ornate plasterwork, and its acoustics were impressive too. The audience filed in slowly. They were an interesting mix – mainly baby boomers in their 50s and 60s, various of them with their (frequently adult) children in tow, along with a smattering of younger males in their 20s, some with their wives and girlfriends. It was nice to be at a show where I wasn't the oldest person there, who, come to think about it, was probably John Mayall, as he was already in his 30s when he first formed the Bluesbreakers in the mid-1960s, and is currently 77 years old.
It really didn't show. From the time John Mayall came out on stage to start off with a solo harp number, right through to the finale and the encore, he was brimming with energy. He played harmonica and keyboards, in addition to singing lead vocals. The set was a mixture of material off his latest CD Tough, and classics from his 60s albums like "Hideaway" (from his debut album with Eric Clapton), "Oh Pretty Woman" (from Crusade), and "California" and "Room To Move" (from The Turning Point), among others.
Rocky Athos, the band's guitarist, handled the material, originally played for Mayall by the likes of Eric Clapton, with aplomb, and by the end of the concert I concluded he is probably the best guitarist John Mayall has ever had. The other members of the band were no slouches either, and threw themselves wholeheartedly into a joyous performance of Mayall's repertoire of classics and new material. The effect on the audience was something to behold. The only other time I have seen so many happy smiling people filing home at the end of a show was when BB King played the Christchurch Town Hall in 1988. Truly a memorable concert.
© W.S. McCallum 15 May 2010
Sets, Royal Wolf
and Lord Bishop
at the Eye of Night, Wanganui
21 February 2010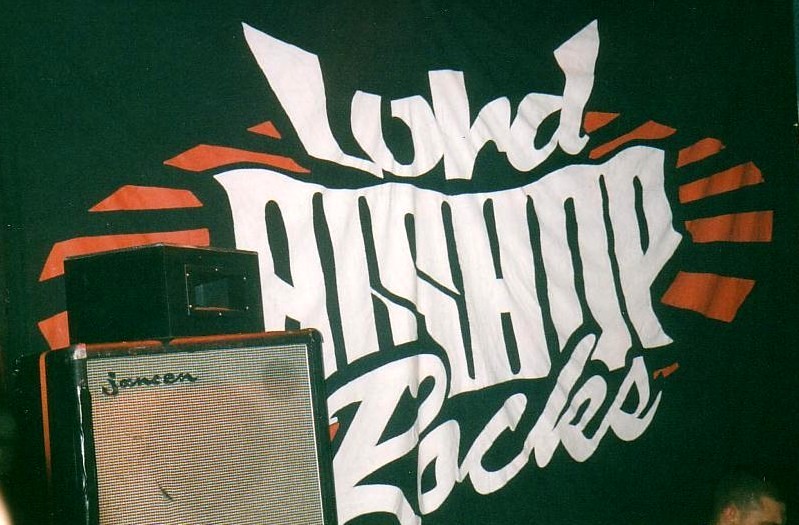 (W.S. McCallum)
Sets started the evening with a very innovative, percussive performance using a mix of drums, looping technology and a speaker from an amplifier with an open-ended cone fastened to it, rigged up as a microphone and attached to a length of elastic so it could be hung around his neck and sung into while he was drumming. And there wasn't a single guitar involved. 2010 looks like it is going to be a challenging year for Sets, who has decided to come up with a completely different, one-off performance each time he plays live.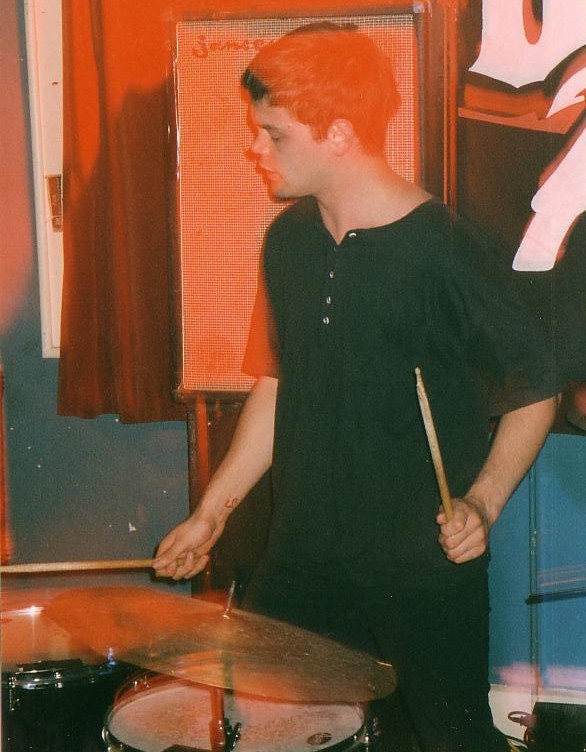 Sets (W.S. McCallum)
Royal Wolf were the next act, who had shrunk from a 4-piece to a 3-piece since I saw them last year and, in a radical departure, their drummer Boss Christ has lost his beard. It was half way through their performance before I even recognised him. He was looking so neat and tidy they would probably even let him into the Pahiatua RSA. Royal Wolf presented their version of rough-edged rock, and took a few songs to hit their stride, but had the crowd cheering by the end.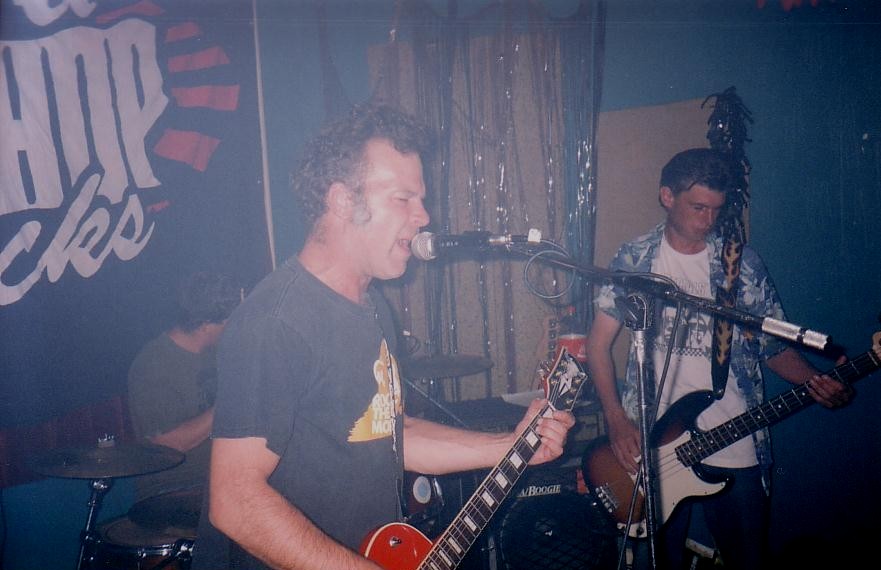 Royal Wolf (W.S. McCallum)
Lord Bishop, from New York, was completing his New Zealand tour by playing at the Eye of Night prior to flying off to Europe to continue playing there. He is a man with a very solid touring schedule who really gets around, judging by his concert schedule (http://www.myspace.com/lordbishop). He has been performing since 1999 and has an independent approach to rock that involves being his own man and calling the shots, eschewing the traditional approach of being indentured labour to a major record company. His recording schedule is as busy as his touring itinerary, and he has recorded 14 albums to date.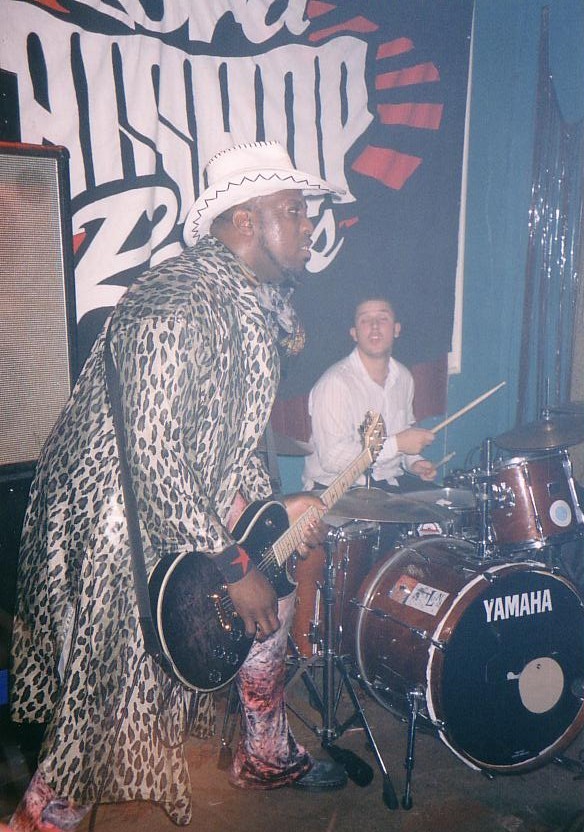 Lord Bishop (W.S. McCallum)
He describes his music as being "sex rock", and with songs like "Great Ass" (the chorus goes "You've gotta great ass!") that's hard to dispute. His sound is a mixture of Jimi Hendrix and Eddie Hazell, with a bit of funk and heavy metal thrown in – in addition to performing a cover of "Machine Gun" by Hendrix, and "Hey Joe" (which he pointed out was actually written by Billy Roberts), he also did "Rock'n'Roll" by Led Zeppelin. All the way through his show, I kept thinking, "Lord Bishop is what Lenny Kravitz would like to sound like".
Lord Bishop's incredible guitar playing was matched by his rhythm section, who closely followed him all the way, even though I had the impression they were not his usual band. He appeared totally unfazed at playing in such a small venue and at one point was calling on the audience to move closer so that more people could get in the room. It was a good turn-out, given it was a Sunday night in Wanganui, and most Wanganuians are tucked up in bed by that time of the evening. The contrast between the noise and heat of the show and walking home through the empty streets was quite marked.
© W.S. McCallum 6 March 2010
Nazi Disco and Boltmaster
at the Eye of Night, Wanganui
12 February 2010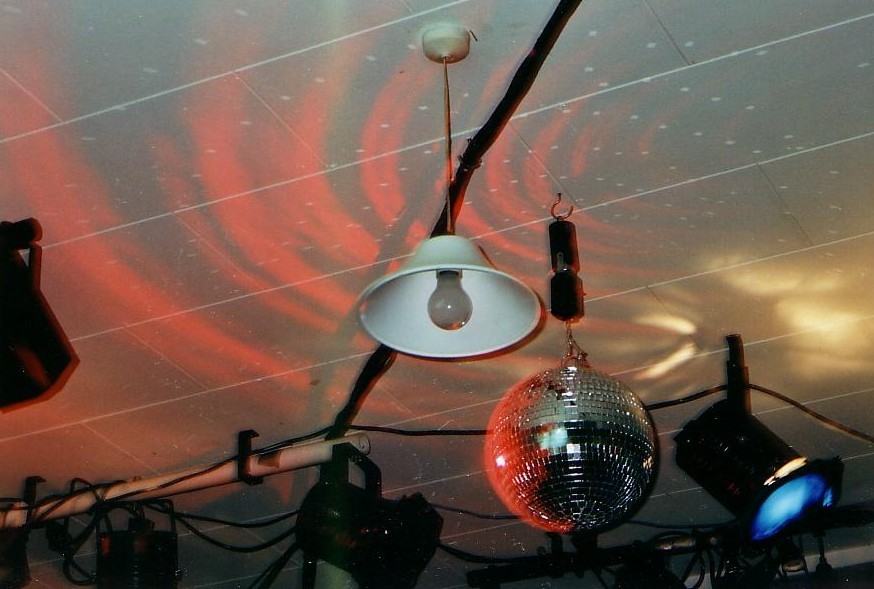 (W.S. McCallum)
The set-up in the lounge that evening consisted of two drum kits in opposite corners, and two sets of speakers, facing each other, in addition to some keyboards, a couple of electric guitars, and a saxophone. It was the prelude to a musical face-off between the two bands. At times it involved duelling, while at other times they took turns, allowing the other group to take over and lead for a while.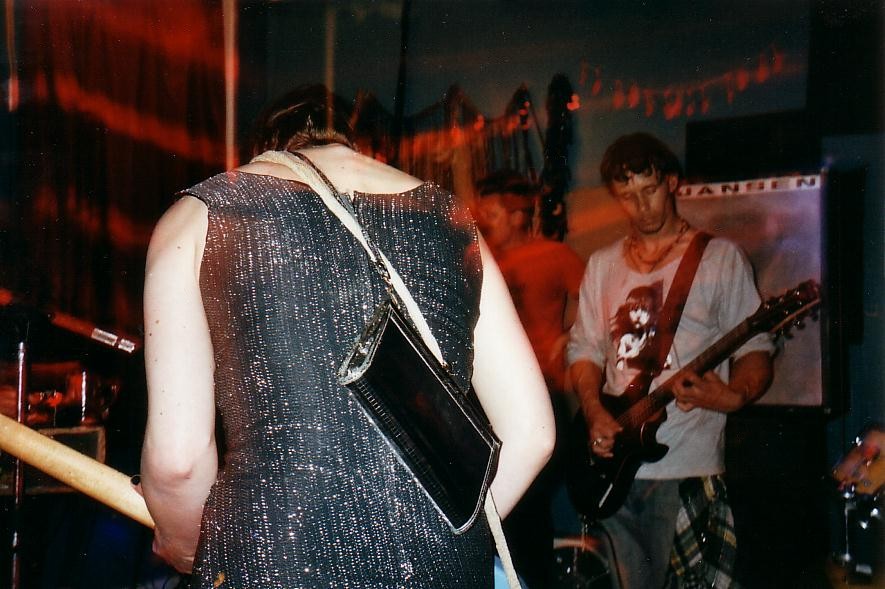 (W.S. McCallum)
More photos of Nazi Disco & Boltmaster
The face-off involved loud volume, and a fair amount of feedback, which not everyone was equipped to handle. A lot of the attendees preferred to shelter in the kitchen. And only the truly brave remained after the performance swerved into an episode of self-abuse with a saxophone. It just goes to show there's more to Wanganui on a Friday night than getting pissed at the local sports bar…
© W.S. McCallum 25 February 2010
Music for Catholics:
L'Osservatore Romano's top 10 rock albums

L'Osservatore Romano is not a publication with a high profile among music fans, so let's start here with a little bit of background about the newspaper. It was first published in 1861, and although it is a private newspaper, it is very much the Vatican's mouthpiece, being published with both its approval and support, and with its on-line edition being hosted on the Vatican's Web site. The newspaper's editorial policy is to present the official positions of the Catholic Church and to defend the faith. Pope John Paul II, blessing it in 1991, said that its staff "present to the world the Word of God and the teaching of the Church".
So when L'Osservatore Romano published its list of the top 10 rock albums of all time, it made for some interesting reading to say the least. Let's have a look at the picks chosen by the publication that originally described itself as "a political and moral paper":
No. 10: Santana – Supernatural, an album with a very voodoo-looking cover. Santana; one of whose biggest hits was "Black Magic Woman", a song ostensibly promoting Satanism... ("She's a black magic woman and she's trying to make a Devil out of me.")
No. 9: Oasis – (What's The Story) Morning Glory? Yes; Morning Glory. No, they're not referring to the noxious creeper that is considered to be a weed in various parts of the world; Oasis are instead referring to another sort of morning glory altogether. For the uninitiated, one on-line slang dictionary describes this particular type of morning glory as "An erection of the penis on awaking from a night's sleep". It is, to say the least, an odd choice of album for the mouthpiece of a church that has traditionally had an abhorrence of self-abuse.
No. 8: U2 – Achtung Baby. U2, you know; that bunch of Irish tax evaders, who have elected domicile outside Ireland in order to avoid paying their government slightly more of their considerable fortunes than they absolutely have to. Oh well, at least they're Catholic...
No. 7: Paul Simon – Graceland. An album made in violation of boycotts on apartheid South Africa.
No. 6: Michael Jackson – Thriller. Isn't that song the one with the video full of zombies? (see No. 10)
No. 5: Donald Fagen – The Nightfly. You know; Donald Fagen, that guy from the group Steely Dan, who were named after a dildo mentioned in a Kurt Vonnegut novel.
No. 4: Fleetwood Mac – Rumours. An album comprising coked-out 70s rock, with marital infidelity thrown in for good measure.
No. 3: Pink Floyd – Dark Side Of The Moon. Tales of madness and alienation written by Roger Waters, who is famous for his hostility to religion.
No. 2: David Crosby – If I Could Only Remember My Name. Another album of coked out excess from California, by one of the biggest cokeheads of his generation. The album title speaks volumes in itself. And then there is the song from this album called "Tamalpais High (at about 3)", which is about how Crosby and his buddies used to drive around to a local high school so they could get hard-ons watching all the hot jailbait coming out of the school gates. A possible anthem for paedophile Catholic priests?
No. 1: The Beatles – Revolver. Which includes "Eleanor Rigby", a song about the futility of religion ("Father McKenzie, writing the words to a sermon that no one will hear"), "Dr Roberts", about a drug-dispensing medico, and "Tomorrow Never Knows", a druggie's anthem with words from the Tibetan Book of the Dead. And, lest we forget, this album was released in 1966, the year when that famous blasphemer John Lennon proclaimed the Beatles to be "more popular than Jesus", which resulted in Beatles albums being burned by outraged churchgoers in the US.
For those of us who are neither Catholic nor Christian, and who do not consider ourselves to be moral guardians in any shape or form, this top 10 is a source of both great amusement and amazement. We can only imagine what the conservative Catholic readers of L'Osservatore Romano would have made of it. It is a salient reminder of the dictum that when organised religion attempts to venture into the field of rock music, it should tread very carefully indeed.
© W.S. McCallum 20 February 2010
AC/DC
at the Cake Tin, Wellington
28 January 2010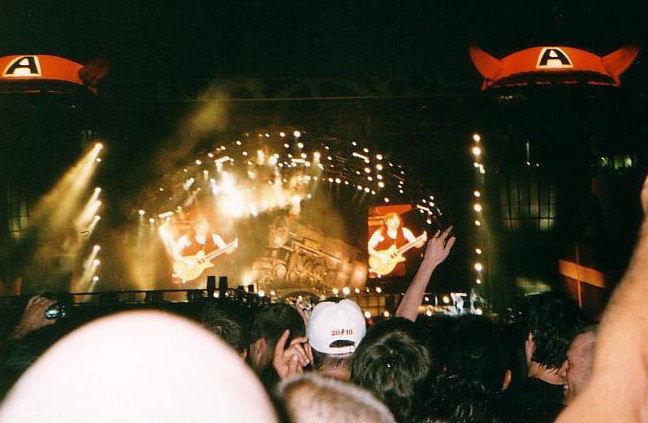 (W.S. McCallum)
For those unversed in heavy metal etiquette, it is important to be aware of the fact that an AC/DC concert is strictly a black tee-shirt event. While other themes, like brands of whiskey from Kentucky, or US motorcycle and automotive logos are permitted, preferably your tee-shirt should boldly bear the abbreviation "AC/DC" and be at least 20 years old. In the heavy metal pecking order, middle-aged men with an original "Back in Black" tee-shirt faded with age were almost royalty among the hordes of 20-somethings with more recent AC/DC tee-shirts or, heaven forbid, a tee-shirt purchased that very evening. Nothing makes you look more like a parvenu wannabe metaller than wearing a black tee-shirt that is hot off the production line.
Of course, you won't be ejected for not wearing one, but people will certainly look askance at you, shun you and may very well even sneer at you. The tourist walking ahead of me into the stadium wearing an orange tee-shirt that proclaimed "I am nice" seemed blissfully unaware of his heinous breach of the dress code, but certainly would not have been unaware of it by the end of the evening. There are certain exceptions to this rule, but they require a degree of attitude. The podgy redheaded goth girl waiting by the stadium entrance had it: although her tee-shirt was shockingly white, it was saved by being emblazoned with the legend "I HATE YOU" in large bloody red letters.
That said though, goth girl and various other non-conformists were in an uncomfortable minority that evening, and even the latté-sipping middle echelon members of Wellington society were made to feel uncomfortably like strangers in their own city by hordes of bogan black tee-shirt wearers who had descended on the capital city for the purpose of attending the first AC/DC concert in Wellington since 1991.
That particular concert resulted in a riot, so there were large numbers of stony-faced cops ringing the stadium that evening, and announcements blared over loudspeakers listing a compendium of items that would not be allowed inside the stadium. Fortunately, the searches were largely inept. Either that, or (my pet theory) the nervous stadium staff only randomly searched people who were not particularly scary. In any case, once inside, there seemed to be no shortage of people waving cameras, quaffing spirits from hip flasks, and lighting up funny little cigarettes directly in front of a thin cordon of security staff who did not seem game enough to venture into the crowd to single out violators of their various rules and regulations.
The Checks were given the unenviable task of playing while the hordes shuffled into the stadium. Perhaps because they were at the bottom of the bill, or because they are Aucklanders, the sound was at a very low volume level, and they didn't stand a chance of projecting sufficiently into the stadium that night. It was different when Shihad started their set: the volume was cranked up a few notches (but the powers that be were careful to make sure they were not as loud as AC/DC), and the crowd got into the music, but you could still tell that was not what they were there for. One guy put everything in ironical perspective at the end of their set by jumping up suddenly and shouting: "Right! Shihad's over – best rock band in the world! Now I can head home to Hawea!" He then made a great show of leaving, but it was more likely that he was just heading for the men's room.
Down on the stadium floor, in sector 3, the crowd had coalesced by that point. In front of me were the mosh pit crowd. To my right were a bunch of feral Aryans and their bikini-clad girlfriend, to my left were a bunch of roll-your-own cigarette smokers (some were even smoking tobacco), and behind me was a contingent of Mongrel Mob members.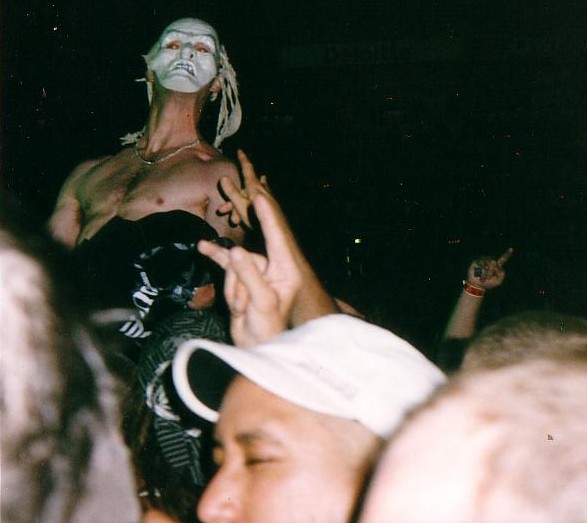 Feral Aryan with mask (W.S. McCallum)
The show itself started on the big screen, with a cartoon video of a runaway train, to the theme of "Rock'n'Roll Train", ending in the screen separating and a giant locomotive breaking through it. When AC/DC actually took the stage everyone went bonkers and didn't really settle down until it was all over a couple of hours later.
The thing with AC/DC is that, like the Ramones, you always know what you are getting with them. They write catchy songs with memorable hooks, and have been doing so for such a long time (since 1973) that even non-fans are typically familiar with various of their songs. They are not renowned for subtle irony in any way, shape or form, and what they delivered that evening was straightforward rock, but honed to perfection, and with a dazzling multimedia stage show.
We got to see Brian Johnson swing from the giant bell as the intro to "Hell's Bells" started up, and we witnessed the appearance of the giant inflatable woman sitting astride the aforementioned locomotive (note the total absence of irony) for the song "Rosy". There were guitar pyrotechnics from Angus Young, and early on in the show he did a striptease act that revealed a body disturbingly reminiscent of Gollum's. Various highlights from the band's repertoire followed, and by the time he had finished his extended solo at the end of the final song and the band had all wandered off the stage, the audience were begging for an encore. They got it in the form of "Highway To Hell" and "For Those Who Are About To Rock", along with cannons firing and, to round off a very memorable evening, a spectacular fireworks display.
There is little doubt that various of the fans there that Thursday evening would be sticking around for the second concert on Saturday evening and, for two days at least, Wellington became the bogan capital of New Zealand, usurping Christchurch for a fleeting moment in time.
© W.S. McCallum 12 February 2010
McCoy Tyner
at Yoshi's, Oakland
3 January 2010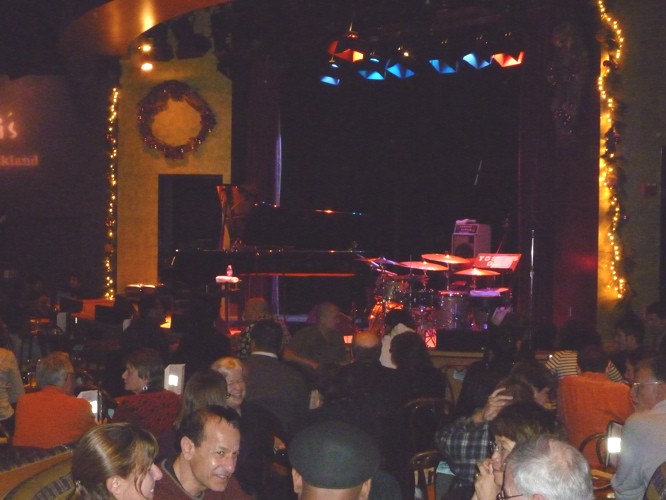 (E. Banwell)
Down by the Oakland waterfront that particular Sunday evening, the streets were very quiet. To the contrary, Yoshi's was packed with people waiting. Yoshi's is also a Japanese restaurant, so I did wonder if it was a case of diners waiting for seats in the restaurant, but it turned out to be a full house in the auditorium that night.
McCoy Tyner first came to public attention as a member of John Coltrane's band in the early 1960s, where he provided an eloquent keyboard anchor to the free jazz tendencies of his band leader. Whilst continuing to play with Coltrane and others, starting with the album Inception, on Impulse Records in 1962, he made a name for himself on a series of his own LPs for the label, recording a mix of his own material and other people's compositions, such as McCoy Tyner Plays Ellington.
Beyond the 1960s, I knew next to nothing about what he had done, so I was interested to see him perform live, playing as the elder statesman member of a quartet that featured three musicians several decades younger than him: Ravi Coltrane, Esperanza Spalding and Francisco Mela. Ravi Coltrane is the son of John Coltrane, and plays saxophone. Esperanza Spalding plays double bass and sings, and has performed with Stevie Wonder, Herbie Hancock, and Pat Metheny, among others. And Francisco Mela, who is Cuban, plays drums.
The show itself was masterful, with each of the young guns showing their stuff in turn. Francisco Mela in particular was very impressive. At one point a drumstick slipped out of his hand, but he picked up another one so fast that not only did he not miss the next beat, various people in the audience did not even notice that he had dropped a stick. Ravi Coltrane was outstanding on saxophone, and Esperanza Spalding took her bass playing to precarious limits without a single ill-placed note.
While the young guns were doing their thing, McCoy Tyner tended to take a back seat, playing muted accompaniment, but he had this knack of coming in and throwing in something off the wall that would leave his younger sidekicks either quietly gasping and/or smiling. They did their best, but they definitely did not upstage him. It was a virtuoso performance rounding off a five-day stint at Yoshi's during which they gelled magnificently.
© W.S. McCallum 8 February 2010
Daikon, the Sprains
and Fujiko-chan
at Pissed Off Pete's, San Francisco
19 December 2009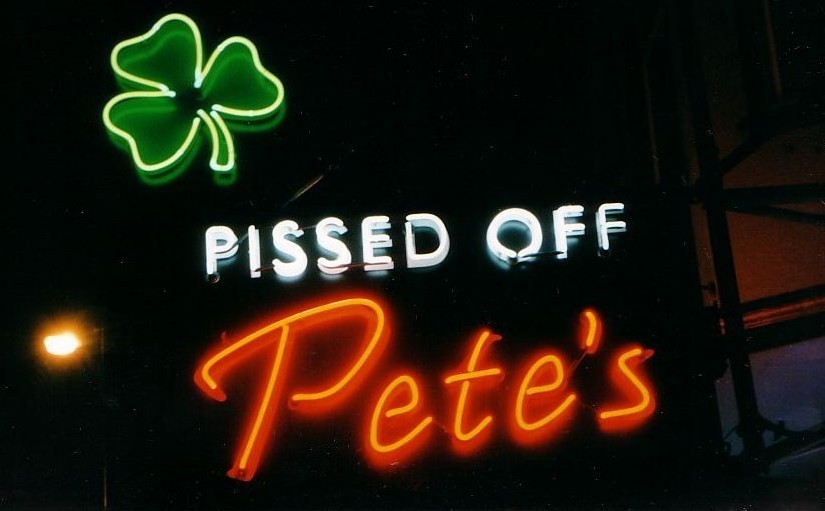 (W.S. McCallum)
"Pissed Off Pete's" is not the sort of venue name that you easily forget, but it definitely did not ring a bell. Looking up their Web site, in addition to noting the establishment's "hipster-free" policy, I noticed it was on Mission Street in San Francisco, but not, as it turned out, in the Mission district. It turned out that Pissed Off Pete's is a LOOONG way down the southern end of Mission, and was not as central as I had imagined.
Due to a wrong turn-off that resulted in a period of driving northwards along a freeway when the prevailing driving direction was supposed to be due south, I missed some of the first segment of Daikon's performance, but arrived in time to catch the bulk of their set, which consisted of 1980s-style jangly guitar rock, in the same sort of ball park as early REM, the Comsat Angels and so on. I'm a sucker for any band that uses Rickenbacker guitars, so naturally I loved them. They delivered punchy, catchy songs that motored along and performed flawlessly, providing a great start to the show. It turns out that the band is now in its third incarnation, having first been formed in San José in 1998, and have an album out. For more information, check out http://www.myspace.com/daikonradish.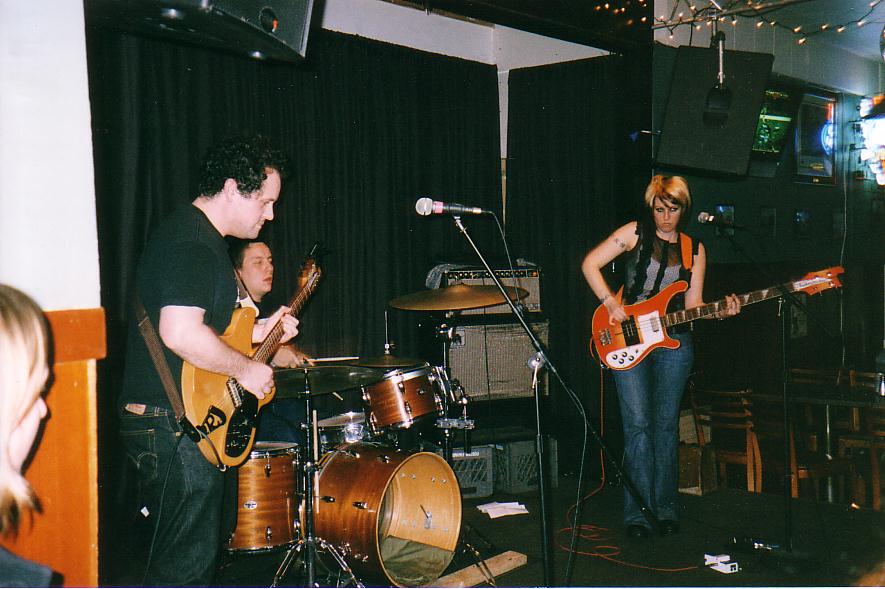 Daikon (W.S. McCallum)
During the break, I took the opportunity to have a further look at the venue itself, which looked like an old neighbourhood bar, complete with a pool room out the back, and a kitchen which sold takeaway meals through until the early hours of the morning. The place definitely had attitude, as shown by the sign above the bar, which pointed out that they only accepted beer deliveries from unionised drivers.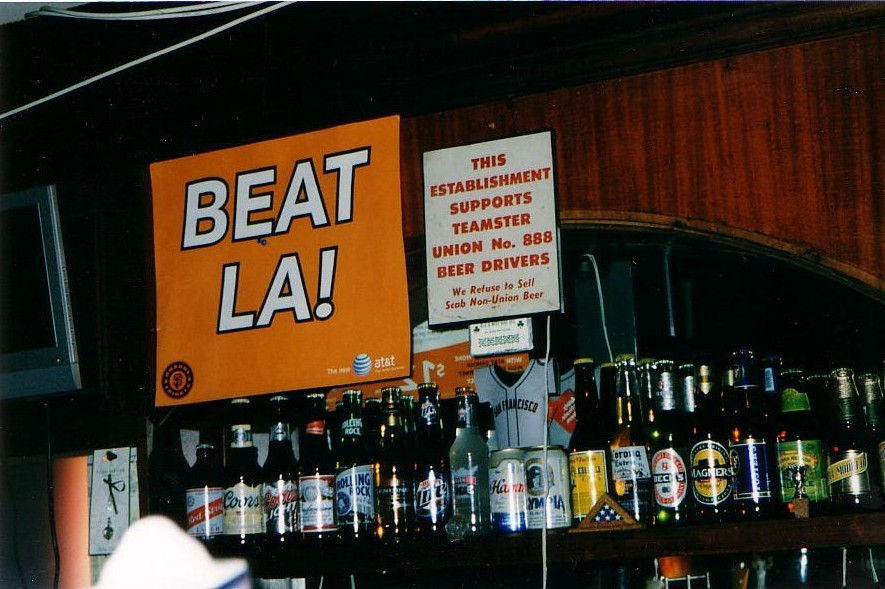 (W.S. McCallum)
It was also an edgy sort of place. It has been a while since I was at a venue where there was a punch-up at the door, but this was the only time I ever recall it being a case of the barman rather than the doorman who did the punching. He seemed quite pleased with the result of his handiwork: "It was great – one punch and he went down!"
The next band, the Sprains (http://www.myspace.com/thesprains), were also a three-piece, but shifted into another gear, delivering a solid set of contemporary punk (think early Green Day, to use another lazy rockcrit comparison) that ratcheted the pace up a bit. In marked contrast to Daikon, the Sprains have only been around since 2008, but were just as tight musically as Daikon. The Sprains also had a table of dedicated alcohol-imbibing supporters (relatives?) seated at a large table who definitely accounted for most of the bar take that evening, and who promptly raised themselves up shakily and started staggering home the moment the Sprains had finished. Watching them make their wobbly way to the door was almost as entertaining as watching the band itself, apart from the robustly structured woman who teetered on the verge of toppling over onto me at one point.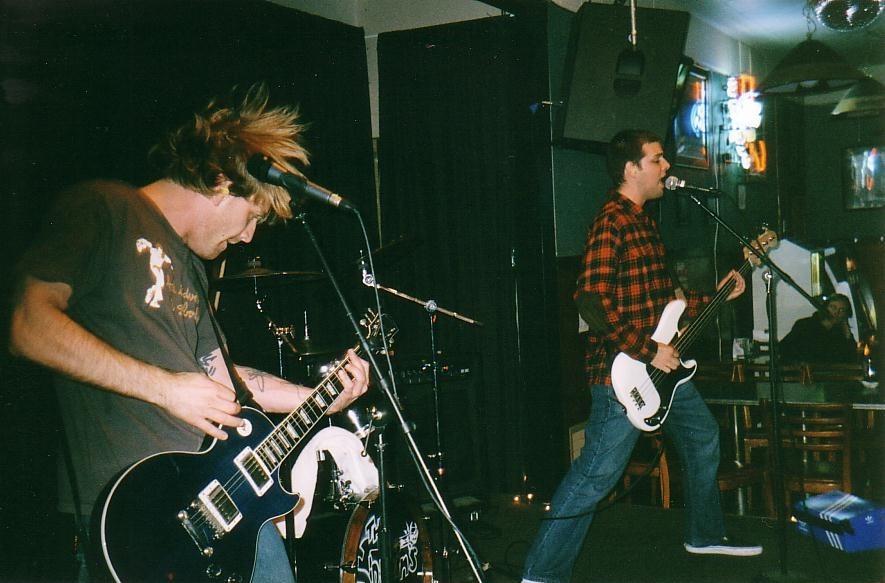 The Sprains (W.S. McCallum)
There was a short break while Fujiko-chan (http://www.myspace.com/gofujikochan) set up and dressed up for their set. They were definitely the most visually spectacular band that night. Although (obviously) they are Japanese, the band's members are actually based in San Francisco and have resided there for some years now.
Fujiko-chan (W.S. McCallum)
They do rock music inspired by 70s Japanese pop songs. Naoko, the lead singer, had a very arresting presence, and wowed the small audience, as did Keichi in his kabuki costume, with his impressive antics on a flying-V guitar. Whilst remaining very melodious, Fujiko-chan definitely had a heavy metal edge that provided an interesting contrast and they put on a great show. It made me wish I had studied Japanese rather than French in school though, as I couldn't understand any of the lyrics, but that's my cultural shortcoming, not theirs.
Overall, Pissed Off Pete's offered a varied range of music that evening, and it goes to show that you shouldn't necessarily just limit yourself to downtown venues when looking for entertainment whilst on holiday.
© W.S. McCallum 31 January 2010
<![if !vml]>

<![endif]>  <![if !vml]>

<![endif]>
<![if !vml]>

<![endif]>  <![if !vml]>

<![endif]>
Web site © Wayne Stuart McCallum 2003-2017