Music Writing 20
11
by W.S. McCallum
Stomping Nick & His Blues Grenade
at Space Monster
Wanganui
3 December 2011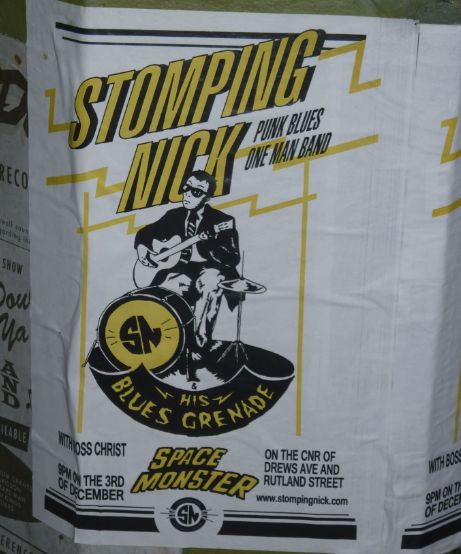 (W.S. McCallum)
It was a tough call – either seeing Christchurch's 80s legends the Axemen in Wellington as part of their reunion tour, or going to see Stomping Nick (also from Christchurch) in Wanganui, but something in me said I should opt for the present rather than the past, and it turned out to be the right move.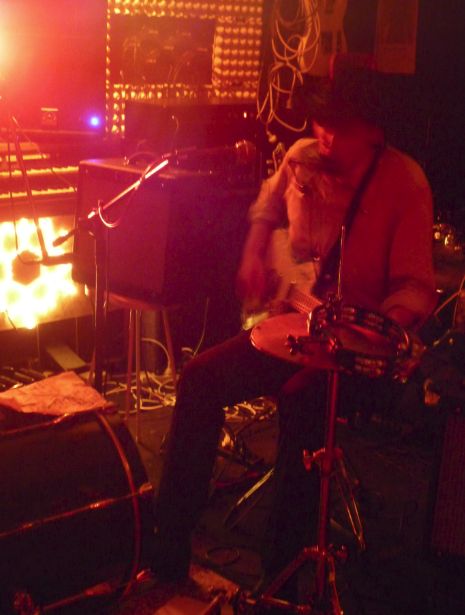 Stomping Nick (W.S. McCallum)
Stomping Nick was a consummate performer, and lived up to his name of being a one-man band, playing drums, guitar and harmonica, as well as singing, more or less all at the same time. His music combined the fiery wildness of both blues and punk rock, mixing up classics by the Gun Club and Leadbelly with a range of his own songs featured on his CD Punk Blues One Man Band, which he was touring to promote. The crowd at Space Monster was uncharacteristically small that night, but nonetheless enthusiastic.
© W.S. McCallum 8 December 2011
Volcano, Dark Sea, Sets,
and The All Seeing Hand
at the ARC Theatre
Wanganui
25 November 2011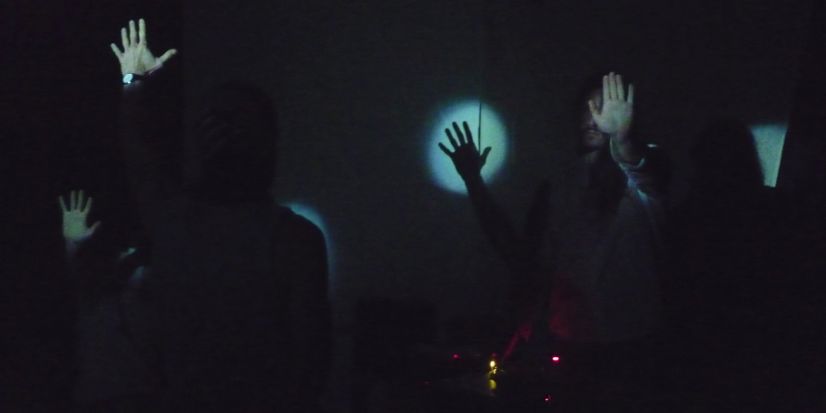 (W.S. McCallum)
Having gotten used to advertised start times of 9 pm but actual start times of some time after 10 pm, I unfortunately missed the opening of proceedings that evening, but did arrive in time to see the end of Volcano's set, which consisted of a chaotic percussion session, involving drum abuse, ukulele smashing, and the suggestive fondling and rubbing of a microphone, all interspersed with intermittent drumming, with one or two drumsticks, and even using the remains of the smashed ukulele at one point.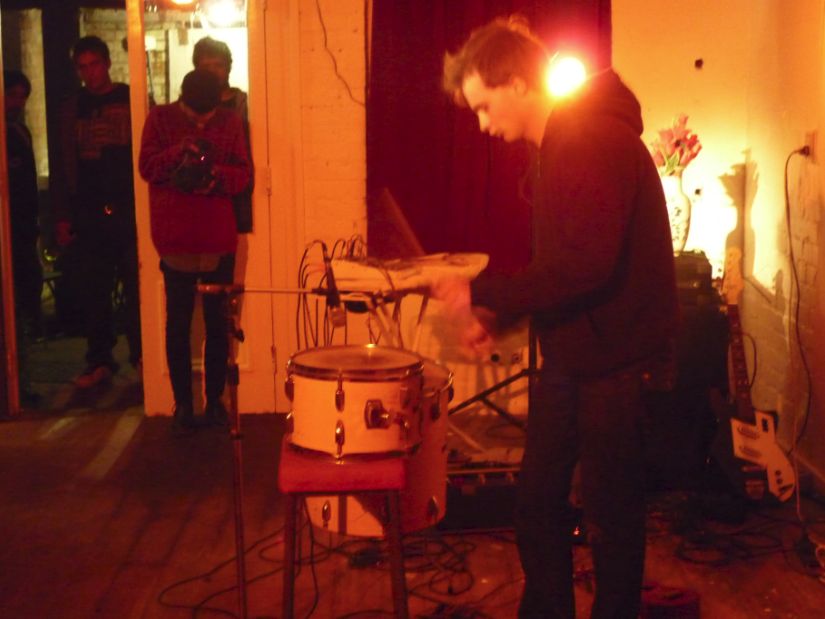 Volcano (W.S. McCallum)
While Volcano did his thing on the ground floor, Dark Sea, a Wanganui duo, set up in the basement. Their performance couldn't have been more different, with an emphasis on formal musicianship, tight playing, and a very professional attitude. That combined with all the earthly and cosmic video footage and stills being projected behind them gave the whole show a very 70s space rock feel to it. They gave their audience (which wasn't really sure what to expect after the previous mayhem) a very pleasant surprise. Their CD was also on sale at the door for the trifling sum of $8.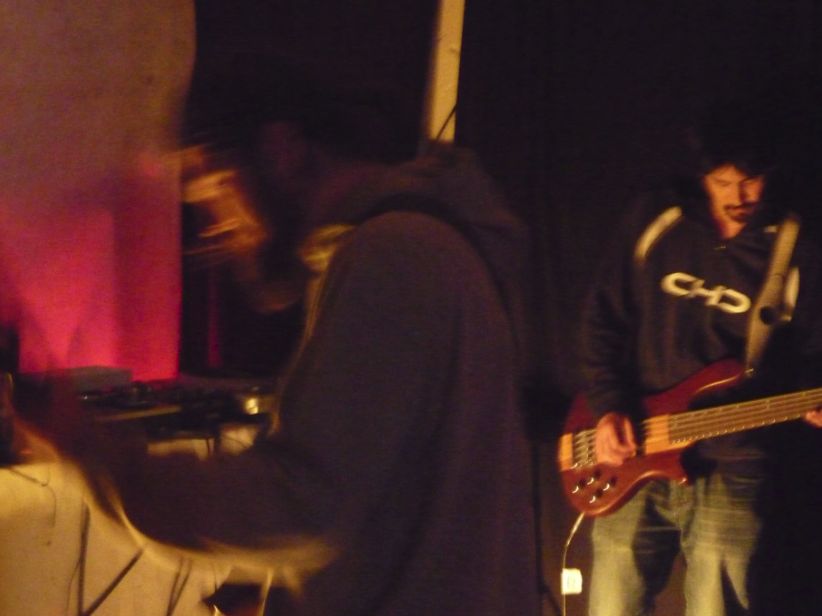 Dark Sea (W.S. McCallum)
Moving back up to ground level, Sets delivered a solo performance on electric guitar, again, while the next act were plugging in downstairs. The whole upstairs/downstairs idea was a good arrangement and made maximum use of the ARC Theatre's space, as well as saving time.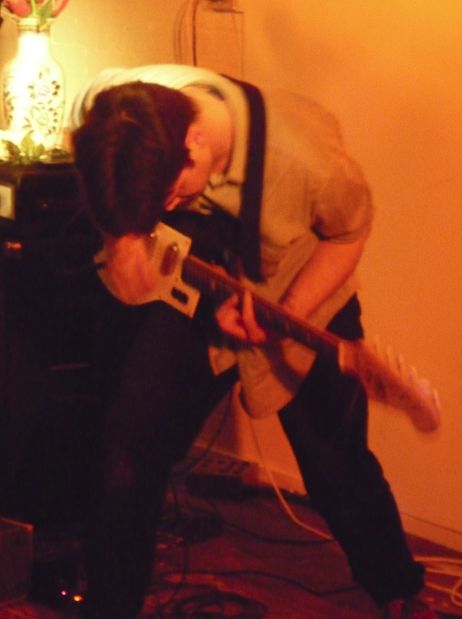 Sets (W.S. McCallum)
The All Seeing Hand come from Wellington and were astounding. Assisted by a Dutch friend on a Mac, who doodled back-projected artwork that matched the changing moods and sounds of the music, they are the first truly 21st-century band I have witnessed.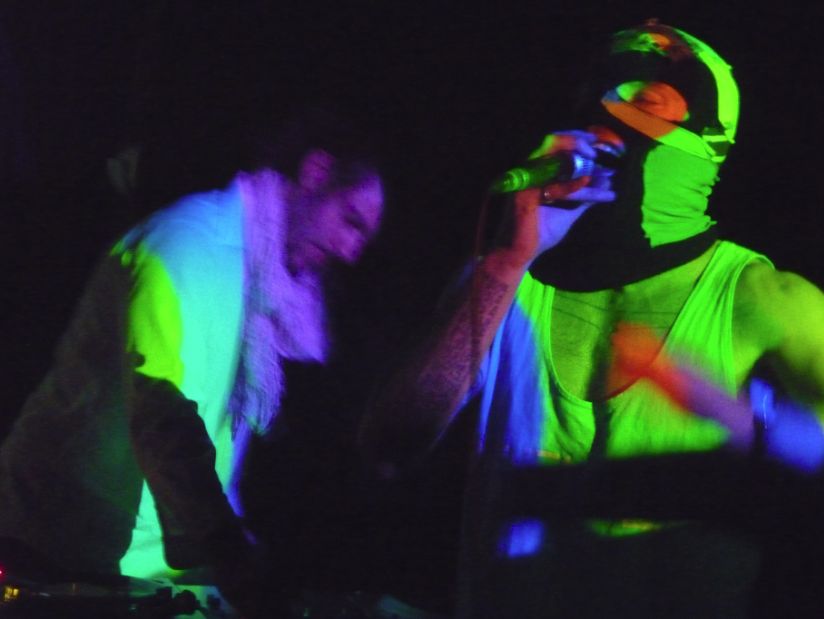 The All Seeing Hand (W.S. McCallum)
The saying goes that there is nothing new under the sun, and you can usually pick the influences of electronica/dance/DJ type acts, but the All Seeing Hand floored me. The vocalist sounded like he was speaking in tongues, the guy on the electronic end of things was coming up with sounds and influences that were way off my map, and the drummer was just nuts. About the only thing I could get a handle on was the imagery on their CD, which looks like something off one of those far-out San Francisco hippy albums from the 60s. Musically however, the All Seeing Hand are a total revelation. I really do hope they go far.
© W.S. McCallum 1 December 2011
Conversations With Dice, Night Terror,
and Our Love Will Destroy The World
at the ARC Theatre
Wanganui
19 November 2011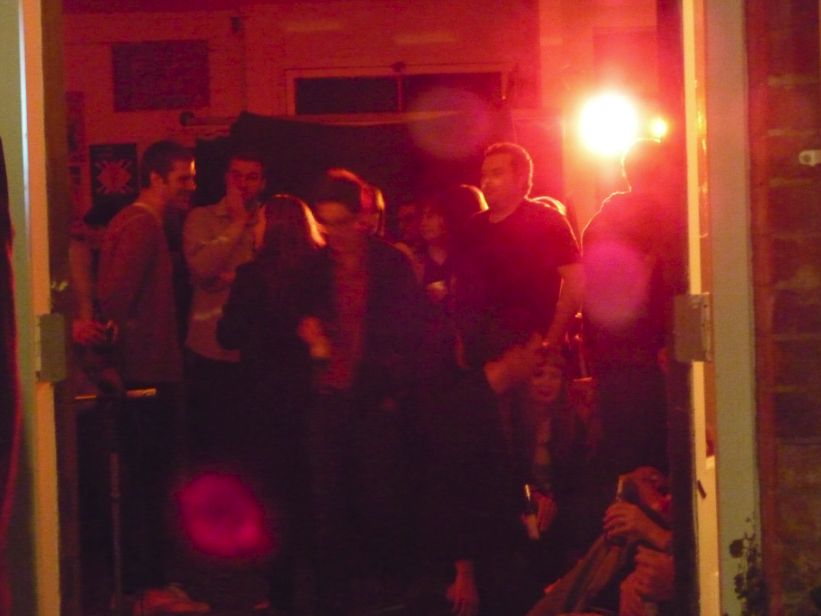 (W.S. McCallum)
Observant readers will have noticed a 6-week gap between this and the last entry. Unfortunately, real life reared its ugly head in that period, distracting me from the things I value and hold dear, so I was unable to fully document the most prolific period of alternative live music that Wanganui has ever experienced. Between them, during those weeks, Space Monster and the ARC Theatre played host to a whole range of performances so closely packed together that they almost merged into a continuous blur of frenzied activity.
Last Saturday was another story though. Having just purchased the recently released two-DVD compilation of performances from ARC Theatre's first year of operation for the bargain price of $10, I settled down to watch proceedings.
The first performance was a solo act by the name of Conversations With Dice, involving oblique guitar instrumentals, with pauses and changes that intrigued and kept the audience guessing.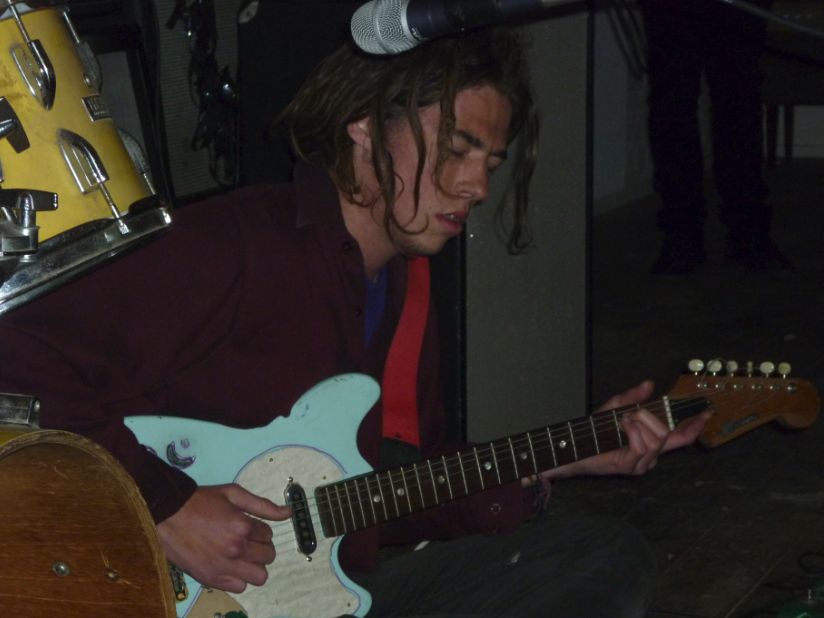 Conversations With Dice (W.S. McCallum)
There was a brief pause before Night Terror provided us with their drum and bass act (that's "drum and bass", not "Drum & Bass", if you know what I mean). They combined a steady bass throb with Brandon's driving drums.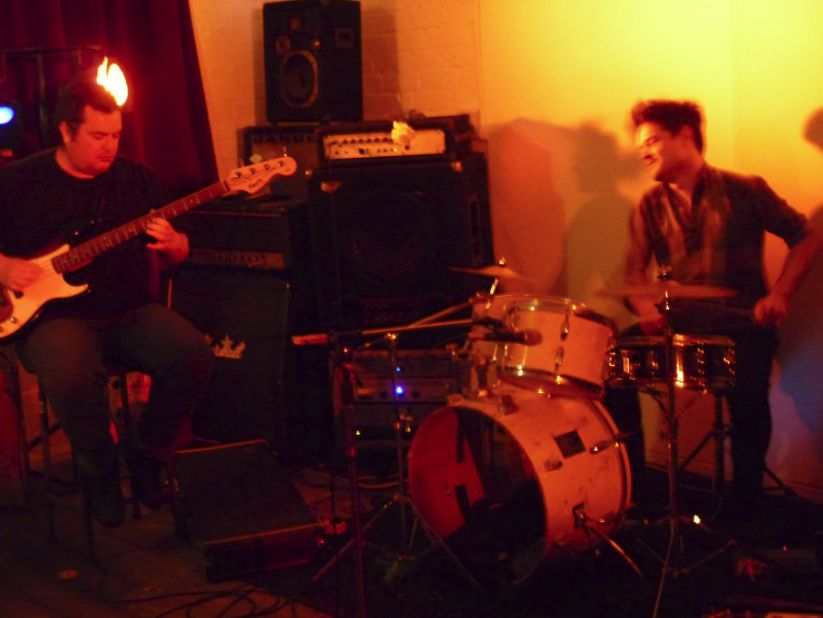 Night Terror (W.S. McCallum)
The stand-out that night however was undoubtedly Our Love Will Destroy The World, aka Campbell Kneale, formerly known as Birchville Cat Motel.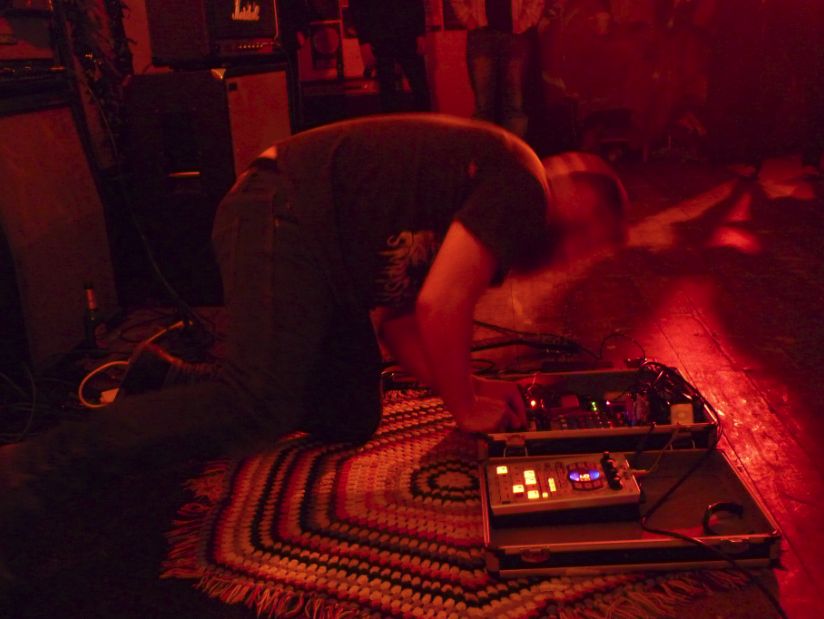 Our Love Will Destroy The World (W.S. McCallum)
He started off slowly and quietly, gradually building his guitar into a cacophony of sound that had various people fleeing from the room with their fingers firmly inserted into their ringing ears. He only performed one piece, but, by God, no one who ever witnesses that is ever going to forget it.
As he banged his guitar on the floor, inputting, echoing and looping layer upon layer of sounds through his array of guitar pedals and electronic boxes, he swayed backwards and forwards on his knees, waving his arm like a shaman performing some arcane electronic ritual. Eventually he reared back from his swaying and started to repeatedly scream at the top of his lungs: "FUUUCCCKKK!!!! FUUUCCCKKK!!!! FUUUCCCKKK!!!! FUUUCCCKKK!!!!"
It was the sound of total exasperation with a world gone mad; a voice on the brink of insanity; the sound your head makes when you know everything is totally screwed up and there is absolutely nothing you can do about it; it was the voice of a man on the precipice who just wants to jump and no longer cares. And it just kept building and building and building. You can't fake that level of intensity. This wasn't some avant-garde smoke and mirrors act that was all form and no substance. The man bared his soul and tore it apart for all to see. Quite simply, it was a work of genius.
© W.S. McCallum 25 November 2011
Sets, Iterrata, Scumbagz, and C.Spencer Yeh
at the ARC Theatre
Wanganui
3 October 2011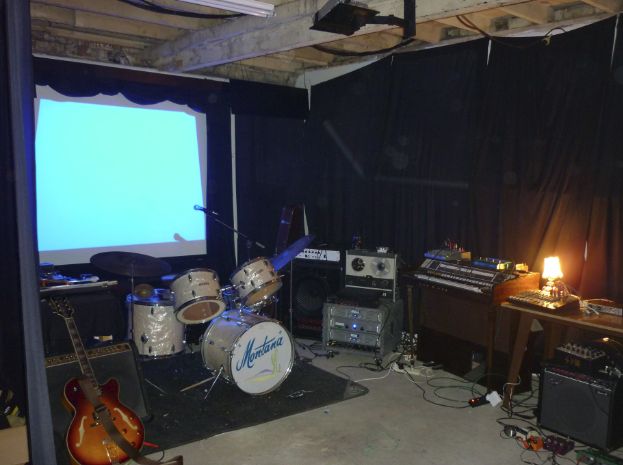 (W.S. McCallum)
The basement at ARC Theatre formed the setting for a Monday night avant-garde music session. Sets opened proceedings unobtrusively, catching even the people who were already in the basement by surprise as it took a couple of minutes for them to realise he had actually started.
Sets (W.S. McCallum)
Brandon used a backing tape of sound effects and rhythms as the backdrop to his performance, which moved from keyboard to mixing desk to pedals and so on. The effect was masterful. It looked fairly spontaneous, but there definitely was a set framework that had to be followed due to the reel-to-reel tape setting the scene.
Iterrata's following performance matched Sets well, although there was a minor mishap with a lost connection at the beginning of the performance which brought things to a sudden but short halt. The video projection with its 3-dimensional sound patterns following the shifts and changes in the music proved mesmerising.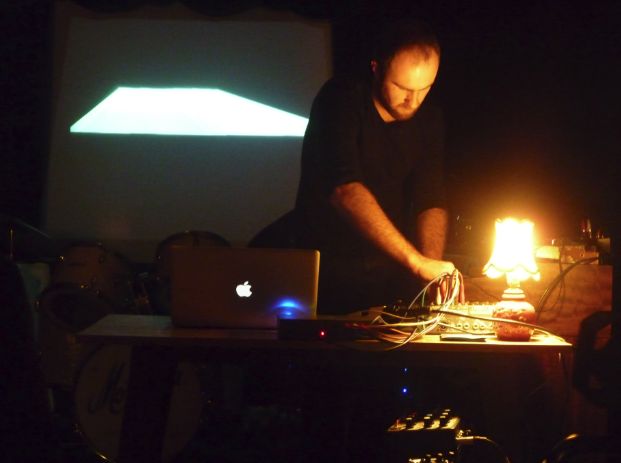 Iterrata (W.S. McCallum)
Scumbagz brought about a seismic shift in the sound with a full band ensemble featuring a drummer who screams and groans like Captain Beefheart, and guitarists who resort to all manner of techniques for coaxing different sounds from their instruments, including using an eggbeater.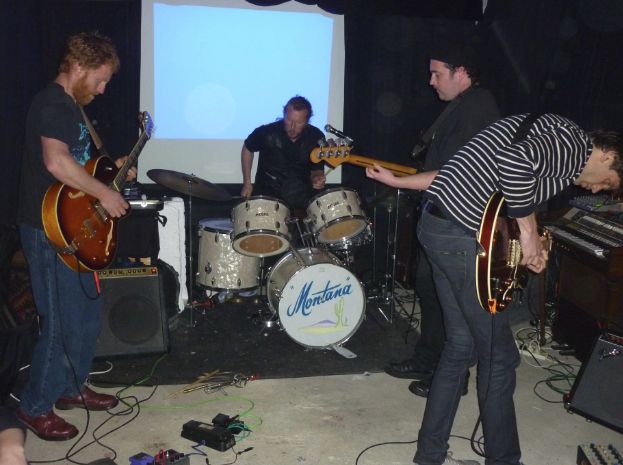 Scumbagz (W.S. McCallum)
C-Spencer Yeh, from the United States, played violin and vocalised into a microphone, sounding like he had come straight off the Central Asian steppes. The last time I heard something like that was on the BFM world music show in Auckland years ago, and it was some Siberian guy playing a Jew's harp. A fine, original performance that was only marred at the beginning of the encore by a drunk heckler noisily shouting from upstairs.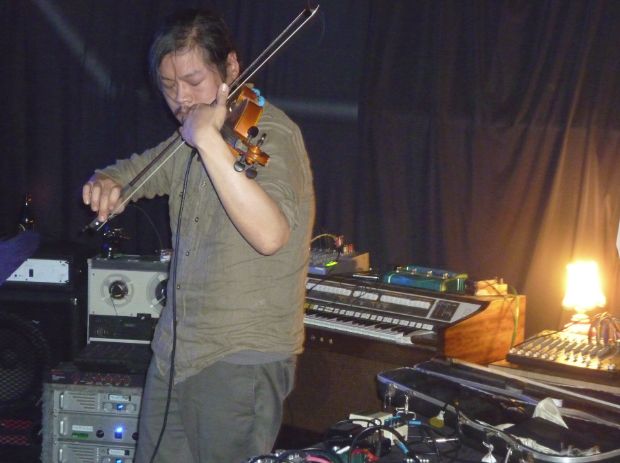 C.Spencer Yeh (W.S. McCallum)
I didn't stick around long afterwards, having been drenched on the way to the venue. Unfortunately, I left just in time to be drenched in another downpour on the way back. It seems a critic must always suffer for his art.
© W.S. McCallum 14 October 2011
Callum, Solo Ono, and Diving
at Space Monster
Wanganui
1 October 2011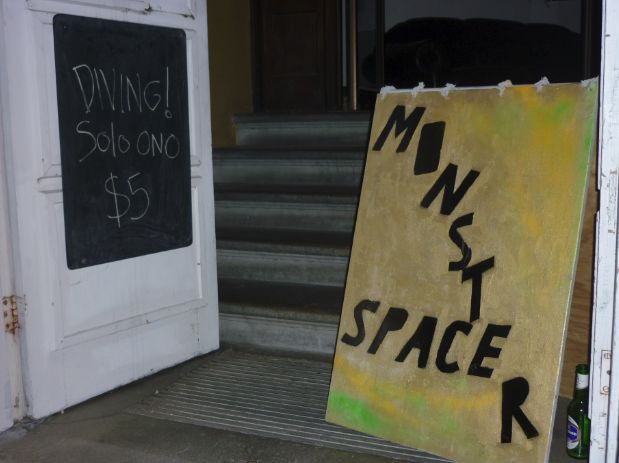 (W.S. McCallum)
Another late start at Space Monster, this time with a quieter opening act in the form of Callum, who provided a blend of country blues and his own stylings on acoustic guitar, veering towards John Fahey territory.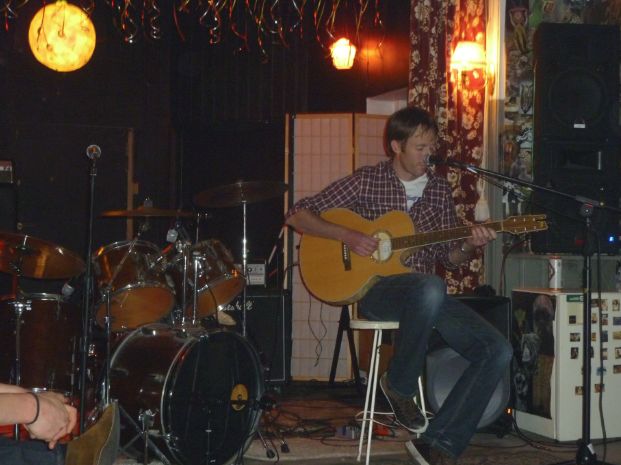 Callum (W.S. McCallum)
Callum was definitely something different. My favourite was the Big Bill Broonzy number but there was a lot else going on in his set too.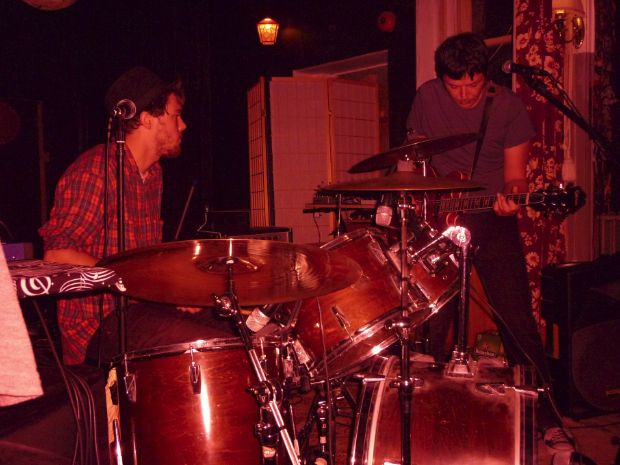 Solo Ono (W.S. McCallum)
Solo Ono returned from Wellington to fill in the middle segment of the evening's entertainment. They carried off their set with aplomb, and their closing song about Courtenay Place was very memorable.
Diving have a very comprehensive sound for a duo. It was a bit psychedelic, and a bit space rock oriented too. The rows of pedals for the guitar were not just for show, as they bulked out the sound and were used to add enormous depth and variety.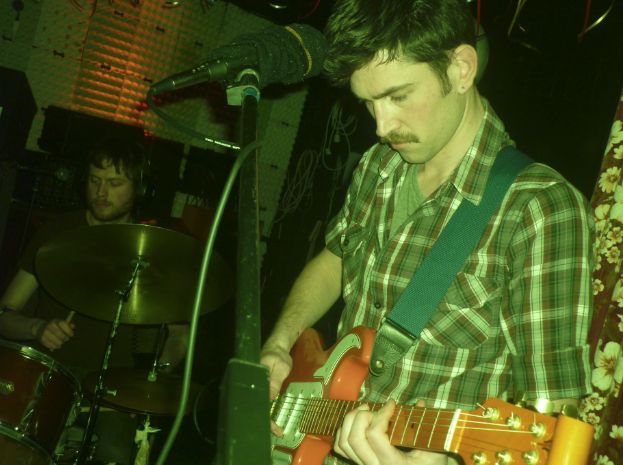 Diving (W.S. McCallum)
My only minor disappointment of the evening was that Diving had no CDs for sale, although Solo Ono's CD of their previous concert at Space Monster was available.
© W.S. McCallum 14 October 2011
The Raskolnikovs, and the Drab Doo-Riffs
at Space Monster
Wanganui
24 September 2011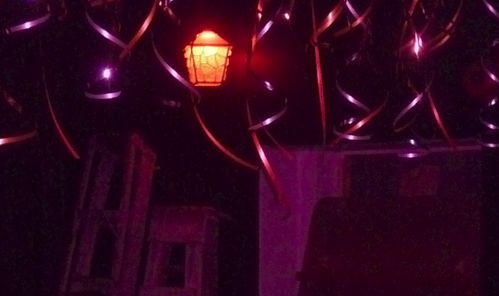 (W.S. McCallum)
It was a late start at Space Monster, with the Raskolnikovs taking the stage well after 10 pm. Magically, a crowd of people materialised at the venue just at the right time. I realised later that I was witness to the magic power of texting.
As the name would suggest, the Raskolnikovs (from Wellington) have Eastern European tendencies in their music, with a Devil-may-care attitude, the appropriate dose of fatalism and plenty of bravura in their playing. And the accordion helped a lot too.
In spite of the fact that they had spent all day recording material in the studio at Space Monster, they were full of energy, and delivered a rousing performance. Other reviewers have commented on a Nick Cave sound that they have, but I only really picked up on that in one song, and in that piece they sounded more like his backing band the Bad Seeds, than like Mr Cave himself.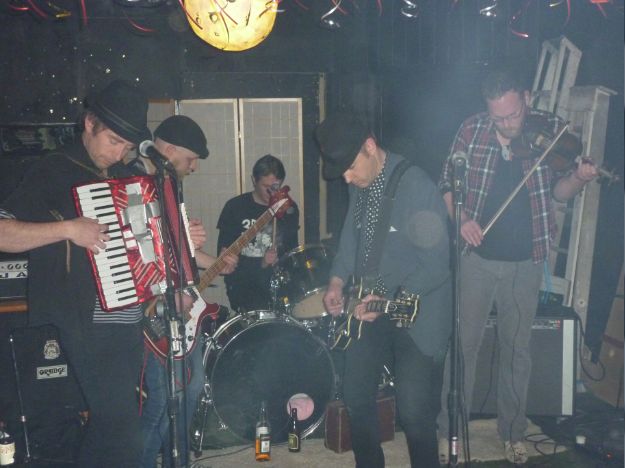 The Raskolnikovs (W.S. McCallum)
More photos of the Raskolnikovs
The headline act was the Drab Doo-Riffs (from Auckland), which is a really misleading name. They were anything but drab, and were the most electrifying Kiwi live act I had seen since the D4 several years ago. Their front man is Karl Steven, who used to be in Supergroove in the 1990s. In his current incarnation, he looks disturbingly like John Waters, and his band have similar retro references. There's a bit of 60s surf music in there, the influence of various spaghetti Western soundtracks, and a big dose of 60s garage rock too, and yet the bass player looks like he escaped from a Seattle grunge band, in addition to which they also use a Korg Electribe to add spacey sound effects, bips and bleeps. The result is a sound that is distinctly original even though it draws on very specific influences.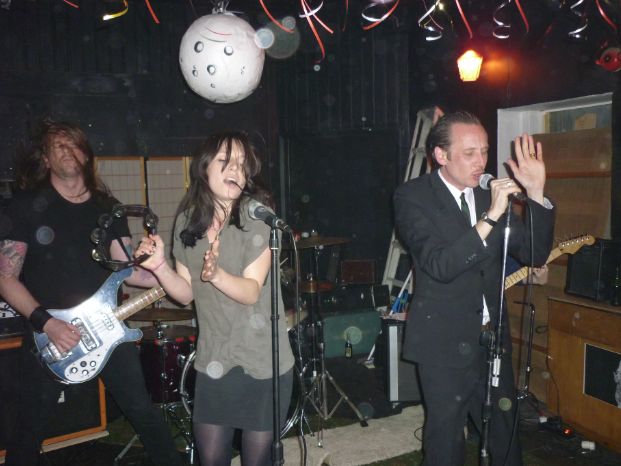 The Drab Doo-Riffs (W.S. McCallum)
More photos of the Drab Doo-Riffs
The Drab Doo-Riffs' exuberance provided a nice counterpoint to the more somber Slavic tendencies of the Raskolnikovs and the double act proved to be a good combination. Certainly the audience all went nuts and had a great time, which is pretty much the measure of a good show.
© W.S. McCallum 27 September 2011
Simon Comber, and The Blue Onesies
at Space Monster
Wanganui
16 September 2011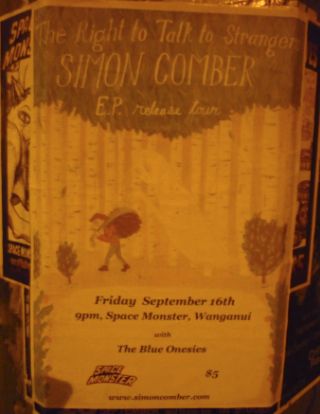 (W.S. McCallum)
Space Monster seems to have gone into overdrive recently, to the extent I have been having trouble keeping up with all the concerts going on. Fortunately, the poster for this event was spotted in time.
Simon Comber has been doing his thing since 2006, mainly in Auckland, although he has also spent time in Dunedin and recorded an album there. This visit to Wanganui was part of a national tour to celebrate the release of his EP, entitled The Right To Talk To Strangers. He opened his set with a solo electric guitar instrumental, before being joined by his drummer and bass guitar player.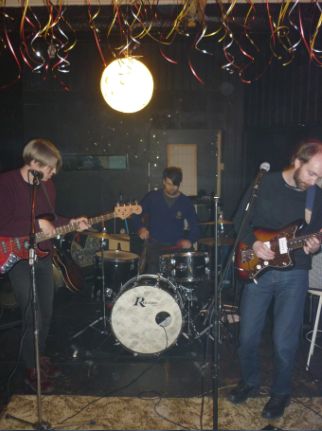 Simon Comber (W.S. McCallum)
I initially had him pegged as one of those gentle singer-songwriter types, but his band kept rocking out too much for that cliché to hold water for long, and by the end of the set I had this strange mental musical image of him as a latter-day sensitive version of Shayne Carter. Various of the songs stood out, but the high point was the poignant closing number, "Please Elvis", about watching his mother crying thinking about his father while she listened to an Elvis 45.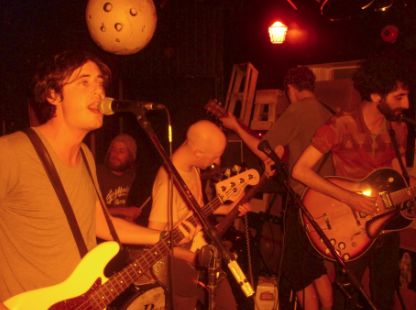 The Blue Onesies (W.S. McCallum)
The Blue Onesies, from Wellington, were equally difficult to categorise. There was a lot of atmospheric trippy 60s style guitar playing, along with some bathetic lyrics about topics like wine-drinking. They are a real ensemble act, and are very tight-knit musically, with a broad musical vision that holds together well. What was very impressive was their Band-like habit of switching drummers from one song to the next. Not many groups can do that.
© W.S. McCallum 18 September 2011
Brown, and Alizarin Lizard
at Space Monster
Wanganui
6 September 2011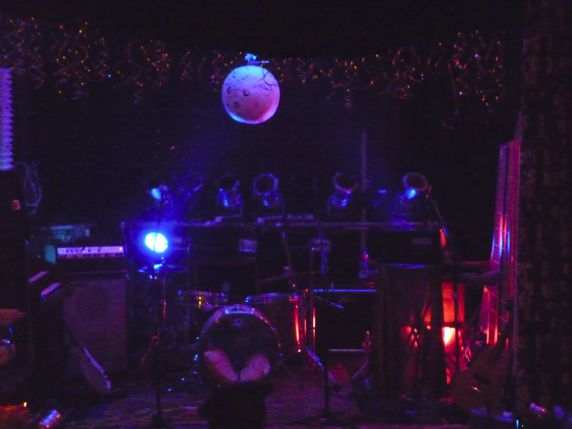 (W.S. McCallum)
Initially, the venue was looking pretty empty when I arrived at 9.20 pm, but it was fuller by the time the first of the two Dunedin bands playing that night began.
Brown are that rarity on the New Zealand music scene; a three-piece band that is not trying to be a power trio. The words of their songs are the focus of their act, with the music providing support, rather than the other way around, which is usually the norm. Consequently, Brown's volume level was somewhat lower than is usually expected of alternative bands, but this did enable the lyrics to be heard clearly.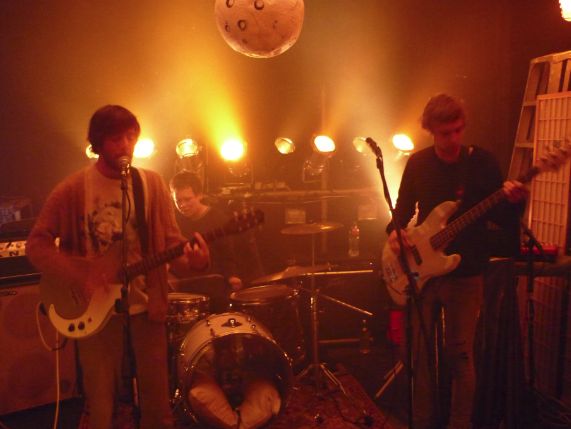 Brown (W.S. McCallum)
The lyrics were clever and insightful, and poked a relatively gentle stick at the quirks and oddities of their home town. There was a song about growing up in a suburb of Dunedin, viewed from the perspective of a child on a tricycle, which ended with the narrator asking a little old lady why all the police were around at a neighbour's house. When told it is something to do with a stabbing, he then pedals off home to ask his mum what "stabbing" means. The David Bain jersey song was also great. North Islanders, not really being used to the cold, have no idea of the cultural significance and practical importance of home knitting in the South Island, where some cheap, thin Chinese jersey machine-made from artificial fibre is just not enough to keep you warm in the damp, sub-zero conditions typical of student flats in those freezing Southern winters. Hence this song about a guy who has decided he wants a David Bain jersey; one just like the multi-coloured '80s monstrosity that David Bain was photographed wearing when he was placed on trial in Dunedin for the suspected murder of his entire family. Another stand-out was the song about some girl who didn't show up at a café for coffee one afternoon, which prompted the songwriter to pen this piece, called "The Girl Who Joined A Commune", speculating about the various possible reasons for her failure to show up. Demonstrative of the level of face-saving male psychology implemented in its various musings, the song closes with the assertion that what really happened was that she must have caught a plane to Australia so she could go and have an incestuous affair with her uncle.
Brown were very sharp: great songs, catchy music, and memorable lyrics.
Alizarin Lizard cranked the volume up and offered a few surprises. The first was that the bass player in Brown was their lead singer, and the second was that both groups had the same drummer. Oh, and there was the guy who had a half-face beard, which I spent a lot of time trying to get a photo of and failing because he had a long hippy haircut which kept getting in the way.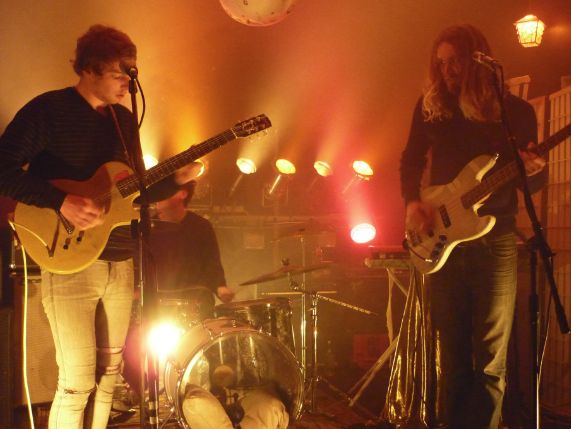 Alizarin Lizard (W.S. McCallum)
Alizarin Lizard have a sophisticated sound that at times verges on prog rock in places, judging from their interest in segments of heavy soloing in their songs. There was a time when that would have been a rude thing to say about a Dunedin band, but fortunately those days are long gone. The interesting thing about both bands was how they successfully exploded pre-conceived notions about what Dunedin bands are supposed to sound like. In spite of the fact that 30 years have now passed since the emergence of bands like the Chills, the "Dunedin Sound" cliché still hangs heavily over the music scene there, with it usually being imposed by outsiders who may never have even visited Dunedin. Alizarin Lizard and Brown have staked out their territory by simply ignoring that cliché, and they arguably owe more to 90s Britpop than to the 80s Flying Nun bands who were, lest we forget, signed to a label that was actually based in Christchurch, and who had less in common musically than is typically imagined these days.
The two groups' use of a very fancy lighting rig and a smoke machine also sets them apart from the Flying Nun school. Overuse of said smoke machine at the end of Alizarin Lizard's set had the unintended consequence of setting off the building's fire alarm. This in itself would not have been so bad, except for the fact that the alarm system was linked to the Wanganui Fire Brigade, which showed up with two big red fire engines which disgorged a unit of firemen who stomped into the building looking for flames. It was a great way to end the show, but a pain for the Jack, who runs Space Monster. He was running around looking for a phone but did not manage to call them off in time. Hopefully he will not be hit with a hefty fine for a false call-out.
© W.S. McCallum 10 September 2011
Sets, Mount Pleasant, and God Bows To Math
at ARC Theatre
Wanganui
25 June 2011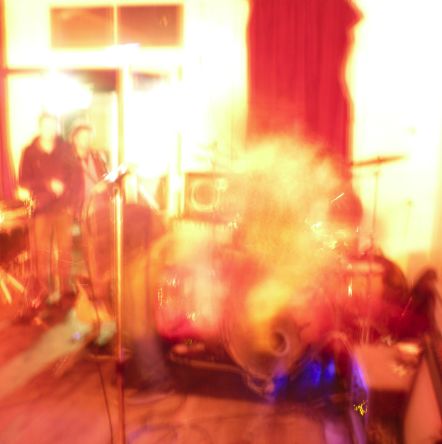 (W.S. McCallum)
The good news for ARC Theatre is that the fractious cop and his wife living across the road who were making spurious noise complaints to the Council have moved out of their rented apartment, so now some semblance of normality has been restored at ARC. The question of the Council's unlawful noise abatement notices (issued to the wrong person at a different address, but nonetheless enforced against the ARC Theatre) does however remain unresolved, but hopefully the Council's bureaucrats will eventually formally acknowledge their mistakes and admit that you can't have a central city cultural and entertainment district in Wanganui and allow a zero tolerance noise regime to be selectively inflicted on just one operator within it 24 hours of the day. Sadly, dealing with such bureaucratic pettiness tends to be the stuff of life when living in a provincial town governed by bumbling Jobsworths…
Brandon, a.k.a. Sets was unperturbed and enthusiastic as he delivered his latest multi-instrumental performance, starting on electric guitar and then shifting to drums with synthesised looped accompaniment. He managed to make it look effortless and spontaneous, as well as seamlessly blending together the various parts making the whole.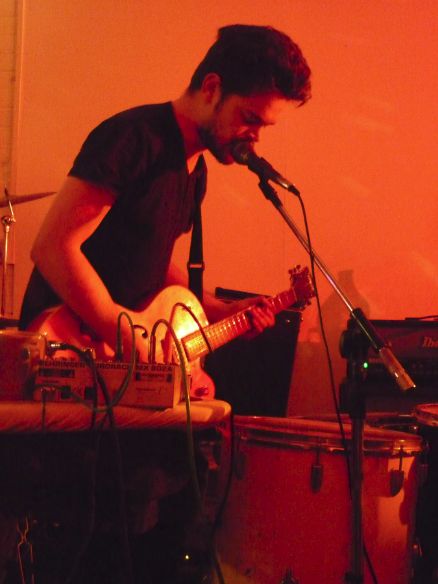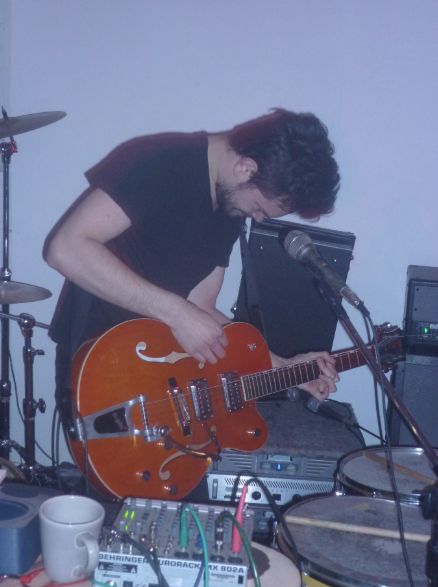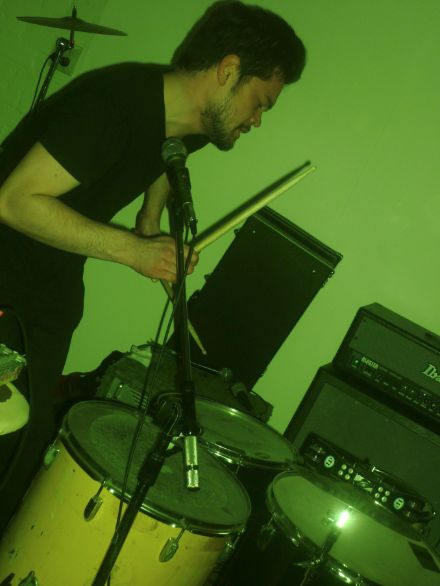 Sets (W.S. McCallum)
Mount Pleasant is the name of a pretty seaside suburb in Christchurch, recently devastated in the ongoing series of earthquakes there which seems to be never-ending. It is also the name adopted by Jonathan Phillips as his stage name. To date, among other things, he has released a cassette (Reverie Reverie), a stack of EPs, and five CDs, the latest of which is The Aztecs; they are sophisticated packages combining guitar, DJ-type dance, electronica and ambient sounds. For further info, check out his Web site: http://mountpleasantmusic.blogspot.com/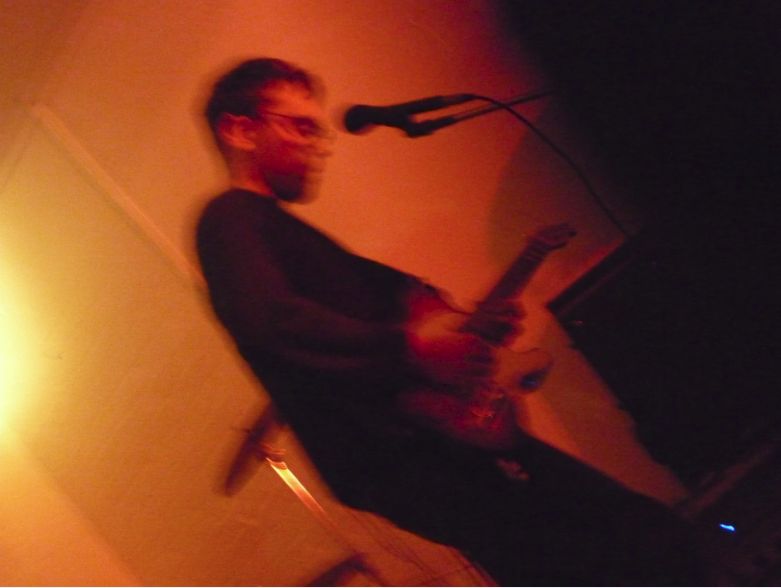 Mount Pleasant (W.S. McCallum)
There were some technical glitches due to the absence of Mount Pleasant's technical support guy, who, as I understand, covers the DJ/rhythmic end of things, leaving Jonathan Phillips with the problem of operating a drum machine as well as playing guitar, and there was also a problem with a muddy amp, but this was made up for by those songs that did shine through.
The final performance that evening was provided by the Auckland trio God Bows To Math. They apologised beforehand for any looseness in their performance, but there was really no need – they blasted the audience away with a very exciting series of songs and had no trouble whatsoever holding it all together.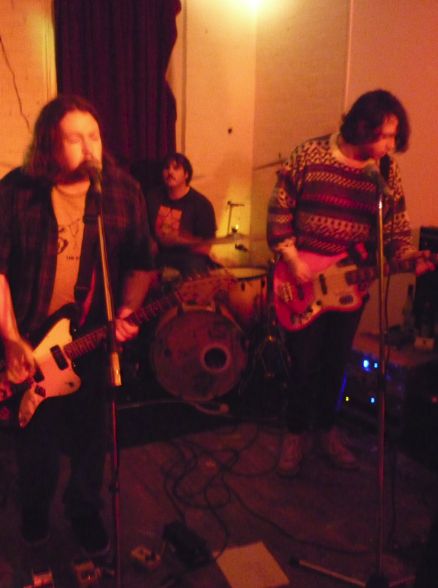 God Bows To Math (W.S. McCallum)
More photos of God Bows To Math
Apparently it is still early days for God Bows To Math, as they are still working on their first CD, which should be well worth getting.
© W.S. McCallum 29 June 2011
A Machine, Pariah, and Gift of Ruin
at June Fest
(the 5th Wanganui heavy metal festival)
18 June 2011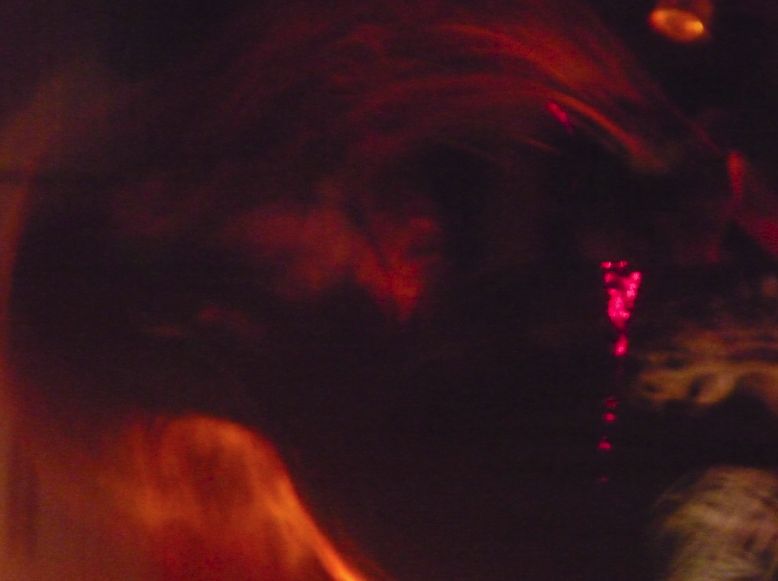 (W.S. McCallum)
Sometimes you make discoveries that just amaze you. The fact that Wanganui has its own heavy metal festival for example, and the fact that it has been running for 5 years now. From what I was told, the first 4 of these annual events were held out in the seaside suburb of Castlecliff, which is probably why I missed them. Even though the fifth one was being held downtown, the seaside theme was maintained by holding the event in Breaker's Bar, with its surf boards and beach-oriented posters.
There were five bands on the bill at June Fest, and I only got to see three, so apologies to the other two. What a great night though! The sound was expertly mixed and was just the right volume. A common problem with heavy metal shows is that the guy on the desk is some old bikie geezer who is terminally deaf from years of listening to too much Motorhead, and everything is just cranked up to 11. There was none of that at June Fest, and the guy who did the sound deserves a free tee-shirt or something.
The first band I saw, who were just setting up when I arrived after 10 pm, was A Machine, from New Plymouth. They set the tone for the evening - a well-practised band who are expert musicians, with a good set full of their own material. And the singer/bass player looked disturbingly like a young Dave Gilmour from Pink Floyd.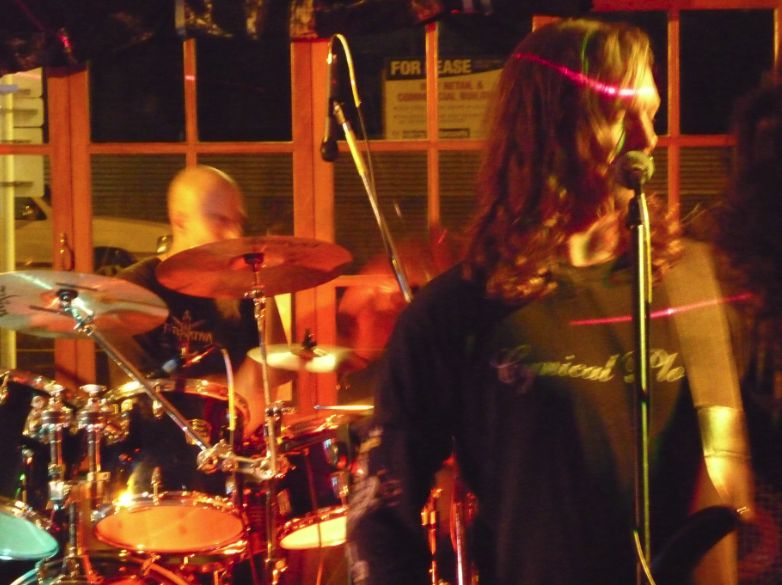 A Machine (W.S. McCallum)
Pariah are from Wanganui and were a good match for A Machine, also being well-honed musicians. The drummer was very cool and collected, although the audience were paying more attention to the head-shaking front line, as tends to be the case. Curiously, their lead singer had long hair too, although fortunately he did not look like Dave Gilmour...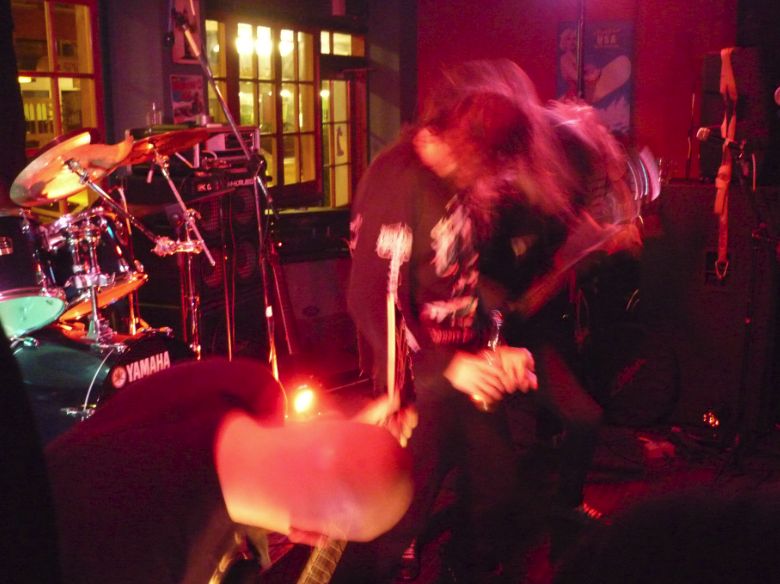 Pariah (W.S. McCallum)
And the third group I saw was Gift of Ruin, from Palmerston North, who, in addition to performing a very energetic, frenetic set, did a very special shout-out: "Everyone who's got their mum in the audience tonight wave your hands! Yeah!!!" Actually there seemed to be a few parents in the crowd that evening - you could spot them due to the fact that they weren't wearing black jeans and tee-shirts (well, not all of them...).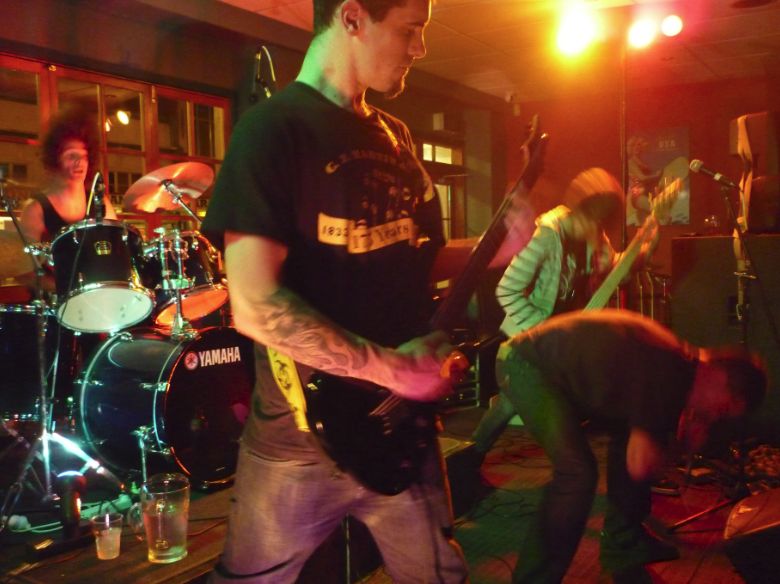 Gift of Ruin (W.S. McCallum)
Overall, a great event, and a real surprise. I'm looking forward to the next June Fest in 2012.
© W.S. McCallum 26 June 2011
Castlecliff Lights, Caves, and Solo Ono
at Space Monster
Wanganui
4 June 2011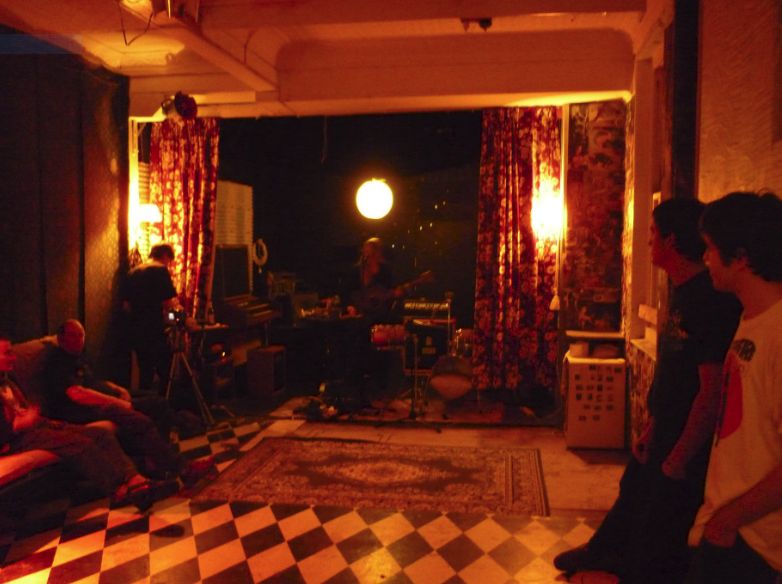 (W.S. McCallum)
This was the second event held at Space Monster, formerly known as Stink Magnetic. Unfortunately I missed the first concert the week before… The old premises had been spruced up and were looking good. The comfy couches were much appreciated, and a lot of effort had been put into gluing a montage of paper images across the walls in one corner of the room.
Castlecliff Lights is the name Ellen Young now performs under. She provided an opening set that experienced minor technical difficulties involving her looper, but generally hit the mark, using her guitar and drum to build up layered structures beneath two or three-part vocals. She sang melancholic songs of yearning, with the surprise turn being her rendition of the old standard "You Are My Sunshine", which she managed to turn into an optimistic yet bleak artistic statement.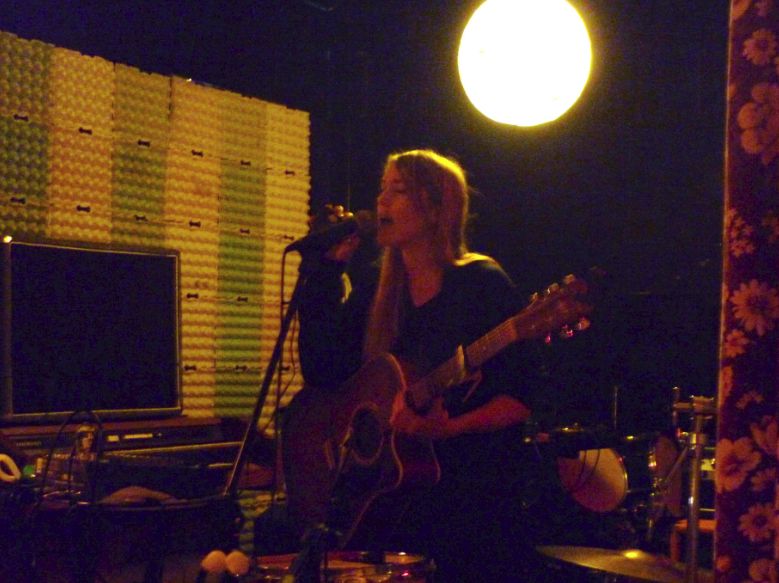 Castlecliff Lights (W.S. McCallum)
More photos of Castlecliff Lights
Caves turned out to be Jack Mitchell-Anyon and Corban Keating from Double The Beef on electric guitar and drums respectively. The gig poster said they were "country disco stomp", which was somewhat misleading, as what they actually delivered was vigorous electric rock, and a fine performance it was too.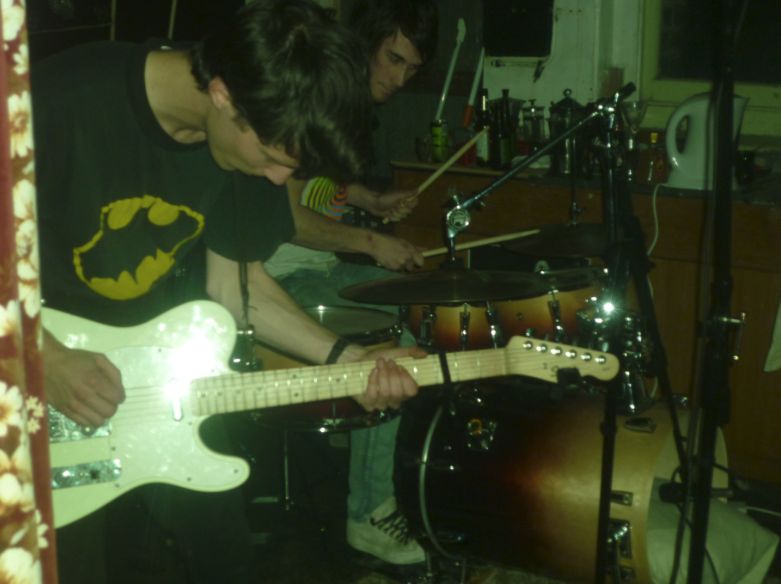 Caves (W.S. McCallum)
Jack is the prime mover behind the establishment of Space Monster, and his music that night showed his interest in moving beyond the boundaries various people may have assigned to him as a result of his more country-oriented work with Double The Beef.
Solo Ono (mischievously billed as "Solo Oh No" in the concert poster) provided a no-frills drum and guitar set as well that was raucous as well as being tightly put together. The Wellington duo locked together nicely and provided the high point of the evening for me.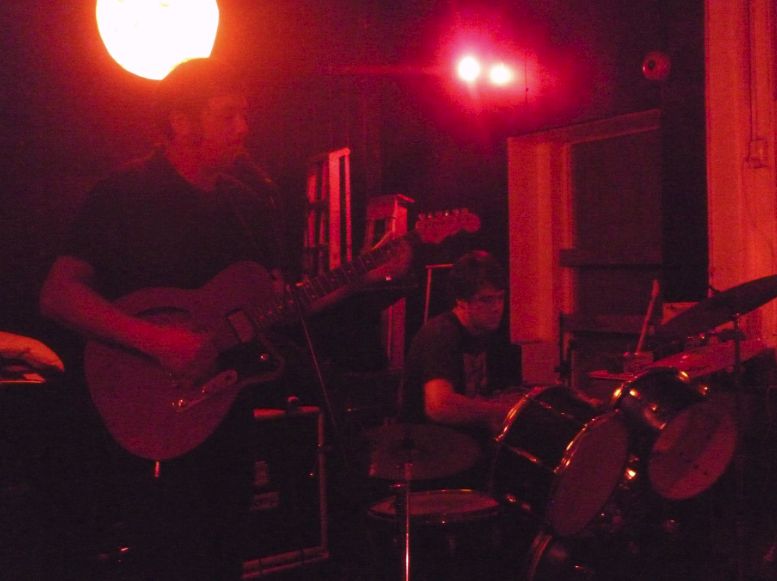 Solo Ono (W.S. McCallum)
So my initial impression is that Space Monster is set to carry on where Stink Magnetic left off, with a musical focus, while ARC Theatre next door continues to provide a more multi-media range of entertainment, including music. A town the size of Wanganui is blessed to have two such vigorous alternative entertainment venues.
© W.S. McCallum 15 June 2011
The Eversons and Princess Chelsea
at Mighty Mighty
Wellington
14 May 2011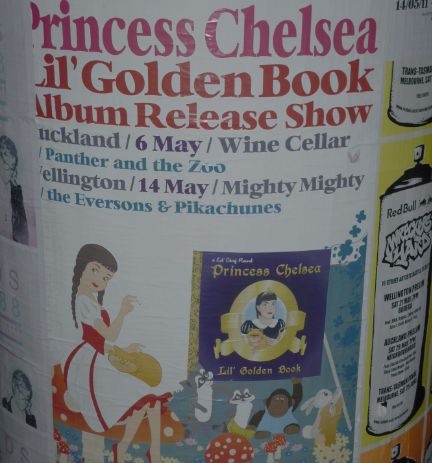 (W.S. McCallum)
Mighty Mighty was pretty much packed, which is not all that surprising for a Saturday night. Elbow room was not abundant though, and I did not envy the two photographers down the front who were lugging big clumsy professional cameras with redundant telephoto lenses…
The Eversons came across as the perfect new millennium indy rock band. They added a fine leavening of self-deprecating wit and irony onto songs such as "I'm Gonna Get Married", "Real Loser" and "Hot For Me". The humour in their lyrics was reminiscent of a certain category of songs by Blur, and they had Blur's command of jaunty rhythms, with which they vigorously undermined the negative aspects of the words they were singing. "Hot For Me" in particular had the crowd going wild.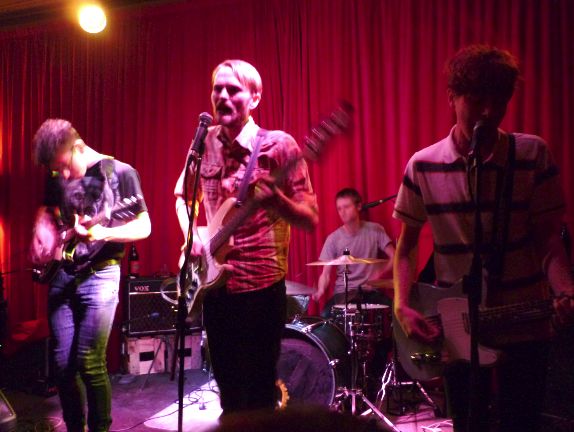 The Eversons (W.S. McCallum)
There was a brief interval while Princess Chelsea set up their gear on stage. Time enough to have a Wahine Disaster at the bar (the cocktail that is), and slip through the narrow gaps in the crowd down to the front again to be ready for the start of their set.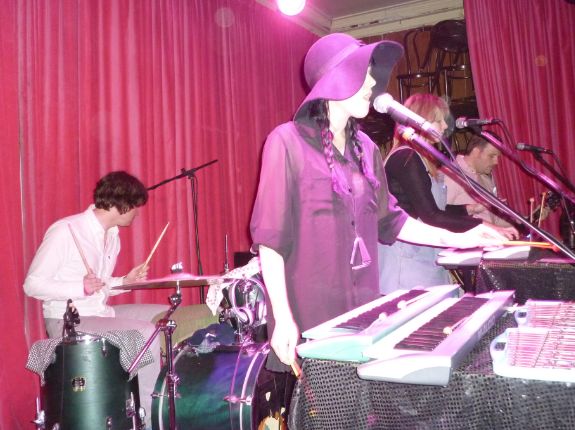 Princess Chelsea (W.S. McCallum)
Auckland's Princess Chelsea, featuring Chelsea Nikkel (from Teen Wolf and the Brunettes), was in Wellington to promote her release of the debut CD Lil' Golden Book, and she and her band's performance had an entirely different tone from the all-male guitar bass and drums approach of the Eversons. The central instruments in Princess Chelsea's sound are xylophones and keyboards, although the male rhythm section provides some more traditional accompaniment, supplemented with hand percussion instruments from the front line, and even one of those plastic bull roarers you can buy in toy shops.
Chelsea Nikkel offered songs featuring the sounds of childish whimsy and fantasy, but including various lines that were at odds with the naïve innocence of her music. It is a clever package. Post-adolescent girly girls nostalgic for their lost childhood like her for the childlike nature of her music, with simple xylophone and keyboard melodies, yet there is a complexity to her and what she is singing which belies that simplistic image. To keep the audience guessing, the group's sound became rockier towards the end, and they even closed with a cover of a Beatles song.
© W.S. McCallum 18 May 2011
The Critics Critiqued Part 1: Nick Bollinger
(Being the first part in an occasional series in which the author expounds on just what is so very wrong with New Zealand music journalism…)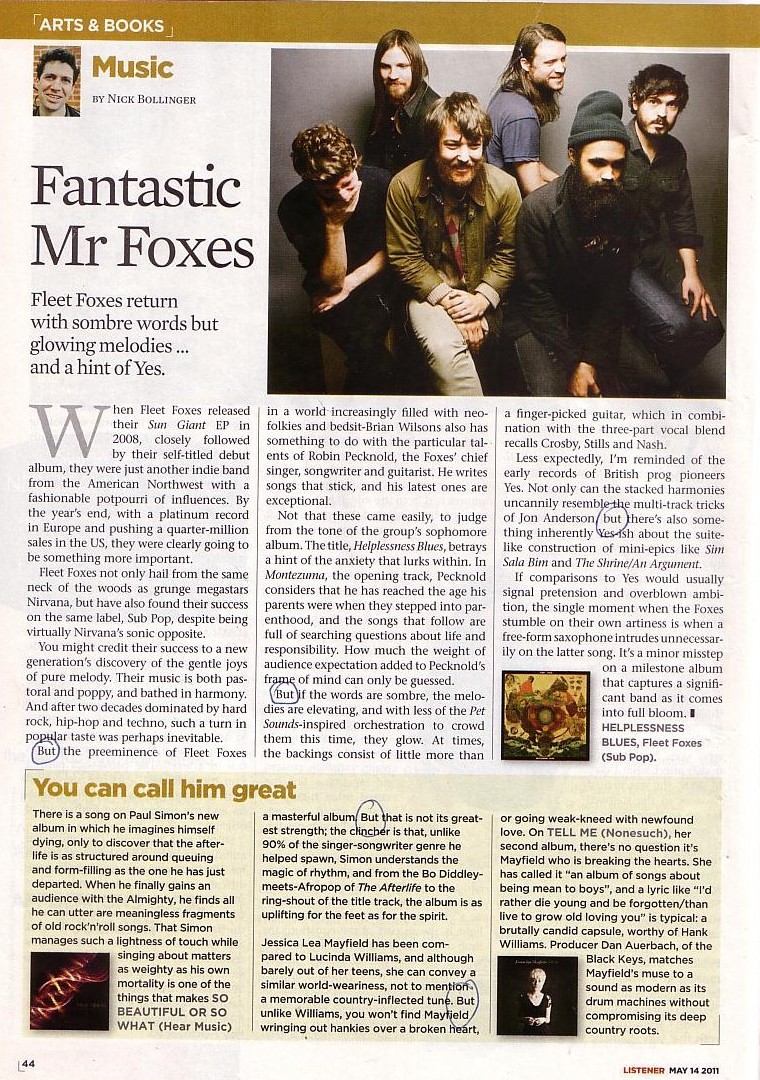 I have long held a theory that one of the greatest barriers to New Zealand musicians being properly heard in their own country is, paradoxically, its music press. Its choices and selectivity in terms of what the public gets to read about have long constituted one of the major cases of the gatekeeping that goes on among the music industry establishment in this country. Nick Bollinger, who, before turning to rock journalism, was a musician himself back in the late 70s, is a prime example of this. Now lost in the mists of time and the morass of press clippings I have hoarded in various boxes is a column he wrote for the NZ Listener several years ago where he admitted that he gives self-released albums by local artists short shrift, with his standing policy being to bin them unless they have a major label behind them.
This gatekeeping tends to extend beyond just disregarding local musical unknowns. Over the years, reading Mr Bollinger's columns, I have noticed that another standing policy of his is to stick mainly to reviewing material that has already made waves in the overseas musical press. Not for him the plethora of unknown international artists with only a botched Bandcamp site and a few tawdry downloadable MP3s to their name; Mr Bollinger prefers established names, thank you very much.
To back up these shockingly opinionated generalisations, I decided to pull his latest column (see above) out of the dead tree media and into the ether for the purpose of critical review. (For those who haven't been to journalism school or who, like me, didn't attend yet did read the course textbook, this means that the NZ Listener can't do me for breach of copyright.)
Let's have a look at his choice of reviewing material for the week starting 14 May 2011: Fleet Foxes, an established indy band that has been around for a few years now and is signed to that blue blood label of indydom – Sub Pop; Paul Simon (need I say more?); and Jessica Lea Mayfield, who is probably the most obscure of the three, yet will be no stranger to people who follow the country end of the spectrum of Americana, and who is also on a fairly well-known label – Nonesuch. So, no great surprises there. Three acts, and all of them foreign. Which is not to say that Nick Bollinger never reviews NZ artists; just don't expect to be reviewed by him if you aren't already well into the music industry fold.
Setting aside my objections to his limited selection criteria, my other major problem with Nick Bollinger is the cadence of his written language. Basically, he writes like a geography teacher. His exposition is maddening in its reasonableness, with thesis and antithesis alternating in a series of dully regimented twists and turns as he bends reality into the smooth curves of frustratingly equivocal blandness. Not for Mr Bollinger the take-no-prisoners approach of a Lester Bangs or the condescending single-minded opinionatedness of a Julie Burchill. Such stances do not go down well with the staid, middle-class, middle-of-the-road, gently-does-it world of the NZ Listener's readership.
Turning to the text at hand for an example of what I mean, you will notice various little circles I have marked on the page scanned. These indicate various of the twists and turns in Mr Bollinger's exposition. Exhibit 1 for your perusal, ladies and gentlemen; the word "but".
Stated bluntly, Mr Bollinger cannot live without it. Take his "buts" away, and his writing would collapse like a house of cards. Let's look at paragraph 2 (where the "but" is not marked on the scanned page; you will have to forgive me):
"Fleet Foxes not only hail from the same neck of the woods as grunge megastars Nirvana but have also found their success on the same label, Sub Pop, despite being virtually Nirvana's opposite."
Setting aside the equally obvious, completely unremarkable nature of the observation that very different bands can exist on the same label (Flight of the Conchords are on Sub Pop too, and could also be described as Nirvana's opposite, as could The Shins, and various other of the band's labelmates), we see a classic example of the Bollingeresque working of thesis and antithesis: wow, Fleet Foxes are not only from the same part of the world as Nirvana, BUT they are completely different! Mr Bollinger's perspicaciousness is almost breathtaking: just imagine; there are two bands from the same place AND THEY ARE NOT ALIKE! No – not at all, not even a little bit…
I hope Mr Bollinger guards this insight jealously, or soon we will witness hordes of unwashed rock journalists all over the world, running away at his expense with this twist of observational genius. The history of rock will have to be rewritten as its cognoscenti belatedly come to realise that various bands really can come from the same place and actually sound completely different.
Because I too have the capacity to be a lazy rock journalist, I'll leave you to pick apart the other insights that the wittily entitled "Fantastic Mr Foxes" provides us with, all of which hinge around the word "but", which sticks out like a sore thumb throughout this page. I am not a prescriptive grammarian, and am not bothered by the use of "but" to open a sentence; however the fact that Mr Bollinger resorts to it four times on a single page is indicative, at best, of slack sub-editing on the part of the NZ Listener's staff.
Nick Bollinger has been doing this job for many years now. I have vague memories of him writing reviews back in the 1980s (and no wish whatsoever to do the research work required to look up any back issues in an endeavour to confirm whether my memory is correct). My belief is that he has been doing this job for too long. His writing is tired. He makes use of too many stock phrases and has developed a series of repetitive idiolectical patterns in his prose that require some tight editing in order to shake him out of his journalistic complacency. Sadly, the NZ Listener is not providing this. It seems to be a case of tired seniority holding sway over good copy editing.
I would also like to see Nick Bollinger getting away from the corporate cheese that he persistently reviews and go out and explore the big, bad, untamed world of sites like Bandcamp. I don't doubt that he has taste, and it is quite clear from what he does cover that his tastes are broad-ranging and even eclectic at times, nevertheless he has to get away from his stratified view of the musical world as consisting of rock worthies (those signed to a label he esteems) and rock lepers (unsigned artists, and those signed to a label too small for him to care). The sad thing about such a limited approach is that some of the greatest new music in the world might be passing both Nick Bollinger and his readers by without them even noticing it.
© W.S. McCallum 18 May 2011
The High and Lonesome Sound
of Vanuatu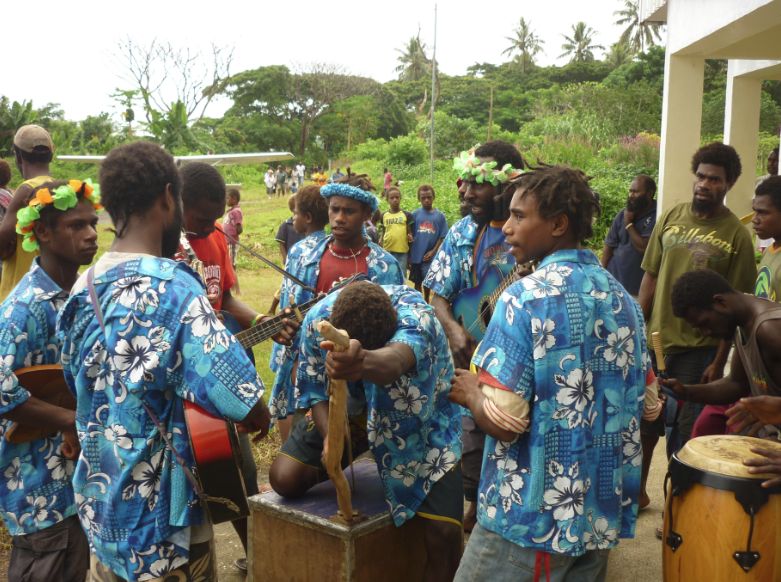 The Four-Man String Band, Pentecost Island (W.S. McCallum)
One of the joys of travel is occasionally coming across something that completely skews your perception of cultural boundaries, and that happened to me recently in Vanuatu.
A phenomenon peculiar to Melanesia is offered by the musical formations known as "string bands". Typically they include three or four guitar players, someone on tea chest bass, some sort of percussion, a ukulele or two, and other locally made string instruments strangely reminiscent of mandolins or banjo in their appearance. Together the musicians in these groups play lilting rhythms, and periodically double up as backing vocalists providing close harmony to a lead singer who sings on the high end of the musical scale.
Slightly delirious from flu, I was sitting back listening to one of these bands on Pentecost Island, when my perceptions started warping with the sudden realisation that the song they were playing sounded like it was from some other genre. It took the flu deadening my mind for it to filter out all the backing instruments and home in on the lead vocals, up in the high end of the scale. Too mentally exhausted to try and decipher the words in Bislama (the local pidgin), instead my mind picked up on the ebb and flow of the singer's intonation, the rise and fall of his notes, and the immediate conclusion drawn was "it's hillbilly music!"
The more I listened, the more I was convinced. These young Pentecost Islanders were playing some warped version of American hillbilly music. Not only the vocals, but the instruments they were playing pointed in that direction too. What's more hillbilly than a tea chest bass? Possibly a home-made mandolin or banjo…
There wasn't much I could do to confirm the impression I had gained whilst sitting on the edge of the runway at Lonorore Airport waiting for the Twin Otter to take me back to Port Vila, but later on I had the opportunity to do a bit of research, and it turns out that string bands in Vanuatu began in the early 1940s, during World War II. During those years, there was a sudden influx of tens of thousands of American servicemen who experienced the New Hebrides (as Vanuatu was then called) as a staging point used for routing troops, ships, aircraft and supplies through to battlefields like Guadalcanal in the Solomon Islands.
Back in the days before Playstations, laptops and iPhones, US soldiers had to content themselves with less technologically sophisticated recreational tools, and musical instruments were a common item they used for passing the time away whilst waiting to be posted to the front, or while they provided a support and logistics role for the front-line troops passing through. Large numbers of the recruits who fought for the US in the Pacific theatre came from the South, and their music of choice was hillbilly, cowboy and bluegrass music. The sort of stuff that would later come to be known generically as "country" music, paradoxically at a time when it was increasingly becoming the preserve of sophisticated urban session men who lived in the city of Nashville.
But I digress. It turns out that this American music made a great impression on the New Hebrideans (as they were called then), to the extent that they began emulating it, and the phenomenon known as "string band music" was born. Seventy years later, it is still going strong. Hopefully it will survive the current unpleasant trend of applying vocoder to the lead vocals, but then again that too, it could be argued, is just another borrowing from US popular music that is not necessarily out of tune with the genre's hybrid cultural origins.
© W.S. McCallum 10 May 2011
The Rolling Hills and Mr Sterile Assembly
at the ARC Theatre
Wanganui
2 April 2011
<![if !vml]>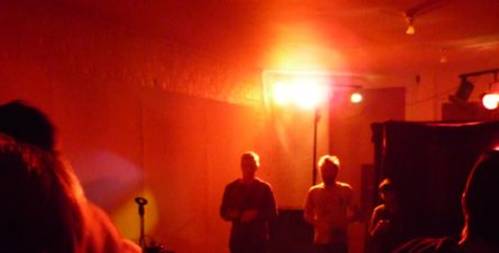 <![endif]>
(W.S. McCallum)
The ARC Theatre is a new focal point for the performing arts that opened a few months ago in Wanganui. Founded by Brandon, a.k.a. Sets, it is intended to be a venue for various types of events, including art exhibitions and installations, musical performances and, ultimately the goal is to set up a theatre there. Brandon named the theatre after the late Al Cameron, who ran The Eye of Night, drawing on his example as an inspiration in order to provide an alternative venue that will keep Wanganui from descending back into dreary provincial tedium following the end of The Eye of Night and the departure of Stink Magnetic.
Brandon was part of the opening act that evening, who someone said were calling themselves the Rolling Hills, so in the absence of either a confirmation or a denial from an official source, this is what they will be called here.
<![if !vml]>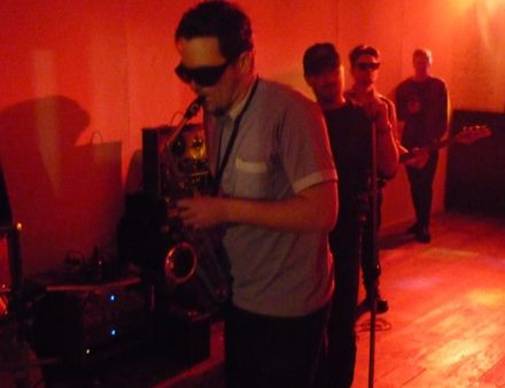 <![endif]>
(W.S. McCallum)
The power trio consisted of a saxophonist, Brandon on frantic bass guitar, and Hillsy on silent vocals, interspersed with intermittent comments in-between songs. The mimed vocals, complete with vigorous arm waving and classic rock singer poses, were a mute protest at harassment the venue has received from some recently-arrived neighbours, who have been kicking up an unwarranted fuss about supposed noise in this non-residential inner-city street at such outrageous hours of the night as… 7pm. It seems there's no pleasing some people.
The pinnacle of absurdity was reached when an attempt was made by an audience member to "fix" Hillsy's microphone connection, upon which he had to whisper in the intervening party's ear that his silence was actually intentional. It was a priceless moment.
The focal point of the evening's entertainment was Mr Sterile Assembly, from Wellington, who have visited Wanganui on various occasions before in various configurations. That night, they were a duo, dressed in white and looking like Space Age kabuki characters.
<![if !vml]>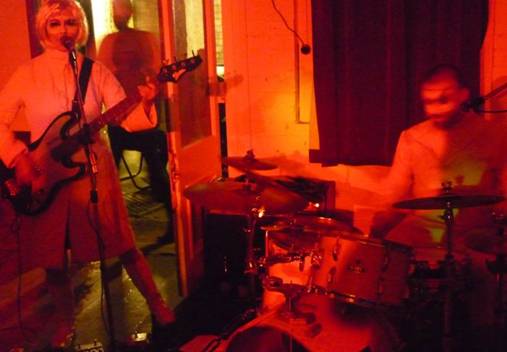 <![endif]>
(W.S. McCallum)
They were in Wanganui to promote their new, beautifully illustrated CD, called Transit, which shows just how good an independent release can look. Their music was polyrhythmic, with the bass and drums interweaving cleverly to provide a backdrop for their songs about the contradictions and hypocrisies of the modern world. They voice feelings and sentiments you won't normally hear spoken in a country where submission and conformity have become the watchwords for the new age we live in.
© W.S. McCallum 7 April 2011
William Borrie, R.I.P.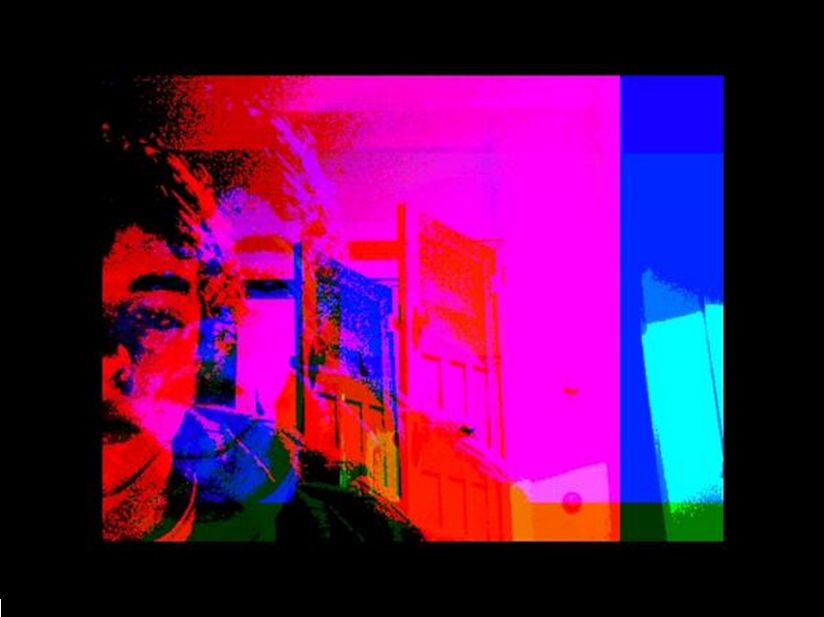 Source: http://papaiti.com/deathdream
I was told a few days ago that William Borrie had committed suicide in Dunedin in November. It was belated news, but it left me feeling sad nonetheless. William was a member of Body 125, a group formed in Wanganui by a bunch of local high school students a few years back and which had become a bit of a fixture on the town's music scene, playing on various occasions as a support act at The Eye of Night. They were enthusiastic, energetic, noisy - everything a young band should be.
Apart from seeing him play live various times, I can't say I really knew William. Our sole exchange was when he contacted me to get some photos of him playing with the band. Unfortunately, I only had a couple, and they weren't particularly good ones either, mainly due to his habit of standing apart from the rest of the band and hiding in the corner, which made it difficult for me to get him in the frame. He wryly admitted as much. As a consolation prize I sent him a link to a Web page with some downloadable Gordons posters, as I knew he was a fan of them and Bailter Space, two Christchurch bands from the 1980s. He was terribly impressed I had seen Bailter Space live back in the day, which made me feel terribly old.
Body 125's members and William went their separate ways over a year ago when most of them left Wanganui to go to varsity in Wellington. William was the only one who went to Dunedin, where he was studying electrical engineering. He had already started a solo project called Deathdream in 2008, and released a self-titled EP then, following it up last year with his second release, an EP called Night Terror. It has three tracks; "Endless Knot", "Exquisite Corpse" and "Thousand Yard Stare". I am listening to it now as I write this. (You can download it and his first EP for free from the web page under the image above.)
Yeah, I know what various people may think upon reading those titles; that classic amateur psychology stuff that gets trotted out when people are trying to understand just what was it was that would cause someone to commit suicide. "It must have been all that dreary music! He liked gloom merchants like Joy Division and Radiohead! He was morbidly fixated with death, and he carried his fixation through to its logical conclusion." That sort of thing.
Well I don't buy it - I hear a lot of life and vibrancy in Deathdream's music, in spite of the name and imagery and it takes a lot of commitment and effort to record an EP single-handed. It's not the action of someone plotting his own demise.
The urge to commit suicide is an awful thing; it lies in wait, lurking in the shadows until a moment of incredible weakness arises, and then it has you in its grasp. One apt name for depression is "the black dog", which is always on your heels. I see suicide as a ferocious black hellhound that gets you by the leg and starts dragging you down inexorably, bending you to its will. Succumbing to it is often the result of a combination of factors, and I don't know William's circumstances that led him to that place, but I do know from past experience that no matter how well you knew a suicide victim, you are always left wondering exactly why he or she did it.
Generally speaking, New Zealand has an appalling track record for youth suicide, something I tend to attribute to the emotional straitjackets our society inflicts on its children, along with its deadening level of conformity, combined with a psychotic mix of stony indifference, condescension and violence that can have chilling effects. The saddest thing is that suicide is a scourge with a tendency to strike down those individuals who are most intelligent, and most creative, and William definitely fell into that category. His death is a terrible loss on all sorts of levels, and particularly in terms of the creative endeavours that will never reach fruition now he has gone. He released 2 EPs as Deathdream, and an album in September last year under the name Trampoline Dreamers (along with James Stuteley from Body 125), and he was working on a third EP at the time of his death. When you add that to his work with Body 125, and consider that he was only 20 years old, that's quite an output. What else would he have gone on to achieve?
© W.S. McCallum 6 April 2011
The Mysterious Tapeman, Delaney Davidson,
Double The Beef, and Zeno Tornado
Stink Magnetic Corporate HQ
Wanganui
20 January 2011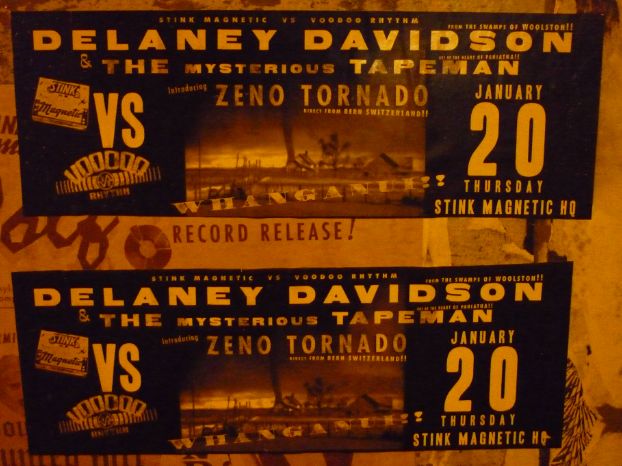 (W.S. McCallum)
It was with some sadness that I learned upon arriving at this event that Dylan Herkes, the founder and prime mover of Stink Magnetic, was moving to Christchurch. In fact it was a bit of a blow, as the label's presence in Wanganui since late 2008 has made the music scene in the town a lot livelier than it would otherwise have been. Upon hearing the bad news, I even started going around desperately taking atmospheric photos of the decorations and fittings at Stink Magnetic's Corporate HQ in order to preserve some sort of historic record, although I was assured that the days of musical events there are not over, as there are plans to take over the lease and keep holding concerts there.
The Mysterious Tapeman himself opened the show with his karaoke surf instrumental set, playing on guitar to a mix tape featuring near-continuous bass and drum backing material that hardly allowed him to pause for breath.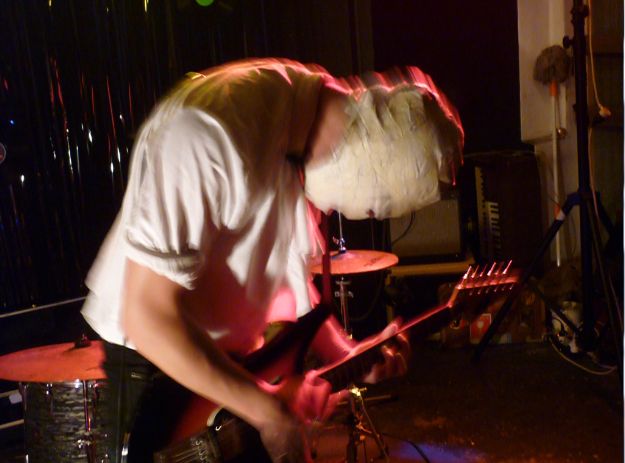 The Mysterious Tapeman (W.S. McCallum)
He did the splits, he rolled on his back, he crawled on his belly like a reptile. He sweated! And the whole time, he did so whilst belting out frenetic riffs, thrashed chords and bendy string sounds. It was pure devotion to rock and roll, a religious experience. It made me think back to my days in student radio in the 80s, when I used to get laughed at for spinning 60s surf instrumentals by alt trendies who thought that the Style Council, Prefab Sprout and the Housemartins were the future of modern music. Well they were wrong and I was right, and over 20 years later, here was this guy with the mask providing living proof of that! I revelled in my belated victory, and the vengeful thought that they were probably still wearing cardigans, but nowadays because they are middle-aged and boring instead of just being 20-something and tedious.
Still, I digress.
Our MC for the evening, wearing his ritual fez, was Hillsy, who provided snappy intros for each of the bands, delivered in his usual rapid-paced style, although perhaps he was not as fast as usual, because this time, after many failures, I actually managed to snap a photo of him (somewhat blurry, admittedly) before he ducked out of sight to make way for the band: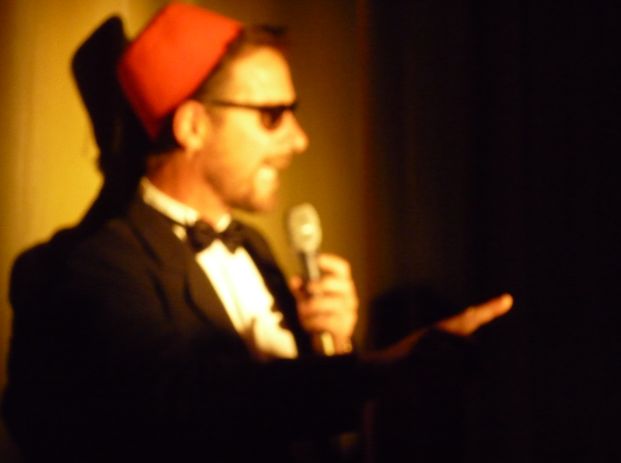 Hillsy (W.S. McCallum)
Delaney Davidson then set the mood for the rest of the evening, which was darker, more acoustic, and country-rock oriented than might have been suggested by the surf-oriented opening act.
Delaney Davidson (W.S. McCallum)
He has a real knack for using a looper and layering sounds in mid-song that is quite striking. He could probably even write a "Teach Yourself…" style book on using the device. He used it to provide added dimensions to his music and create striking aural settings for his showcase of songs involving (among other things) death and heartbreak, and a very graphically-presented hanging.
Congregating downstairs on the steps outside Stink Magnetic in-between sets has become a bit of a tradition, so I took the opportunity to capture the moment…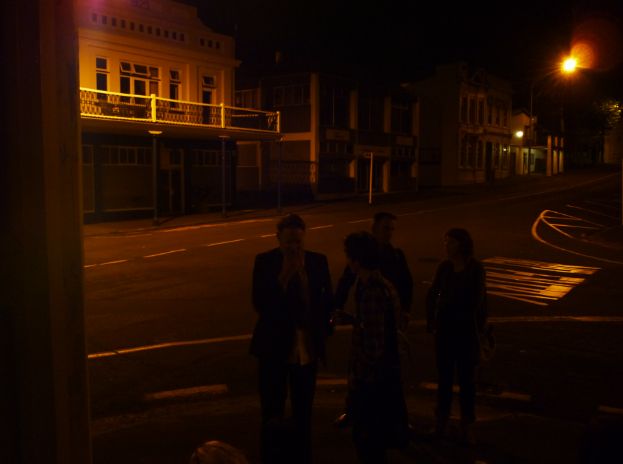 (W.S. McCallum)
… but lingered there so long I missed a lot of the set by Double The Beef, who provided the meat in the sandwich (sorry!) between the other two country-influenced acts that night.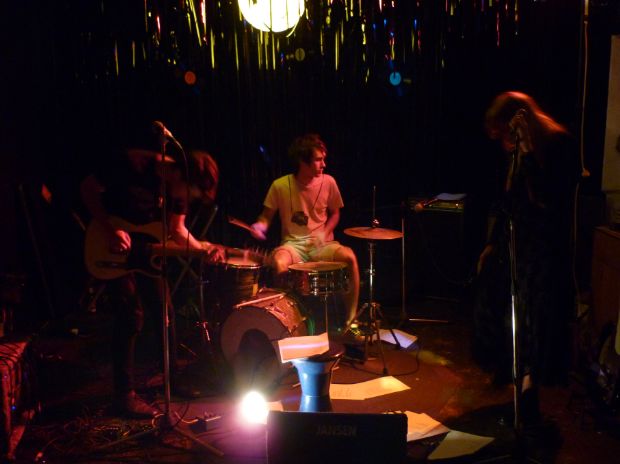 (W.S. McCallum)
The closing act was Zeno Tornado, from Berne Switzerland, backed by Dylan on drums and Delaney Davidson playing a mean Telecaster. It may have been a pick-up band, but they were well-practised from having toured together, and they meshed together well. Mr Tornado offered up tales of hapless love, tough luck and hard living that provided the perfect end to the evening.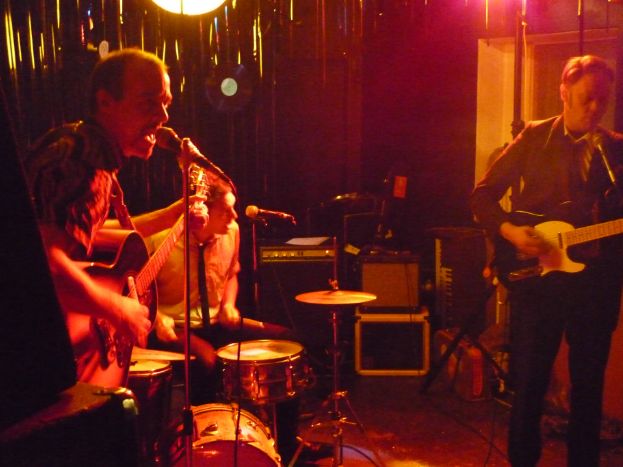 (W.S. McCallum)
And so the last Stink Magnetic concert in Wanganui came to a close, marking the end of a short but fruitful era. Dylan is a dynamo when it comes to organising events and getting people recorded though, and he will doubtless have a substantial musical impact in Christchurch just like he has had in Wanganui.
© W.S. McCallum 27 January 2011
<![if !vml]>

<![endif]>  <![if !vml]>

<![endif]>
<![if !vml]>

<![endif]>  <![if !vml]>

<![endif]>
Web site © Wayne Stuart McCallum 2003-2017