Music Writing 20
12
by W.S. McCallum
The Pretty Things
at the Powerstation
Auckland
11 December 2012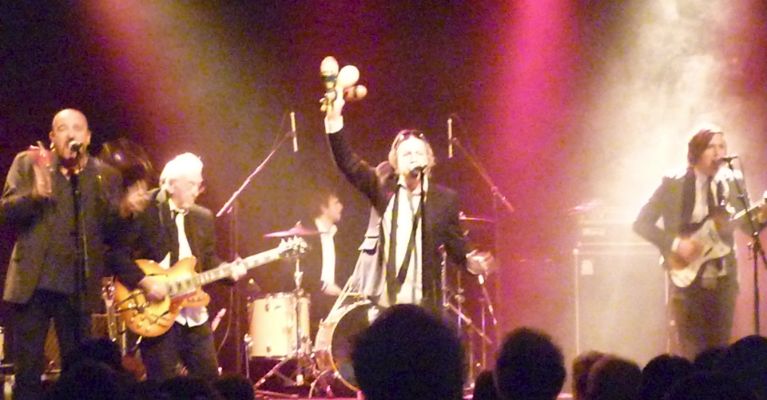 (W.S. McCallum)
When The Pretty Things left Whenuapai Airport to fly back to England in September 1965, they did so under a dark cloud. Behind them, they had left a trail of outraged conservative commentators writing angry letters, articles and editorials about them in newspapers across New Zealand. Quite simply, no one had seen anything like them before. They wore shoulder-length hair at a time when even having a Beatle mop in New Zealand would get you accused of being anything from a cross-dresser to a pederast, and played loud, raucous music which they were just beginning to mutate into something quite different from the American rhythm and blues which they based their early repertoire on. And then there was their drummer, Viv Prince, who habitually wore shades and a leopard-skin pillbox hat (even when dining at hotel restaurants, which caused no little shock and outrage in those days of suits and ties), drank and looned around, and who attempted to set the New Plymouth Opera House on fire whilst on stage. Following their departure, questions were asked in Parliament about how the young rabble-rousers came to be allowed into the country. They weren't like those nice Beatles who knew how to behave...
Defying all odds, including a long career that has had its ups and downs and many lean years, The Pretty Things survived into the 21st century, outlasting nearly all of the other groups on the British beat scene apart from The Rolling Stones, who the founding Pretty Thing Dick Taylor decided not to play bass for in 1963 because he wanted to be the guitarist in his own band. It was quite clear there might not be another chance to see them in New Zealand again, so I got my ticket early.
The show did not disappoint, although the lack of mention on the ticket that there were support acts did, so I missed seeing the reformed Pleazers and most of the all-star singers who provided the support acts opening the show, apart from Larry Morris, who is still a fine singer, and Hammond Gamble, whose R&B covers that night were more exciting than the tepid stuff he built his later career on.
The Pretty Things' current line-up consists of three original members, a young rhythm section, and their producer on maracas, with tambourine thrown in for good measure. My own personal philosophy is that for proper rock music, you really can't have enough maracas and tambourine, and at one point there were no fewer than seven maracas deployed simultaneously, suitably enhancing the rhythm section, so I was well happy that evening.
The show really ramped up when they started performing selected songs from their 1968 rock opera S.F. Sorrow, which, for me, were the high point of their performance. "Baron Saturday" was suitably menacing, and "Balloon Burning" successfully caught the twists and turns of the studio version on the original album. For a while in the last decade, The Pretty Things were performing this album live in its entirety and it would have been quite something to see.
They then followed up with some earlier pre-psychedelic material. "Come See Me" had particular significance for the Auckland crowd, as it was covered by Auckland-based singer Sandy Edmonds (backed by The Pleazers), and "Don't Bring Me Down" was also well-known as it was the opening track on The Pretty Things' first NZ EP.
The next two songs – "Alexander" and "Defecting Grey" – switched back to the late 60s psychedelic phase that the group went through. The recorded version of "Defecting Grey" has a quite complex structure and throws in all sorts of sound effects and instrumentation, including a pub sing-a-long at the end, and the live version the group performed was simply outstanding, given the instrumentation limitations posed by their line-up that evening.
Following that was a medley of their early R&B covers, along with their own material from the early days, like "Big City" and "Buzz The Jerk". They offered up a scorching, extended version of their April 1966 single B-side "LSD" as their closing song. It featured an extended guitar freak-out from Dick Taylor which extended the song way beyond its original parameters. There was an encore, which had its moments, but they failed to top this particular moment.
© W.S. McCallum 22 December 2012
Billy Bragg
at the Opera House
Wellington
13 October 2012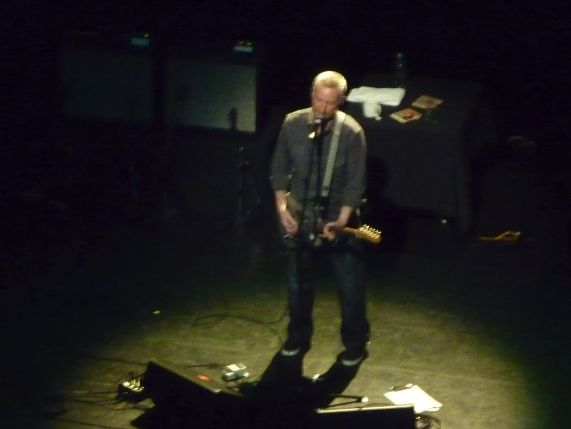 (W.S. McCallum)
Revisiting acts from the 1980s can be a perilous undertaking. Fond memories of youth have a way of turning sour when regurgitated. And then there are other times, like the Bauhaus concert I saw in Montréal (qv), that repay the effort made and make you think that maybe there is some musical justice in the world after all. This was to be one of those nights.
I missed seeing Billy Bragg when he played at the University of Canterbury in 1987, although I have memories of a soccer match he and his roadies had with fellow Radio UFM staff the afternoon before the show. The outcome was later reported by him to the student audience as involving foul play on the UFM team's part, with him alleging that they kicked the ball up into a tree because they were sore losers.
This show was also quite chatty. The first part was dedicated to Billy Bragg's interpretations of Woodie Guthrie lyrics and songs, with his between-song chats being aimed at providing an insight into the musical legend's life. The audience learnt about how he wrote down several hundred songs in the mid to late 1940s when it became clear that he was suffering from the onset of Huntington's Disease, but how the music for the words was not preserved; hence the need for the lyrics to be placed to music again, a task that was assigned to Billy Bragg and Wilco by Woodie Guthrie's daughter. We also learnt that he and Nora Guthrie first crossed paths at a folk festival, where Billy Bragg turned up for a Woodie Guthrie workshop with just 3 songs in his head, only to discover that the other participants in the workshop were Pete Seeger, Arlo Guthrie and Rambling Jack Elliot. "Bob Dylan couldn't make it that day" was Bragg's laconic comment on finding out with a sinking feeling that he was going to have to take the stage with these folk music titans. He bluffed his way through, only to come a cropper on the last song, selected by Pete Seeger: "This Land Is My Land", which they all took turns at singing a verse of. Billy Bragg had to admit mid-song that he didn't know the fourth verse of the unofficial US anthem: "after all, it's not my land – I'm English!" The incident must have struck a chord with Nora, who didn't know the words either when she and Arlo had to sing it in school (even though their dad wrote it).
Billy Bragg did much to debunk various myths about Woodie Guthrie. He was not just a folkie Okie from the Dust Bowl: he liked electric guitar, and drove Pete Seeger crazy once by playing a John Lee Hooker song over and over again while he tried to work out the riff the song used. He also wanted a Les Paul electric guitar when they were first released in the late 1950s, but sadly his health was too far gone for him to play it by that stage. He also had a crude sense of humour, and liked writing songs about topics such as bedwetting and his fixation with Ingrid Bergman.
After a short fifteen minute break, Billy Bragg returned to the stage for the second part of his three-hour show, which was devoted to his own material. His tour was entitled 'Ain't Nobody That Can Sing Like Me' and the surprise of the show was just how good his singing was. His hallmark vocal sound in the 80s was that of an untrained voice: someone good with words who could hold a tune, but with various rough edges and not much technique. Those days are long gone and his singing was pitch perfect. His hand strained a little bit on the frets whilst playing the acoustic material in the first part of the show, but once he picked up his electric guitar, it was magical. Although I was not there for his Christchurch show in 1987, I have heard a bootleg of the performance, and can say that he is a far better live performer now than he was then.
Billy Bragg played a mix of old and new material, with some of the old material featuring updated lyrics, in the pure folk tradition of keeping it topical. He commented on British and NZ politics, the tyranny of the media and sceptics, and his right to tell all the doubters where to go. In a post-everything age where firmly-held ideological beliefs other than supporting the collapsing status quo are regularly rubbished by those who hold control over social debate, certain members of the audience squirmed at various of his comments about unions and the right to a living wage, which in itself was entertaining to watch.
One of the paradoxes of the evening was that the audience wasn't poor, young and working class. Most of them were well-off, on the downward slope of being middle-aged, and soundly middle class, in that very insular Wellington way. Still, they yelled and cheered and joined in to sing the chorus of "A New England", providing the closing song to a very memorable night.
© W.S. McCallum 21 October 2012
Dallas, Boxcar Rattle
at Space Monster
Wanganui
15 September 2012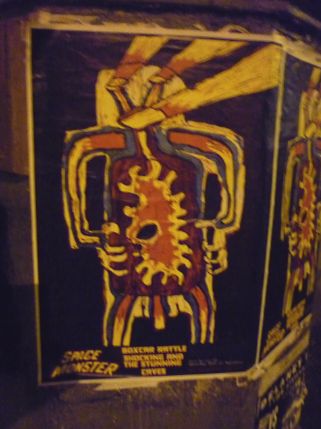 (W.S. McCallum)
Opening the proceedings that evening, Dallas provided a shambolic but immensely entertaining performance, veering musically across the aural highway like a Kenworth truck piloted by a whisky-swilling redneck. Actually, the performance was fuelled by absinthe, which the singer and lead guitar had drunk most of a bottle of by the time he took the stage. Somehow his pick-up drummer managed to keep pace with him on his wild ride. Other people hated it, but I was grinning from ear to ear. It was a performance that was erratic, occasionally out of tune (he actually had to stop to retune his guitar at one point), and on the brink of losing it at some points, yet proved unstoppable, right through to the cream on the pie: a cover of the Bloodhound Gang's "Discovery Channel". The show did not end there though; as the result of further absinthe drinking, he was miraculously transformed into an individual who shall forever be remembered in Space Monster lore as "Underpants Man", and who kept on rocking all night long.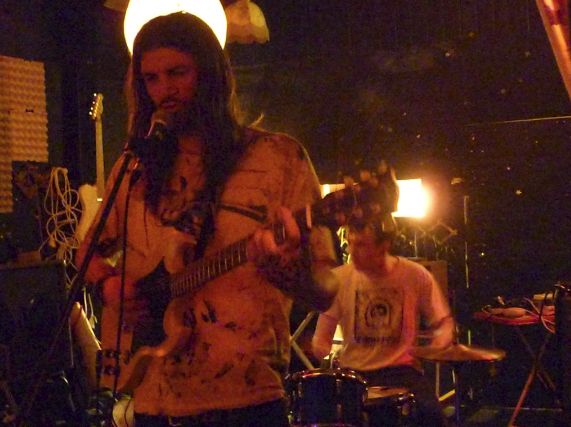 Dallas (W.S. McCallum)
Following Dallas came Boxcar Rattle, from Wellington, who presented an amazing grab-bag of musical influences ranging from the old spiritual "John The Revelator" through to sixties garage and folk rock, and more contemporary punk rock. It was a tour de force that covered a lot of ground and did so with aplomb. Boxcar Rattle are onto something; hopefully it will develop much further.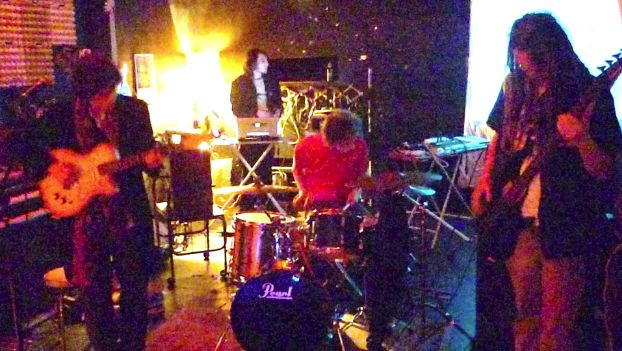 Boxcar Rattle (W.S. McCallum)
It turned out to be a long and crazy night at Space Monster. Some mystery person fell through the roof, but as they fled from the scene of the accident it was assumed, after much inquiring, that the anonymous individual was not seriously injured. Then there was the police officer who showed up and was actually polite and complimentary to the attendees standing outside the front door. It was nice to have him and his colleagues made forcibly aware of just how well-behaved the Space Monster crowd is, even if it took a chaotic and out-of-control 21st party just across the road to prove it to them.
© W.S. McCallum 18 September 2012
Marlon Williams & Delaney Davidson
at the Savage Club
Wanganui
8 September 2012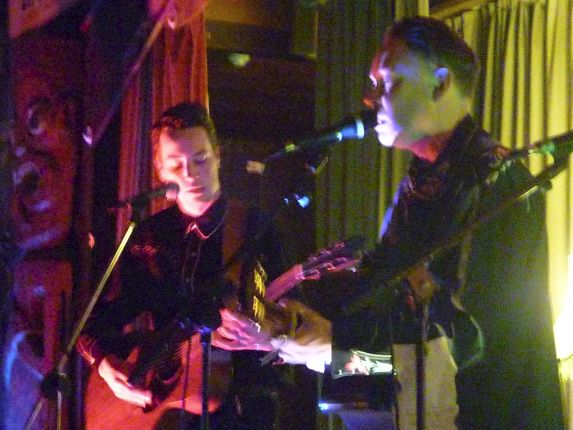 (W.S. McCallum)
The 1930s tiki-style decor of the Savage Club Hall and its hand-painted rural backdrop provided the perfect setting for a musical trip back in time to the roots of what is nowadays called "Country Music". A hushed, somewhat stunned audience watched as Delaney Davidson and his new musical partner Marlon Williams delivered a spine-tingling performance that few of their peers would be capable of achieving.
With Marlon handling the top end of the vocal range and Delaney holding together the bottom end, their vocal weavings periodically met mid-way, but was always unshakeably locked together. An Everly Brothers song they performed pointed at some of their inspiration – the seminal album Songs Our Daddy Taught Us, in which the 1950s teen rock idols demonstrated their Appalachian folk roots. Davidson and Williams also brought to mind the Louvin Brothers, although hopefully their off-stage relationship is less fraught with madness and discord than that unhappy but brilliant musical pairing.
So as not to leave the audience completely bereft of bearings, they threw in an Elvis cover, but the subject matter overall covered some pretty grim territory, including murder ballads and the gruesome depiction of how some guy dispatched his girlfriend by clubbing her over the head down by the riverside. Murder ballads tend to feature a riverside setting because tossing the body in the water is an easier option than burying it. Foiled love, anger and despair have never been so curiously uplifting.
© W.S. McCallum 18 September 2012
Faults, and Thieves
at Space Monster
Wanganui
18 August 2012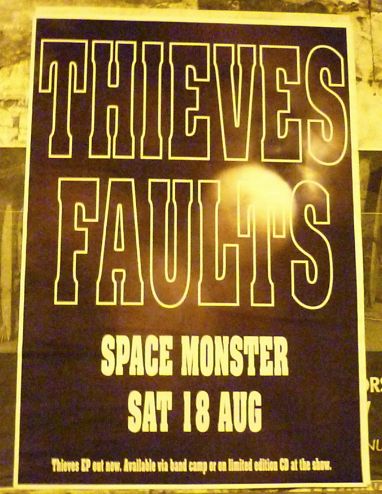 (W.S. McCallum)
Having barely recuperated from Thursday's show, Saturday rolled around at Space Monster with another two bands playing live. Initially the turn-out did not look good, with speculation about the deleterious effect of rugby test matches on TV and last-minute postering giving way to greater reassurance as more people eventually turned up.
Both Faults and Thieves are Auckland bands, and Thieves were the headlining band, out to promote their latest EP on a mini-tour of the lower North Island that included Wellington and Wanganui. Unfortunately by the time they got to Wanganui there was no sign of the EPs (unless I missed something...), so it looks like they sold out on the first night.
Faults made quite an impression with their very focused playing. This is a group that practices and it showed – they made everything look easy, even when it wasn't. Their music is difficult to characterise without resorting to clichés; basically very tight indy rock with lots of inventive guitar work, showing that the traditional bass, drums and two guitar format still has a lot of mileage in it.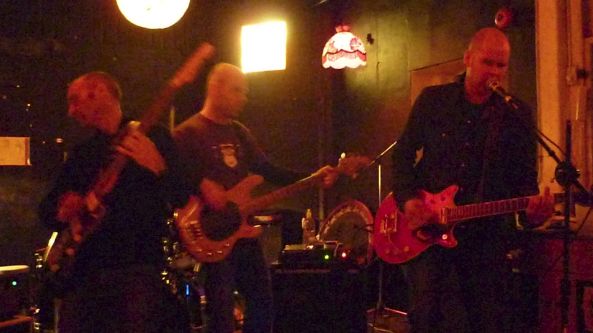 Faults (W.S. McCallum)
Thieves also impressed, and their sound was well matched to that of Faults, making for a very consistent evening's entertainment. In relation to Faults, they were slightly disadvantaged by being a three-piece band, which resulted in them having slightly less musical range although they had just as much impact and energy. Generally though, the audience went away afterwards buzzing about all the great music they had heard.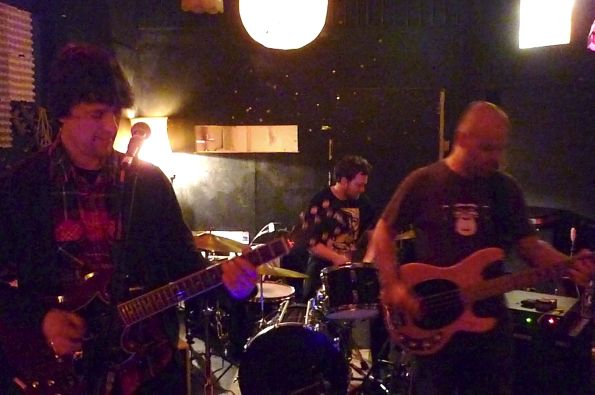 Thieves (W.S. McCallum)
The only sour note that night was an attempted visit well after the show was over, led by an over-zealous member of the constabulary possibly hoping for a quick arrest or two to improve his weekly score sheet. He would have done better to cruise the booze barns – not only were there no drunks present, the handful of empties that had been left outside were about to be picked up anyway, just like they are every weekend. The fellow and his side-kick eventually had to give up, returned to their illegally parked paddy wagon blocking the middle of the road, and drove off.
© W.S. McCallum 23 August 2012
Alternative Electric Fence, Diving,
Caves, and The Postures
at Space Monster
Wanganui
16 August 2012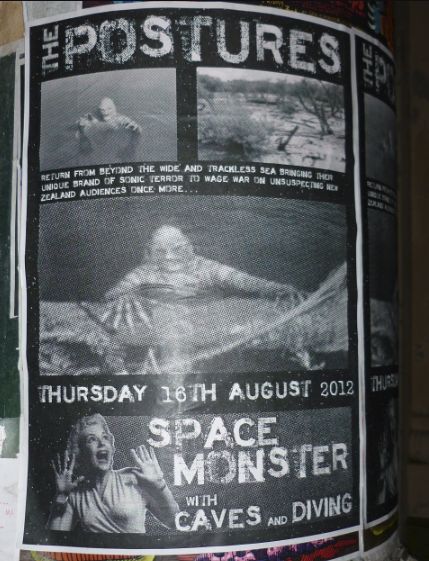 (W.S. McCallum)
Thursday was a wet, cold night in Wanganui, so Space Monster was a good place to be. The opening act turned out to be Electric Fence minus its child drummer, but with his (much) older brother standing in. As an all-adult performance (stop thinking naughty thoughts - you know what I mean), Alternative Electric Fence (as I will call them for want of a better name) were lacking the novelty factor of the original line-up, but made up for it with a shambling raucous drive that kept the audience on their toes.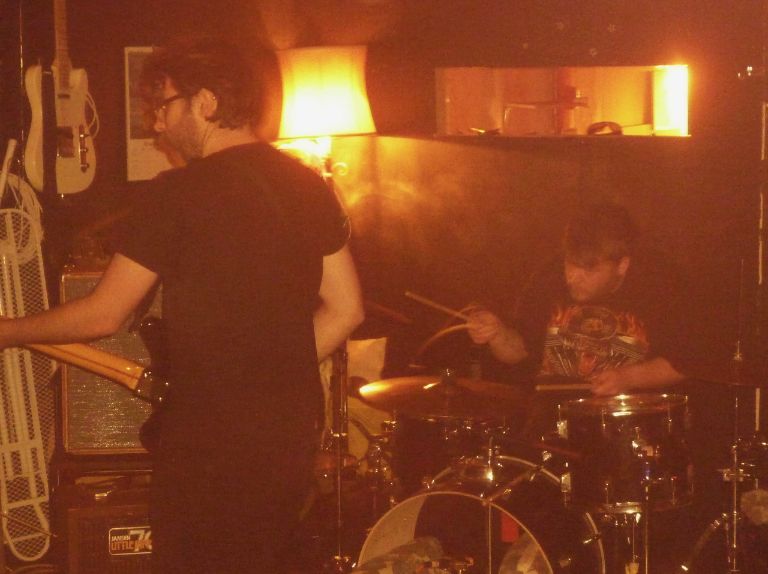 Alternative Electric Fence (W.S. McCallum)
The photographers were certainly out in force, in any case: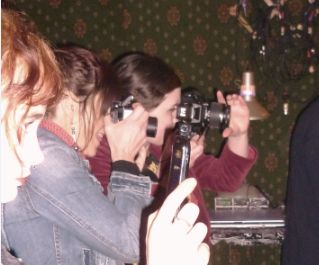 (W.S. McCallum)
Diving have played at Space Monster before, yet managed to surprise with the cohesiveness and multi-layered nature of their set. Every time I see them, they seem to be more "locked-in" than the last time.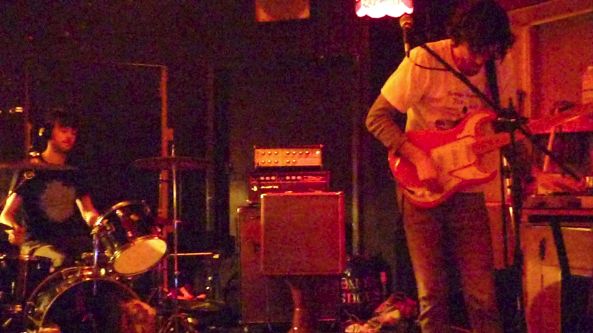 Diving (W.S. McCallum)
Caves also managed to reach new heights. Although battling a chest infection, Jack managed to pull off his liveliest performance yet at Space Monster.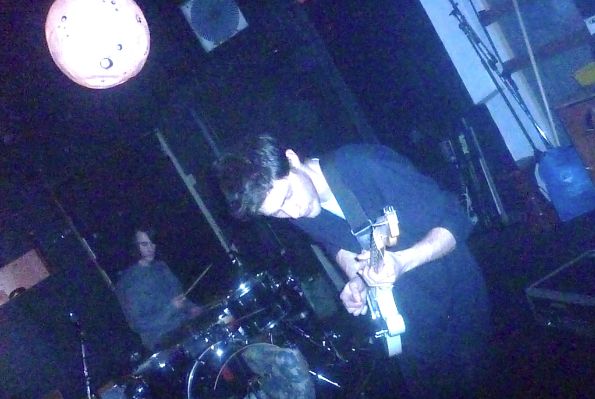 Caves (W.S. McCallum)
The newbies at Space Monster that evening were however the headliners, The Postures, who had their latest EP on vinyl on sale at the door, as well as a compilation of their earlier releases on CD. Some of the numbers were so stripped down that they felt almost felt tribal, while others even featured wah-wah pedal among the punk rock accoutrements. Their music is not easy to characterise – punk rock is the bedrock on which they build their sound, but they adopt other stratagems for expressing themselves that keep the listener guessing. At various times, they leave a fair amount of space, while other songs feature frenetic 4/4 playing.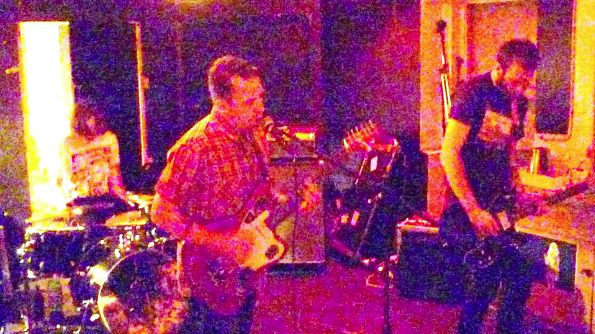 The Postures (W.S. McCallum)
The music had the desired effect, although The Postures did not accede to the demand of "Shirts off for the girls!!!" shouted out from the audience. In fact, they looked slightly non-plussed and did their best to pretend they never heard it.
© W.S. McCallum 16 August 2012
Пощечина общественному вкусу
(A Slap in the Face of Public Taste)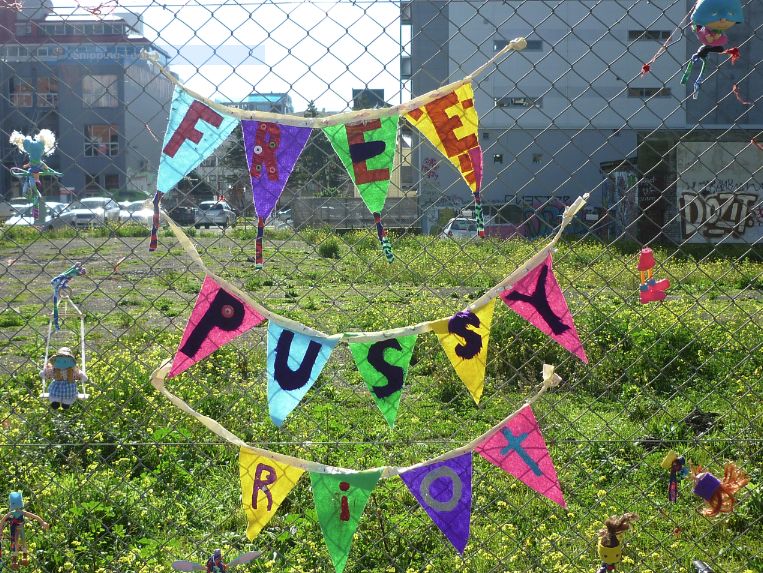 (W.S. McCallum)
It is now 100 years since a small band of idealistic young Russian poets and artists banded together to form the Russian Futurist movement. Their platform involved vaunting the speed and excitement of a new hi-tech world, and calling for a radical break with tradition; one designed to offend and shock, hence the title of their publication in December 1912 – A Slap in the Face of Public Taste - which included the first published works by the young poet Vladimir Mayakovsky. The Futurists aimed to raise controversy and promote themselves through outspoken repudiation of the past and accepted values. Their arrival on Russian society's scene was well-timed; just a few years before the advent of the Russian Revolution and a radically new society which turned out not to share so many of the values they cherished after all. The Bolsheviks, their new masters, learned to control the machinery of the modern world all too well, but used it to create a terrible new world with a level of totalitarian control which drove Mayakovsky, the movement's leading light, to suicide.
Yet in some ways, the Bolsheviks were on the same wave length as the Russian Futurists. Their construction of railways, massive hydro dams and electrification projects, and their rapid modernisation of Russian society were very much in line with the values espoused by the Futurists. And few if any of the Russian Futurists would have had any problem with the large-scale dynamiting and repurposing of Russian Orthodox churches undertaken by the Bolsheviks. Out with the old and in with the new....
Perhaps the most prominent case of demolition was the Christ the Saviour Cathedral, which stood a few blocks south-west of the Kremlin in Moscow. Built from 1839 to 1860, it was a gold-plated monument to the power of the Russian Church and State; a memorial to God for saving Russia from Napoleon Bonaparte's occupation of the capital in 1812. Stalin ordered Christ the Saviour Cathedral to be dynamited in 1931 to make way for a new Palace of the Soviets. The grandiose plan faltered when Soviet engineers failed to solve the problem of water seepage from the adjacent Moskva River that was undermining the new building's foundations, and the site stood empty until the 1950s, when Nikita Khrushchev pragmatically had the Moscow Swimming Pool built on the site.
In the 1990s, the Russian Orthodox Church received permission from the State (which retains ownership of the land) to rebuild Christ the Saviour Cathedral, which was done with a mixture of Church funds, public donations, and State support. The reconstruction of the cathedral was a sign of changing times: with Communism now out of favour, the back door was open for the forces that the Bolsheviks had worked so vigorously to stamp out. Not only was the Romanov double-headed eagle readopted as the official emblem of the new Russian Federation, at its heart, outside the new Cathedral, monuments to Tsars Alexander II and Nicholas II were erected as a prelude to the Canonisation of Nicholas II and his family, who had been murdered by the Communists during the Revolution. And the public declaration of their sainthood was made at a ceremony held in the very same Cathedral.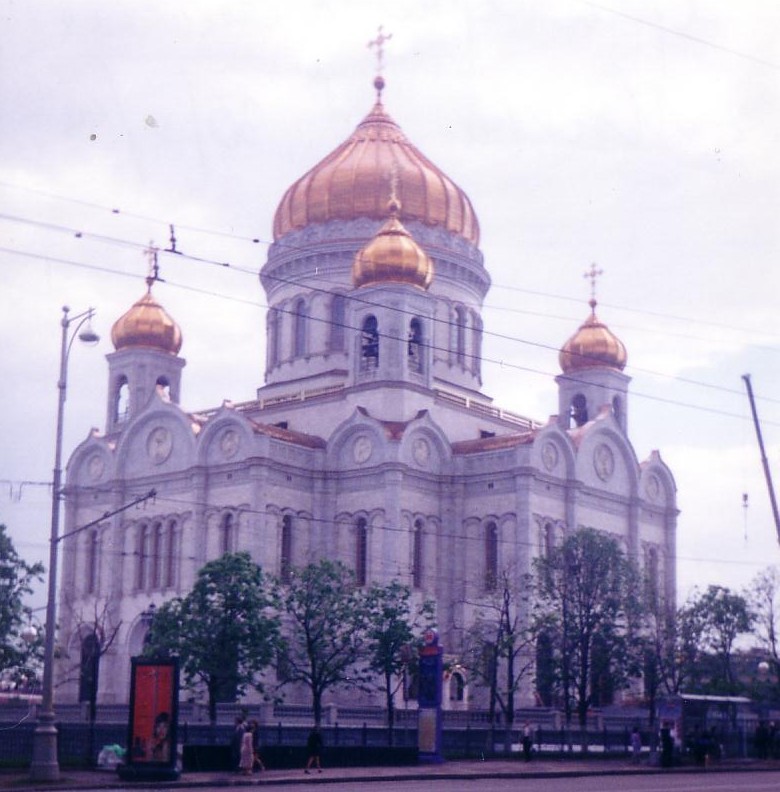 Christ the Saviour Cathedral, Moscow (W.S. McCallum)
You will have to pardon me for all this background, but context is everything; and this is the political and historical backdrop which the Muscovite feminist punk collective Pussy Riot knowingly chose for its agitprop performance earlier this year, where some of its members sang a number called "Holy Shit". To put things into context, the closest Western equivalent I can think of to this action would be a flash agitprop group descending on Westminster Abbey and singing a song called "Fuck the Queen" inside its hallowed interior whilst, to add insult to injury, dressed as Red Army soldiers. But it's a hollow analogy, as the Russian Orthodox Church are a far more conservative bunch than the Anglicans and, having endured several decades of persecution and harassment for their beliefs at the hands of the Communists, they are far from feeling meek and mild. In fact, they are currently baying for blood.
The trial of Pussy Riot has been prominently reported in the Western media in recent weeks, with the usual mildly patronising tone one comes to expect from such quarters when they deal with Russian domestic politics. The usual reference has been made to buzz words such as "freedom of speech", "human rights" and the like, in conjunction with verbs such as "protecting" and "declining" respectively. The caustic Russian nationalist response to this would be that as the West is now the land of drones, surveillance cameras, airport body scanners, waterboarding and extraordinary rendition, perhaps its media would do better to tackle those more pressing issues than to venture to meddle in Russian affairs...
Western performers like Madonna (who, coincidentally, has shifted a lot of units by provoking the Catholic Church) have stood up to call for Pussy Riot's release. There has been speculation about whether Western pressure can get the female members of the band released, heedless of the fact that there is absolutely no historical precedent for foreign musicians or media commentators swaying the course of Russian justice, no matter how unfair it may seem to them. Angry Western editorials are no more likely to sway a Russian court now than they were likely to stop a Stalinist show trial in the 1930s. Sadly however, few journalists in the Western media know much about Russia or its history and they fail to realise that, as the self-appointed defenders of liberty and freedom of speech, they are simply out of their depth.
The Western media's outline of the now close links between the Russian State and the Russian Orthodox Church is however strictly accurate. It is a new power axis within Russian society that Pussy Riot seriously underestimated. The members of Pussy Riot are feeling the full force of the new establishment's disapproval of their actions. They have discovered, like the Futurists, that if you tangle directly, openly and provocatively with the power of the State, you are taking major risks indeed. What remains to be seen is just how harsh the State's retribution will be.
It is deeply ironic that this event comes under the Presidency of Vladimir Putin, a staunch defender of Russian Orthodoxy, who also happens to be a former KGB officer who, early in his career, was assigned to monitor foreigners in the city of Leningrad. One of the briefs of KGB officers assigned to watch foreigners was to report if they entered Russian Orthodox Churches. Religion and the expression of religious beliefs ran counter to Communist ideology and were considered to be subversive. They constituted legal grounds for expulsion from the USSR. I used to know a New Zealander who studied at Moscow State University in the 1960s. Heedless of the fact that they would be photographed and their names would be taken, he and his (foreign) girlfriend decided that it would be an interesting cultural experience to go to a nearby Orthodox church and observe a mass. They were stopped outside the entrance by a KGB officer, who suggested for their own good that it would be better if they did not waste their time hanging out with the old folks in this musty old church: "You are young – go and make love in the fields!"
Regarding the temporal power of religion, times certainly have changed in Russia: but even though its artists retain their youthful capacity to shock, it will always remain a conservative society where provoking outrage among its gatekeepers certainly entails consequences.
© W.S. McCallum 14 August 2012
Caves, The Shocking & Stunning,
and Sunken Seas
at Space Monster
Wanganui
28 July 2012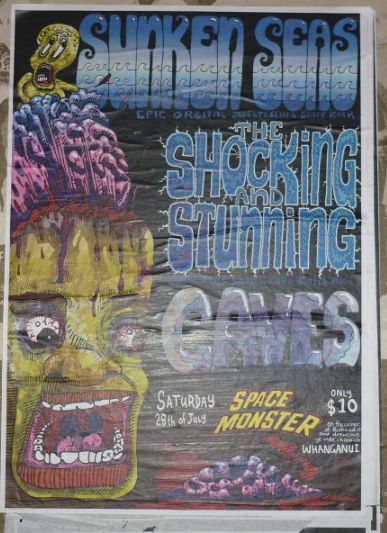 Caves: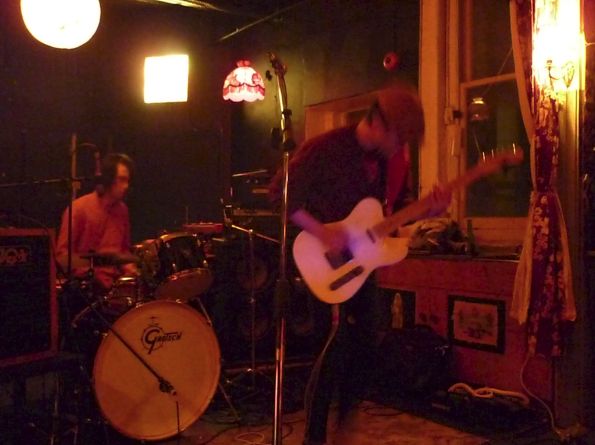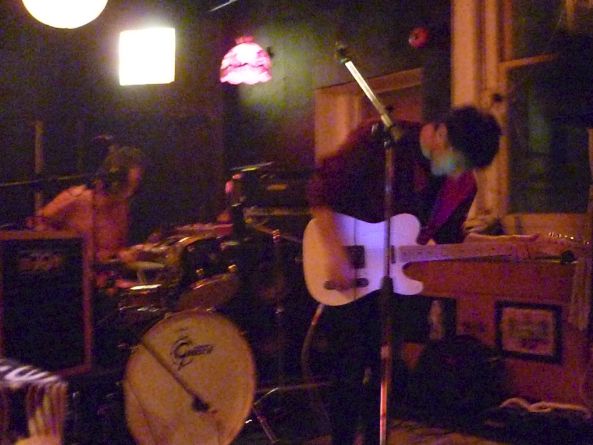 The Shocking & Stunning: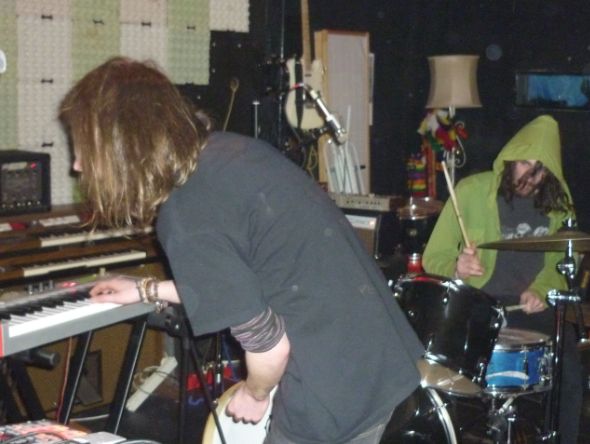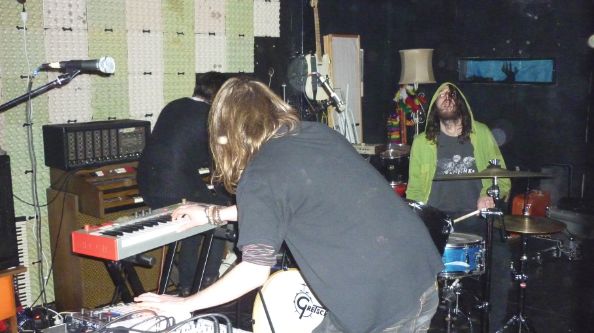 Sunken Seas: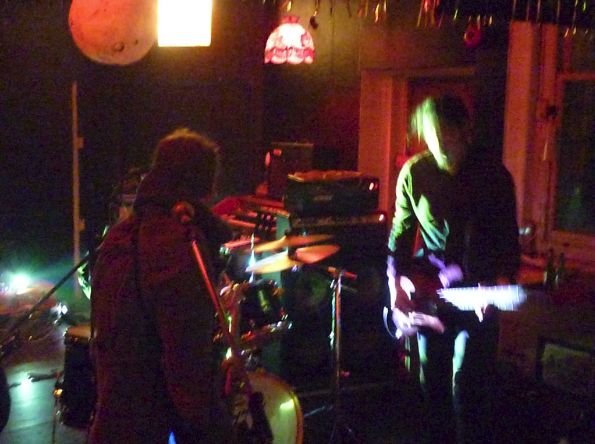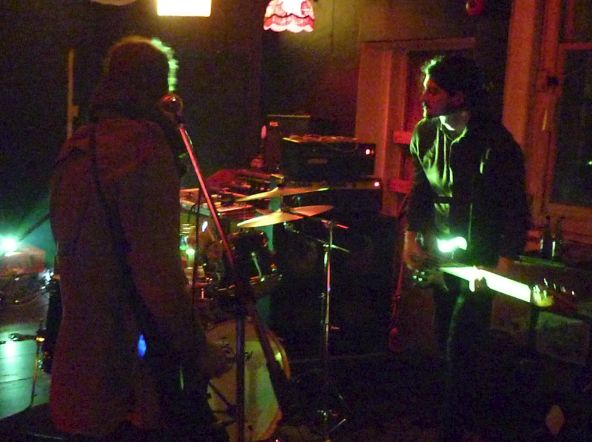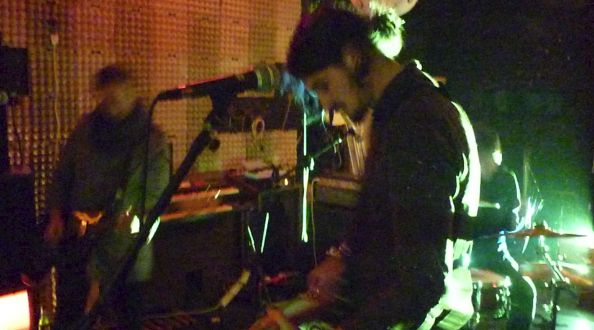 © W.S. McCallum 8 August 2012
Quin-Dracula, Zillionz
at Space Monster
Wanganui
14 July 2012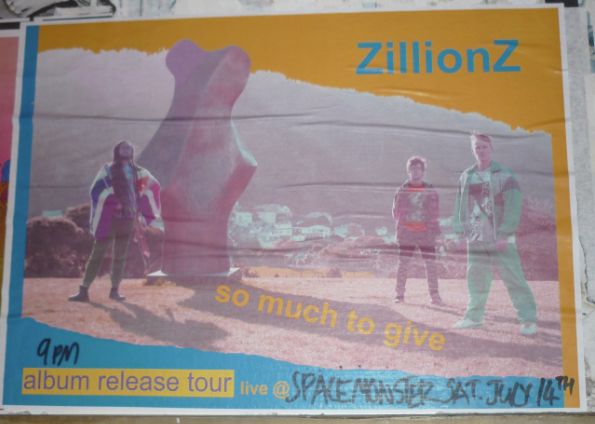 Quin-Dracula: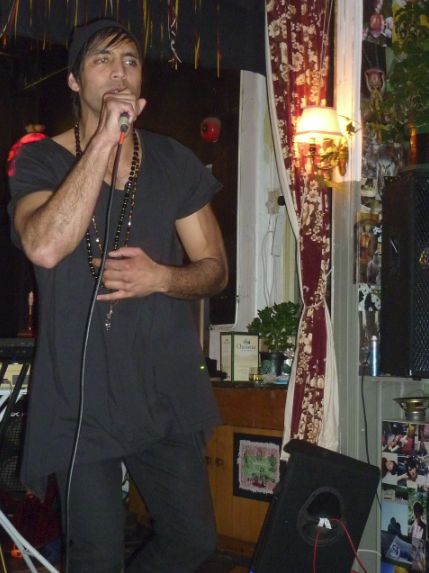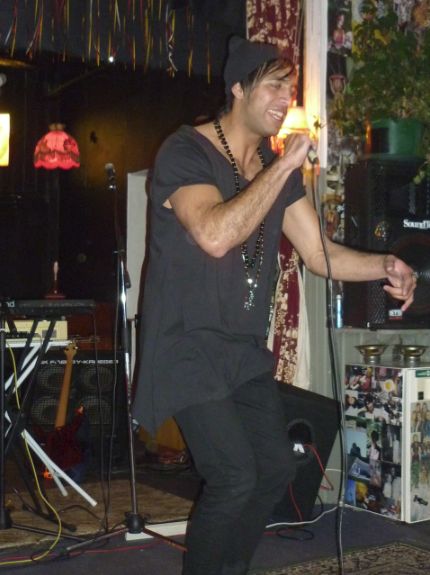 Zillionz: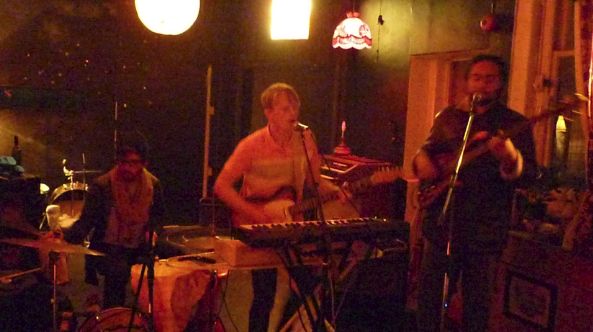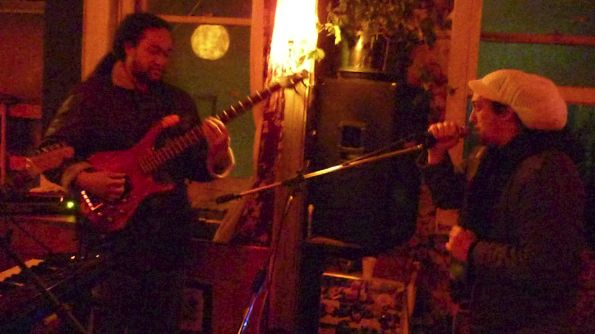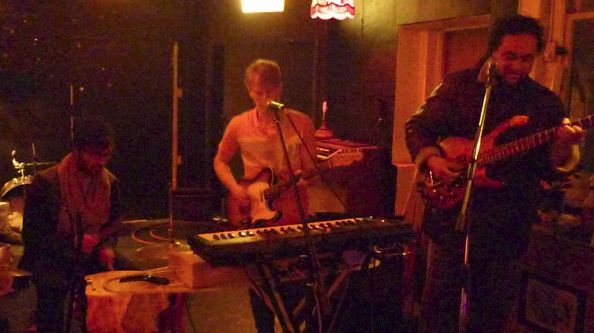 © W.S. McCallum 8 August 2012
Sweater, Caves, Cool Cult
and Carbon Carb
at Space Monster
Wanganui
7 July 2012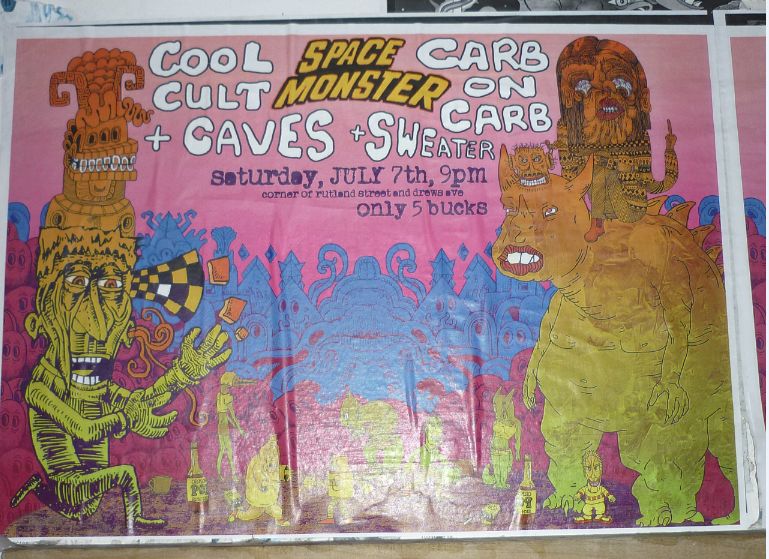 Sweater: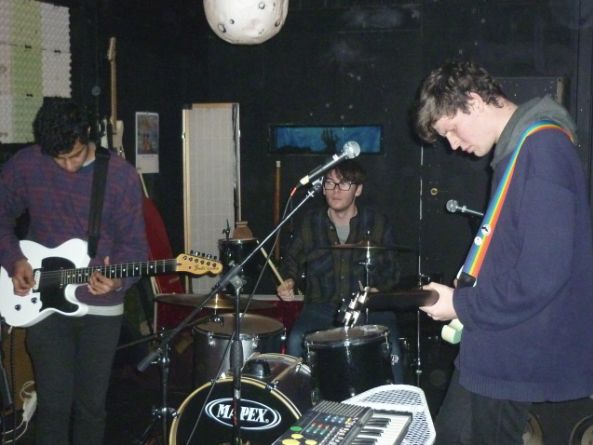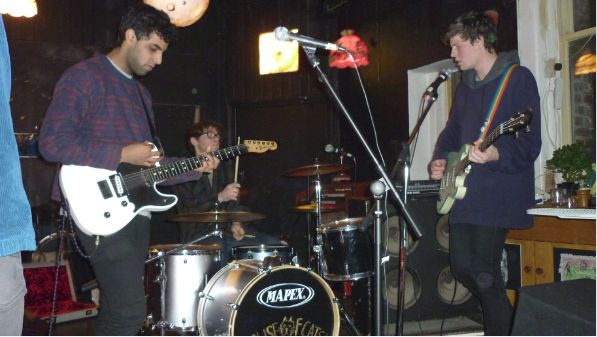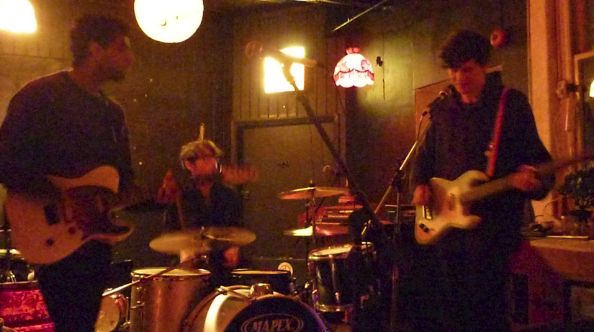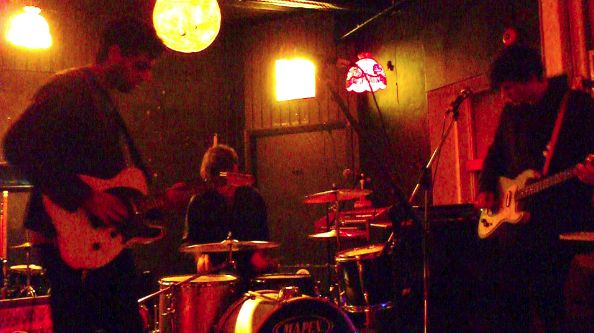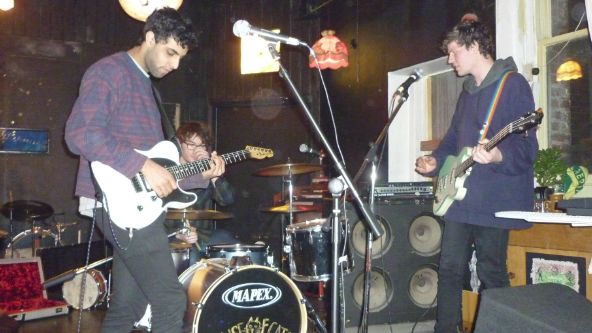 Caves: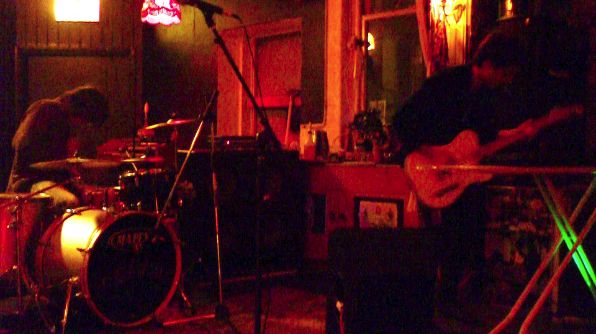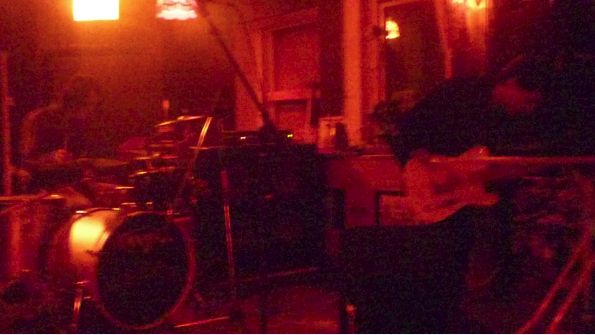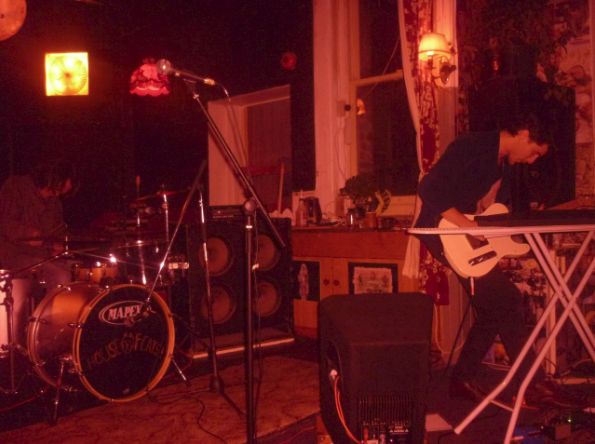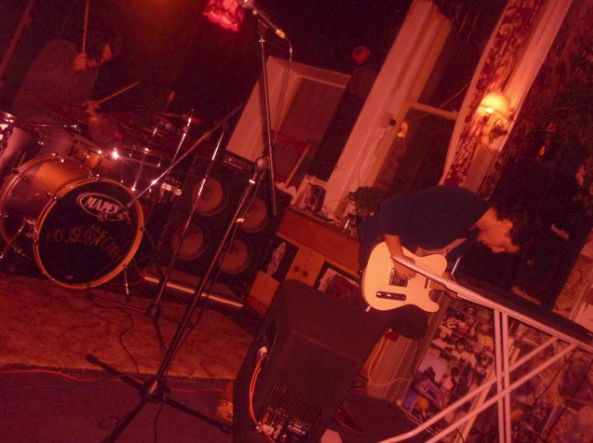 Carbon Carb: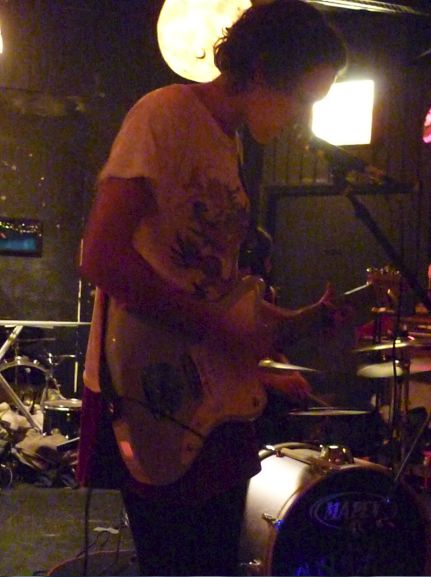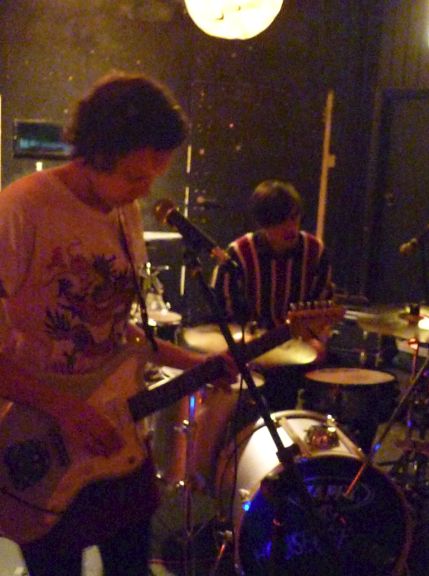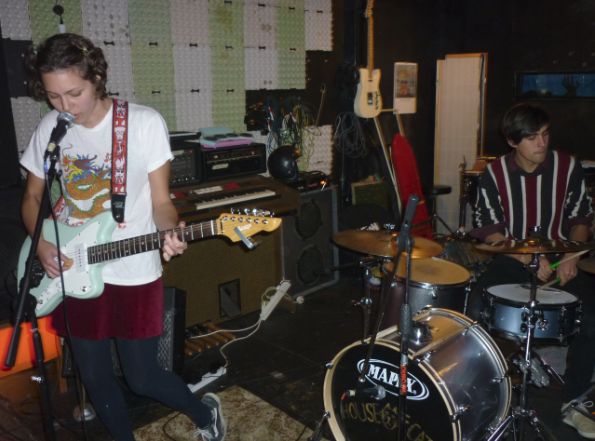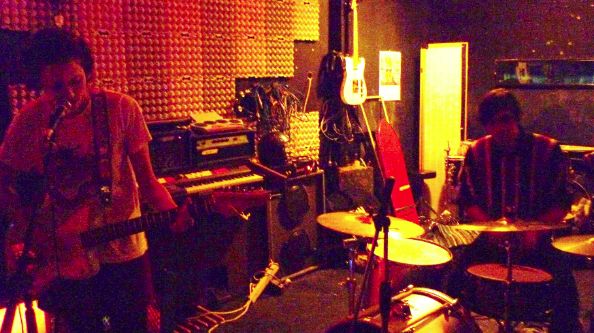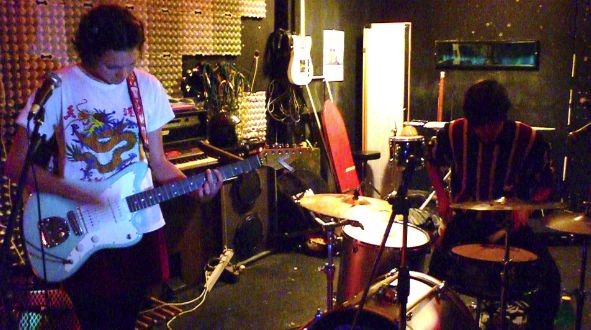 Cool Cult: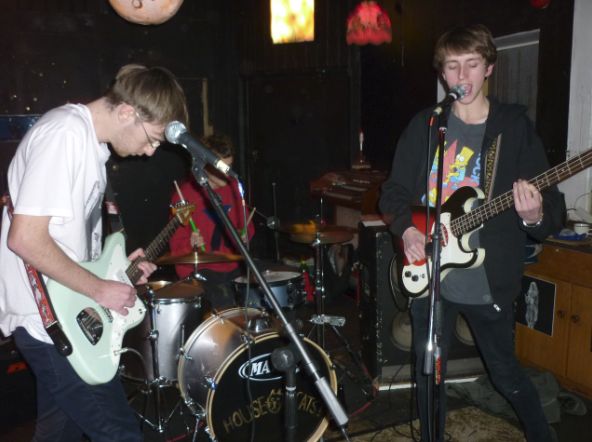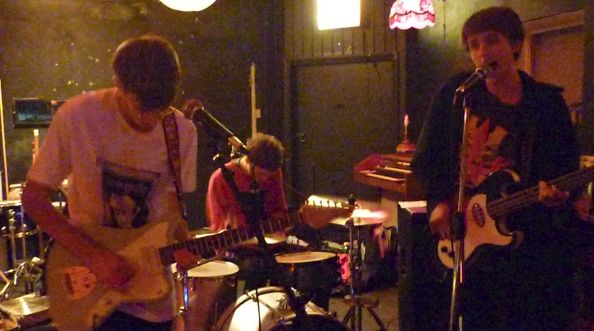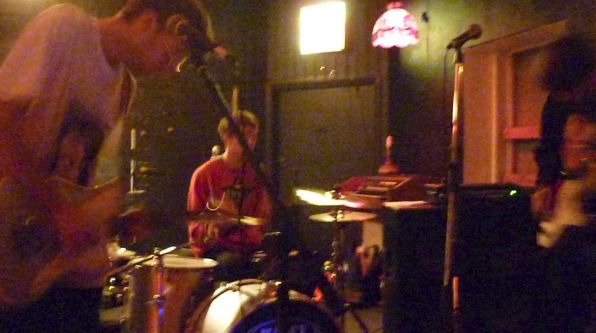 © W.S. McCallum 8 August 2012
Robin
at Space Monster
Wanganui
30 June 2012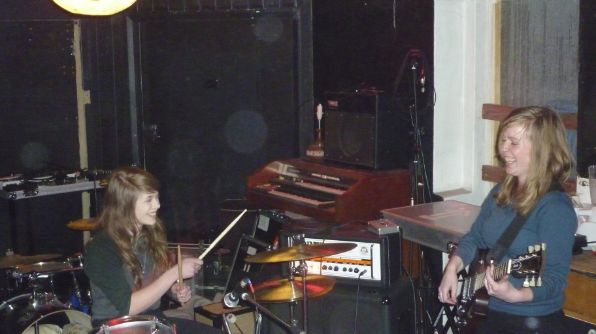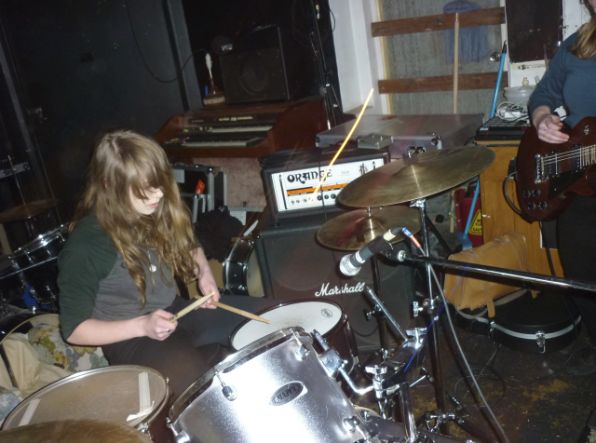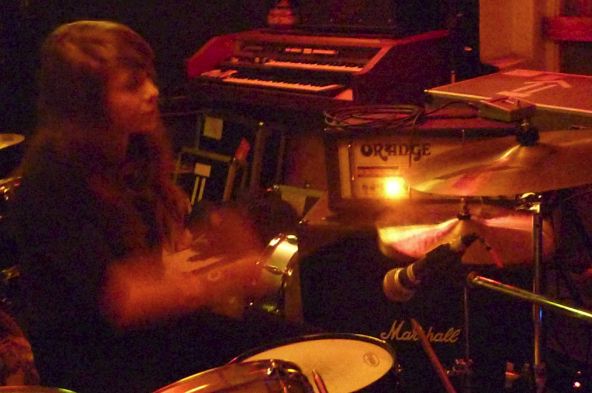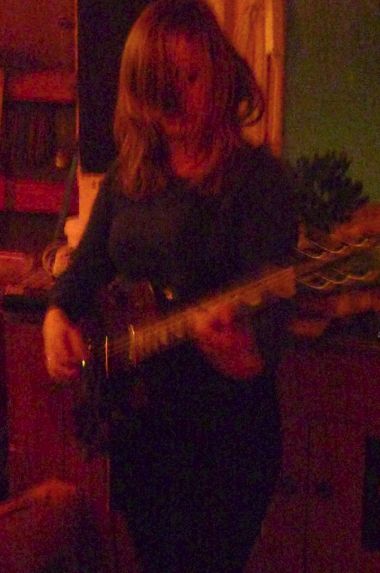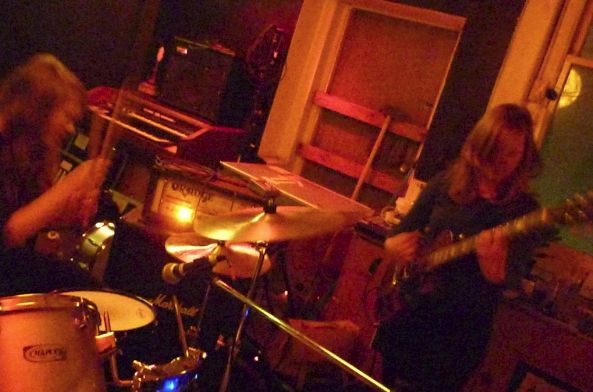 © W.S. McCallum 8 August 2012
Las Tetas, The Raw Nerves
at Space Monster
Wanganui
16 June 2012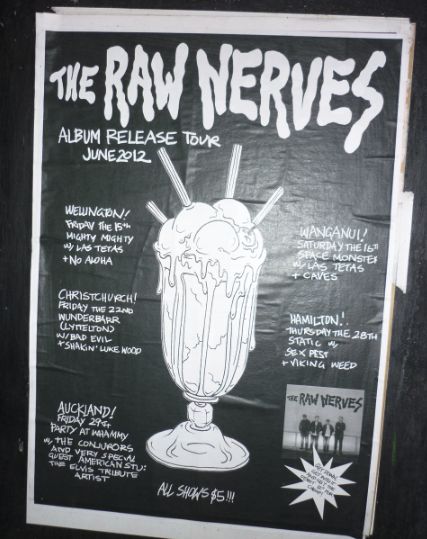 Las Tetas: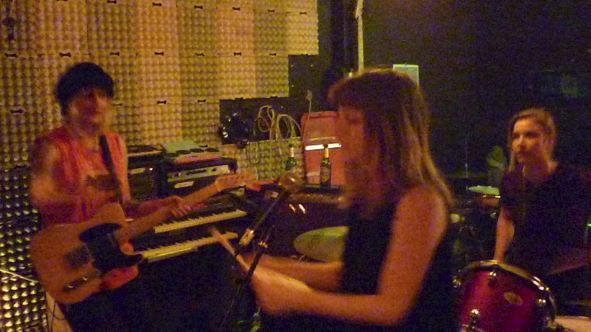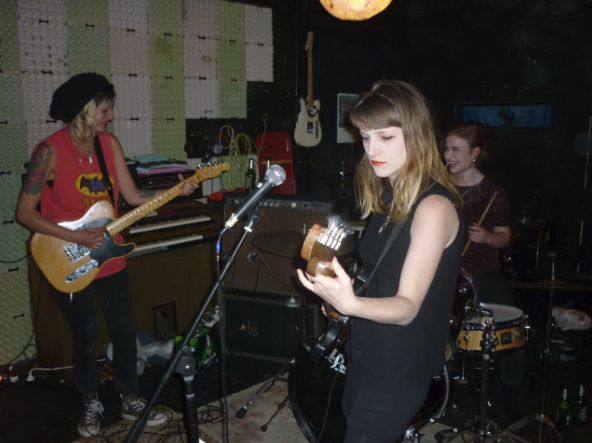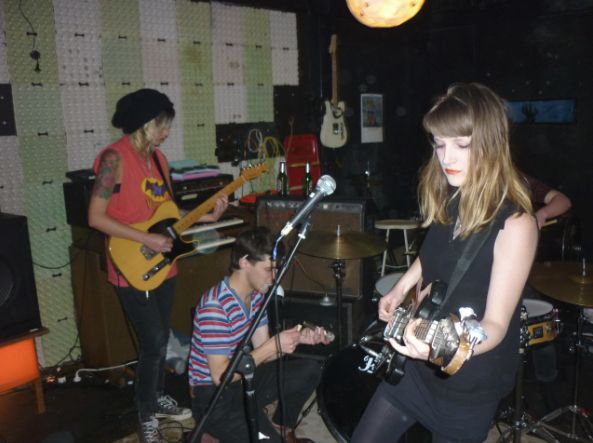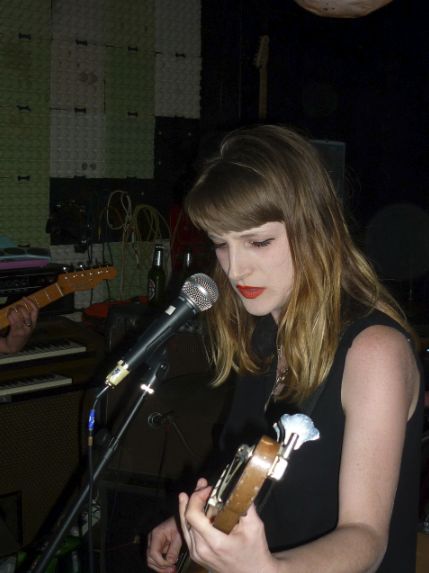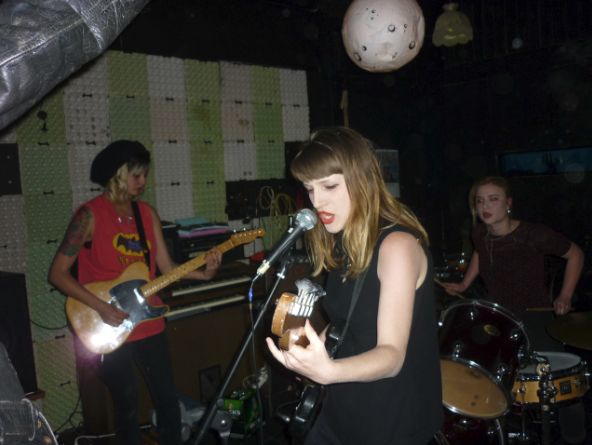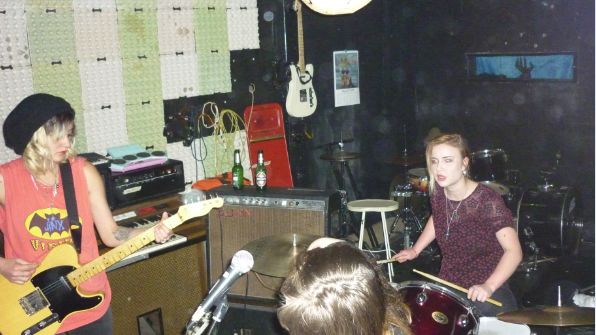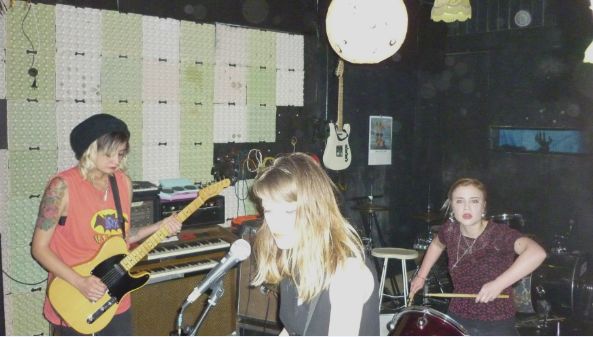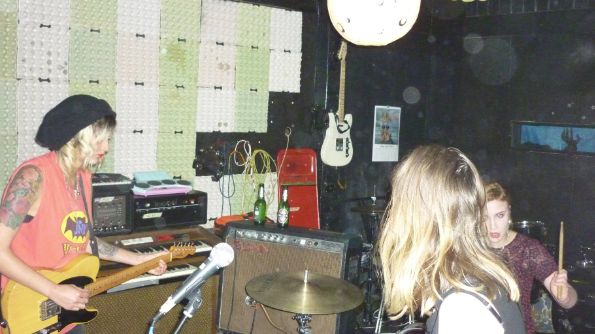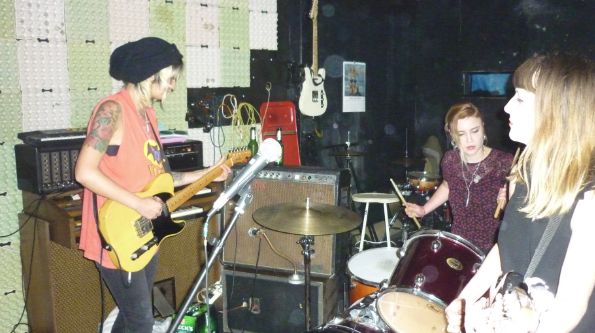 The Raw Nerves: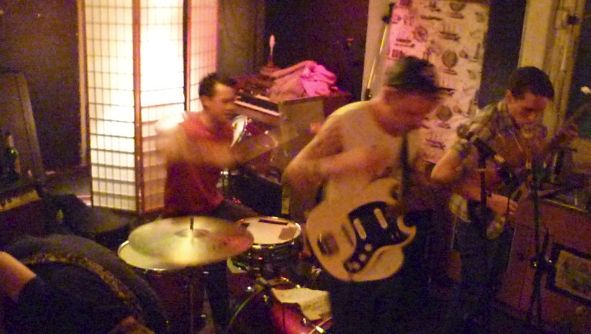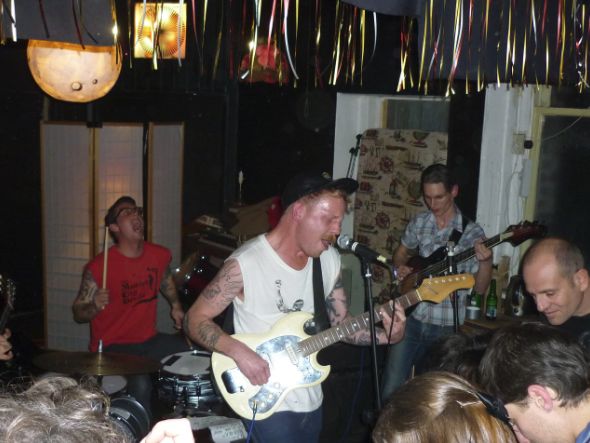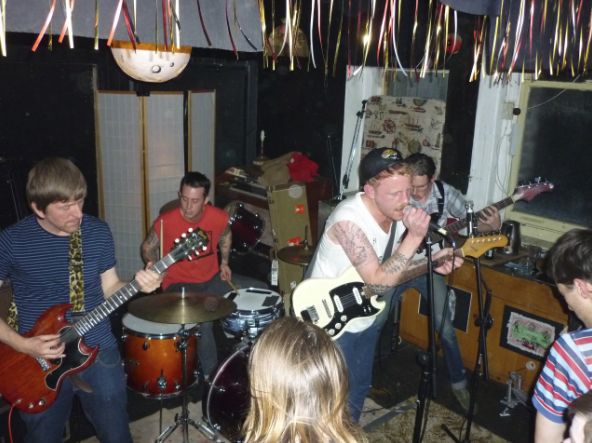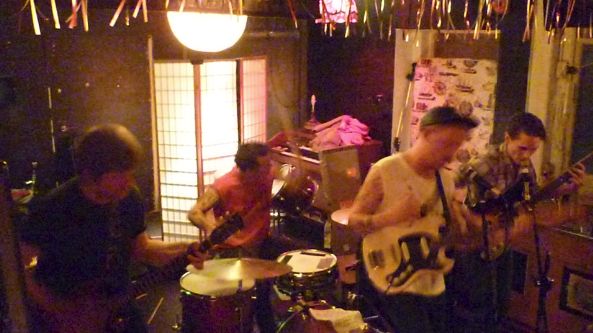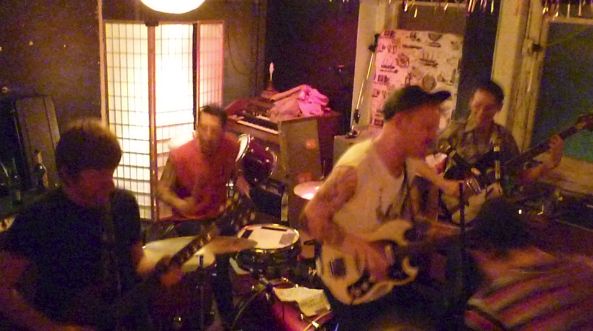 © W.S. McCallum 31 July 2012
Caves, Kittentank
at Space Monster
Wanganui
7 June 2012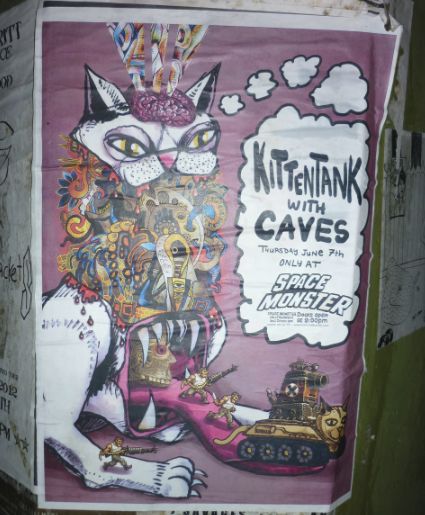 (W.S. McCallum)
Caves: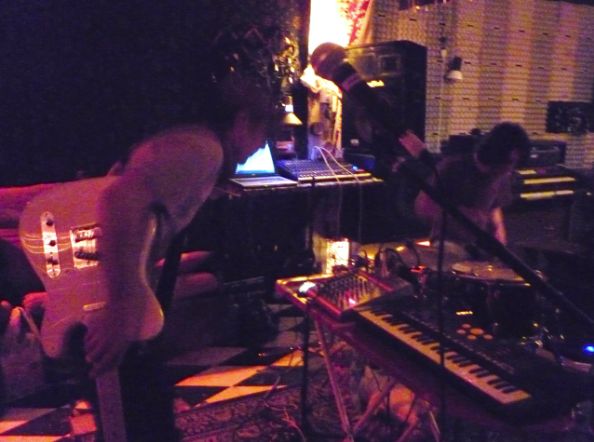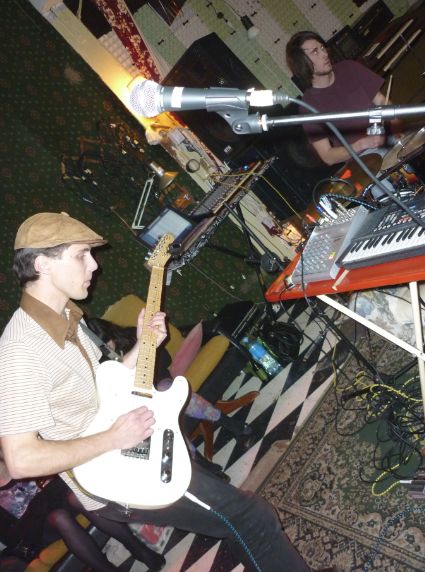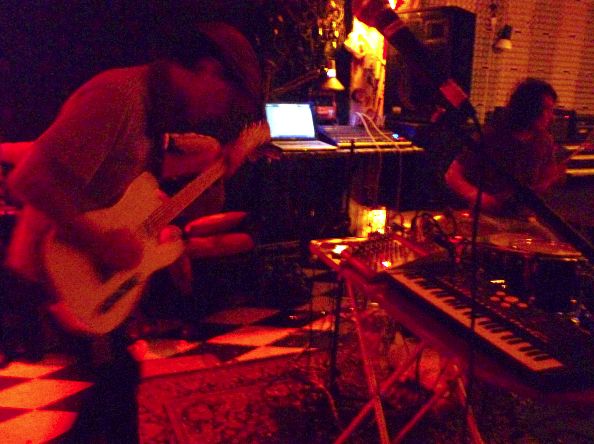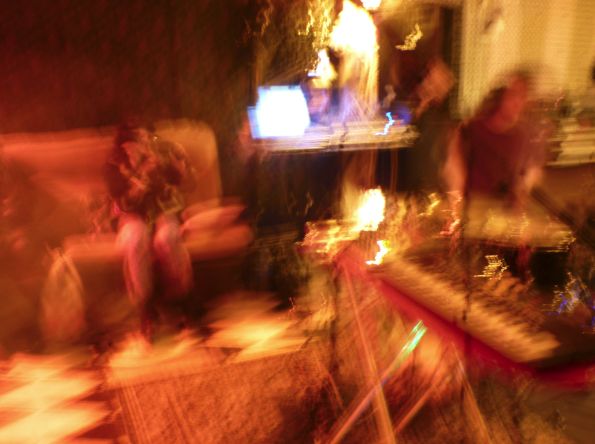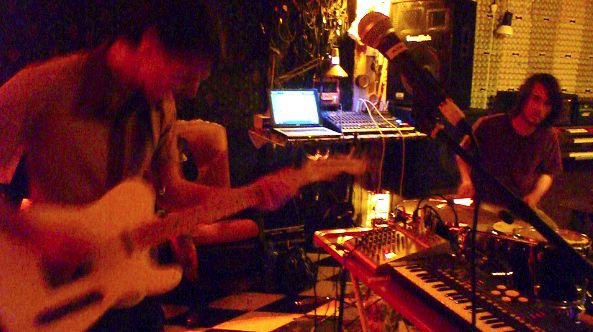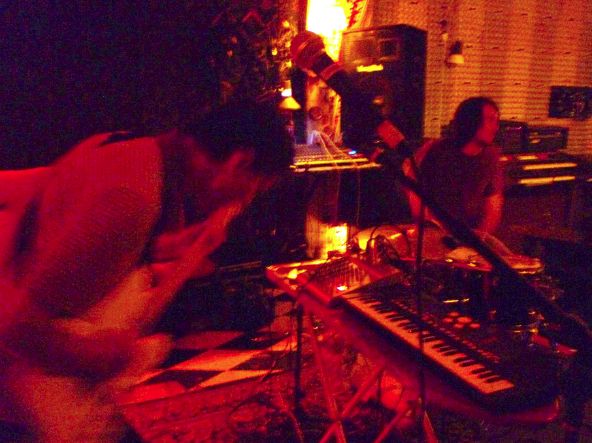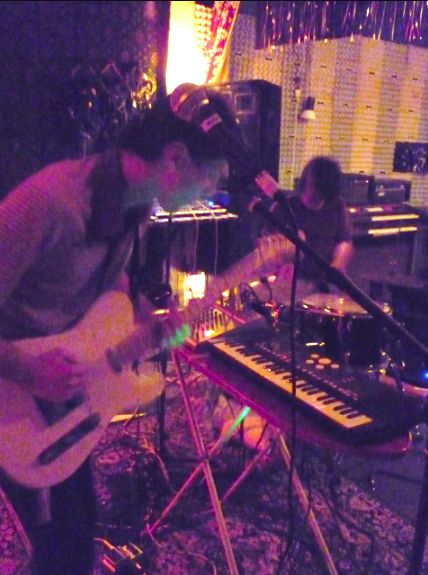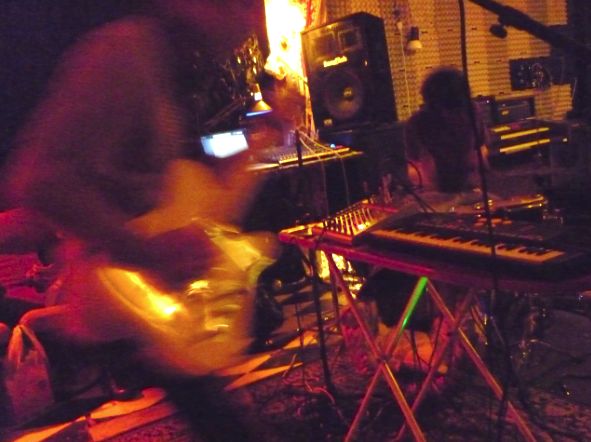 Kittentank: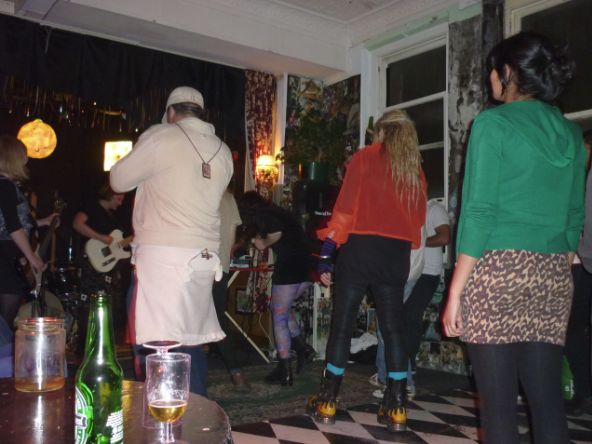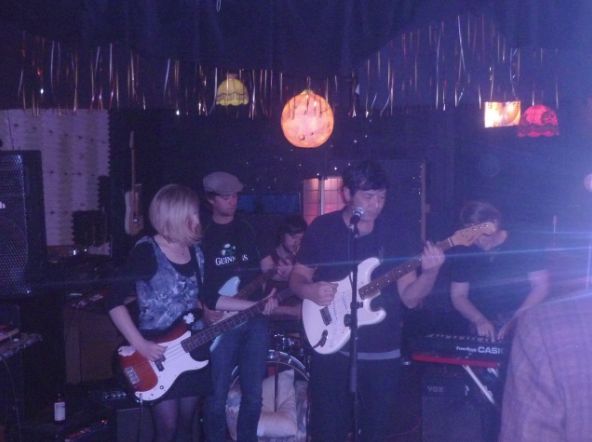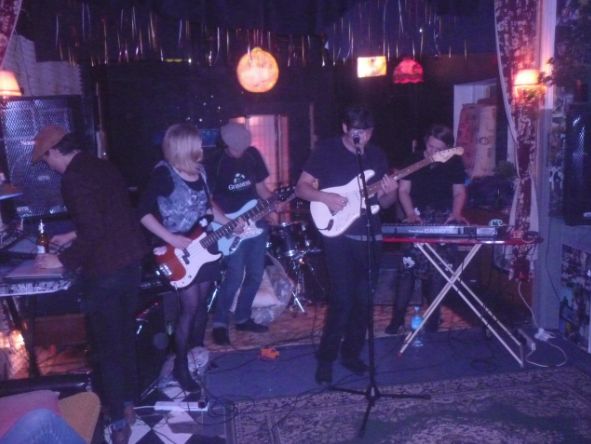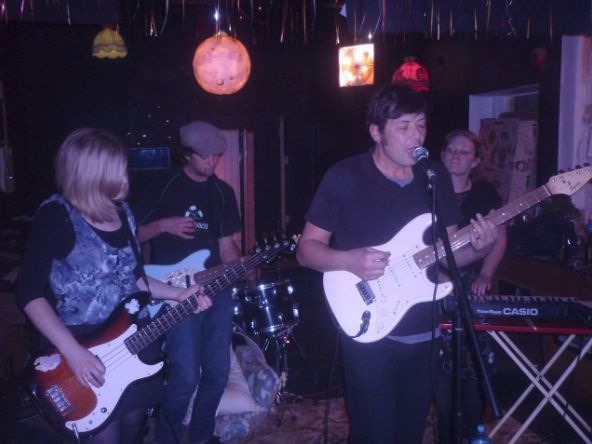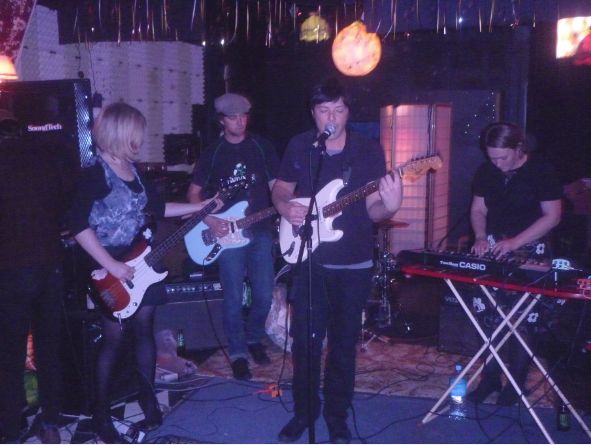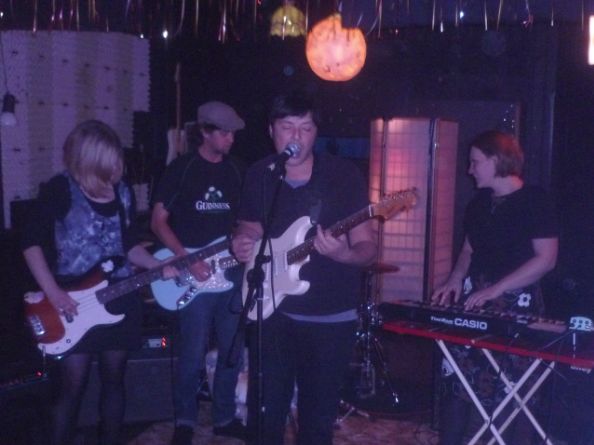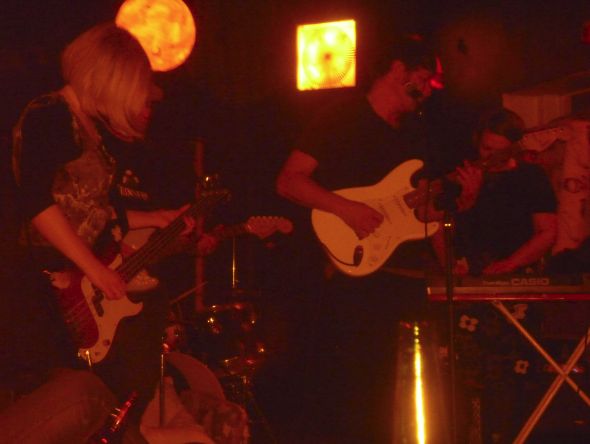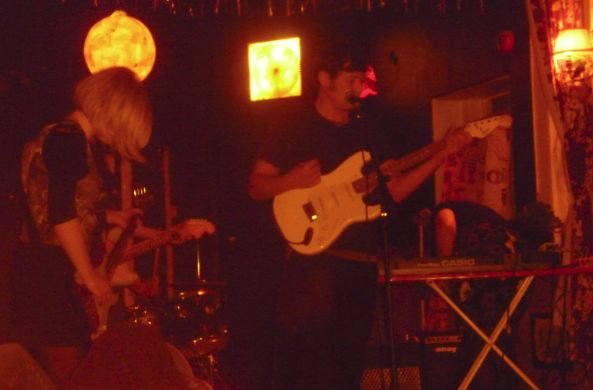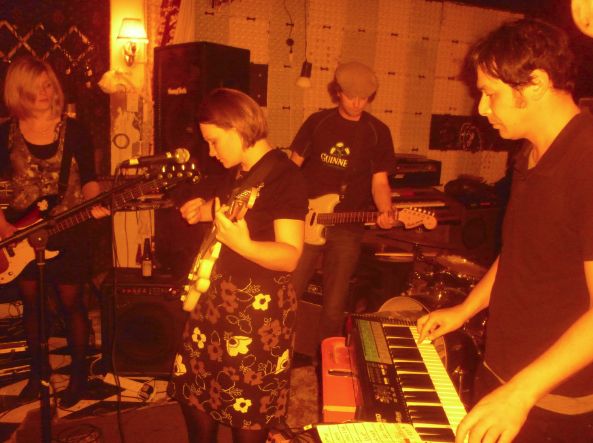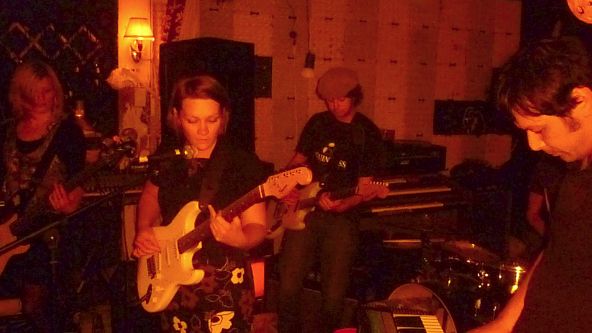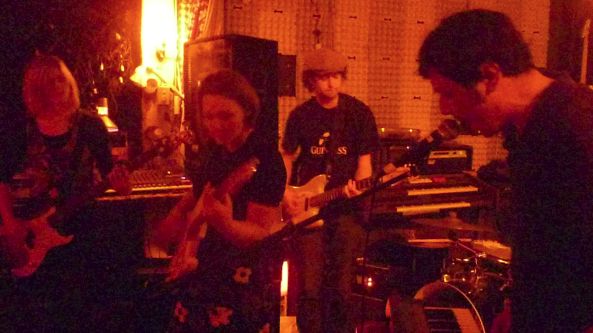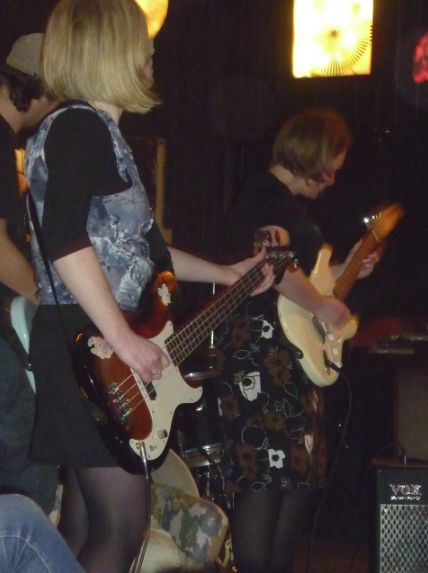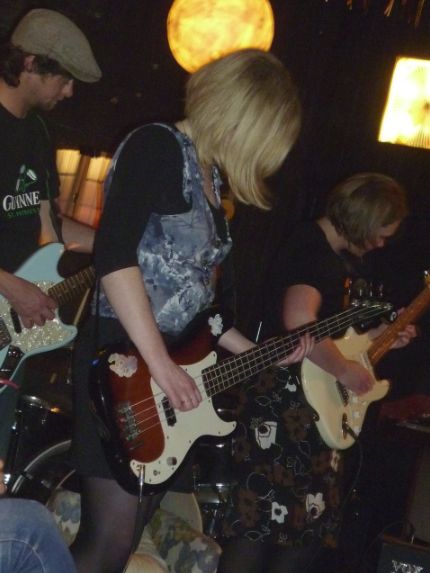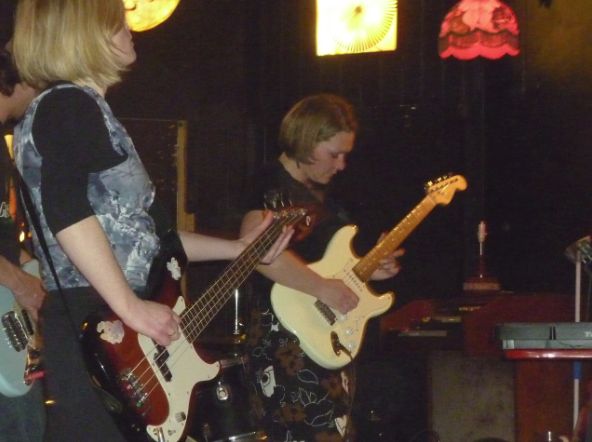 © W.S. McCallum 30 July 2012
Don't Mess With Texas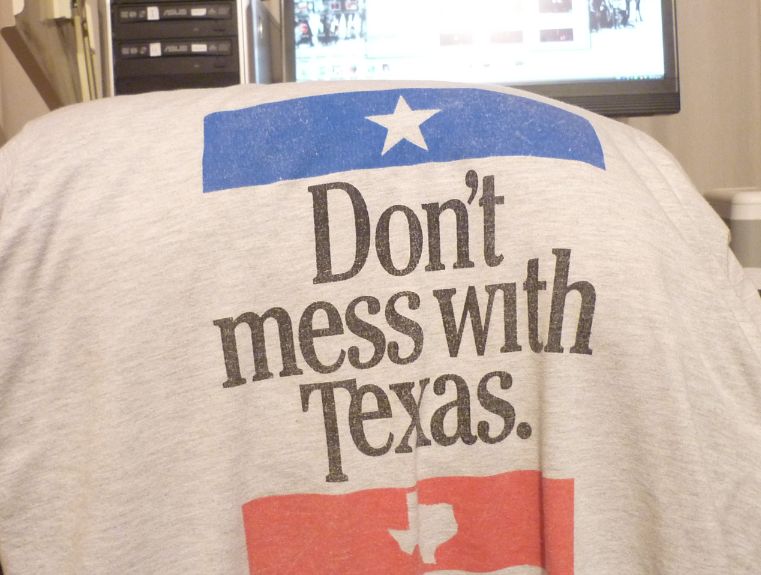 (W.S. McCallum)
Those of you who follow my musical coverage have probably been wondering about my long silence since late May. In spite of flagging health (now on the mend fortunately), I have been actively attending gigs nearly every weekend since then, but unfortunately have been unable to load any material due to server issues with my former ISP, Vodafone Fixed Line & Broadband.
I cannot even say I chose Vodafone Fixed Line & Broadband as my ISP; I merely had the misfortune of being lumbered with them after my original ISP (Quik – good guys) was taken over by a not-so-hot ISP (Ihug – from whom I did not feel the love), who were then taken over by the global behemoth that is Vodafone. Sadly, as I discovered, global corporate reach does not mean efficient one-on-one customer service, although I sort of knew the day their e-mail landed in my mailbox announcing the takeover a couple of years back that venetic.com's days were numbered at the old server and I would eventually have to relocate.
I will spare you tedious details, and conclude this tale simply by stating that after much inconclusive toing and froing with Vodafone, which failed to fix the server issues, this site is now being hosted by the wonderful people at the firm of HostGator, in the proud State of Texas, who provide prompt, efficient service for a fraction of the price I was paying with the old bunch. (And no, they did not offer any contra deals to get me to say that…)
The new site address is http://venetic.com, although you will still be able to access the old site (last updated on 27 May 2012) at http://www.venetic.com until such time as the old lot get around to deleting it.
PS: I will be loading A LOT of photos from the last 2 months onto this site in days to come. The concerts are now a bit of a blur in my befuddled brain, but the photos can speak for themselves.
PPS: Remember the Alamo!
© W.S. McCallum 30 July 2012
Urbantramper and
The Shocking & Stunning
at Space Monster
Wanganui
25 May 2012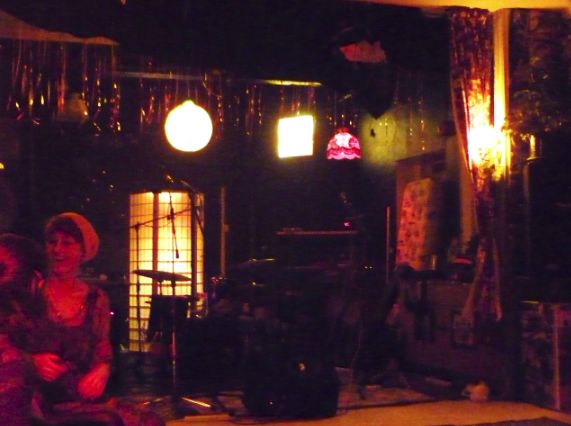 (W.S. McCallum)
Urbantramper was a distantly-remembered name from a decade ago when I first heard they were going to be playing at Space Monster. Back then, Urbantramper was a largely solo instrumental bedroom recording act that popped up in an issue of A Low Hum and left a lasting impression on me. I had no idea they were still a going concern, so it was a pleasant surprise to see that Urbantramper is now a trio, and has a quite different sound.
I don't like mentioning the names of major acts in relation to local bands – it's the lazy rock reviewer's tactic, and one that is sadly over-used by all too many of my so-called "professional" colleagues in New Zealand, but there were definitely some 80s flashbacks coming through whilst watching Urbantramper perform. It took me a while to pin it down – it wasn't one of those "sounds like" things, but more a combination of the quiet optimism of the vocals and the use of synthesisers and other electronic sounds that ended up reminding me of the work of Peter Gabriel. That's a good thing by the way – Peter Gabriel has probably done more good than evil in the world, which is more than most of us can say. Urbantramper had a remarkably well-rounded set that radiated strong self-assurance.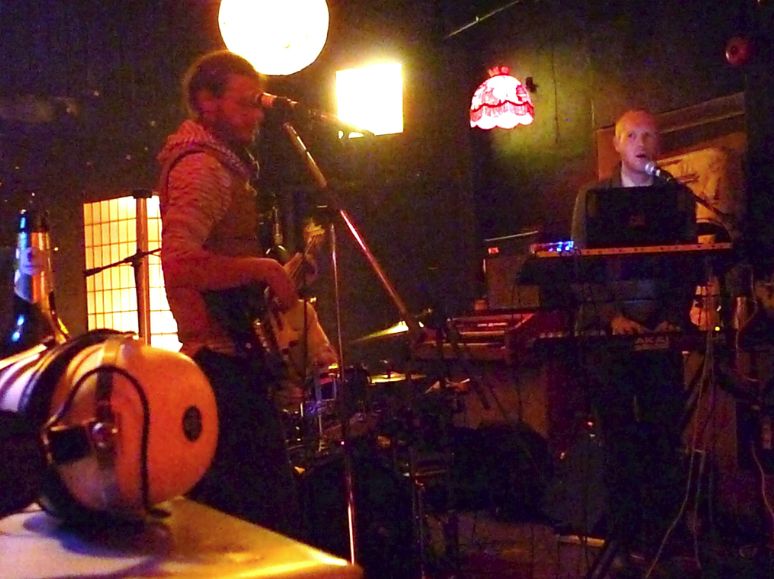 Urbantramper (W.S. McCallum)
Supporting Urbantramper and their performance celebrating the release of their latest CD Internet Freedom Is Love, was The Shocking & Stunning, a drum and synthesiser/keyboards duo. Some people were wondering about the fact that the support band came after the main act, but that was explained by the fact that The Shocking & Stunning had a heavier, louder, more propulsive sound.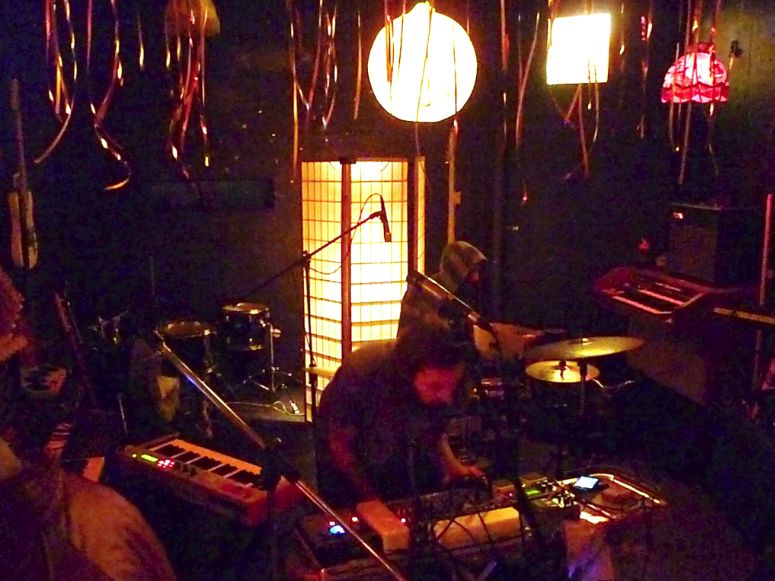 The Shocking & Stunning (W.S. McCallum)
It was a good combination of non-digital and digital instrumentation, with the drums locking in perfectly with the keyboards, shifting to a higher plane here and there. Sadly, they didn't have a CD on sale, but I will keep an eye out for future releases.
© W.S. McCallum 27 May 2012
Caves, Electric Fence, Sweater, Diving, Beach Pigs
at Space Monster
Wanganui
18 May 2012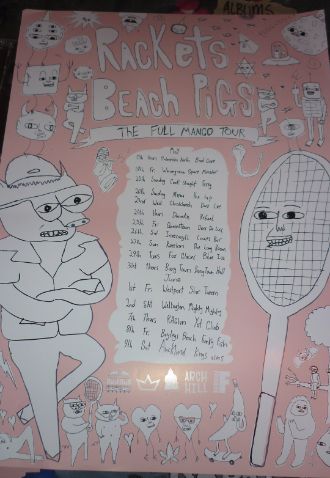 (W.S. McCallum)
An action-packed night at a ridiculously low price, and some mothers in attendance still had the brazen temerity to ask for free entry for their children…
Caves (featuring Jack and Corbin) were the opening act, and surprised the audience with a new direction, featuring Omnichord powered electric guitar and keyboards. The sound was a little bit experimental but not too much and went down nicely.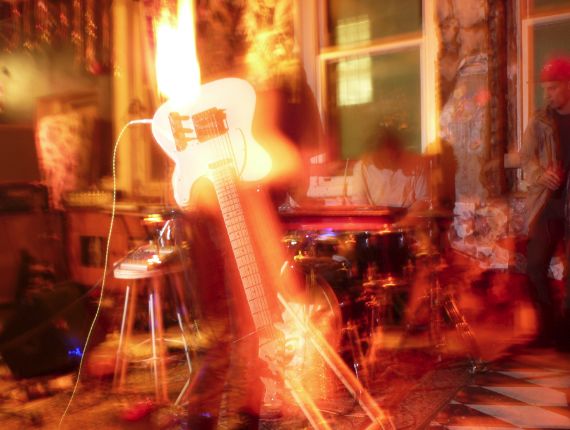 Caves (W.S. McCallum)
The most anticipated act that night were however Electric Fence, featuring nine year-old whiz kid drummer Louis and his father(?) on electric guitar. Louis now holds the record for being the youngest indy rock drummer in the history of New Zealand music, depriving Christchurch's Axemen of a record they had previously held unchallenged since the mid-1980s (their drummer was already pushing 12 when I saw them play back then). Electric Fence provided a feedback-laden sheet of electric guitar which Louis laid persistent drumming over, interspersed with the occasional pause while he stopped to emit a shrill shriek (the effects of the Electric Fence?). I ended up dubbing it "Primal Squeal" music.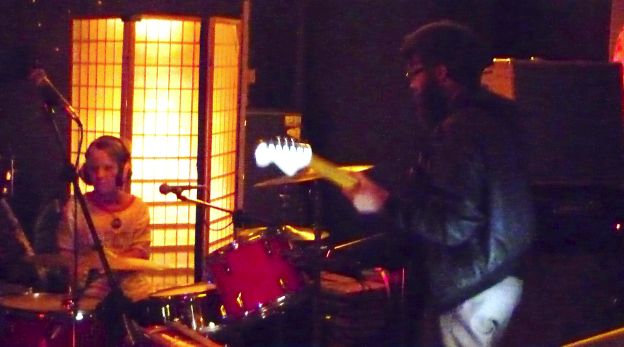 Electric Fence (W.S. McCallum)
Electric Fence were a difficult act to follow, but Sweater changed the pace nicely. Sweater are a new group from Marton and provided a hard-edged, driving, aggressive sound drenched with feedback and midnight guitar.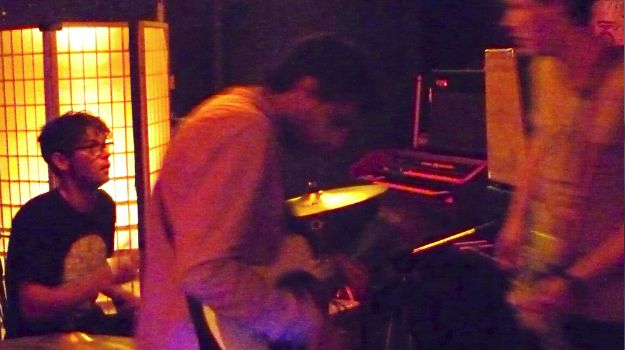 Sweater (W.S. McCallum)
Diving provided the most technically accomplished performance that evening. Their opening piece was striking, featuring a looped intro of building feedback guitar which shifted into eerie night music before fading out on the same loop. Their second anthemic piece had faint echoes of that early 80s Manchester guitar sound.
Diving (W.S. McCallum)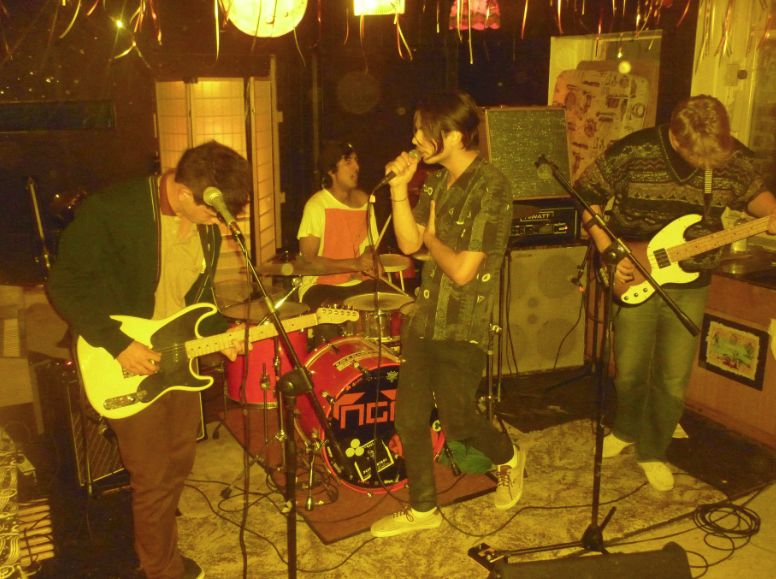 Beach Pigs (W.S. McCallum)
Due to the late start, my batteries were running low by the time the Beach Pigs cranked into action. They shifted the mood yet again, away from melancholy and into a more punky joie de vivre, although I did not have the stamina to hold out all the way through. Sadly, I missed the final act, Rackets, but their presence is duly noted.
© W.S. McCallum 27 May 2012
The ARC Theatre Leaving Party
Wanganui
28 April 2012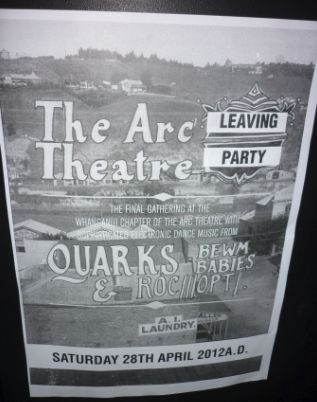 (W.S. McCallum)
It was with a great deal of sadness that I heard early in May that the ARC Theatre was closing and that Brandon and Bridget were moving to Wellington to take up the lease on Happy, an underground venue well-known for its history of alternative acts.
It does not seem that long since the ARC Theatre opened its doors, picking up from The Eye of Night, and upping the game somewhat by providing a venue that could handle not only music, but also art and photography exhibitions and installations, and even film screenings. I now regret not having taken a photo of the wall inside the front door, which was plastered with posters from the multitude of events held there in over the period of not much more than a year since the place first opened its doors.
That all this got done is due mainly to the hard work of Brandon and Bridget, who acted as facilitators and provided support for various musicians, artists and photographers who would not otherwise have had their voices heard or their works shown to a wider audience in Wanganui. The result is that it has been very exciting to live here over the last year or so. The events were sometimes held in such rapid succession that people living in Wanganui were spoilt for choice, and a certain degree of fatigue even set in, with some international acts turning up to play for small audiences because people had already turned out en masse for another show a few days before and could not keep up the pace. It was their loss.
To close this chapter in their lives, Brandon and Bridget held a farewell gathering with various acts of an electronic inclination, with Brandon also contributing some music.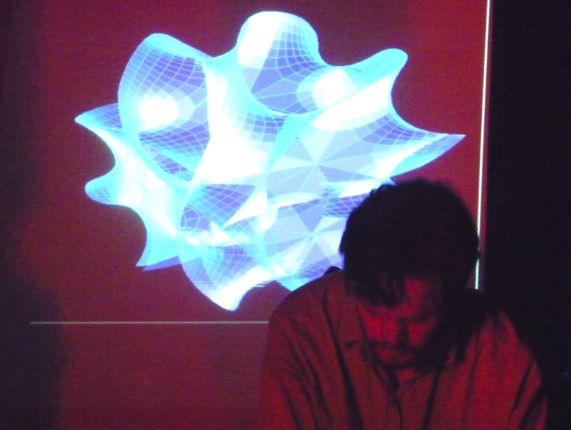 Brandon (W.S. McCallum)
The event went well into the small hours of the morning, and I ran out of steam well before it came to an end, but I wish Brandon and Bridget every success with the new chapter of their lives they are opening in Wellington. The music scene there needs a good shake-up, and they may just be the people to do it.
© W.S. McCallum 19 May 2012
The DHDFD's
at Space Monster
Wanganui
28 April 2012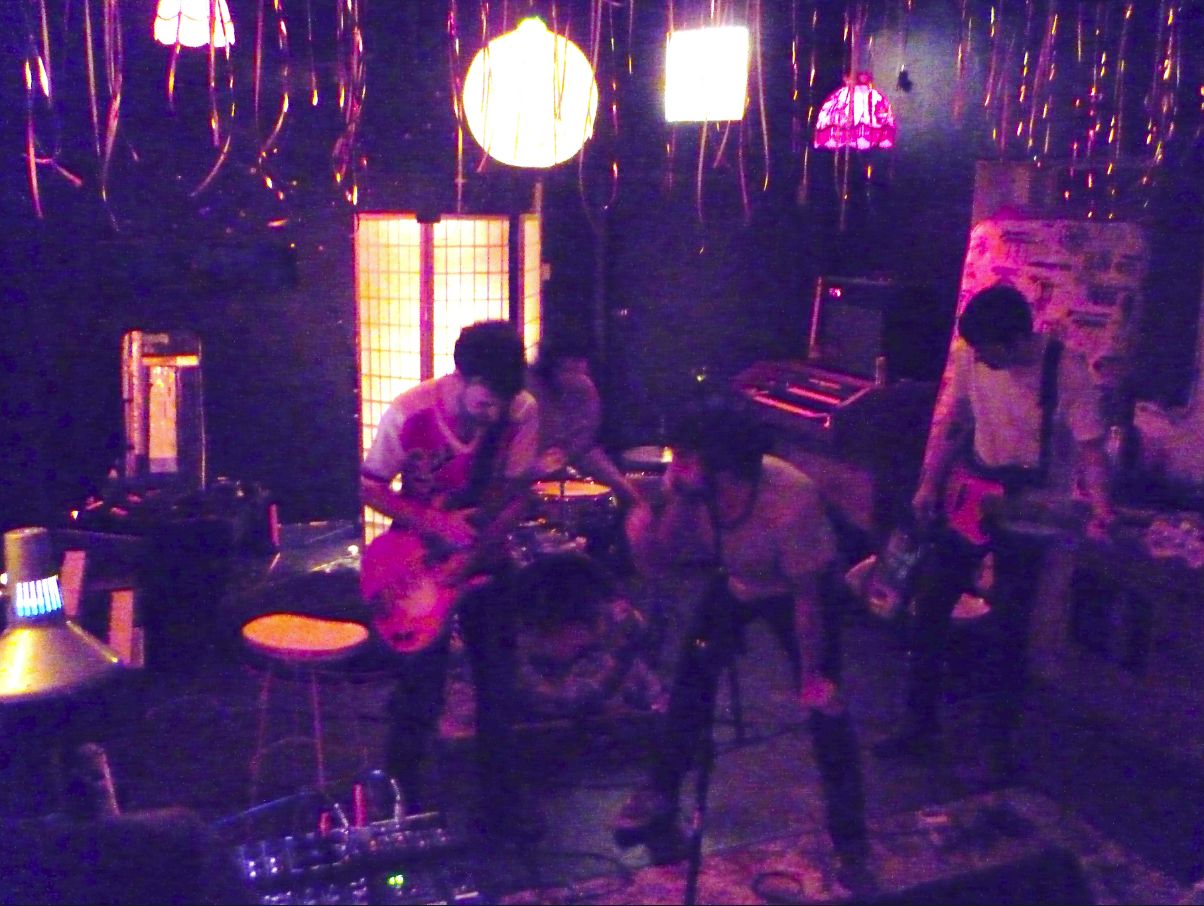 (W.S. McCallum)
The DHDFD's, from Auckland, were touring with Mothers of Darkness, who I did not get a proper impression of because I was zipping between Space Monster and the ARC Theatre's final night next door (to be covered in the next instalment), trying to take in what was happening at two venues at the same time. I am glad I got my timing right to catch the whole of the DHDFD's set though.
Their energy level was very high; up there with the D4s. The pace of the music, which they themselves describe as "punk rock" was frenetic, with a level of musicianship far above and beyond what most punk bands are capable of. It was a blindingly fast manic sonic wall, punctuated with Scot Brown hurling himself around the room like a Mexican jumping bean.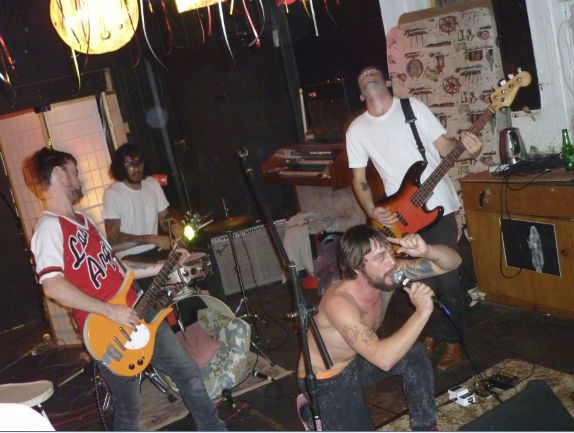 (W.S. McCallum)
The DHDFD's have a sound that is incredibly dense in its complexity: the bass playing by Joel Beeby provides the basic pulse, that the drums and guitar buzz over the top of like crazed wasps, although most of the audience were too distracted by Scot Brown's antics to notice the musicians overly. The front man was the proverbial icing on the cake, mixing it up with the audience, jumping on and off items of furniture, and never failing to hold the crowd's attention. A band worth watching out for if they come your way.
© W.S. McCallum 17 May 2012
The Sonics
at The King's Arms
Auckland
18 April 2012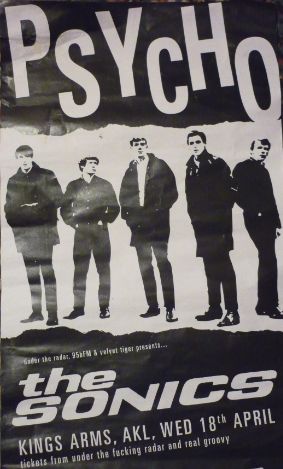 (W.S. McCallum)
The posters slapped up on walls, poles and bollards around Auckland showed The Sonics in their original incarnation: loud teenage rockers with attitude, who did raucous Little Richard covers, and outrageous originals that scared adults back in the early 1960s, when rock'n'roll was still getting over the fact that Elvis had joined the army. The song titles said it all: "Psycho", "The Witch", "Strychnine", "Boss Hoss" – tales of head cases, evil women, poison and fast cars. Even their boring song titles concealed outrageous tales of terror: "He's Waitin' " is about a young fellow who has found out about his lying and cheating girlfriend's duplicitous ways, and in revenge has called up Satan to drag her off to Hell.
The Sonics, from Tacoma, Washington State, have long been legends. Their original albums were impossibly hard to get until they were reissued in the 1980s by the Parisian label New Rose, and even then you had to get them on import. Fortunately, in recent years, Norton Records have reissued their first two albums and more, and you can even obtain previous unreleased songs like their early demo and home recordings, and oddities and rarities recorded by the band in its folk rock phase in the late 1960s. Nevertheless, The Sonics did not attain any real international profile until their anthem "Have Love Will Travel" was used as the background music for a TV advertisement in the early 21st century. Suddenly the Internet generation discovered a new band that sounded surprisingly contemporary, yet was actually from the early 1960s, and The Sonics found themselves with a large new audience. Eventually, the original members of The Sonics reformed, and began playing garage rock festivals and touring North America and Europe.
This was their first trip to New Zealand and it was fascinating looking at the demographics of the audience. Most of the people at the King's Arms were under 30 (the Internet generation), with the remainder mainly being in the 31-50 age group, with a substantial mattering of older people, some of whom were well into their seventies. The band meant different things to all of these groups – the younger set were there to see the garage rock legend, whilst the oldest members of the audience were there to watch some of their contemporaries from the second wave of US rock'n'roll.
I went in wondering what the show was going to be like. I did not expect to see the savage young Sonics, as all of the band's members are in their sixties now. I did however hope to get a glimpse of what made them so great, and get a feel for what it must have been to see them play venues like The Spanish Castle in the glory days of Northwest rock, before the Beatles invaded America and changed the rules forever. In that respect, they did not disappoint me at all. They are no longer the young rockers they once were, but they are definitely the best bar band I have ever seen.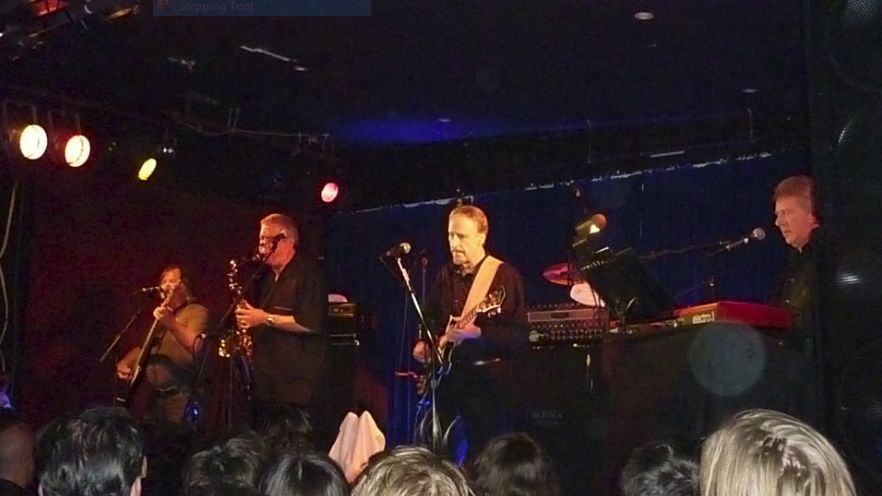 The Sonics (W.S. McCallum)
The Sonics offered up a good cross-section of standards from back in the day such as "Money" and "Louie Louie" (their recording of it walks all over The Kingsmen's version), along with a Little Richard cover or two. They also playing stonking versions of their original early songs like "Psycho", "The Witch", "Strychnine", "Boss Hoss", and "Have Love Will Travel". Gerry Roslie's scream may not have been as blood-curdling as it used to be, but his vocal delivery still has that cutting edge that used to frighten parents and radio programmers, and Larry Parypa on guitar was eager to prove that he is an even better guitarist now than he was then. The garage rock purists might have cringed at his guitar solos, but they weren't overly long, and they did fit in with the tenor of the originals, even though, strictly speaking, they were anachronisms.
The Sonics also presented material off their latest album, and they meshed in well with the older songs, being about pressing topics like evil girlfriends and the necessity of wearing shades in order to survive in the modern world.
After playing strongly for an hour, to the audience's great delight, the only down side to the whole show was the encore, which strangely fizzled. Two members of the band were game, but it looked like the rest had to be dragged out of the dressing room, and they did not stay up there long. Still, it was a show I will never forget, and if you had told me back in 1987 when I got The Sonics first two albums on import that one day I would get to see them live, I simply wouldn't have believed you.
© W.S. McCallum 28 April 2012
Tin Soldiers and Dictaphone Blues
at Space Monster
Wanganui
14 April 2012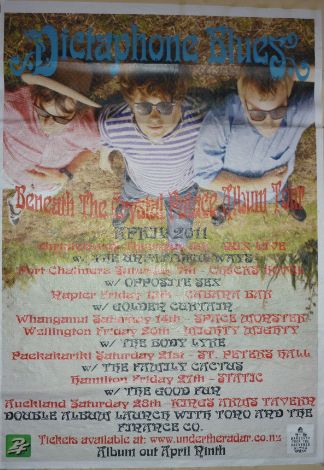 There were a few new items to admire at Space Monster on Saturday night when I arrived early, including stereo speakers rigged up in the foyer downstairs so that the smokers and street malingerers could listen to the bands, a very Space-Age looking floor lamp behind the counter upstairs, and a few new additions to the artwork and accoutrements around the place, all designed to add to the atmosphere.
Tin Soldiers, from Wellington, were a last-minute replacement as the support band that night and presented a modern, sophisticated form of indy rock, with intelligent lyrics and understated presentation. They were very warmly received by the audience.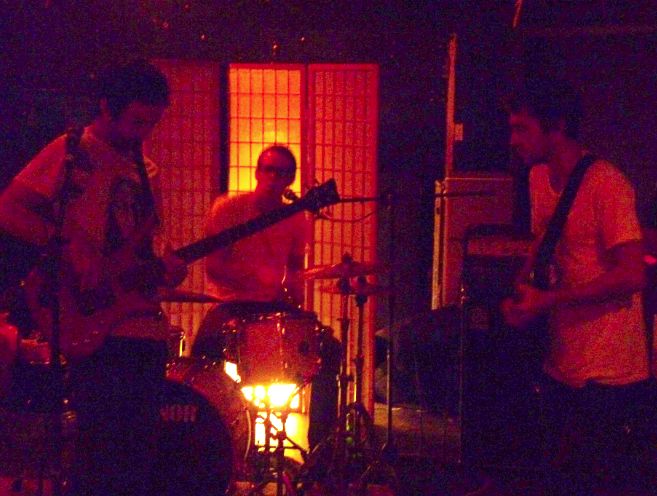 Tin Soldiers (W.S. McCallum)
Dictaphone Blues, who originate from Christchurch but are based in Auckland, and who have recorded two CDs and a vinyl single, were presenting their latest album as part of a national tour. Their sound was a challenging mix of sometimes wild psychedelic guitar, 70s power pop, sing-along songs, and even had a bit of garage rock guitar thrown in. Along with being consummate musicians, Dictaphone Blues served up a heady mix and had various people dancing wildly and relating vigorously to the songs about love and loss.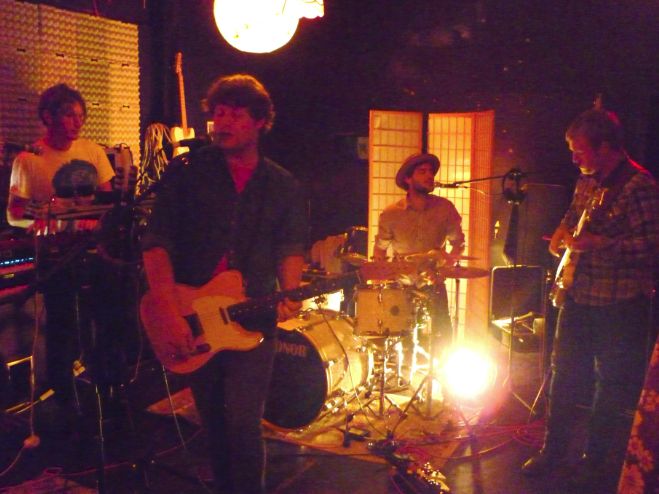 Dictaphone Blues (W.S. McCallum)
It was a busy weekend at Space Monster, as the Saturday night line-up was followed by another show on Sunday night, but unfortunately I was foiled by the early evening start time and turned up too late to see anything. Better luck next time.
© W.S. McCallum 16 April 2012
Roky Erickson
at the Power Station
Auckland
7 March 2012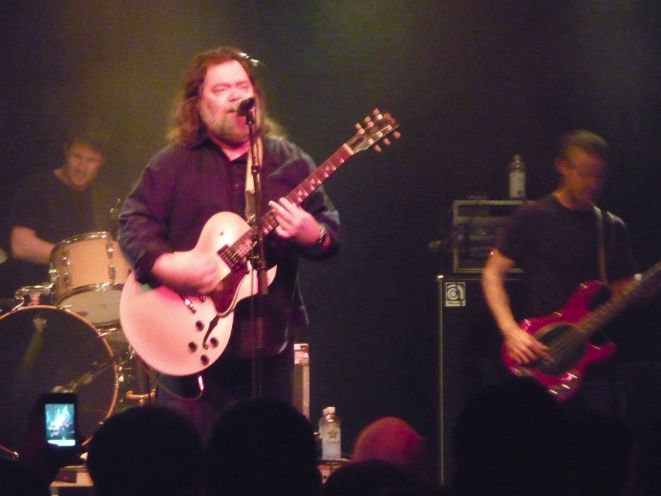 (W.S. McCallum)
Most of the people I mentioned this concert to had no clue who Roky Ericson was. One or two made the link when I mentioned that he was in the 13th Floor Elevators, but generally I drew a blank, so it's time for a bit of background first…
The 13th Floor Elevators formed in Austin, Texas in 1965. They soon made a name for themselves in Austin and beyond with their first album, released in 1966. Entitled The Psychedelic Sounds of the 13th Floor Elevators, it was the very first album to use the word "psychedelic" in its title, and placed the band on the map as the leading light in a genre that, at that time, most people had never heard of. Hindered by being on a minor label that had next to no money to promote them, the band nonetheless managed to get to San Francisco that year and played the Avalon Ballroom and the Filmore, but unlike fellow Texans Janis Joplin and Steve Miller, they failed to make a lasting impression in California. Returning to Texas, they released two more studio albums and a dubious "live" album before falling apart at the end of the 1960s as a result of lack of money, problems with their record company, drugs, and police harassment.
It is safe to say, judging from the interviews with various Texas cops conducted by Paul Drummond, author of Eye Mind, the history of the band, that the local police were definitely out to get the 13th Floor Elevators. At a time when walking down the street wearing anything longer than short back and sides was enough to get you stopped and questioned in Texas, a group that made its name by singing about mind-expanding drugs was definitely not something the State's police were going to tolerate for long. Other members of the band had been busted earlier, but the police did not manage to catch up with Roky Ericson until late 1969, when he was caught with a small amount of marijuana and was charged with "offending the peace and dignity of the State". He was placed in Rusk State Hospital for the Criminally Insane, and heavily medicated, in spite of the institution's director, J.A. Hunter, stating "Erickson is legally sane but I feel he still requires hospitalization for the welfare of himself and others." He did not get released until 1972, when, as a result of petitioning from Erickson's family, a judge finally declared him sane and free to go.
Roky Erickson went on to pursue an erratic solo career in the 1970s, most notably as "Roky Erickson & The Aliens", following his public announcement in 1975 that he was an alien from another planet. Since then, he has performed periodically, but has been dogged by ill-health as a result of LSD consumption in the late 1960s, the effects of his period of incarceration, and subsequent mental health issues.
Consequently, I was ready for the worst that evening, and I had premonitions of having to walk out if the show turned out to be a train wreck.
In the last two years or so, Roky Erickson has received rave reviews for an album he did with the band Okkervil River, and very good concert reviews for the tour around the US he did with them. That evening, at the Power Station, he had another backing band, from Austin, who were an unknown quantity. They did a support slot by themselves prior to Roky Erickson performing and, frankly, were unimpressive. My worst fears began mounting. You know the sort of thing - you finally get to see one of the seminal figures of 60s music perform, and the whole thing is a wash-out because he's off his head and the backing band don't know what they're doing.
Happily, this wasn't the case. Roky Erickson did hold it all together, although his guitar playing was of an occasional nature and somewhat free-form, and he had the backing band exchanging glances from time to time: "is the solo over or is he going to play a few more bars?" – that sort of thing. And I don't know what happened in the short interval between them playing their stuff and Roky's, but once they started chugging away on his songs, everything fell into place.
Highlights included "Good-bye Sweet Dreams" from the album with Okkervil River, "Two Headed Dog" from his days with The Aliens, and, glory hallelujah, various 13th Floor Elevator songs. Although he was getting a bit rough around the edges by the closing song "You're Gonna Miss Me", which Roky Erickson wrote at the age of 15, his performances of "Reverberation" and "Splash 1" (also from Psychedelic Sounds) hit the mark nicely. It was one of those concerts that leaves you with a warm inner glow afterwards, and a feeling of accomplishment for finally having managed to see one of your heroes perform live.
© W.S. McCallum 17 March 2012
The Barons of Tang
at Space Monster
Wanganui
25 February 2012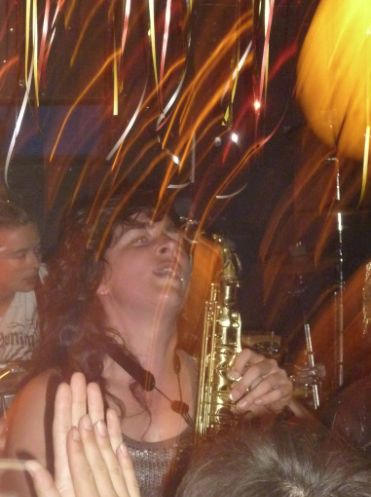 (W.S. McCallum)
I had no idea what to expect of the Barons of Tang, knowing nothing about them other than the fact they were from Australia (Melbourne to be precise). They threw a few of the crowd waiting outside off-balance by actually doing a short rehearsal prior to starting their set, but everyone soon flocked back into Space Monster once they started in earnest. They are touring New Zealand to promote their EP Knots and Tangles, and play boisterous Eastern European-influenced music intermixed with a healthy dose of manic punk rock and a Bohemian cabaret attitude.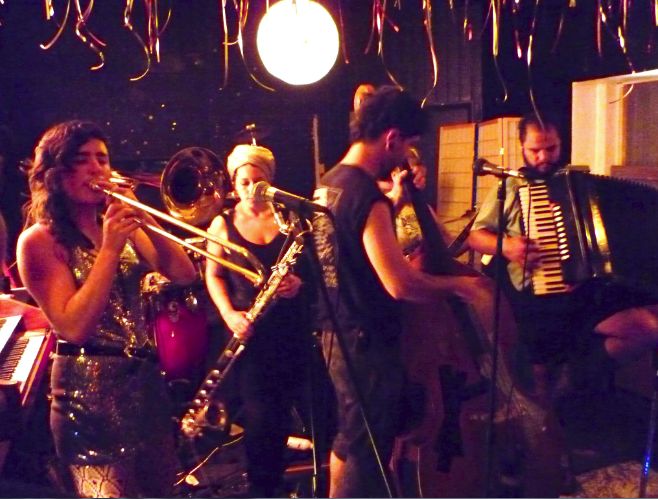 The Barons of Tang (W.S. McCallum)
More photos of The Barons of Tang
Their stand-out song was "Even If You're Missing Fingers You Can Make A Fist", and their performance was both raw and technically accomplished, with the various instruments expertly weaving their way through the arrangements, which included a number of tricky stops and starts. The local audience enjoyed the proceedings immensely, and I had to dodge the waving arms and hair of some woman dancing like a berserker beside me at one point. The audience was a bit more age-diverse than usual that evening too – a great night out.
© W.S. McCallum 25 February 2012
Shenandoah Davis
at Space Monster
Wanganui
9 February 2012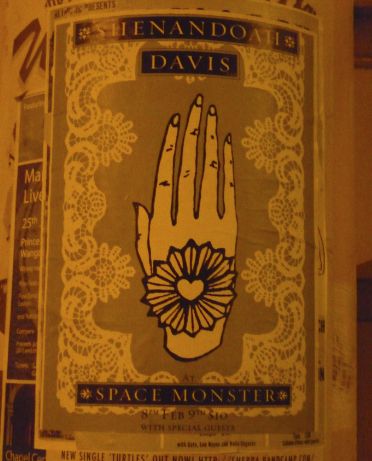 (W.S. McCallum)
The house was pretty full when I arrived in time to see Shenandoah Davis and her support musicians setting up. A good number of people had turned out to see her perform songs from her latest album, called The Company We Keep. Originally from the foothills of the Adirondack Mountains (a locale which will be familiar to fans of James Bond novels), she moved across the North American continent to Seattle in the latter half of the last decade and established her musical reputation there.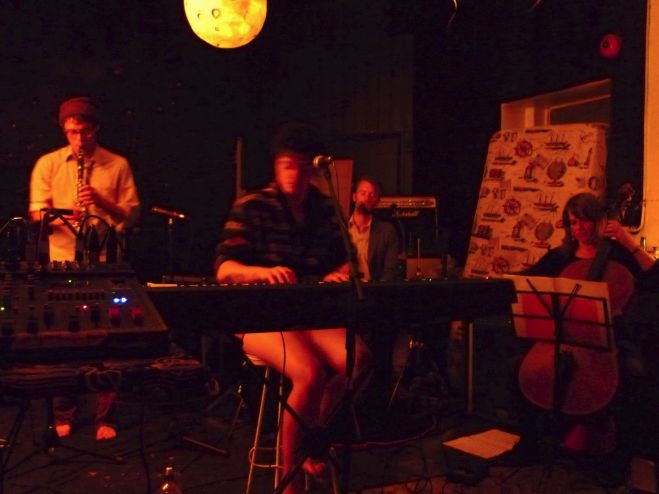 Shenandoah Davis (W.S. McCallum)
With accompaniment from an accordeon player, drummer and cellist, Shenandoah Davis played a keyboard and sang in her own particular style, which is slightly reminiscent of Karen Dalton, a now departed contemporary of Bob Dylan's, as well as showing classical, jazz and cabaret influences, all of which she has shaped into something of her own.
The songs were about hope and heartache, love found and lost, memories of things past and hopes for the future. The musical backdrop was flawless, and the cellist from Wellington who was playing with them for the first time deserves applause for an outstanding performance.
© W.S. McCallum 15 February 2012
The Spunks, Mr. Slackjaw, The Dobermen,
Grand Chancellors, and Thee Oh Sees
at ARC Theatre
Wanganui
29 January 2012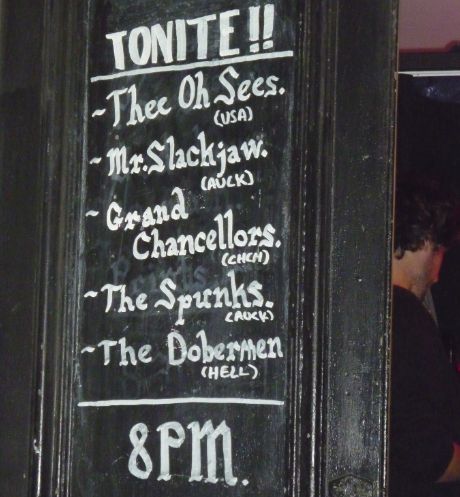 (W.S. McCallum)
ARC strikes again! Five bands for $20 is particularly good value, particularly when one of the bands has come all the way from the USA. I arrived in time to catch the closing part of The Spunks' act, with their animated frontman spinning musical stories very expertly.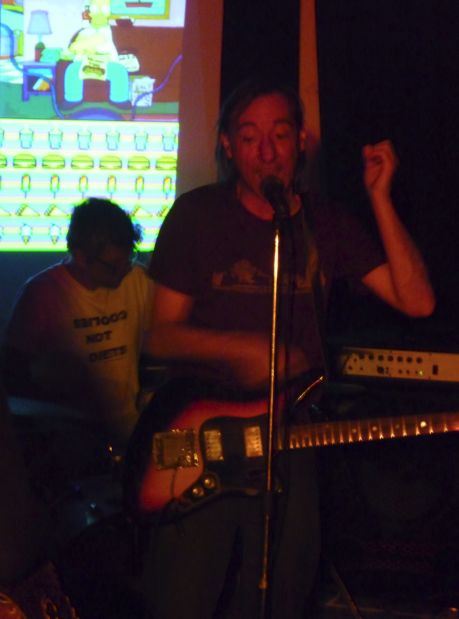 The Spunks (W.S. McCallum)
Mr. Slackjaw who, like The Spunks, is from Auckland, provided an enthusiastic solo follow-up on his Gibson flying V guitar, including a Gun Club cover which went down well. His hands flew over the frets. It was a shame his set wasn't longer, but this may have been a scheduling issue as there were a lot of acts to get through that evening.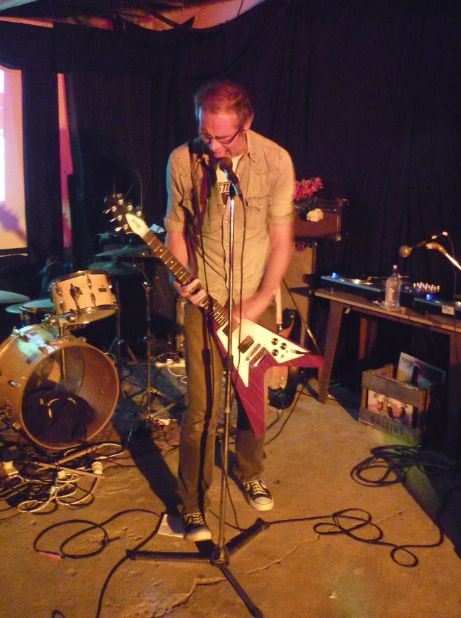 Mr. Slackjaw (W.S. McCallum)
The Dobermen from Wanganui were next, and provided a blisteringly energetic set of original surf instrumental pieces with titles like "River City Rumble", and "Crude Dudes With Attitude" (their theme song???) Interspersed with periodic barking and howling from Brandon, they were great fun to watch.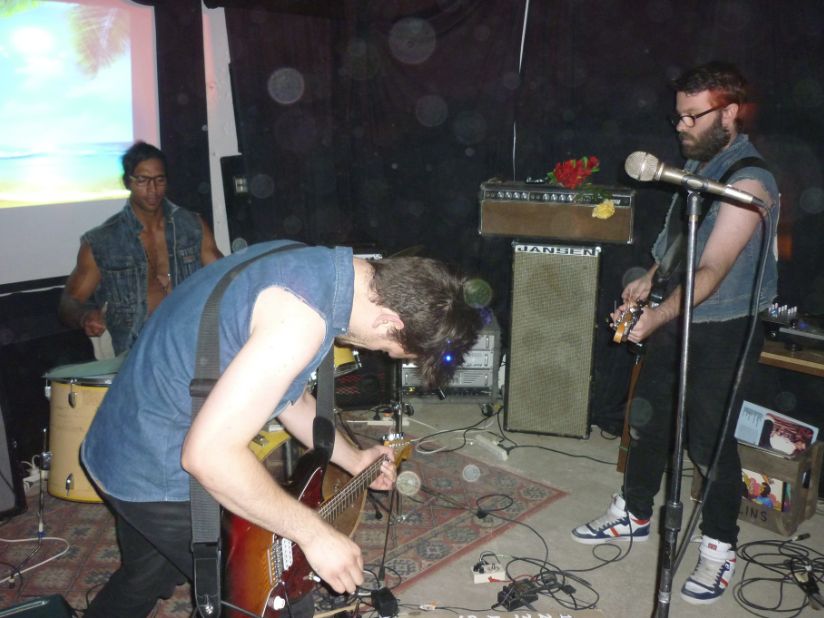 The Dobermen (W.S. McCallum)
Grand Chancellors came up from Christchurch to play but fortunately were definitely not as shaky as the collapsing earthquake-struck hotel that they were named after. Along with Dylan Herkes (Mr Tape Man) and Shaking Luke Wood on guitars was Mr Bad Evil on drums. They provided some rough and ready rock with a gonzo attitude that went down well with the audience.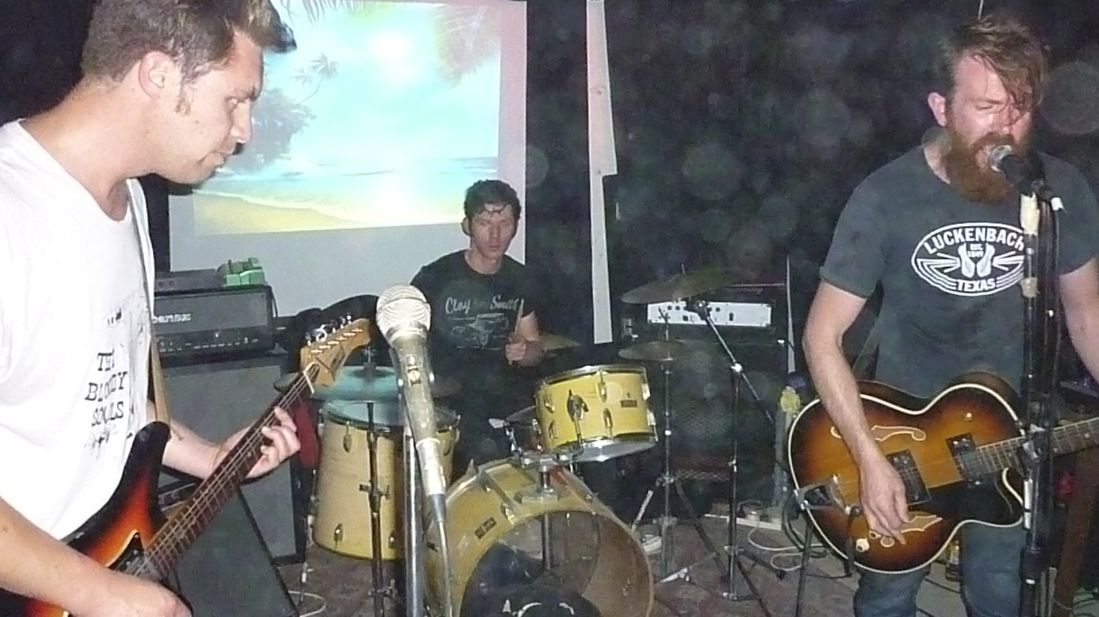 Grand Chancellors (W.S. McCallum)
The headline act that evening from the United States were Thee Oh Sees and they were a stunning ensemble. They veered from sixties-inspired garage rock to something altogether more modern in their act and were very together in their approach, with a seamless sound. The two-drummer line-up gave them an amazing boost without overwhelming the rest of the instruments and, although loud, the audio mix was impeccable.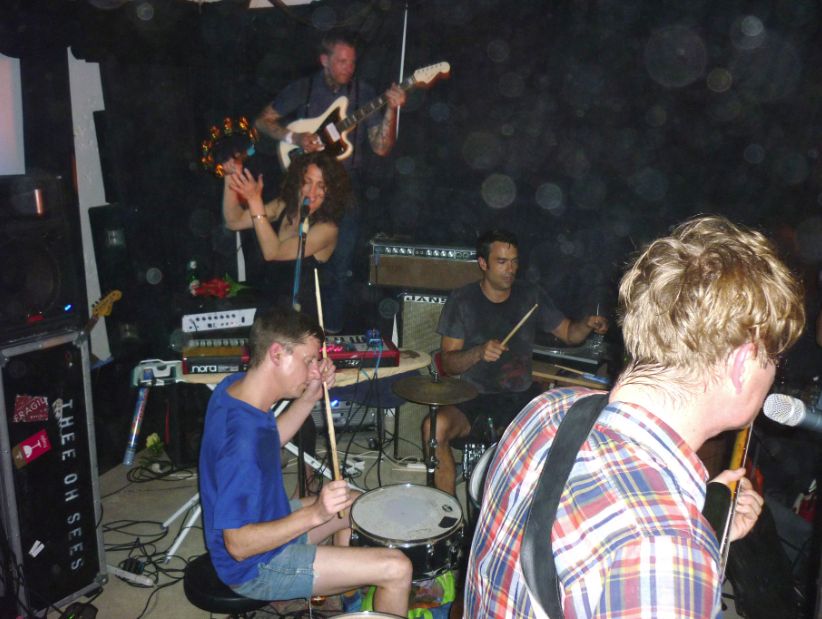 Thee Oh Sees (W.S. McCallum)
And all for just $20. It would be a hard job to find such value for money in a large city, let alone Wanganui. The local audience is very lucky indeed to have such a venue.
© W.S. McCallum 4 February 2012
<![if !vml]>

<![endif]>  <![if !vml]>

<![endif]>
<![if !vml]>

<![endif]>  <![if !vml]>

<![endif]>
Web site © Wayne Stuart McCallum 2003-2017