Music Writing 200
6
by W.S. McCallum
Treefrog, Birchville Cat Motel,
Improv Noise Band
at the Adelaide, Wellington
2 December 2006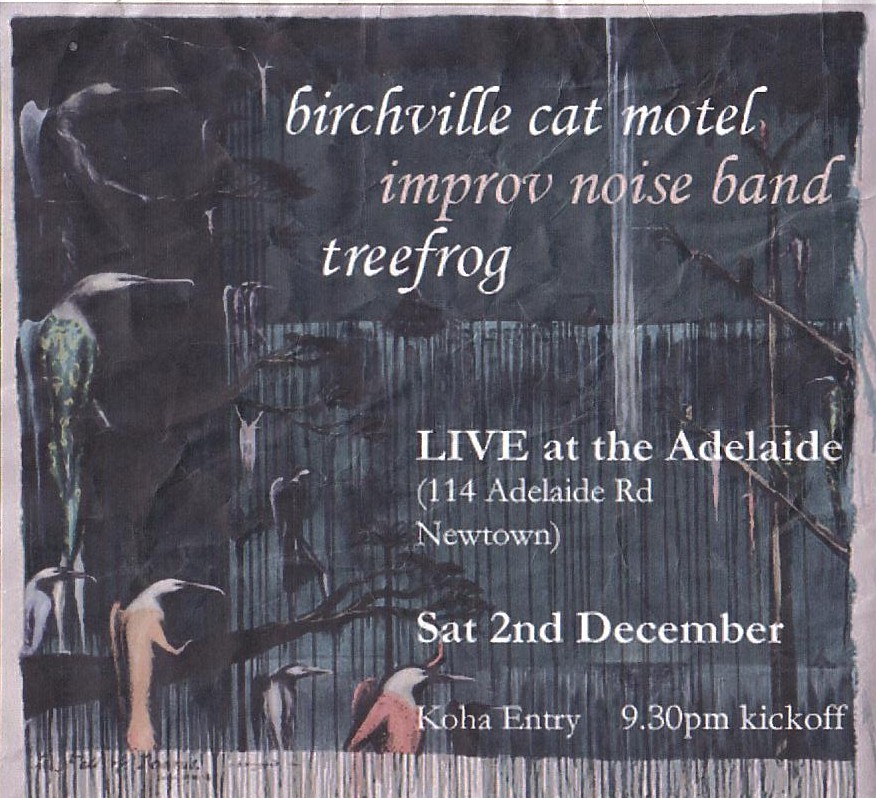 The Adelaide is an old inner-city Wellington pub that has been given a new lease of life recently as a music venue, so I was curious to go along and see what the place was like at this showcase for Wellington experimental acts.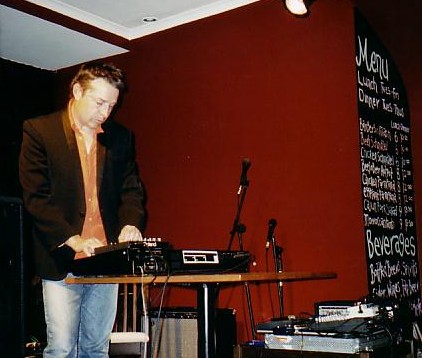 Treefrog (W.S. McCallum)
The opening act was Treefrog, a one-man act with a synthesiser and what looked like a Roland modulator unit. The forty-minute performance consisted of two pieces which gradually shifted and modulated their way from point x to point y. Trying to describe this stuff in words is quite difficult, given that there are no lyrics or other accoutrements, but it was an engaging performance that only caused unease at one point during the second piece, when it sounded like it was about to mutate into a sequence from Jean-Michel Jarre's Equinoxe.
The second performance was provided by Birchville Cat Motel, which is a vehicle for Wellington artiste Campbell Kneale, who you are not likely to be seeing at any cheesy televised Kiwi music award ceremonies in the near future, but who does seem to be relatively famous overseas. I have even met Americans who know little about NZ music apart from him and the likes of the Dead C and Roy Montgomery. I wonder what the latest batch of Kiwi chart flash-in-the-pan acts would make of that…
The band members looked worryingly like they had escaped from one of those really bad metal bands you hear in suburban pubs, but nothing could be further from the case. With their backs to the audience most of the time and standing stock still in awkward poses so that they could better sustain their feedback, they were the antithesis of your typical metal band. Then there was the guy kneeling in front who did occasional eerie and/or anguished vocals, adding a very subdued presence. I very bravely sat right up the front for this one (the better to take photos), and tucked into a bowl of tasty potato wedges while they launched into their 40-minute opus of controlled feedback that just kept building and building and building. It was fun looking out the window and watching the bewildered looks of 9 to 5ers passing by outside as they wandered into town on Saturday night to boogie, get drunk, and get laid. You could see this "what the **** is THAT?!?!" look on their faces as they approached the pub and heard Birchville Cat Motel's noise spilling out into the street.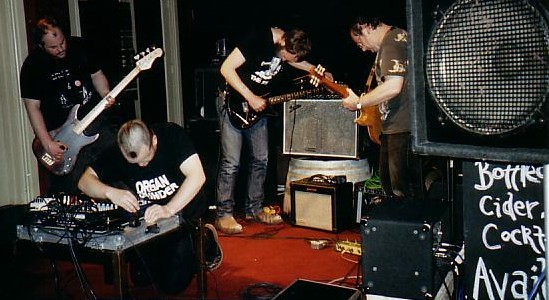 Birchville Cat Motel (W.S. McCallum)
More Birchville Cat Motel photos
No one else was sitting as close as I was. In fact, I was the only one right up the front, tucking into my wedges. Maybe the rest of the audience knew something I didn't - they all seemed to be congregated down the far end of the room. Still, no worries - I had my earplugs on. These weren't just any earplugs; these were Air New Zealand earplugs. The ones that ground crew wear to protect their ears from the scream of jet engines when they are out on the runway. And the noise just kept building and building. Eventually even I had to relent and moved away. This was after I had heard one of the band say while they were setting up beforehand that they didn't want to play too loud. Bloody hell! And all the time I kept thinking "these guys must really piss off their neighbours when they get together to practice".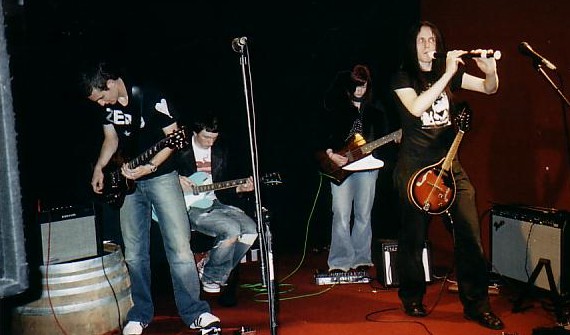 Improv Noise Band (W.S. McCallum)
The closing act was the Improv Noise Band, which was formed in June 2006 and has an ever-changing line-up. This time, it was four-piece and guitar-based, with accompaniment from violin, mandolin, and what looked like an alto recorder. The Improv Noise Band also performed a single piece which, like Treefrog, involved controlled noise, but with a lot more flourishes and embellishments. Once again, the audience were keeping their distance from the stage, and I was disappointed not to see any rhythmic dancing from any audience members, but that was probably not the effect being aimed for in any case.
© Wayne Stuart McCallum 5 December 2006
Robyn Hitchcock & the Venus 3
with Patrik Fitzgerald
at the King's Arms, Auckland
24 October 2006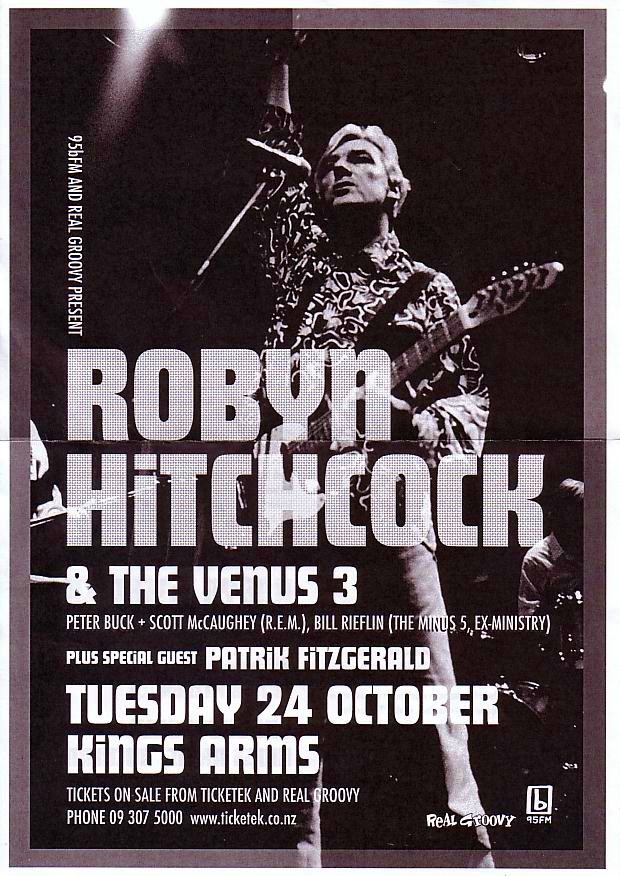 Nearly three hours late flying into Auckland due to gale force winds, I was greeted by my Auckland booking agent, who was not looking happy. He had been entrusted with the task of purchasing us tickets for the Robyn Hitchcock concert that evening and had managed to lose them. Apparently he put them in a glasses case for safe keeping and was sure he had left it on the couch. He had spent that afternoon turning the house upside down looking for them, swearing profusely all the while (much to the detriment of his young offspring's innocent ears), but had turned up nothing. He dropped me off in town and went home to have another look, but by the time I rang at 6.30pm, they had still not been found, so I popped down to Real Groovy and purchased two replacements before heading down to Vulcan Lane for a very tasty pre-concert Italian meal in a little café there.
The support act at the King's Arms that night was Patrik Fitzgerald, best known for his 1977 punk single "Safety Pin Stuck In My Heart", which was a favourite of John Peel's when it was released. Patrik Fitzgerald emigrated to New Zealand nine years ago and has been living in Christchurch. In August 2006 he returned to the stage for a tour of Scandinavia and the UK. His one-man-and-an-acoustic-guitar act showed that the class of '76 was not all fast electric guitars and drums. His songs paint pictures of life at the bottom of the heap in Britain, with titles like "The Bingo Crowd" and "Banging and Shouting". He took two or three songs to get warmed up, but was captivating with his portrayal of life living in squats, the pitfalls of fame, and the cult of Lady Di, among other facets of life in Britain.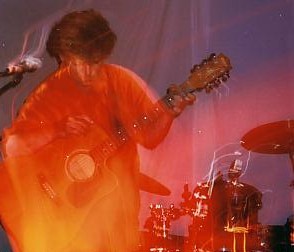 Patrik Fitzgerald (W.S. McCallum)
While the half-hour break between sets provided little in the way of entertainment other than this going-on-sixty guy wandering in wearing a Ramones tee-shirt, it did provide a chance to ponder Robyn Hitchcock's musical career. Starting off your career in 1976 by fronting the Soft Boys, a psychedelic folk-rock group, was not necessarily an auspicious commercial move in the year of punk. While the Soft Boys did not last, Robyn Hitchcock has bucked shallow trends by outlasting most of the posers who sneered at him in the late 70s and 80s for not jumping on the latest musical bandwagon. His albums with his group the Egyptians consciously defied what was deemed to be acceptable in rock music in those days, and he had determinedly followed his own path into the 21st century.
His current touring group, the Venus 3, features Peter Buck (guitar) and Scott McCaughey (bass) from R.E.M., and Bill Rieflin (drums) from Ministry and the Minus 5. Robyn Hitchcock played on his reputation for eccentricity throughout the concert, providing the audience with tales about the mating proclivities of hamsters, and a lengthy diversion into his surreal version of the plot of the second Dirty Harry film, the closing line of which inspired him to write the song "A Man's Got To Know His Limitations, Briggs".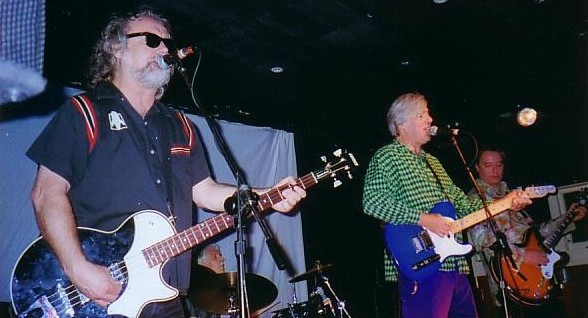 Robyn Hitchcock & the Venus 3 (W.S. McCallum)
(Left to right: Scott McCaughey, Bill Rieflin, Robyn Hitchcock, Peter Buck)
The material played that night was a mixture of old and new, with various songs off his latest album Ole Tarantula, including the title track, as well as songs from the 80s, like "Somewhere Apart" (which I swear he had renamed and was singing as "Somewhere in France"), and "Madonna of the Wasps". The songs' lyrics were as entertaining as the on-stage banter, with the immortal line "Fuck me baby - I'm a trolleybus" being particularly memorable.
The show was much more melodic than I had been expecting, with only very restrained use of a wah-wah pedal here and there, and my booking agent described it as "a jangle fest". The band were in great form, and for their encore even managed to pull off a version of the Byrds' "Eight Miles High", in addition to "Underground Sun", which was another highlight. My booking agent ended the evening with a smile on his face, as I loaned him $20 so he could buy a CD and get it autographed by Peter Buck, who told us about how the band had surprised the staff at Real Groovy that afternoon by turning up at the store to stand by the check-out counters and busk.
© Wayne Stuart McCallum 27 October 2006
Telepathic Kitty and Flip Grater
at Happy, Wellington
12 October 2006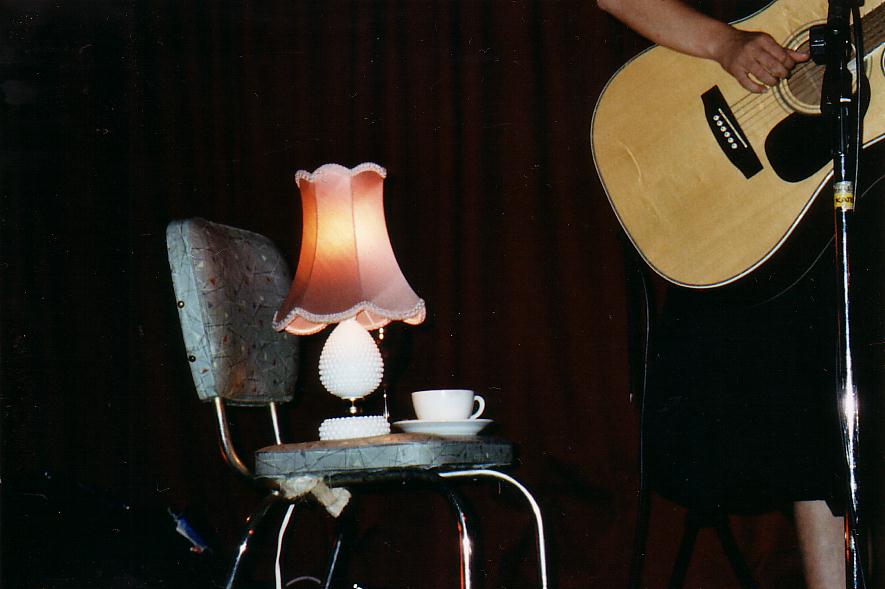 (W.S. McCallum)
You know it is going to be one of those nights when you are looking for a venue and can't find it. All those years of living in Wellington, and I find myself going "Happy? Hmmm… It's either on or near Courtenay Place isn't it?" Actually, it wasn't on Courtenay Place, so I asked someone, and got very clear directions - it was only a block away, on the corner of Vivian Street and Tory Street. Problem was, I couldn't see it, so I asked someone else passing by on Vivian Street: "Yeah, that's right, it's just back there on that corner - it has a basement entrance." This time I went back and had a close look. The venue's sign would not have been particularly hard to spot under normal circumstances, except for the fact that some bastard had parked his ugly great SUV on the footpath right in front of it. Thanks man.
After all that, I get there and find the place is closed: doors locked, and there's nothing going on inside. Through the crack in the door, all I can see is the light from a single lamp they probably leave on to scare burglars away. Just at that point, some other guy arrives and asks me what the start time is. "Must be later - the doors are locked." I look at my watch: it's about 8.35pm. There's no point waiting around in the dark cellar entrance staircase, so after a Thai dinner and a shower, I return at 10.15pm, just in time to watch the opening act.
Telepathic Kitty consists of Achilles Botes, better known as a member of Ghostplane. He augments the sound of his acoustic guitar with a keyboard providing swishing electronic sea effects, a jerry-rigged tambourine and shaker that he stomps on from time to time, and a few effects pedals. The sound was low-key, melodic and atmospheric, although he overdid it slightly with the swishing sea effects towards the end of his 30-minute set.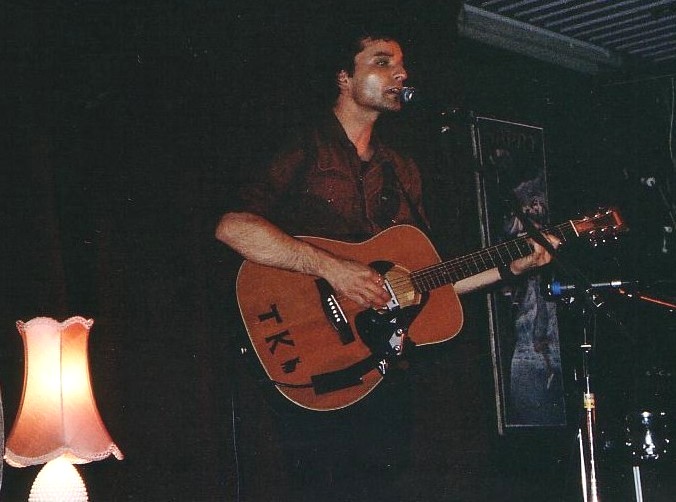 Telepathic Kitty (W.S. McCallum)
On a cultural level, listening to this sort of music evoked all sorts of emotions and memories. There was a time when the "singer-songwriter" was very much a ghettoized creature on the alternative music scene in New Zealand. Their heyday was in the mid '70s, with people like John Hanlon, Corben Simpson and Shona Laing (before she acquired that haircut and her production sheen in the 1980s). Then along came punk. If you wanted to be a singer-songwriter in the early 1980s, you had a hard road ahead of you - just ask Luke Hurley, to give one example. A new orthodoxy arrived with the punk generation that was thoroughly hostile to anything to do with the 70s singer-songwriter, with the greatest hatred being reserved for those titans in the field: Crosby, Stills & Nash. And I wonder if that much has changed: that very day I had purchased Barney Hoskyn's Hotel California: Singer-Songwriters & Cocaine Cowboys in the LA Canyons 1967-1976. The twentysomething woman behind the counter commented that the book looked interesting but she couldn't stand "that singer-songwriter stuff".
Achilles Botes had musical references to the singer-songwriter genre that were comparatively recent. He did one cover by Bill Callaghan (aka Smog), a singer-songwriter who has been around since the 1990s. And his vocals reminded me slightly of Martin Phillips of the Chills, although artistically Achilles Botes is very much his own man. Yet I wouldn't be at all surprised if he has Bert Jansch or David Ackles albums tucked away in his collection at home.
Flip Grater was a different story. My jaw dropped when she sang "Girl Of Constant Sorrow", a 70s feminist reworking of a very old folk song. Hell, even Bob Dylan used to sing it! Her introduction of it was quite ironic - referring to how she had found it in a 70s feminist songbook that her boyfriend had discovered in a second-hand bookstore in her home town of Christchurch. He had gleefully presented it to her with words to the effect of "you've gotta buy this!" In spite of her deprecating intro, she sang the song nonetheless. And to top it off, she also pulled out "House Of the Rising Sun", one of the oldest folk chestnuts, and gave her loving rendition of it to a respectful audience. How times have changed since the 80s.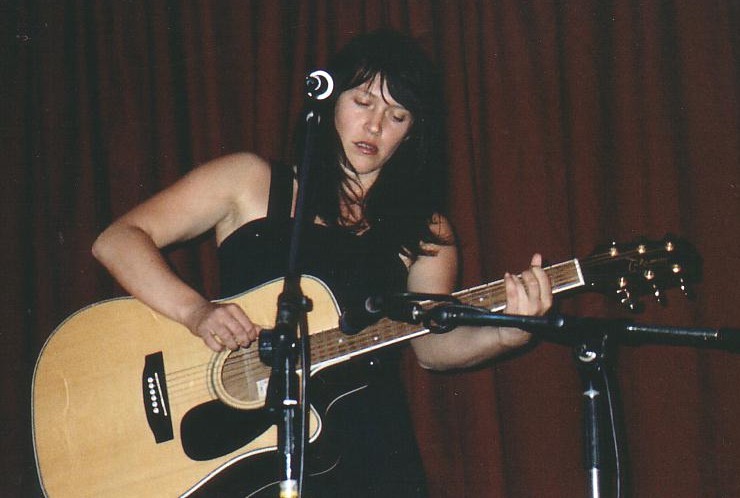 Flip Grater (W.S. McCallum)
Most of Flip Grater's set was however firmly contemporary, drawing from her first album Cage Of A Song, which she was on tour to promote. Her vocals show a delicate maturity and her lyrics have real depth that goes beyond the shallowness of the posturing waifs that all too often populate this sector of music. Her range was impressive too, from the gentle contemplation of "This Road Leads Home" to the knowing detachment of "Bedside Table" and the visceral snarl of "Art Robot". "Long Awaited Sigh", a simple yet uplifting song, was another highlight.
In-between songs, the audience was regaled with tales of trying to perform on the Cook Strait ferry in a gale to an audience of passengers who were mainly interested in filming her to see how long she could stay standing on the swaying deck, and a call for recipes from the audience, in keeping with the spirit of the name she had chosen for her national tour - The Cookbook Tour.
© Wayne Stuart McCallum 15 October 2006
The Managers and the Beat
at the San Francisco Bathhouse, Wellington
30 September 2006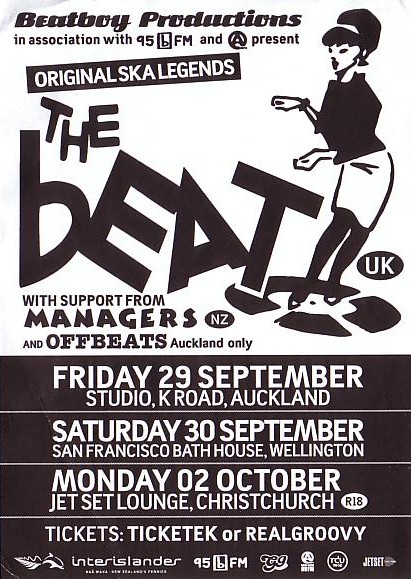 For those of you that were unaware, the Wellington venue that was formerly known as Indigo is now calling itself the San Francisco Bathhouse. I was half expecting to see the place refurbished in bathroom tiles as a pick-up spot for hot and horny gay men with big handlebar moustaches, but such was not the case (although they did have a huge new bar completely out of proportion to the size of the venue).
The tickets advertised a start time of 8pm, but the new management seems to have the same approach to holding things on schedule that they do over in San Francisco, as the support band, the Managers, did not even take the stage till 10.05pm. The Managers have been playing ska around Auckland for ten years now, and have recently released their first album. They looked really stoked at getting the opportunity to be support for the Beat, and who wouldn't be? They offered a lively set that was warmly received, and the lead singer confused more than one person in the audience by wearing a Beat tee-shirt, leaving various late arrivals with the impression that they were actually watching the main act!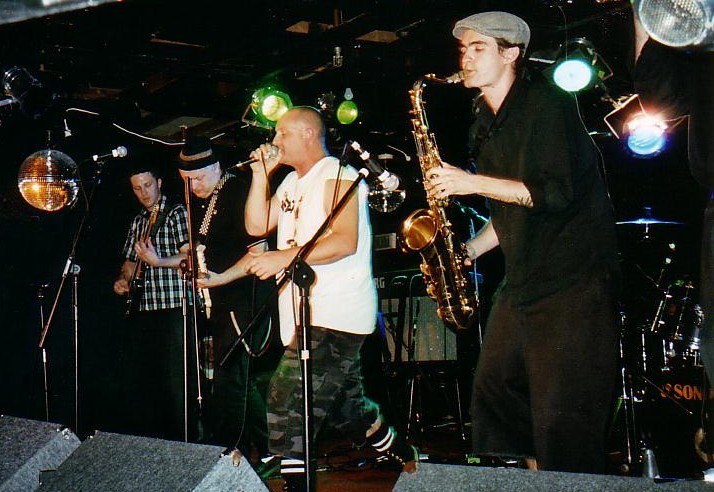 The Managers W.S. McCallum
The Managers finished up at 10.50pm, leaving the audience with a half-hour wait before the Beat began their set. The interlude was not without its entertainment however, as the audience was honoured with a visit from members of the local constabulary.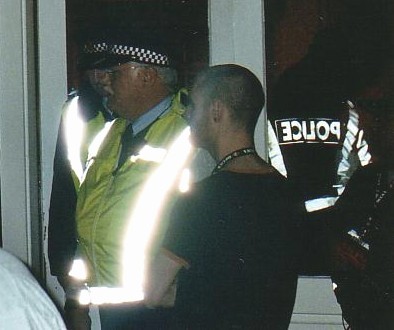 The Fuzz in action W.S. McCallum
There were several of them, accompanied by one of the bar staff and, like the Royal Canadian Mounted Police, they got their man, who turned out to be a skinhead in a long coat who was led away into the night. A social deviant? A troublemaker? An anarchist? A drug dealer? Your guess is as good as mine…
The anticipation was building by this stage. In spite of the fact that their LP Wha'ppen? includes a song called "A Dream Home In New Zealand", the Beat never toured New Zealand back in the 1980s. There were a lot of people in the audience who were old enough to remember when I Just Can't Stop it, the Beat's first album, was released back in 1980, and there were considerably more people in the audience who weren't even born then. Of that generation of British ska bands, they had some of the most original and dynamic songs, and that first album in particular is a classic. It is very much a product of its time, but because of the Beat's originality, it does not seem dated, which is more than you can say for the recordings of Bad Manners, to give just one example.
The Beat broke up in 1982, after recording three albums, but reunited in 2003. The current six-member line-up consists of three members from the 1980s - front man Ranking Roger, drummer Everett Moreton, and Dave Wright on keyboards. The three new members include Ranking Junior, who happens to be Ranking Roger's son.
They started off on familiar territory, performing material from the first album like "Best Friend" and "Rough Rider", as well as "Tears Of A Clown", their reworking of the Smokey Robinson song that was their first hit single in the late 1970s.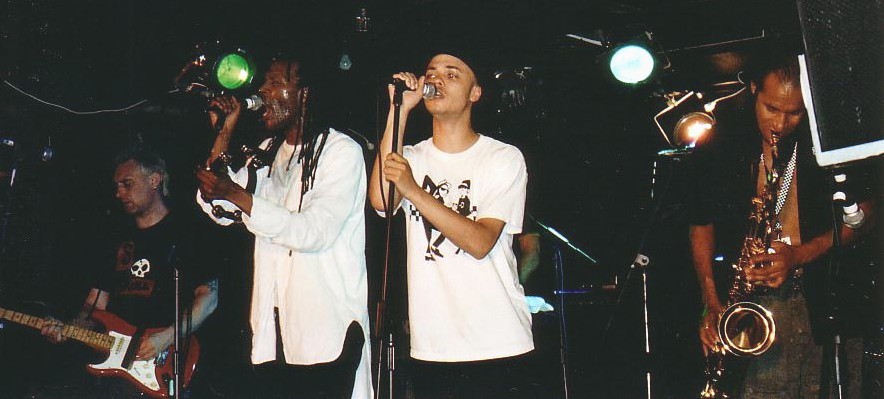 The Beat W.S. McCallum
They were only four songs into their set when my camera battery suddenly died, so I rushed outside to try and find a replacement. I had barely gotten out the door when this young skinhead latched onto me:
"I've just gotten beaten up."
It was true - he looked like someone had punched him in the eye. He also looked like he was on something, as the punch-up had had no apparent effect other than to make him even more buoyant than he had already been.
"Do you like coffee?"
"No, I can't say I do." (The last thing I wanted just at that particular moment in time was to stop for a coffee and a heart-to-heart chat.)
"Yeah, I hate coffee too - d'ya wanna see my mask?"
For some strange reason, he happened to be carrying (but not wearing) a Groucho Marx mask…
"Oh yeah! Nice mask!"
Fortunately, I didn't prove to be exciting enough for him, and managed to lose him at the pedestrian crossing.
The upshot of this diversion was that I spent the next ten minutes hunting along Cuba Street for a 24-hour corner store that stocked the certain type of camera battery that I needed. Unfortunately, none of them did. Then I remembered I had a spare battery in my bag back at the place where I had left my bag, so I got a taxi to save time and managed to get back to the venue after only having missed 20 minutes of the concert. Was it worth it? You decide…
Everything was going great when I got back. The Beat were doing more of their old stuff, which was being lapped up by the crowd - "Best Friend", "Too Nice To Talk To", and "Hands Off…She's Mine". Ranking Roger and Ranking Junior were having the time of their lives on stage, and the band were really together. Two of the high points were their rousing rendition of "Stand Down Margaret", which included the lines "stand down George" and "stand down Tony" to bring it up to date. Then they played "Mirror In The Bathroom", the first Beat song I ever heard. The bass guitar playing on that song still mesmerises, and the sax player was right on target.
The show was then supposedly over, although it was only a couple of minutes before the band came back for an encore. Ranking Roger and Ranking Junior did some impromptu toasting, which was followed by "Save It For Later". At this point, Ranking Roger surprised everyone (including his band) by pointing out a guy in the audience: "I've been watching you! (To the audience:) "This guy knows all the lyrics - he even knows bits of lyrics I've forgotten!" The anonymous audience member was called up on stage to sing along with the closing song - "Jackpot". He not only held his own in terms of knowing the lyrics and how to sing, but proved he had all the dance moves down pat as well. It was a great ending to one of the liveliest concerts I have ever attended, with Ranking Roger promising that the Beat would return at some point in the future.
© Wayne Stuart McCallum 3 October 2006
The End of BANDS.co.nz

A couple of weeks ago I went to check out the BANDS.co.nz site to update some stuff for the Venetic listing. For those of you who didn't know, BANDS.co.nz is a Web site based in Christchurch, New Zealand, which was set up a few years ago to give New Zealand bands a venue through which to express themselves. Its very user-friendly interface made signing up and getting your own little Web space quite easy, and hundreds of New Zealand bands availed themselves of its services to raise their profiles, let people know about forthcoming gigs, and so on.
Anyway, that's why I was connecting to the site. The only problem was that whatever I tried, I kept getting routed through to the Arch Hill Recordings site (the Auckland label).
Mystified at this apparent glitch, I sent an e-mail to Stephen McCarthy to find out why it seemed that Arch Hill Recordings had hijacked his Web site, only to be informed on 16 September that he had shut down his site. The link to Arch Hill was simply because his band Pine was signed to them, and he thought it best that Web surfers be linked through to a related site.
The news came as a bit of a shock. What came as more of a shock is the fact that no one else seems to have noticed. Similar sites to BANDS.co.nz like Amplifier and nzmusic.com haven't offered anything about this particular news on them. And the mainstream media was no better. The only thing vaguely approaching breaking music news that the NZ Herald ran that week was an ongoing verbal stoush between an NZ Idol judge and various NZ musicians, one of whom (Boh Runga) said she would rather lick a toilet bowl than go on NZ Idol. So real musicians despise the non-entities who run NZ Idol - what's new?
Running a site like BANDS.co.nz single-handed, which is what Stephen McCarthy was doing, is a big, largely thankless job, and in combination with other commitments it can wear you down, which is probably why things have come to an end.
Since no one else has bothered, I am going to take the chance now to say thanks Stephen. You offered a site which was more user-friendly and less commercially-oriented than its competitors, and which gave the goldfish of the local music scene the chance to voice their views and find out about what's going on in the murky waters of the pond that is NZ music. Now, if we can just do something about the big carp who keep crapping in it…
© Wayne Stuart McCallum 27 September 2006
The Sneaks and the Buzzcocks
at the St James, Auckland
10 September 2006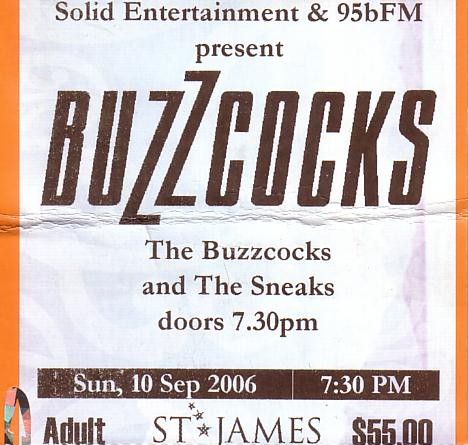 Poor fool me - I took the St James at its word (see ticket above) and turned up at 7.45pm after a quick burger at Wendy's, only to be left waiting around in the auditorium until 8.30pm, when the Sneaks finally took the stage.
The Sneaks are local lads who look great mainly because of the marked visual contrast between the three clean-cut members on guitars, keyboard and bass, and their bearded long-haired drummer. Their very original sound didn't owe any marked debts to anyone although the crazy keyboard playing reminded me a bit of the early XTC, and they had that brash, impertinent approach to lyric-writing much beloved by Britpop groups like Blur. I do wonder however if Blur would ever have the nerve to sing the line "North Shore pussy - she's a rich bitch!!!" The crowd loved them, and kept calling for the volume to be turned up, but the sound crew seemed determined to make sure that the full force of the PA system was going to be reserved for the Buzzcocks. All the same, the Sneaks gave a high-energy performance that left me thinking the Buzzcocks were going to have to be pretty bloody good to top them.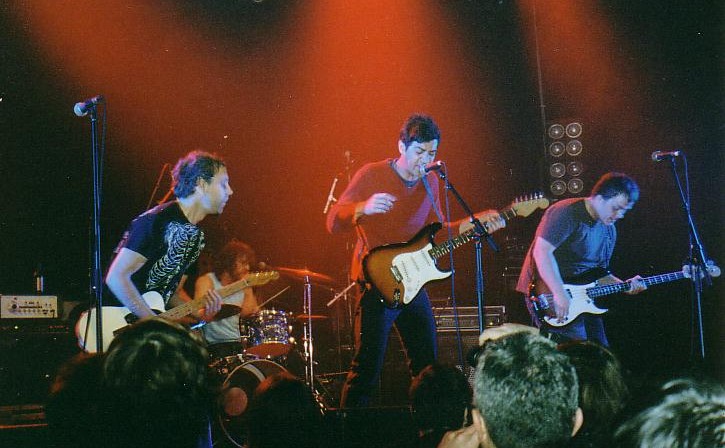 The Sneaks W.S. McCallum
I went looking for a merchandise table to buy the Sneaks' CD, but didn't find one. Even more surprising was that there was no one selling Buzzcocks merchandise. The band originally recorded their debut EP, Spiral Scratch, in 1976 specifically to give to people who came to their concerts, and they have always had a good grasp of promotional elements, what with their eye-catching band logo, posters, tee-shirts and the like. But no, there was nothing.
It has now been 30 years since the Buzzcocks started, and I was wondering what they were going to sound like. The few original UK punk bands that survived the 80s, who were once the needle in the eye of the British establishment, now suffer the ignominy of touring the "chicken in a basket" circuit and are not paid a great deal of attention by a fickle music industry that considers them to be as much relics of the past as Vera Lynn was in the 1970s. The Buzzcocks have not suffered this fate, partly because of their major status as one of the original punk rock bands and because, when they reformed back in the 90s, they made the decision to record new material. Their latest album (their 8th studio album) is Flat-Pack Philosophy.
There was certainly a lot of "rock star" to-ing and fro-ing by roadies and guitar techs prior to their set that left various people in the audience quite impatient. After about half an hour of tweaking and knob twiddling, the band strode on stage at 9.30 pm, with the line-up consisting of two original members (Pete Shelley and Steve Diggle), Tony Barber on bass, and a new drummer, Danny Farrant.
To make the point that it wasn't a nostalgia show, the Buzzcocks started off their show with several of their new songs, but the audience was nowhere near as familiar with these as they were with the material from the 1970s. When they kicked into "Harmony In My Head" the crowd in the mosh pit got noticeably more exuberant. By the time they got onto "Why Can't I Touch It?", some buxom chick was leaping onto the stage and heading towards Steve Diggle, only to be intercepted by security staff and dragged off the stage. Steve Diggle was clearly loving every minute of it - not every bloke in his 50s has young groupies lunging for him.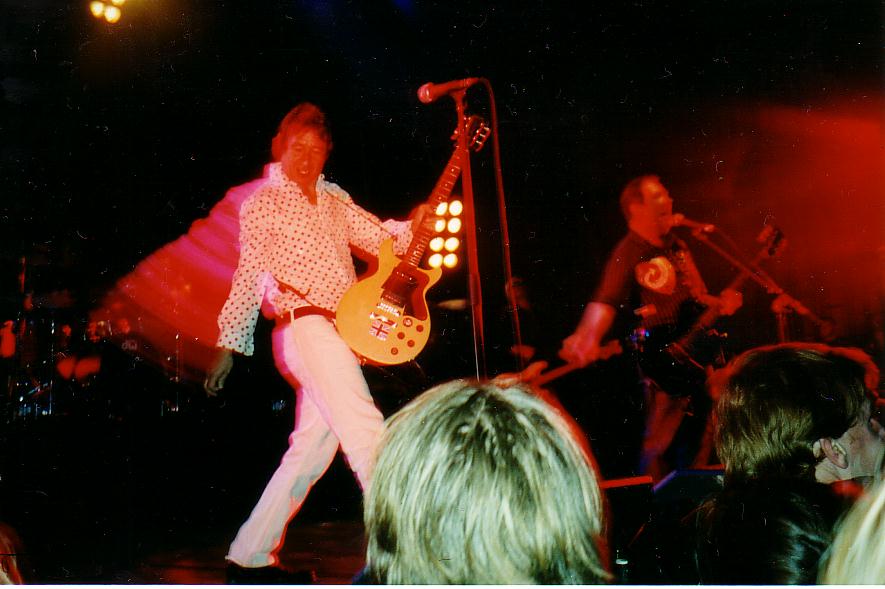 Steve Diggle & Pete Shelley of the Buzzcocks W..S. McCallum
The thing that made me do a double take, although it shouldn't have, was just how old Steve Diggle and Pete Shelley were. My mind was stuck in a time warp as I was used to looking at the fresh young faces on their early album covers, and here were these two old geezers who are in fact not that much younger than the Rolling Stones. Not that age had any bearing whatsoever on the performance. Steve Diggle in particular was prancing around doing guitar acrobatics and showing a lot more flair than new bands like Franz Ferdinand or Interpol could ever manage.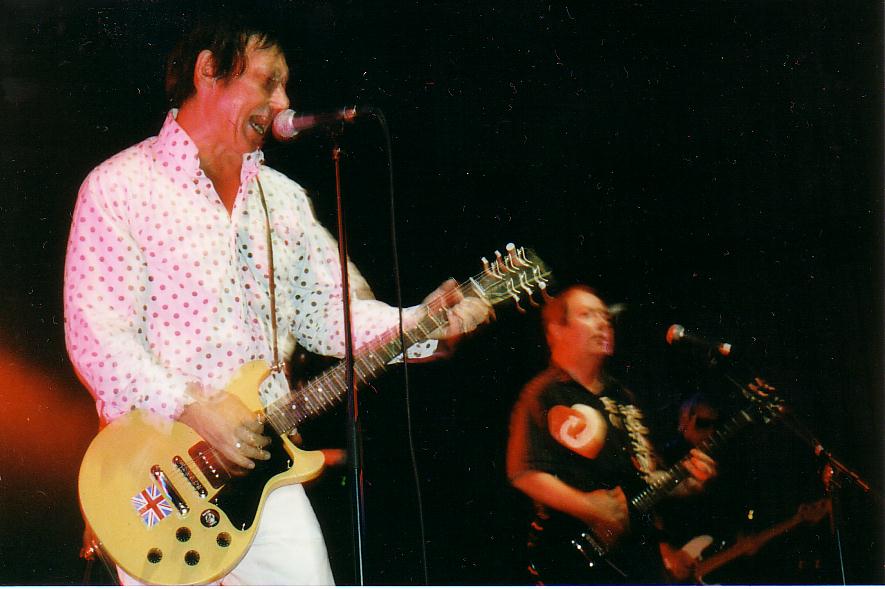 W.S. McCallum
The sight of another stage jumper getting hauled off seemed to egg the Buzzcocks on even more, and the performance just kept getting more and more boisterous. At one point Diggle and Shelley were even simultaneously spitting on stage… To notch up the tension, the guy controlling the lights was also going all out, with enough strobe effects to give an epileptic a seizure.
The sound was excellent, although down in the front row the drums and bass were drowning out the guitars on songs like "Autonomy" "What Do I Get?" and "Fast Cars". Initially, my impression was that the mixing was shoddy, but it was more to do with the fact that I was standing forward of the main speakers. At the back of the house the balance was better.
The Buzzcocks did "Ever Fallen In Love?" and then vacated the stage at 10.25 pm, but without too much further ado they were soon back for their encore. By this time I was upstairs at the back of the house, where the sound was crystal clear. It was a weird atmosphere up the top. Here, seated and looking very respectable and restrained, was the portion of the audience who were the Buzzcocks' contemporaries, grey-haired and not so lively now that they had reached their 50s. They formed a stark contrast with the younger members of the audience leaping around in front of the stage.
The encore included "Sin City", "Lies Are Lies", "Breakdown", "Promises", and "Orgasm Addict", which was rapturously received down the front of the house. Their closing song was "Boredom", which Pete Shelley delivered in an appropriately deadpan fashion while Steve Diggle leaped around all over the stage. It was all over by 10.45 pm, although Steve Diggle stayed on stage a bit longer to smash over the mike stands, throw a mike stand at the drum kit, and then abuse his guitar in a suitably punk manner.
More Sneaks photos More Buzzcocks photos
© Wayne Stuart McCallum 12 September 2006
Welcome to the USSR!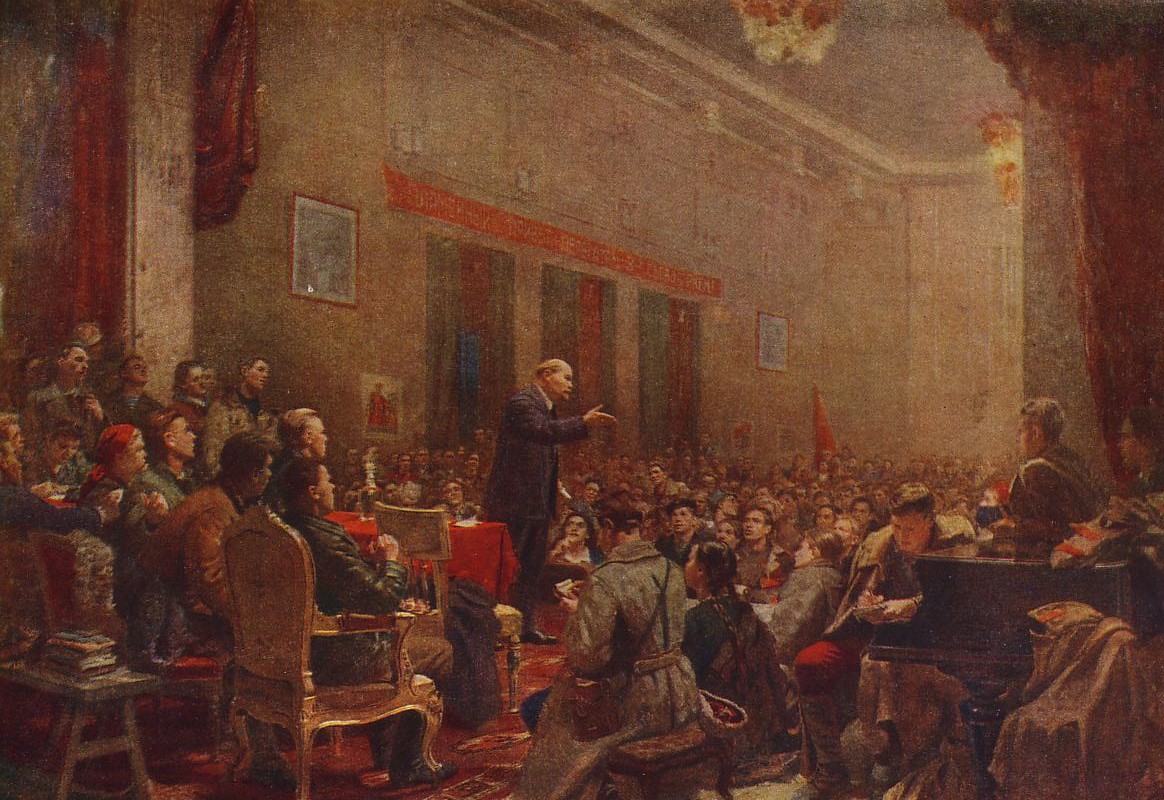 "And when we have reached a higher stage of development, Comrades,
you will be able to vote for your favourites on Pop Idol!"
The thought came to me some days ago that the official pop and rock music industry in contemporary New Zealand is more than just a little bit reminiscent of the official music industry in the USSR. And since then, this impression has kept getting stronger and stronger, to the point that I just can't shake it, and it has even become a conviction. But before you laugh or call me crazy, read on and let me explain.
In the USSR, in its early days, rock'n'roll was met with hostile condemnation not all that different to what was expressed by the pillars of society in New Zealand. As was the case in New Zealand, kids in the USSR who were rock fans got beaten up for looking too different, a close watch was kept on hair length in schools and youth groups, official reports were issued on the deleterious effects of this savage new music on the nation's youth, and a clamp-down was maintained through a refusal by the State broadcaster (the only game in town in those days) to play "unwholesome" music.
As time progressed, society loosened up a bit, when the gatekeepers realised that rock'n'roll could be co-opted (for ideological purposes in the USSR, and for capitalistic purposes in New Zealand). The loosening up was obviously far greater and swifter in New Zealand, even if only in some ways and not in others. For instance, the music industry in New Zealand was just as hostile to the Sex Pistols as the cultural commissars in the USSR were. I still remember from my distant childhood those weeks in 1977 when the Sex Pistols' "God Save The Queen" climbed into the top five in New Zealand, only to be steadfastly ignored by the weekly top 20 TV show of the day. Needless to say, none of the State radio stations played it.
And there were other ways in which the cultural gatekeepers in New Zealand clamped down that would have been unimaginable even in the USSR. In the early 1980s, when select Soviet rock groups were starting to get their records pressed on Melodiya, the State record company, and broadcast on Soviet State radio, in New Zealand State radio was still generally hostile to playing most local groups on the grounds that they "weren't good enough". Thus the likes of the Chills, the Clean, the Bats, Aotearoa, etc. etc. had to fight to be heard on our country's airwaves because of a level of cultural cringe among State radio programme directors that would have been unthinkable in the USSR. There, the prevailing official attitude was "our Soviet groups are just as good as (if not better than) the Western ones".
Yet various aspects of the music scene in the USSR and New Zealand show a striking resemblance. Consider the following:
By the 1980s in the USSR, rock had become so impregnated in Soviet society that it had been granted recognition by the Communist Party. Provided you sanitised your music, provided you didn't sing songs that questioned the system, provided you looked wholesome enough, and provided you generally did not rock the boat, you could become an Official Band. This meant you would get the opportunity to play in proper concert halls, you would be granted a recording contract, and State radio would even play your recordings in the appropriately allotted timeslots. More importantly, becoming an Official Band meant that you were recognised by the Communist Party as professional musicians, and you would receive stipends from the State. Unfortunately however, such status was restricted to the lucky few, and the great majority of bands were left out in the cold, being shunned by officialdom, releasing their own material on cassette, playing in small venues, and getting by as best they could.
Now let's look at New Zealand in the 2000s. Here, rock has become so impregnated in society that it has been recognised by the Labour Government. Provided that you sanitise your music, provided you don't sing songs that question the system, provided you look wholesome enough, and provided you do not generally rock the boat, you gain mainstream acceptance. This means you get the opportunity to play in proper concert halls, you get granted a recording contract, and State and private radio will even play your recordings in the appropriately allotted timeslots. More importantly, gaining mainstream acceptance means that you are recognised by the Labour Government as professional musicians, and you receive stipends from the State (in the form of NZ On Air funding, for example). Unfortunately however, such status is restricted to the lucky few, and the great majority of bands are left out in the cold, getting shunned by officialdom, releasing their own material on CD-Rs, playing in small venues, and getting by as best they can.
So now you will understand, Comrade, when I say "Welcome to the USSR!"
© Wayne Stuart McCallum 30 August 2006
Lassoo Trick, Operation Rolling Thunder, City City City, Jakob
160 Victoria Street, Wanganui
16 August 2006
Having retrieved my copy of A Low Hum from the mailbox just that afternoon and only gotten around to opening it about 6pm, imagine my surprise to see that the aforementioned line-up, constituting the venerable magazine's latest NZ national tour, was cranking up at 7pm that very night.
The first mystery was the venue, "ALC5's", which was listed on the flyer as being at 160 Victoria Street, Wanganui's main drag. A night club? A bar? It didn't ring any bells, but all was soon to be revealed.
I arrived at 7.30pm, and climbed up the dark staircase just in time to see local band Lassoo Trick deliver their set, with jagged, energetic guitar playing and forceful drumming. They even included a cover of a song by Bauhaus. They had the honour of being the tour's hosts in the literal sense that night, in that the venue was their bass player's flat, which made for the cosiest concert I have ever been to.
The audience numbered about 30, although it was not always clear who were audience members and who were floating band members and/or roadies, so the actual number may have been lower. Blink, the mastermind behind A Low Hum, who was acting as the doorman and master of operations, kept urging people to stop congregating in the upstairs hallway and actually venture into the living room, where the eyeball-to-eyeball contact afforded with that night's line-up gave a whole new level of meaning to the word "intimate". It was a friendly atmosphere however, and soon enough the punters had settled in and were enjoying the novel surroundings.
Operation Rolling Thunder, from Dunedin, set up next. They are a two-member drums-and-guitar outfit with heavy rolling beats and organic fretwork. They are one of those Dunedin bands that somehow bring bagpipe music to mind (and I mean that in the nicest possible way). It's something to do with that rhythm with a drone feel to it that so many Dunedin bands unwittingly perfect. Although Operation Rolling Thunder experienced passing hitches with a loose guitar jack that came out of a foot pedal and a passing hint of irritation that the drummer had to adjust the treble because there was so little space the guitarist couldn't reach his amp, the duo delivered a sterling performance that was short (three songs) but sweet as.
City City City from Melbourne got off to a subdued start, having finally managed to attract their drummer back to the living room-cum-stage by yelling out his name. A non-stop set with stop-on-a-dime changes and a steady build-up saved a shaky start. Seeing a band with two drummers delivering such a powerful punch in the limited confines of that inner-city upstairs flat is something I am never going to forget.
There was a bit of a pause as City City City cleared their gear away to make room for Jakob. The overall logistics of this venue were quite tricky, with it being necessary for audience members to clear the room simply so that gear could be moved out. On two occasions, drummers from different bands were poking around the room looking for cymbals, only to discover they had been stashed in a dark corner behind where I was standing (a spot by the fireplace where you had to be careful not to accidentally elbow the tiny mixing desk hidden in the corner beside the open door into the living room).
Jakob, once they had tweaked their pedals and adjusted their drums, delivered a majestic set. Their music is a mixture of dream-like guitar delay and built-up tension and anger that transcends words. Theirs was the loudest set, causing the whole room to vibrate along with, at one point, my nose (a weird sensation). For all that though, the sound was bright and clear, a testament to an economical but effective sound set-up that matched the small scale of the room they were playing in.
The whole show was over by 9.45pm, leaving the handful of locals who had turned up to marvel at their good fortune and stumble out of the darkness into the bright empty streets of Wanganui.
© Wayne Stuart McCallum 17 August 2006
The Majors Stop Supplying Tower Records
W.S. McCallum
On 4 August 2006, Charles Duhigg and Geoff Boucher of the LA Times reported that at least three major music companies had suspended CD shipments to Tower Records, one of the main chain retailers in the US. Universal, Warners and EMI insiders confirmed that the three firms had stopped sending CDs to the 89-store chain due to its failure to pay its bills.
Tower Records is reported to have gone into crisis management mode, having appointed a new chief executive by the name of Joseph D'Amico, who is also a bankruptcy expert. There is some speculation as to whether Tower Records is on the verge of collapse or is merely in the middle of a major reshuffle that has led to temporary payment difficulties. This is not the first time the chain has experienced difficulties, having filed for bankruptcy in 2004, only to come out of it less than a month later.
Tower originally started in Sacramento in 1960, expanded to other major centres in California in the 1960s, and then nation-wide and overseas. It was a pioneering retailer in the field of recorded music in that it introduced the mega-store concept later used by chains such as HMV and Virgin. It was during the 1980s that the firm's sales increased further, and it was achieving high profit levels by the early 1990s. The reason for this was the advent of CDs; units that were cheaper to ship, distribute and retail than LPs.
Over the last few years, Tower Records has faced declining sales as a result of digital downloading and the arrival of a new generation of music consumers who are no longer interested in buying outmoded CDs. The firm also found itself being undercut by general big box retailers such as Wal-Mart. Like competing music retail chains, Tower Records has fought back by opening in-store kiosks and an on-line digital store allowing tracks to be downloaded for a fee. Time will tell if Tower and its competitors manage to hold on in the face of a radically changing market.
© Wayne Stuart McCallum 7 August 2006
Postscript: On 6 October 2006, Tower Records went into liquidation.
National Touts for the Youth Vote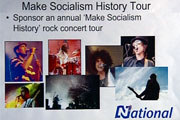 One of National's super promotional ideas
There was an interesting item on TV3 news last night. It was leaked in Parliament by Labour that the National Party is trying to win over the country's youth by becoming the "Cool Party". A plan drawn up by National's recently departed Chief Executive encourages National to espouse the virtues of New Zealand's youth culture, by holding bands like the Feelers up as shining examples.
I wanted to send the Feelers an e-mail to ask them what they thought about becoming the National Party's new poster-boys, but unfortunately their Web site is "under construction" and they weren't contactable.
Even more cynical is the plan's proposal to co-opt Auckland's Dawn Raid Polynesian streetwear label in a shonky attempt to give National some street cred. This is more than a little bit rich coming from the political party which, under the Muldoon Government in the 1970s, introduced the term "dawn raid"* into the New Zealand vocabulary.
Whatever the reaction of the Feelers and Dawn Raid may be, this sort of thing constitutes one of the baser forms of political cynicism. Some analyst in the National Party evidently worked out that National wasn't getting the youth vote and decided it was time to pep up the party's image for the Emo generation.
It is not a particularly original move either. In the mid-1980s, Ronald Reagan and the American Republican Party tried to hijack Bruce Springsteen's "Born In The USA" because it supposedly typified Republican values, heedless of the fact it was actually intended as an anti-war song. Springsteen's firm statement that he was not going to be co-opted by the Republicans soon derailed that particular plan. And then there was New Labour and Tony Blair's "Cool Britannia" campaign in the mid-1990s, for which he enlisted the support of Britpop icons like Oasis and Blur. As the documentary "Live Forever" showed, these bands were cynically used and discarded by Blair and his followers.
Now here we go again, this time with the National Party, which operates on the assumption that you should never over-estimate the intelligence of the average Kiwi voter (the Orewa speech offers a good example of this). So remember, any dear young things out there who may be silly enough to fall for this nonsense, Don Brash wouldn't know the difference between Emo and an Emu. But he is very conscious of the need to clock up votes for the next election.
And in case you were wondering, I think Labour's attempts to capture the youth vote by supporting NZ music are just as cynical as National's.
As Bob Dylan once said: "Don't follow leaders, watch the parking meters!"
* Note for our international readers: "Dawn raids" were round-ups of Pacific Islanders conducted by the New Zealand Police in the 1970s. The pretext was that they were looking for illegal overstayers who did not have work papers etc. In reality, they often netted people who were living in New Zealand perfectly legally or, worse still, were New Zealand Maoris (given that the cops couldn't tell one sort of Polynesian from another)…
© Wayne Stuart McCallum 20 July 2006
Universal Beats a Retreat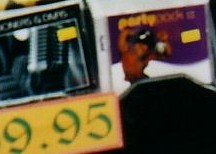 W.S. McCallum
It was recently announced that the Universal Music Group is planning to sell CDs in a new stripped-down form of basic packaging. The CDs are going to be placed in basic cardboard sleeves and will not have any CD booklets. In Great Britain their retail price will be 7 quid, while the standard price for a CD in a plastic "jewel case" will be 10 quid.
Universal claims that this new packaging is the CD equivalent of the paperback book, a fairly fanciful comparison. Actually, the CD equivalent of the paperback book has been around a long time - those el cheapo CDs with poor graphics values that the budget labels release and which are sold by the truckload at your local big box retailer.
In fact, Universal is fighting a rearguard action against on-line downloading (legal and otherwise), lowering its prices in order to bolster declining global CD sales. However it remains to be seen whether your average under-25 consumer is really interested in buying cheap CDs in basic packaging when the same music is available either cheaper or for free on-line.
It might seem odd that no one thought up this concept at Universal when CDs were introduced in the 1980s, but then the policy was to squeeze maximum profits out of the new little shiny disks by touting how superior they were to LPs. CDs already had a hard enough time challenging the established vinyl format in terms of graphics without making things even harder by placing them in minimalistic packaging.
The next few years are going to be interesting to watch as the major record labels go around in ever-decreasing circles in a vain attempt to regain the fat profits of yesteryear that they once gained by selling CDs. Their long-term future however depends on whether they can re-establish their hegemony by reasserting greater control over on-line downloads.
© Wayne Stuart McCallum 12 July 2006
How Bizarre? No, Not Really…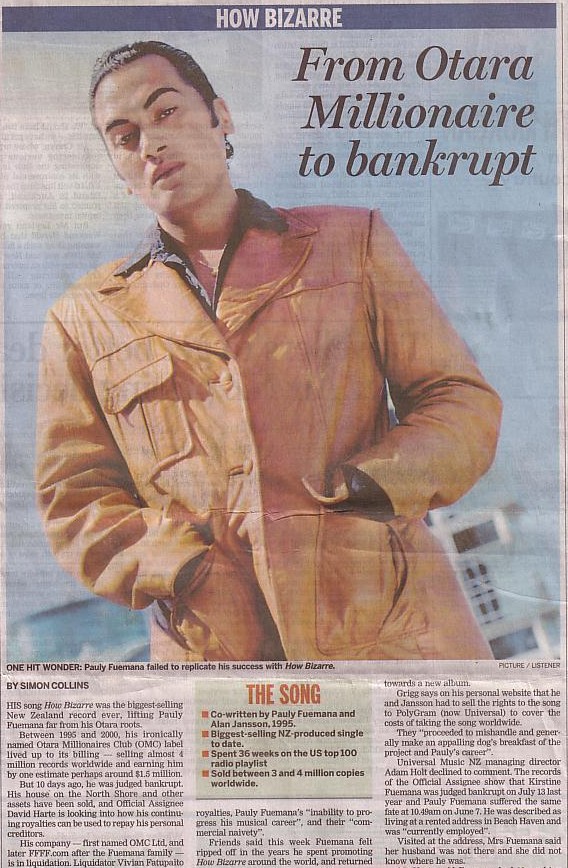 The article shown above was on the front page of Auckland's Weekend Herald on 17 June 2006. It outlines the financial rise and sudden downfall of Pauly Fuemana, the leader of the group OMC, who was one of the two co-writers of "How Bizarre", the biggest-selling New Zealand single of all time, which experienced global success around 10 years ago.
It is an article that has been on my mind for over a week now. There are various reasons for it getting lodged in my brain and staying there. The first is the title - "HOW BIZARRE - From Otara Millionaire to bankrupt". Read it out aloud a couple of times, and mull it over for a few seconds. Do you get any early feeling from reading the headline that Simon Collins, the journalist concerned (or possibly his editor) is not exactly crestfallen over Pauly Fuemana's fate? Well I certainly do.
Then there is the article itself. Pauly Fuemana is referred to in one judiciously selected quote as having "lived extravagantly". Exactly what this means, we are not told, but the subtext is probably that he was living on a bigger income than your average journalist at the Herald receives.
Further on, reference is made in other judiciously selected quotes to his purported "inability to progress his musical career", due to which he was supposedly left feeling "paranoid", and that "he basically just became a hermit". With his use of such carefully chosen quotes, Simon Collins doesn't exactly paint a warm, caring picture of the man his article describes. Perhaps it is just as well that Mr Fuemana was not available for comment.
Elsewhere in the article, further third-party quotes are given, claiming that OMC's label PolyGram (now Universal) "proceeded to mishandle and make an appalling dog's breakfast of the project [of global marketing of "How Bizarre"] and Pauly's career". Not surprisingly, Adam Holt, Universal NZ's managing director, declined to comment. But hang on a minute, if the record company really did botch the job, just how did Pauly Fuemana become an "Otara Millionaire"? (to use the Herald's description …)
This article, sadly, typifies so much of what is bad about New Zealand journalism: "clever" headlines, slanted quotes from third parties, and a dearth of insightful assessment, substantial facts, or real research.
To ram its message home, the article concludes "Fuemana will be barred for three years from, among other things, being a company director, managing a business or travelling overseas".
Is it just my imagination that it really looks here like the Herald is crowing over Pauly Fuemana's misfortune? The fact that Pauly Fuemana is a Pacific Islander of humble origins from Otara, who purportedly made a lot of money (how much exactly? Simon Collins doesn't really know…) in a very short time might just have something to do with how the article is pitched. I do wonder though if the Herald would have offered the same less-than-sympathetic treatment, or such prominent page one coverage, if a similar-sized bankruptcy had befallen some white guy who went to Auckland Boys' Grammar and who was managing some dot.com company or a plastics factory. And the Herald would surely have adopted a more reverential or at least respectful tone if, for instance, it had been one of the Finn brothers who had gone bankrupt.
Whatever the real story is, one thing is evident from this débâcle. The hallowed dream that so many New Zealand musicians aspire to of making it rich from a hit single and living happily ever after has been shown up for the hollow lie that it is.*
© Wayne Stuart McCallum 27 June 2006
Postscript: In its "One Hit Wonder" column (August 2006), Mojo (the British rock nostalgia mag) featured OMC's "How Bizarre". The tone of the article was respectful, fond and positive. A marked contrast with the tone of the Herald's coverage.
T.I.T.S, Swearing At Motorists, Electrelane
Festsaal Kreuzberg, Berlin
7 June 2006
Having spent the preceding evening waiting in vain for entertainment until 11.30pm at an establishment called White Trash in what used to be East Berlin, I was keen to see what time the show would begin at the Festsaal. In Berlin, it seems, performance start times involve an ongoing valse-hésitation that stretches ever later into the evening. On the one hand, the venue owners delay the start time till as late as possible in order to get a larger door take. And on the other hand, the punters, knowing full well that they will just have to hang around for hours waiting while they sip on overpriced drinks to relieve their boredom, don't bother showing up until hours after the advertised start time. The outcome is that if you want to go and see a concert in Berlin and the advertised start time is 9pm, it may in fact turn out to be 10pm, 11pm or even midnight.
I turned up at 9.30 (half an hour "late") only to wait for another 45 minutes before T.I.T.S appeared on stage. For all the strident feminists out there whose anti-male chauvinist radar is now beeping loudly, T.I.T.S are four women from San Francisco, and it is clearly one of those band names aimed at provoking a response. T.I.T.S initially had some trouble with their sound levels, but soon got them sorted out and swung into action. Their forceful rhythms, asymmetrical guitar playing and chanted lyrics initially unsettled more than one German in the audience, but they won the crowd over. It was their first performance in Germany, and their only one there as part of a European tour that also included Britain and Ireland.
And no, sadly I didn't have the courage to buy one of their "I LOVE T.I.T.S" tee-shirts.
T.I.T.S W.S. McCallum
The intervening break provided an opportunity to relish one of those little local customs that make international travel so entertaining. The Festsaal in Kreuzberg automatically deducts 50 cents from your change as an inducement for you to return your (plastic) cup to the bar so you will get your money back. It's a class act for a classy joint…
What I initially thought was the local Frank Zappa look-alike, and who I then presumed was a stage hand, actually turned out to be Dave Doughman of Swearing At Motorists, who all of a sudden stopped fiddling with his guitar and started pumping out rhythms using a digital loop unit as backing before bursting into song. The songs mainly seemed to be from their sixth album, a break-up oriented work entitled Last Night Becomes This Morning. He played a couple of songs solo with his loop box, and then called his drummer up on stage.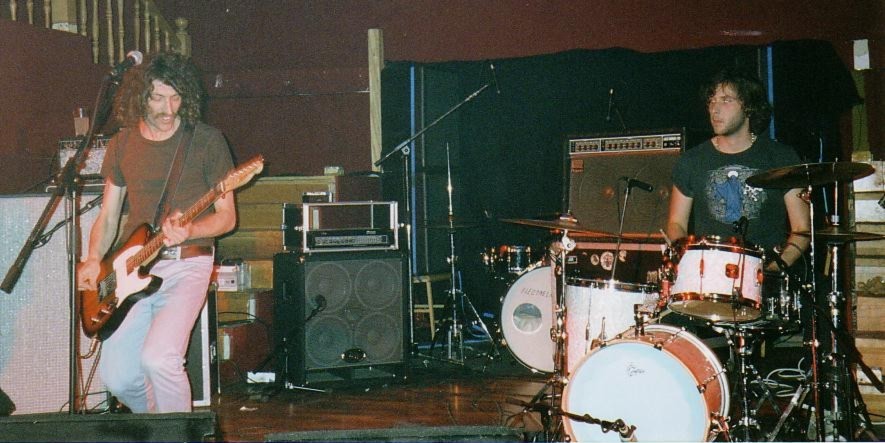 Swearing At Motorists W.S. McCallum
More Swearing At Motorists photos
The two-piece act from Dayton, Ohio provided an original, engaging set, and had the best stage presentation that night, with Dave Doughman doing a lot of jumping about on stage and a good deal of huddling with his drummer. But the ultimate trick was the use of his digital loop unit to keep the rhythm going for the final song while he walked out into the audience singing "You lost the battle! You lost the war!", going all the way to the back of the auditorium, up onto the balcony, and along the balcony, continuing his singing the whole time. He then proceeded to leap over a makeshift barricade blocking audience access down the stairs leading to the stage, and walked back on stage, where he clicked off his loop pedal with his foot just at the right moment and took a bow while the audience cheered.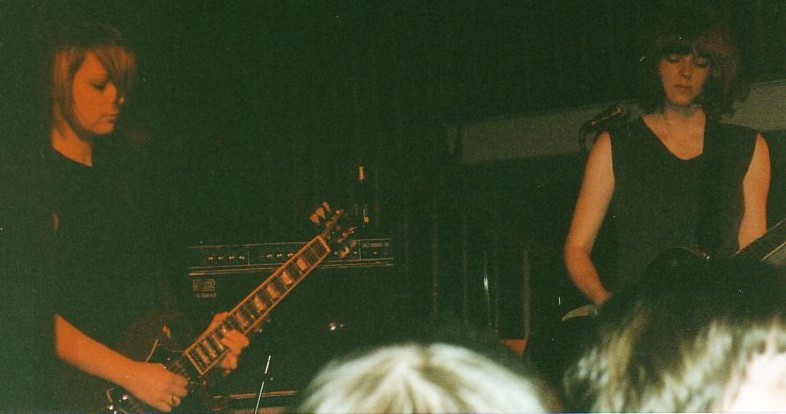 Electrelane W.S. McCallum
The headline act, Electrelane, started their set well after midnight. The 4-woman band is from Brighton, England and reminded me a little bit of the Flying Nun band Look Blue Go Purple, from the mid-1980s. The sound was dark, moody and intense, with the group's leader Verity Susman offering keyboard playing that ranged from dissonant to almost classical in its technique. Electrelane were lapped up by the audience, but I have to admit I was suffering from attention deficit syndrome prompted by sleep deprivation by the time the show ended around 2am on Wednesday morning. I can only imagine what this "let's start as late as possible" lark is like for locals who have jobs to go to in the morning. Then there was the dilemma of how to get back home long after the last buses and trains out to the suburbs had stopped running.
© Wayne Stuart McCallum 18 June 2006
Teppaz & Naz
Le Zèbre de Belleville, Paris
29 May 2006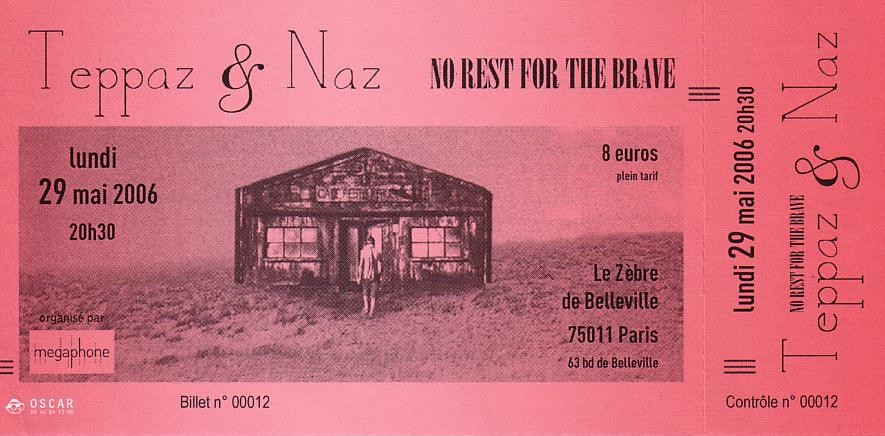 At some clubs in Paris you get stopped at the door for not being dressed right, for looking too shabby, too poor or, dare it be mentioned, too black or Arab (it is fair to say that a good many of the knuckle scrapers who guard Paris's venues have either not heard of or do not understand the concept of "Liberté Égalité Fraternité"). At the Zèbre de Belleville on the other hand, I got stopped because some chick decided that the doorway was the best place to hold an on-so-important conversation on her cell phone with one of her social circle. The pointed question "On peut passer?" (Can I get through?) and a sour glower successfully shifted her.
Happily, the venue itself was more convivial. The Zèbre does indeed have the large image of a zebra hanging on the wall behind the stage, along with trapeze artist's ropes hanging overhead. When it is not being used for concerts, the small hall hosts training sessions for trapeze artists, clowns and other circus performers.
Teppaz et Naz is a pun. When written with an "and" in-between them, Teppaz and Naz sound like strange surnames. Usually however, these words are heard as part of the slang phrase "Mon teppaz est naz", which means "My record player is buggered". The duo come from Perpignan in the south of France, and were making a rare live appearance up north in Paris to play what the flyers described as "electrified acoustic rock". That's 2 six-string acoustic guitars, next to nothing in the way of electronic effects, and some very skilful playing.
Their set was mainly covers, interspersed with a few of their own songs, of which hopefully there will be more in the future, as these guys deserve something more than to be remembered as a covers band.
Even with the covers, what made the show work was their original approach, combined with an artful eclecticism that somehow managed to make shifts from a Johnny Cash song to a La's song, and then to something by the Turin Brakes, work seamlessly.
Rock electric guitar players tend to be a wimpy bunch, in spite of their macho self-image. They hide behind banks of effects and signal processing, and even use ultra-light gauge strings to make playing easier. Playing lead guitar riffs on an acoustic guitar for two hours is not an easy option. In fact, it's a good way of shredding your fingers to a bloody pulp. Yet Teppaz & Naz did it, and made it look easy, roaring through songs like "Jezebel" (a hit for Charles Aznavour which was covered by at least one US 60s garage band in English), "A Little Less Conversation" (Elvis), Suffragette City (Bowie) and an amazing medley that ranged from "Pipeline"(The Chantays) through to the James Bond theme and ended with the Mission Impossible theme. Other highlights were a Paul Kelly song I've forgotten the name of, "Summertime Blues", "Mystery Train", and "I Never Met A Girl Like You Before" by Edwyn Collins.
Although the Parisian audience did laugh a bit at their southern accents, Teppaz & Naz finished the night to resounding applause and managed to win over a crowd of new fans.
© Wayne Stuart McCallum 18 June 2006
Dan Penn & Spooner Oldham
La Java, Paris
23 May 2006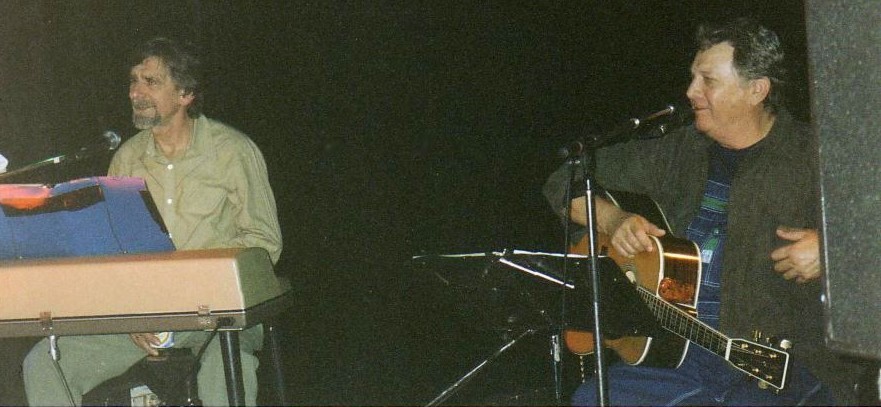 W.S. McCallum
Sometimes you come across concert info in places where you weren't really looking for it. In this case, the poster was pinned to the bulletin board at a bookshop-cum-record store called Parallèles, in the neighbourhood still referred to as Les Halles, in spite of the fact that the produce market in question was torn down to make way for a multi-level subterranean shopping complex in 1973. Parallèles, by the way, is a great little place if you are looking for books on rock music. They have published a French-language encyclopaedia of US psychedelic rock which is a landmark in the field, but that's another story.
So, there was the poster, with the words "Dan Penn & Spooner Oldham", and my pulse quickened. For readers going "WHO?" at this point, Penn & Oldham are one of the great songwriting duos of the sixties. In terms of hits and sales, they're not quite up there with Lennon & McCartney, but they would not be all that far behind either, having written hit singles for a swag of US rock and soul performers from their base at Muscle Shoals, Tennessee.
The poster said "Entry with a ticket only", so I walked over to Les Halles and took the long escalator all the way down to the bottom level, where a store called FNAC is located. As well as selling home appliances, CDs, vinyl and books, the place has a ticket office. There were no details displayed up on the big board, so I asked at the counter about the price, which turned out to be 33 Euros. That's about NZ$ 65 at the current exchange rate - cheaper than a ticket to the White Stripes!
La Java is located in the inner-city suburb of Belleville, which used to be a working-class neighbourhood inhabited by people from provincial France in the 19th century, who were later supplanted by European immigrants from places like Italy and Poland by the early 20th century. The current wave of immigrants (perhaps the last, if the French Government gets its way) is largely Maghrebin, as witnessed by the number of Hallal butcher's shops visible along the street La Java is on, and the café with people of various origins puffing away on hookahs as you walk into the arcade the venue is located in.
The venue itself is under the arcade, and is accessed via a semi-circular staircase which leads down to a bar area, and a long hall which, judging from its length and configuration, used to be a dance hall in its early days. The only jarring effect is offered by the blue neon lighting, which made my drink look radioactive, and gave the dust on my black jacket the incandescent glow of nuclear fallout.
Not surprisingly, the audience consisted mainly of American and English expatriates, all on the advanced side of 45. They must have been there before, because they arrived early and hogged all the good seats, so I was left to float from vantage point to vantage point, which was okay as it gave me the chance to take a few photos from various angles.
The show started at 9pm, with the duo both sitting down to play on the tiny stage. Dan Penn was on guitar and did most of the singing, backed up by Spooner Oldham on what looked like a Fender Rhodes keyboard.
It was a low-key, relaxed performance that felt like a family gathering. The duo halted between songs to take the opportunity to talk about the circumstances under which the songs were written, accompanied by tales of what it was like to record with people like Otis Redding, Alex Chilton (back when he was still in the Box Tops), Percy Sledge, and Janis Joplin.
The set list was one that most performers would die for, and included the following hits and lesser-known songs from the pair's repertoire:
I'm Your Puppet (recorded by James & Bobby Purify)
Cry Like A Baby (the second hit they wrote for the Box Tops)
Do Right Woman (Aretha Franklin)
I Met Her In Church (Percy Sledge)
At The Dark End Of The Street (James Carr)
You Left The Water Running (Otis Redding)
A Woman Left Lonely (Janis Joplin)
Rainbow Road (Arthur Alexander)
Lodi (Creedence Clearwater Revival)
and so on.
Although the duo are perhaps best known for their songwriting, they were definitely no slouches as musicians, and had that deceptively effortless approach that only comes after decades of performing together. Towards the end of the show, they took requests, including "Glory Train", a song they had never played live before:
"Was that in G, Spooner?" (Followed by a shuffling of lyric sheets.)
"And there's that D minor chord in there, isn't there Dan? (Spooner Oldham feels out the chords on his keyboard.)
Then they just launched into it. Not only did they get it right, they nailed it. Anyone who has ever tried to play a song they learnt even five years ago and haven't played since, let alone 30 years ago, will know how impressive this is.
Even though they said they would dispense with the tired formality of coming back for an encore by playing it straight away, the audience nonetheless clapped and cheered so much that they came back and gave them even more.
© Wayne Stuart McCallum 18 June 2006
Sony's CD Spyware

In 2005, a blogger by the name of Mark Russinovich decided to publish his discoveries about Sony CD spyware in his blog (www.sysinternals.com/blog/2005/10/sony-rootkits-and-digital rights.html).
He had discovered, through a bit of tinkering and deduction, that various newly-released Sony CDs featured spyware that Sony BMG itself had placed on its recordings in order to prevent what the corporation saw as piracy of its recordings. The discovery caused quite a stir, and news of it spread like wildfire over the Internet, along with cries of outrage from consumers.
While music lovers generally consider themselves to be the owners of the CDs they purchase, and think they should have the right to copy them to MP3 or any other format so they can listen to them on their computers or on MP3 players, it is worthwhile remembering that Sony, like other record companies, does not consider the purchasers of CDs to be their owners. Rather, these corporates hold that in buying a CD, you are in effect purchasing a licence to listen to the artist's music, not to fiddle around with the recording, copy it to different formats, or store it on other media.
This may come as a surprise to the under-25s out there, but it really is nothing new. Those old enough to remember the early 80s will recall the "Home taping is killing music" slogan with a mock cassette skull and crossbones that the industry majors used to slap on recordings to dissuade consumers from taping their LPs so they could listen to them on their car cassette players. Plus ça change, plus c'est la même chose…
The spyware that Mark Russinovich discovered, called XCP DRM, was designed by an English company called First4Internet. XCP DRM is a quite malicious piece of software that loads itself surreptitiously when one of the Sony CDs in question is first placed in a computer CD drive. Its main purpose is to limit CD copying to 3 copies, but it also features a rootkit with communication features that open a gateway to viruses, and is difficult to detect and remove with everyday anti-spyware utilities. And spyware it is, because what XCP DRM does when you place a CD in your computer drive is send a compact disc ID number to Sony via the Internet, enabling the corporate to identify the computer in question through its IP number.
Naturally, people wanted to know what the CDs were that were causing all the problems. It turned out that there were about 45 of them, according to the idiotabroad.com Web site. While a lot of titles were exercises in corporate blandness such as On ne change pas by Céline Dion and 12 Songs by Neil Diamond, the list also included In Your Honour by the Foo Fighters, Aha Shake Heartbreak by the Kings of Leon, The Invisible Invasion (spot the irony!!!) by the Coral, the Dead 60s' self-titled album, and some classic jazz titles like Silver's Blue by Horace Silver, Manhatten Symphonie by Dexter Gordon, and The Legendary Okeh and Epic Recordings by Ahmed Jamal. Not all of these CDs necessarily had a clear Sony link, as the conglomerate includes labels such as Arista, Jive, Epic, and Columbia, gobbled up over the years in the succession of takeovers that has made Sony BMG the present-day behemoth that it is. Forty-five titles may not sound like many, but the impact of this issue becomes clearer when you realise that over 20 million CDs sold to the public in 2005 featured this technology, and that XCP DRM is not the only weapon in Sony's arsenal. Sony has been including MediaMax copy-control software by SunnComm on its CDs since 2003.
By November 2005, faced with a flood of complaints from customers who were dismayed and disgusted at it placing unauthorised malware on their computers, Sony reacted. In a statement dated 18 November 2005 from its lawyers Debevoise & Plimpton LLP, in response to a call from a group called the Electronic Frontier Foundation to abandon its invasive technology, Sony BMG declared that it had ceased manufacturing CDs with XCP DRM and was taking steps to get them withdrawn from retail chains. Customers who wanted their XCP CDs replaced could get them exchanged for discs without copy protection. Sony also stated it was providing an on-line tool for uninstalling XCP DRM. However Sony customers were further dismayed to find that, if they removed the software from their computers, they were no longer able to play their new Sony CDs on their computers, regardless of the fact that they had purchased them legally and had every right to do so. Worse still, following uninstallation of XCP DRM, some computers become unstable in certain situations.
The real bad news is that no uninstaller was offered for MediaMax copy-control software. It too hides things on your computer without your permission, placing them in the folder C:\Program Files\SunnComm Shared\ even before a licence agreement is shown when you insert a CD into your drive. Should you refuse to accept the terms of the licence agreement, your computer nonetheless becomes host to a dozen files that take up over 12MB of space on your hard drive. The key file is called "sbcphid", a kernel-level driver that attempts to block CD ripping and copying applications from reading the audio tracks on discs with SunnComm protection. MediaMax uses the same technique as XCP DRM when you play a copy-protected CD, and sends a code off to SunnComm via the Internet to identify what is being played, as well as identifying your computer's IP address.
So, faced with such unscrupulous behaviour on the part of Sony BMG, what is a law-abiding purchaser and owner of CDs to do? Possibly the best advice is to simply avoid buying Sony product manufactured from 2003 onwards. While it may not have XCP DRM on it any more, you may very well find yourself up against MediaMax instead. One computer techie pointed out that the only sure way of getting completely rid of MediaMax is to reconfigure your hard drive, an operation beyond the skills of most computer users.
Or, if you really must have that Foo Fighters CD (or whatever), and find yourself reading a multilingual copy control label in 3-point type concealed in the lower corner on the back of some CD, there is a simple way of thwarting the corporate conspiracy to prevent you from enjoying your CD on your computer without getting your hard drive buggered up: Place the CD in your hi-fi unit's CD player, run a cable from the microphone socket to your computer's Line In socket, and load it to MP3 format using freeware such as Audiograbber. Digital Rights Management invariably falls flat on its face when you resort to using copper wires.
You'll have to excuse me now, I have some 78s to load to MP3 format on my computer and I need to work out the optimal positioning for the microphone in front of my gramophone speaker. Tex Morton anyone?
DISCLAIMER: THE AUTHOR IN NO WAY CONDONES THE ILLEGAL SWAPPING OF COPYRIGHT MATERIAL. Neither however does he condone the extortionate prices and unseemly practices of record companies. If you must buy CDs, buy them at sale price or buy them second-hand - that way, the bastards aren't making any money out of you. Or, better still, buy them directly from the performers that created the music, thereby cutting parasitic record companies out of the equation.
© Wayne Stuart McCallum 17 May 2006
Neville Staples' Specials at Indigo, Wellington
19 April 2006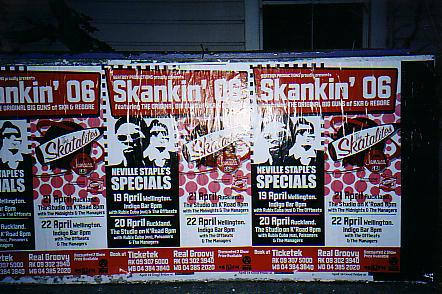 W.S. McCallum
What's in a name? Quite a lot if it happens to be "The Specials". This is what the main act was initially billed as by ticket sellers. Knowing full well that Terry Hall was never going to be there as he hates even talking about the Specials, and that Jerry Dammers was unlikely to be in the line-up either given that he was probably still miffed with Neville Staples for having revived the band in the mid-90s, I made sure I got a ticket anyway. "The Specials" is how the act was billed when the tickets went on sale, and Neville Staples professed some dismay when he was told about it by a Radio New Zealand reporter some days before his arrival in New Zealand for two concerts. Fair enough, given that he made no secret of the fact that he was the only original member from the band in the line-up. But then again, he can't protest too much about any confusion created or about any boosterism by promotors given that he is clearly trading on his past membership in a very famous band.
If it wasn't bad enough that the word "Specials" was confusing, then there was the matter of the apostrophe. All the posters, tickets, etc. billed the act as "Neville Staple's Specials". However the man's surname is STAPLES, not Staple, so call me a pedant, but on this page at least you are going to see the apostrophe in the correct position.
It was a packed show: three bands on the same bill. The opening act was the Offbeats, Wellington's resident ska act, who have been around for at least a decade and are still going strong. They packed a punch and were playing to the home crowd, so they could do no wrong. The following act, Australia's Rubix Cuba, had a harder line to follow. Wellington has some pretty hardcore fans of ska and reggae, so getting up in front of them and opening your set with "You're The One That I Want" from Grease is not necessarily going to endear you to the locals, but they managed to avoid a fiasco by veering back to stuff that sounded like ska and acquitted themselves well. And then there was their gimmick, which can't go without mention. Not every band has a Rubik's Cube in its line-up: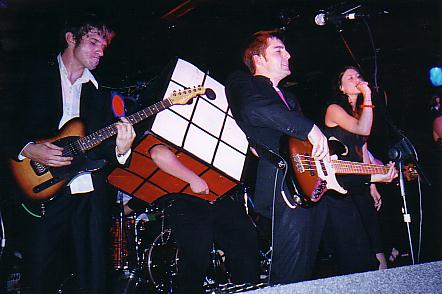 W.S. McCallum
Then along came Neville Staples' Specials: bass, guitar, drums, keyboards, trombone and drums, along with vocals. Right from the outset, Neville Staples charmed the audience with his exuberance and energy. "The others couldn't make it, but I'm here!" He had barely started and already he had his shirt off. The set opened with a series of his own recent songs and shortly most of the audience were cheerfully jumping up and down to the music.
The band were definitely not fly-by-nighters - they were on the ball throughout and their delivery was very professional. It was the sort of showmanship you see with acts like B.B. King: they were there to see everyone had a good time and they worked hard to make sure they did.
And the audience got even happier once the old Specials numbers started. I don't recall Neville Staples singing on a lot of the original Specials numbers he performed that night, but you would have to be a pretty die-hard fan not to impressed with his performances of them. The first one (actually a cover of a Jamaican ska number) was "A Message To You Rudy", followed by material off the first LP like "Too Hot", "Gangsters" "Too Much Too Young" and "Concrete Jungle", in addition to later material like "Ghost Town" and "Why?".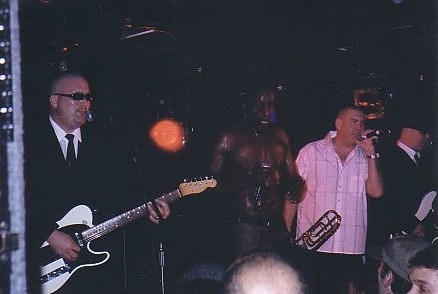 W.S. McCallum
The only down note was the idiot who tossed a beer bottle on stage in the middle of the concert. Neville Staples sounded pained rather than angry: "Aw man, don't do that! Throwing bottles - that's so behind the times. That's what we had to put up with from the National Front back in the 80s." At the same time, the guitarist was pointing the idiot out so a bouncer could evict him. Then there were the three bimbos who attempted to dance on stage towards the end of the show. If you've ever been to the Indigo Bar and seen the miniscule stage they have there, you'll know that the last thing a seven-piece band squeezed onto a tiny stage needs is some drunken bimbo tripping over something, so they were cleared out of the way fairly quickly too. Oh well, it's all part of life's rich tapestry.
In spite of the disruptions, the band seemed happy, and Neville Staples was delighted, stating at the end of the encore that he would be coming back to New Zealand.
© Wayne Stuart McCallum 25 April 2006
The Rolling Stones at the Cake Tin, Wellington
18 April 2006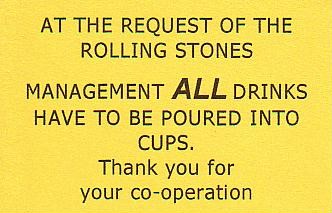 For the record, on the evening of 18 April 2006, accommodation could not be had for any love and only for a great deal of money in Wellington. Every hotel room in the city was taken, unless you wanted to spend $600 for a room at the James Cook. Everyone was in town to see the Rolling Stones; hardly surprising given that the last time they had played in Wellington was in 1966.
I had in fact made my booking at one of Wellington's much less distinguished lodging houses, after various other arrangements had fallen through. You can imagine my surprise when, after being made to wait half an hour, the lady of the manor informed me that she had given my room to someone else. It wasn't that I was late in arriving, or in any other respect remiss in attending to the booking I had made. No, my main problem seems to have been that my time of arrival (as they had been duly informed) was 3.30pm, and this woman was not prepared to give an honest customer a fair go and allow him to turn up on time so he could claim his room.
The next step could very well be to scream at the injustice, howl at the lack of common courtesy, bemoan the shabbiness of such treatment, or utter the hope that waves of rodents, cockroaches and borer beetles will descend on the establishment. Instead, fellow travellers, I will merely content myself with informing you of the name of this establishment in the hope that you may avoid such misfortune: Rowena's City Lodge. You have been warned.
All however was not lost as a charitable friend in the outer suburbs had a spare room, failing which I would have been sleeping in the park that night.
The stadium was sold out that night, apart from a few of the $350 seats down the front which, owing to the height of the stage and the positioning of the speakers, were remarkably poor value for money if you were there for the music. My view was from the shelter of the top of the stadium (back row), looking down on the stage from the right hand side. The price? $150. It was close enough to be able to see what Mick and co. were wearing without having to look at the video screens, but not so close that you would notice their wrinkles.
First up on the bill was Nickelback, the support band. Nickelback are in the charts at the moment, and are the North American music industry's current incarnation of what we are supposed to think good rock music is. They have this generic noughties lite metal sound, combined with slightly deep vocals, without ever going all the way down to the deep throat stuff of black metal. They were on stage for about 45 minutes, and I winced all the way through it, from the clichéd patter of the vocalist, through to the turgid widdling of the guitar player, and the plodding beats of the rhythm section. Fortunately, as I never listen to commercial radio, I will never have the misfortune of being tortured by Nickelback ever again.
Not helping matters was some ageing bogan from Otaki, who made his presence beside me felt by bellowing and howling like a beast let out of its cage for the first time in years. They can't get that much excitement up Otaki way.
The Rolling Stones came on with a flash and a bang of fireworks. After launching royally into "Jumping Jack Flash" and confirming it wasn't going to be one of their duff shows, Mick Jagger very jovially commented on the lapse of time since their last visit. This was the cue for the bogan from Otaki to begin what he presumed was witty banter with the man down on stage. Not that Mick could hear a word of what the moron from Row Z was actually saying, but then again, when you've had as much alcohol as that guy way up in the stands, your grasp on reality tends to become tenuous.
Next came a couple of more recent songs from the Rolling Stones' repertoire. "Recent" for me is anything after Mick Taylor left the band in the mid-70s, which is where my interest in their repertoire quickly begins diminishing. Happily, after a short while, the show moved back in time in terms of their repertoire, and we were soon back in familiar territory.
Generally the Stones nailed it that night, apart from one of the next classics in their set: "Angie". The audience (apart from the plonker from Otaki) couldn't help but notice that Mick, the piano player, and Keith seemed to be wading into three different songs. Fortunately Mick fell back on Charlie Watts and stuck to his percussion like glue and it eventually sorted itself out.
Thereafter, it was onwards and upwards. They offered a stunning extended version of "Midnight Rambler" which diverted into an extended free-form segment in the middle before slamming back to the song's structure with a vengeance. And if that wasn't enough, they served up "Tumbling Dice" with all the verve of the original recording on Exile On Main Street, boosted by over three decades of playing it live.
The rest of the show kept the mood building and held it, with only slight dissonance here and there, in the form of a sludgy guitar opening on "Gimme Shelter", along with an overly histrionic female vocalist. But these were minor points compared to the overall groove that the Rolling Stones achieved and held for about two hours. A high point was hearing "Paint It Black" live. Overall the sound quality was excellent, and if the people in the $350 seats down the front feel the need to complain, maybe they shouldn't sit so close to the damn stage that the sound whistles straight past them at a distance of about 30 metres from either side of their heads.
To confound those affluent bastards even more, towards the end of the show, the Stones hopped onto this mobile platform that detached from the stage, was pushed forward a couple of hundred metres along tracks by a crew of roadies, and was then lowered onto a satellite platform-cum-stage three quarters of the way towards the back of the stadium. The result was a lot of affluent people up the front who got to see nothing of what was happening a couple of hundred metres behind the backs of their heads apart from what the video monitors were showing - priceless! It was a very clever way of ensuring that the people in the cheap seats at the back of the stadium got to see the Stones relatively close-up.
When the show was finally over, it was a given that there would be a ritual encore. The group returned and played "You Can't Always Get What You Want", perfectly mirroring my feelings about being stuck beside that loud-mouthed yokel from Otaki who I would have happily pushed down the stadium steps. Fortunately, at that point the moron and his sheilas decided to go down the steps in order to bother people closer to the stage: "You can't always get what you want, but if you try sometimes, you might get what you need". Hearing the final two songs without enduring that cretin was, as it turned out, what I needed in order to leave the concert happy rather than pissed off.
There were a lot of hopeful people in the audience shouting for a second encore after the Stones had delivered a sing-along version of "Satisfaction", but it was clearly not to be. They had to content themselves with a closing fireworks show that also served notice that the show was over.
It's interesting to note the path followed by the Rolling Stones in their later careers. With the release of the pastel-toned and soporific Still Life double live LP and accompanying film in 1981, it was apparent that even though they were still relatively young at that time, and in spite of the dreadful 80s clothes and sets, they were already museum pieces. The band had a real identity crisis in the 80s, like so many 60s stars trying to keep going in the fickle world of show business, with Bill Wyman leaving the group, and Mick Jagger trying a solo career which was not quite as successful as he would have hoped. Now, 25 years later, and in their 60s, they seem more comfortable with themselves. While they have all the big-budget trappings of a behemoth stadium act, they can also deliver the goods when it comes to their music. Unlike Still Life, where they seemed to be groping for some link with the present, nowadays they're not trying to dress themselves up as something they're not. Then again, when you're the Rolling Stones, why should you have to?
© Wayne Stuart McCallum 22 April 2006
<![if !vml]>

<![endif]>  <![if !vml]>

<![endif]>
<![if !vml]>

<![endif]>  <![if !vml]>

<![endif]>
Web site © Wayne Stuart McCallum 2003-2017