Venetic's Big Day Out '06
Auckland
20 January 2006
<![if !vml]>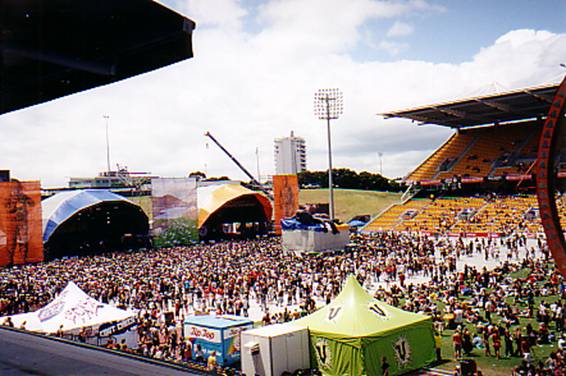 <![endif]>
The Orange and Blue Stages.
It was about 12.40 in the afternoon when me and the lads arrived at the stadium, pleased to be handed free promotional corn-based munchies as we walked in. The summer sun was beginning to beat down. Not arriving when the gates opened at 11am allowed us to avoid standing around in the heat, waiting in a queue. Our arrival was greeted with some bemusement by the gatekeepers - 4 Pakeha guys decked out Islands style, resplendent in leis, straw hats, Hawaiian shirts, loud tee-shirts and bearing ukuleles. The woman who frisked us was no creeping violet, patting all our backsides firmly in case we had a six-pack stuffed in our pants. Or did she have other motives?
Then came the bag search guy, who did a double take when he zipped opened the bag with the horse's head inside it, looking somewhat startled at the eye staring up at him. He quickly zipped it up: "I don't even want to KNOW what's in there - go on, get moving."
The first stop was made to fill up our empty water bottles at one of the water supply points thoughtfully provided at various points around the site, and then we moved on to the Essential Stage to watch the Subways.
<![if !vml]>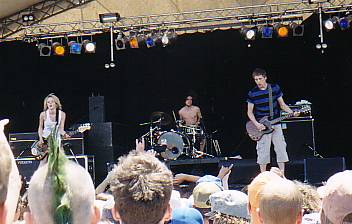 <![endif]>
The Subways - n.b. green Mohawk - Punk's not dead owright?
The Subways were just the ticket - lively (but not too lively) bouncy rock to kick off the afternoon's entertainment. Sort of like a glass of fizzy water to wake you up and get you started. Most of the young males in the audience seemed to be spending an inordinate amount of time eyeing up the slender blonde bass player when they should instead have been concentrating on the drummer's fine stickmanship, but to each their own.
From there it was but a hop, skip and a jump over to the hydroslide, where there were far too many males likewise idling around, ogling adolescent girls in bikinis as they slid down the chute and climbed out, all wet and dripping. But hey, our crew were there for a reason - to witness a very special appearance by our very own Horse Man, who wowed the crowds with a half human, half equine display of hydroslide riding (twice).
<![if !vml]>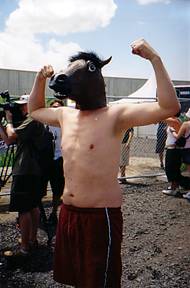 <![endif]><![if !vml]>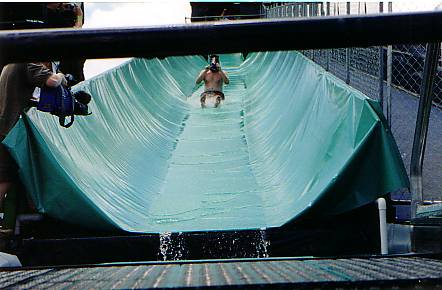 <![endif]><![if !vml]>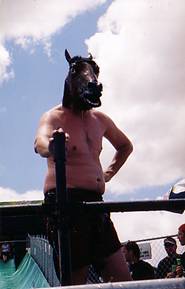 <![endif]>
Horse Man in action.
It was only natural that the media were swarming like flies. Or at least the TV3 news camera crew was, who duly filmed the epic scene for posterity. It was screened on the evening news, with a voiceover from the reporter stating that there were lots of people in attendance dressed up in theme-based costumes, but if there were, we didn't see them. No, the truth is that most of the people there were dull, conformist adolescents and post-adolescents, trying their best to look exactly like their peers, whilst imagining that somehow they were rebelling against something by doing so.
I lost count of the number of callow young bodies wandering around clad in Ramones tee-shirts. That's so 2005 darlings. Didn't you know it's supposed to be Mott The Hoople tee-shirts this year? You heard it here first.
More disturbing was the guy so cool that his baggy shorts were pulled down so they were hanging desperately off his emaciated lower hips, whilst at the same time having his Y-fronts pulled up so high that they were around his stomach. I initially registered him in my mind either as some sort of retard, a potential flasher, or simply someone who didn't pull his pants up properly after doing a quick number 2 in one of the portaloos scattered around the site, but then I kept seeing other young males, exposing their boxer shorts or Y-fronts in a similar manner, and realised that it was a FASHION, doubtless designed to attract members of the opposite sex. If there were any young chicks frothing at the bunghole over such supposedly erotic masculine exposure, they weren't exactly forthcoming. In fact, come to think of it, NONE of these clowns traipsing around with their pants pulled down and their gruds pulled way up seemed to have a girlfriend. Then again, if you were a self-respecting young lady, would you want to be seen in public with some guy who can't even pull his pants up properly?
<![if !vml]>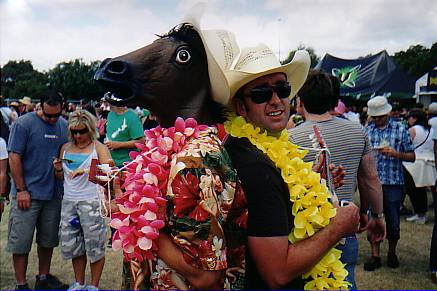 <![endif]>
The lads busking - someone even gave them a $1 coin.
I left the lads to busk and went to look for something for lunch, which is where things began to unravel. Trying to find palatable food at the Big Day Out was a major task. They had lots of greasy unhealthy overpriced crap available in various shapes and forms, but not much else. I walked from one end of the grounds to the other, eventually finding a vaguely healthy but still overpriced falafel to nibble on. Generally, the food prices at the Big Day Out were obscene: 30% to 50% higher than what you would pay at comparable takeaway joints downtown, and bear in mind that we are already talking about Auckland prices here. Still, I was grateful to find something palatable for lunch.
The Living End, playing on the Blue Stage in the stadium, were the lunchtime entertainment. The Melbourne band, like the falafel, were palatable - mainstream alternative music for the 21st century. Nothing remarkable, but dependable nonetheless. The only thing that really stood out was the bass player. If you ever find yourself playing in a stadium and want to be seen, you can't beat his technique - using a double bass. I could see him from the other end of the stadium, and that was without even looking at the big video screen. The funny thing is that when the band are just specks on a stage, your eyes alight on anything at all that you can see, and the one thing I could see was the bass player performing his moves with his big double bass.
It wasn't long before Mudvayne from Illinois cranked up on the adjacent stage. It's a demographic thing, and I don't fit their demographic, but if you're an adolescent/post-adolescent Bogan boy with tats living a dead-end existence in the burbs and who fancies himself as a bit of a Satanist, Mudvayne will be right up your alley. They do that whole "croak like an evil demon" vocal technique and make an appropriately demonic heavy metal-inspired noise to go with it. I think us folks in the older demographic are supposed to find them shocking. Ooh er, scary stuff, lock up your daughters and so forth. Oh well, variety is the spice of life, different horses for different courses and all that. Finding their act a bit of a yawn, I decided not to stick around.
Having finished lunch, the plan was to team up with the lads, but somehow things got sidetracked. The first distraction was possibly the strangest event at the Big Day Out: the Silent Disco. The Silent Disco looks like a dodgem cars tent, with all the dodgem cars removed, and a whole lot of teenagers squeezed into it. They're not really dancing, but they're not really standing still either. Everyone is wearing headphones through which disco music is playing, which is just as well, because if it were a real disco, the PA would have been drowned out by Mudvayne's death metal static. There are lots of girls hanging around in cliques, and boys scattered around too. It looks a bit like a school disco, but without anyone sneaking off for a smoke or a grope behind the bike sheds.
<![if !vml]>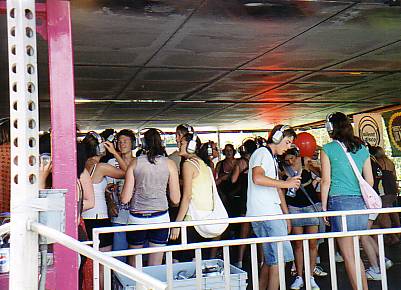 <![endif]>
The school… sorry, Silent Disco.
Beside the Silent Disco stands the Boiler Room, or the rap tent, where DJ Sir-Vere is delivering old school hip hop. He's having a great time, the audience are having a great time. The beats sound great, and his delivery on the mike is real sharp. It was one of the unexpected highlights of the day for me.
<![if !vml]>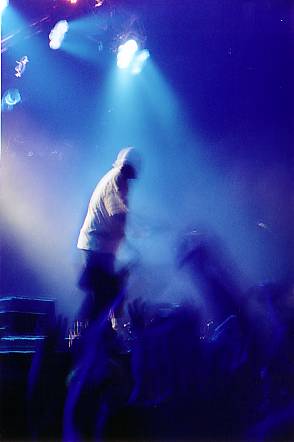 <![endif]>
DJ Sir-Vere
I would have stayed for his whole set, but then I remembered the lads were waiting and it had already been over an hour since I set off looking for some palatable food. Reluctantly, I decided to head back to meet up with them and watch Sleater-Kinney. Well, that was the plan until the sounds of Cobra Khan hit me as I stumbled out of the Boiler Room tent into the sunlight. They drew me like a magnet - pure energy and a kick-arse drummer as well. Their impetus easily managed to overcome any lethargy that would otherwise have set in among the audience as they baked under the afternoon sun.
<![if !vml]>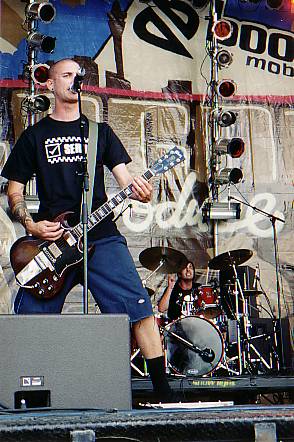 <![endif]>
Cobra Khan
When I finally got back to the rendezvous point, about two hours after I left, the lads had moved on. Pathetic - no patience whatsover. I looked for a horse's head sticking out among the throng gathered to watch Sleater-Kinney, but had no more luck finding them than I did trying to get near the stage before the band finished their set and said good-bye. Oh well. There was little chance of finding them in a crowd of umpteen thousand people, so I let go and went to watch the Magic Numbers instead.
<![if !vml]>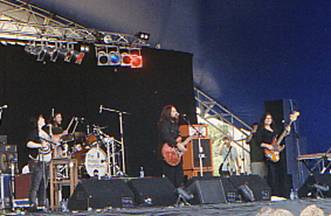 <![endif]>
The Magic Numbers
The Magic Numbers were the perfect band for a hot sunny day, with bright pop rock and warm harmonies. I found some shade over by the animal pen that all the drinkers were imprisoned in, stretched out, and let the music waft over me.
Just as well suited to the occasion were the Bats, who started playing on the Local Produce stage at 4.15pm. It was too damn hot to stand around watching them, so I found a tree, laid down on the grass, and contemplated the fact that the Bats have been around on the music scene longer than various of the fresh young things in the vicinity had been walking the face of the earth. There was a time in Christchurch in the mid-1980s when you couldn't go to any sort of outdoor event without seeing the Bats popping up and playing, and they still sound great, with their newer material sounding a bit heavier than they used to.
<![if !vml]>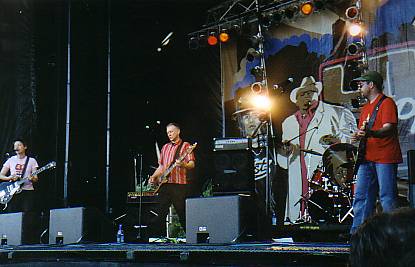 <![endif]>
The Bats
The next few hours were a non-event musically. I wanted to go and hear Mikey Dread, but the little enclosure he was doing his act in was reserved for people on the piss wearing the designated Drinkers wristband and I was turned away. It's a bit rough when you can't get into a venue because you're NOT off your face from sinking too much alcohol. Overall though, the Big Day Out organisers had the drink thing under control with a well thought-out plan: take all the ugly boozers and fence them into little pens where they won't be able to stagger around making a nuisance of themselves. It worked really well.
Apart from Mikey Dread, there wasn't much I wanted to see until the Stooges hit the stage at 8.15pm, so I braced myself and went over to the stadium to watch the tail end of Elemeno P's act. Elemeno P, unfortunately, typify much of what I can't stand about noughties rock. Sure, they're great musicians, and they deliver the goods on stage, but to my mind it comes across as punk by numbers; airbrushed pseudo-Ramones rock for a generation that doesn't know any better. Still, the audience were having a good time. More power to them. The Kings of Leon followed, with a performance that gathered momentum as they went along. The only down side was the shabby stadium acoustics.
Then along came Shihad, the Wellington rock band totally at odds the DJ/dance/pseudo jazz hipster wankerism currently prevalent in that city. Acoustics? No problem! Shihad has played in a good many stadiums all over the world over the last decade and more, and these guys have a sound and a stage presence that really projects. In fact, it was scary how much influence they exerted on their audience. They stuck mainly to the crowd-pleasers, drawing extensively off what is probably their best-known album - The General Electric. The sheer drive of songs like "Wait And See" and "My Mind's Sedate" must have been unnerving for Franz Ferdinand to behold as they waited in the wings.
As it turned out, Franz Ferdinand were nowhere close to matching them - how could they? The Scots only have two albums under their belts and, judging from their performance at the Big Day Out, were not used to playing stadium venues. Compared to the powerhouse rock locomotive that was Shihad, they were like the Little Engine That Could, with too much chinka chinka chinka chord playing on the guitars, and a plinky-plonky keyboard sound that was quite annoying at times. Context is everything though - in a small to mid-sized venue where they didn't have to follow a behemoth like Shihad, they would have come across much better.
After a not-so-wholesome dinner of fish and chips, I headed down into the bowels of the stadium to take up position in front of the Orange stage half an hour before the Stooges came on. I was fairly close to the front, and there was a definite crush developing by the time they were due to start. When the show did start, the number of bodies crammed together in front of the stage proved to be too much for some people, who were hastily climbing over barriers to escape, while various others were hoisted over the crowd's heads and pushed down to the front, where the security guards at the foot of the stage grabbed them and whisked them off to some place where they could get recover.
<![if !vml]>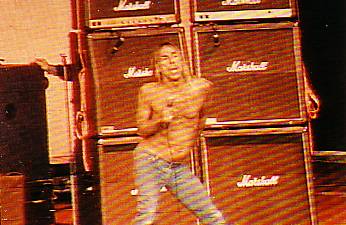 <![endif]>
Iggy pulls his trou up.
What can you say about the Stooges? Superlatives don't seem enough. The mere fact of seeing Iggy Pop take the stage again with the Asheton brothers was miraculous enough in itself, but watching them perform the bulk of their first two LPs from 1969 and 1970 was simply amazing. I have experienced more than my fair share of "revival" bands getting back together to relive the 60s, and most of them produce something that is pretty insipid to behold. Yet here were these guys, all in their late 50s now, belting out songs like "Loose", "TV Eye", and "I Wanna Be Your Dog" as if it were just yesterday. As if none of all the crappy music that drowned out the good stuff in the 1970s and 1980s had ever happened. As if they were still the same young guys in their early twenties. Iggy Pop certainly wasn't taking any soft option - he screamed, he jumped, he humped speakers, he rolled around on the stage and he crowd surfed. A veritable bundle of energy. There were various 20-something musicians hanging out at the side of the stage watching, and you could see the awe in their eyes.
<![if !vml]>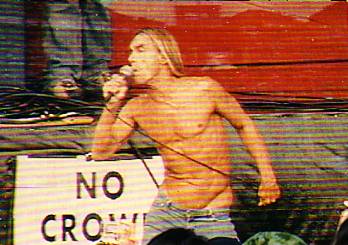 <![endif]>
NO CROWD SURFING
<![if !vml]>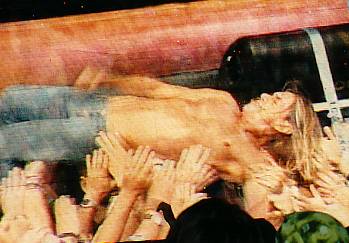 <![endif]>
Yes, crowd surfing.
<![if !vml]>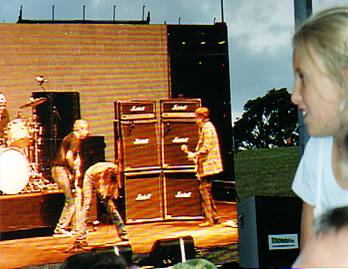 <![endif]>
Shocked 4 year-old watches in disbelief.
The next act to perform in the stadium after the Stooges had wowed everyone was the White Stripes. I can imagine the logic that the organisers deployed when deciding the evening's line-up: "we'll let the old fellows warm up the crowd, and then we'll top it off with the new generation; the White Stripes - the perfect dynamite garage rock combination". Unfortunately the White Stripes fizzed. Lovely set, nice clothes, impressive drum kit, but there didn't seem to be anybody at home. The music was limp and pompous, and the mix was dreadful. Just how hard can it be to do the mixing for a two-piece band? I had been looking forward to the rare chance of getting to see the White Stripes without having to pay for an $85 ticket, and I ended up walking away in disgust.
But worse was to come, because I then opted to walk over and watched the Mars Volta, doing a very bad job of trying to recreate prog rock circa 1973. It was not a pretty thing to behold. By this time it was already about 10.30pm, so I decided to call it a day and catch a bus back into town. Overall, it had been a great day out, peaking with the Stooges, but ending on a down note.
<![if !vml]>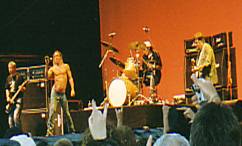 <![endif]> <![if !vml]>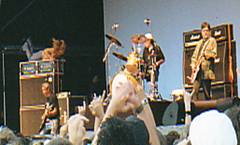 <![endif]> <![if !vml]>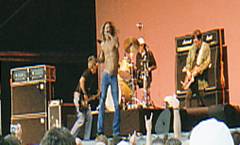 <![endif]>
Some more photos of the Stooges.
© Wayne Stuart McCallum 28 January 2006.
<![if !vml]>

<![endif]>  <![if !vml]>

<![endif]>
<![if !vml]>

<![endif]>  <![if !vml]>

<![endif]>
Web site © Wayne Stuart McCallum 2003-2017